NBA Trade Rumors: 3 Most Likely Landing Spots for Michael Beasley
March 1, 2012

Elsa/Getty Images
A former No. 2 overall pick in the 2008 NBA Draft, Michael Beasley is one of the hottest commodities in this year's trade season. 
Beasley was traded from the Miami Heat to the Minnesota Timberwolves in 2010 to make room for the "Big Three" of Dwyane Wade, LeBron James and Chris Bosh. 
However, the Timberwolves have since stumbled upon one of the best big men in the game in Kevin Love. Ricky Rubio has emerged this season, and Derrick Williams seems to be getting more of the minutes in Minnesota. 
Because of Beasley's prowess in college while at Kansas State and the potential he's shown thus far in his career, it's expected that he could break out with the right opportunity. Many teams that are struggling to find their game offensively (especially these three that are in the bottom 10 in scoring) are looking to court Beasley. 
Let's take a look at the three teams most likely to get the 23-year-old forward.
After a lackluster start to the 2012 season (by L.A. measures), the Lakers need to add a piece to their team in order to return to contender status in the Western Conference. They are just 20-14 on the season, good for sixth in the West.
The Lakers are one of the teams courting Dwight Howard, but they already have massive skill on both post positions with Pau Gasol and Andrew Bynum.
ESPN reported Wednesday night that the Lakers turned down an offer from Minnesota involving Beasley, so either the price wasn't right for Los Angeles, or they are focusing their first-round pick more on a point guard.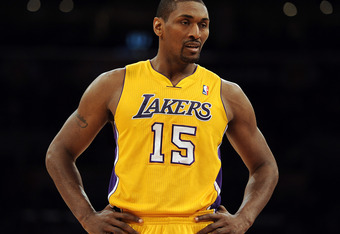 Harry How/Getty Images
Beasley would be a good replacement for the aging Metta World Peace, who is lacking production this season with the Lakers. Beasley's explosive offense would help L.A.'s sputtering scoring.
The Lakers, as always, have a massive payroll, which could be why they nixed the Beasley deal.
However, their need for a productive point guard is the first question that needs to be answered in Los Angeles. 
As disappointing as the Lakers have been to some this season, they're at least over .500.
The same can't be said for the Boston Celtics.
The Celtics hope that a deal with Beasley will turn their season around and get them into the playoffs.  
The aging Celtics are just 26th in the league at just under 90 points per game. Bringing in a player like Beasley as well as shopping Rajon Rondo, which has been reported, could completely change the face of this C's team.
However, if the Celtics really want to keep up the winning atmosphere for years to come, they will have to work out a three-team deal and include one of their "Big Three" to get more in return.
This could be a completely different Celtics team very soon.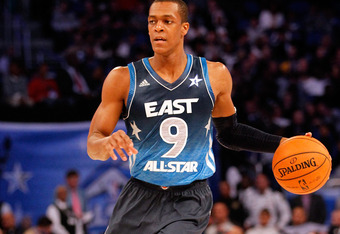 Ronald Martinez/Getty Images
Also one of the front-runners in the Dwight Howard sweepstakes, the New Jersey Nets could get an offensive boost from Beasley.
The Nets have been talking to the Timberwolves about the 23-year-old, and they could make a push for Beasley if things don't work out with the Orlando Magic and D-12.
New Jersey is right in front of Boston in points per game, at just 25th in the league. Point guard Deron Williams is arguably the only on-the-ball scoring threat on this Nets team, and it takes a heck of a performance from him to win games (see their win against New York on Feb. 20).
The Nets were fortunate to get Williams last season. He probably only went there in anticipation that another star would land there as well.
Beasley may not be a star, but his potential has been well-documented since his college days. If he were able to come into his own in New Jersey and Brook Lopez emerged, the Nets might not need Howard so badly after all.