Miami Dolphins: Linebacker Logjam Might Spell Trouble for Karlos Dansby
February 29, 2012

Jamie Squire/Getty Images
Recently, the Florida Sun-Sentinel reported that Miami Dolphins outside linebacker Koa Misi will be tried as an inside 'backer in new defensive coordinator Kevin Coyle's scheme.
This report begs an interesting question.  
It's not whether Misi can play inside linebacker. He would appear to have the skills to drop into coverage and tackle from sideline to sideline. His flexibility is part of what led Miami to draft him two years ago.
Misi only had 34 tackles in 12 games in 2001, but outside linebackers typically have lower tackle numbers than inside guys, and he often came off the field on third down in favor of pass-rushing specialist Jason Taylor.
In fact, he is a probably better fit inside than outside, where he struggled to go upfield to rush the quarterback. He had just one sack in 2011.
The more intriguing question is: What does Miami do with three inside linebackers capable of starting in predominantly a 4-3 defense where you need just one starter?
Because last time I checked, Karlos Dansby and Kevin Burnett were the starters in Miami's 3-4 defense, and pretty good ones at that.
Now, Burnett took awhile to get acclimated in Miami in 2011 and Dansby battled injury issues, but either player gives you a stout presence inside.
As usual, the real ugly sticking point is all about money. Burnett was signed this past summer to a four-year, $20 million contact.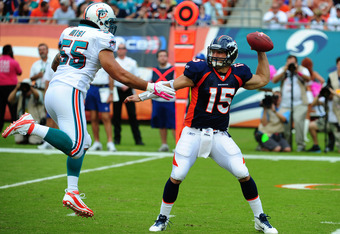 Scott Cunningham/Getty Images
Dansby's salary is far more problematic. He signed a five-year deal for $43 million, with $22 million guaranteed in 2010.
Misi agreed to a four-year contract for $4.7 million contract as a rookie in 2010.
While Dansby is arguably the best player of the bunch (although Burnett could at least be part of the discussion based on similar numbers and more impact plays as a pass-rusher), there is no denying that the former Arizona Cardinal's contract sticks out like a sore thumb.
His salary cap figure of 11.325 million ranks third on the team behind left tackle Jake Long and wide receiver Brandon Marshall. Those players make Pro Bowls, and for all of Dansby's skills, he hasn't, and seems to be just short of elite. For comparison sake, Burnett's contract carries a manageable 5.3 million cap figure.
Dansby could be a candidate for a restructured contract, but he is on the wrong side of 30 (he will turn 31 during the upcoming season) and isn't tradeable with the three remaining years on his contract.
He could take a straight pay cut, but has his play really deteriorated to the point that he should or would? Probably not.
A dramatic move, but one that could free up cap space either this year or in the future (depending on the new salary cap rules) would be to release Dansby outright.
Don't be surprised if it happens.