NFL Draft 2012: Elite Playmakers Who'll Make Teams Super Bowl Contenders
February 29, 2012

Sarah Glenn/Getty Images
The NFL draft is tremendously overrated.
I'm not saying this because too much of a fuss is made over the draft (though that is indeed the case). I'm saying this because we typically find out a couple years down the line that only a handful of players in every draft were truly worth the hype.
This is partially because it's hard to project NFL success, and partially because NFL success is tremendously hard to achieve. Every last player who gets drafted is in for years of hard work and tough times.
However, there are some guys who seem perfectly cut out to play in the NFL. They're cut from a certain cloth, as it were, and it ends up being no real surprise when they're doing great things like making Pro Bowls and winning Super Bowls.
Winning the Super Bowl is as hard as it gets. To help his team win a Super Bowl, a given player has to have two things: elite natural ability and a little extra something.
There are four players in the 2012 draft class who I think have both.
4. Luke Kuechly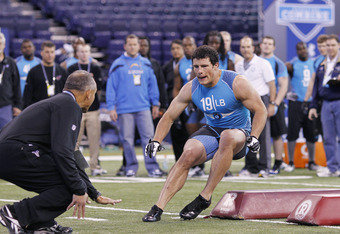 Joe Robbins/Getty Images
I owe Luke Kuechly an apology.
In recent days/weeks/months, I've written over and over again that Kuechly was overrated and that he didn't deserve to go high in the first round, exactly where a lot of mock drafts had him going.
My problem with Kuechly was that he doesn't look like a great athlete on film, and quite a few scouts agreed that was the big problem with Kuechly.
Kuechly definitely looked like an athlete at the combine. The Boston Globe summarized his performance nicely:
He clocked 4.58 seconds in the 40-yard dash (third-best among linebackers), 6.92 seconds in the three-cone drill (fourth), was third in the 20-yard shuttle (4.12 seconds), and tied for the fastest 60-yard shuttle (11.43 seconds).

Kuechly also showed explosion with a 38-inch vertical leap (third) and a broad jump of 10 feet 3 inches (fifth).
So yeah, Kuechly is athletic after all.
It's true that raw athleticism will only get one so far in the NFL, but keep in mind that Kuechly can now be billed as an above-average athlete with above-average instincts. It now no longer looks like a fluke or a coincidence (or friendly scoring) that Kuechly racked up so many tackles at Boston College.
Kuechly has everything he needs to be a difference-making middle linebacker in the NFL. He'll step in and solidify whatever defense he ends up with, and that will lead to great things.
I will not be surprised when Kuechly makes his first Pro Bowl, nor will I be surprised when he and his team are contending for a Super Bowl title.
3. Dontari Poe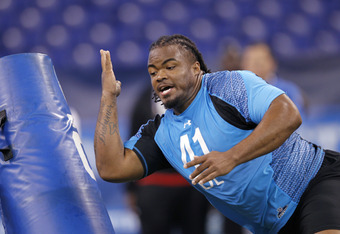 Joe Robbins/Getty Images
You know you've done something right when people are comparing you to Haloti Ngata.
So hats off, Dontari Poe. You did something right at the combine.
Here's what ESPN's Mel Kiper wrote about Poe after his performance at the combine:
His workouts were better almost across the board than Haloti Ngata, who currently carries the lead in the "Guys that big shouldn't be able to move like that" clubhouse. I could see him as the surprise name to jump into the top 10. Part of that is he could probably be equally dominant in a 4-3 at DT, though we always link him to the 3-4.
Once again, combine performances only mean so much in the grand scheme of things. But size, speed and brute strength will get you farther in the trenches than they will playing, say, wide receiver.
Ngata is a perfect example. He's the best player on a Baltimore Ravens defense that is very, very good. Ray Lewis used to be the centerpiece of that defense, but Ngata has taken over.
Poe has the goods to do the same on another defense, whether he ends up playing defensive tackle, defensive end or nose tackle.
Before long, Poe will be the centerpiece of his team's defense. I'll wager that defense will be elite, and ready to win Super Bowls.
2. Robert Griffin III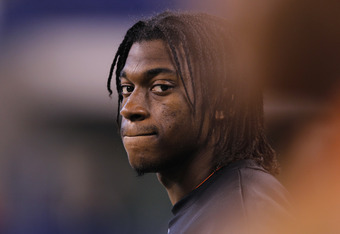 Joe Robbins/Getty Images
There's a ton of buzz (see Pro Football Talk) about teams trading up to draft Robert Griffin III with the No. 2 overall pick, and deservedly so. He'd be worth it.
There's nothing RG3 can't do. He's way faster than the average quarterback, and he also showed us during the 2011 season at Baylor that he can deliver the ball on the money as well as any quarterback in the 2011 draft class.
There's some talk about RG3 being on par or even better than Cam Newton. Michael Silver of Yahoo! Sports doesn't want to hear it, and he's not the only one.
I don't mind making that comparison. Griffin is just as fast as Newton, and he's more experienced and more polished as a passer. He may not be the physical specimen that Newton is, but there's little reason to think RG3 can't be just as good as Newton at the next level.
If that's the case, RG3 has a bright future. It's just a matter of time before Newton is competing for a Super Bowl, and it will be just a matter of time before RG3 is right there with him.
1. Andrew Luck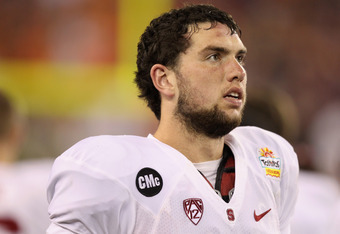 Christian Petersen/Getty Images
For all the talk of teams being desperate to trade up to draft RG3, it's funny that there's not a whole lot of talk about the Indianapolis Colts taking Griffin over Andrew Luck.
Luck must be that good.
Though a lot of people have done their best to nitpick Luck's game and break him down, none have been successful. The truth of the matter is that there's just very little to complain about when it comes to Luck. He's a complete quarterback prospect.
I'm going to be shocked if Luck doesn't end up with the Colts. Assuming he does, he's going to be faced with a long, tough welcome into the NFL.
Peyton Manning went through that same process, and he turned out okay. All Luck has to do is weather the storm and learn what he can along the way. In no time at all, he and the Colts will be competing for Super Bowls.
Count on it.