Tampa Bay Buccaneers: Popular Draft Prospects Tampa Bay Needs to Avoid
February 29, 2012

Mike Zarrilli/Getty Images
Tampa Bay Buccaneers fans feel both worried and hopeful after the disastrous 4-12 season. Their last 10  games have all been losses.
Beyond the disappointment, fans of a losing team have a much different attitude than those of a winning team. They focus on a prospect's skill rather than value to the team.
Currently, many fans are proposing selections that could only hurt the Buccaneers. 
Trent Richardson, RB, Alabama
I might as well get Richardson out of the way first. The Alabama running back has proved himself a true "can't miss" superstar, leading his college to a BCS Championship over the LSU Tigers last January. His mix of power and elite speed earned over 1600 rushing yards and 5.9 yards per carry.
In the defensively-stacked SEC, this is an achievement like none other. 
But for the Bucs, Richardson would not fit. The main problem the offense has is their defense. So many points are given up that Josh Freeman is virtually forced to throw the ball. Running is not an option.
If Greg Schiano wants to win games, he'll draft CB Morris Claiborne. 
Justin Blackmon, WR, Oklahoma State
Pro-ready? Check.
Versatile? Check.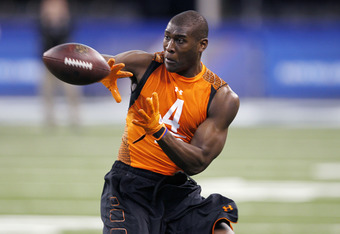 Joe Robbins/Getty Images
Intangibles? Check. 
However, Tampa would be extremely foolish to draft Blackmon. I think that he is far and away the best receiver in the draft, but his value to the team would be limited.
Freeman needs a big, fast wide receiver to add an explosion factor. Stephen Hill or Alshon Jeffery could be second-round steals and even later in the draft there will be quality receivers. 
Look for the Bucs to address this position in free-agency. 
Mohamed Sanu, WR, Rutgers
Sanu may already seem like a likely second-round pick, having been coached and recruited by none other than Greg Schiano. No doubt the former Rutgers head coach could effectively work Sanu, he just isn't what Tampa should look for. 
Because of his 4.67 second time for the 40-yard dash, NFL scouts have evidence that Sanu does not possess elite speed. 
Right now, Tampa Bay has a need for speed.
In conclusion, Morris Claiborne is pretty much the only choice the Bucs have at No.5 overall in the upcoming draft.