Los Angeles Kings: Anze Kopitar and His Untapped Potential
March 1, 2012

Jim McIsaac/Getty Images
Let me preface this by saying I am no fantasy hockey guru. I don't play fantasy hockey, I never have, and I probably never will. Okay I take that back I probably will sometime.
But sometimes it's really fun, to me anyways, to sit down and really number-crunch and theory-craft about players, struggles and teams as if I did play fantasy hockey.
In a season that is ripe with struggles, both individual and team-wide, the Los Angeles Kings are a gold mine for this practice.
It took me a while to analyze Anze Kopitar's struggles, and it's always been said that he had one problem: Kopitar does not play aggressively enough with the puck. To an extent, that is almost correct. But here come the fun fantasy stats that can be very telling sometimes.
Shots.
Who knew, right? Shoot more, score more.
With Anze, there isn't a lot of variance. Kopitar has actually taken about the same amount of shots season-by-season throughout his career.
His highest goal total years were:
2009-2010   (34 goals, 259 shots, 13.1 percent)
2007-2008 (32 goals, 201 shots 15.9 percent, a bit of an anomaly)

His two lowest goal total years were: (discounting his rookie year)
Last year, 2010-2011 (25 goals, 233 shots 10.7 percent)
This year's pace (24 goals, 229 shots 10.1 percent)

You compare those stats to some guys who are considered "pure snipers," and the percentages are actually quite similar.
Zach Parise for example scored 45 goals in 08-09 and was shooting at 12.4 percent. He scored 38 the following season and was shooting at 11 percent. The differences between the two players? Shot totals. 364 and 347 respectively for Zach Parise. Kopitar averages around 230, Parise 350.
Let's grab another guy who is considered a "pure sniper:" Our very own Jeff Carter. In 08-09, he grabbed 46 goals, 342 shots and 13.5 percent. The following two seasons, he had 33 and 36 goals, 319 and 335 shots and 10.3 and 10.7 percent. Kopitar had 230 shots and Carter had 330.
Kopitar in my opinion could be a pure sniper, but it seems like he doesn't want to be. He likes to pass the puck to someone else. Looking at these stats, it looks purely like Kopitar is limiting himself to try and jam a square peg through a round hole.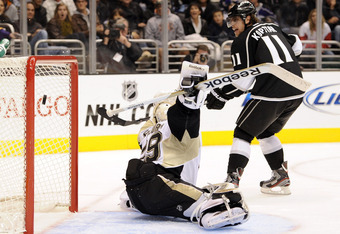 Harry How/Getty Images

The percentages are there for Kopitar. The fact that he takes over 100-to-150-less shots than what people would consider a "pure sniper" is what I think is holding him back. It's not his positioning on ice, it's not his drive to the net. He executes that. Kopitar just simply refuses to shoot the puck more.

He instead willingly dishes the puck to guys like Dustin Brown and Justin Williams, who over their careers have averaged under 10 percent shooting.
If Anze wants to take his game to the next level, he has to start being much more selfish. Saying, "No, this is my puck and I am going to shoot it."
Watch Carter, Ovechkin or Parise. When those guys get the puck, they have one thing on their mind:
Shoot. Shoot and score.

Ovechkin is not worried about dealing it to Nicky Backstrom. He is worried about scoring 50-plus goals and taking 400-to-500-plus shots.
Simply put, Kopitar needs to shoot more and be selfish. He needs to transition himself away from being Joe Thornton and perhaps be more what he is truly built to be. Something like an Eric Staal or Vinny Lecavalier.
Until then, he will have an untapped potential that the Kings desperately need.