2012 NFL Mock Draft: Projecting Kirk Cousins and the Middle-Round Quarterbacks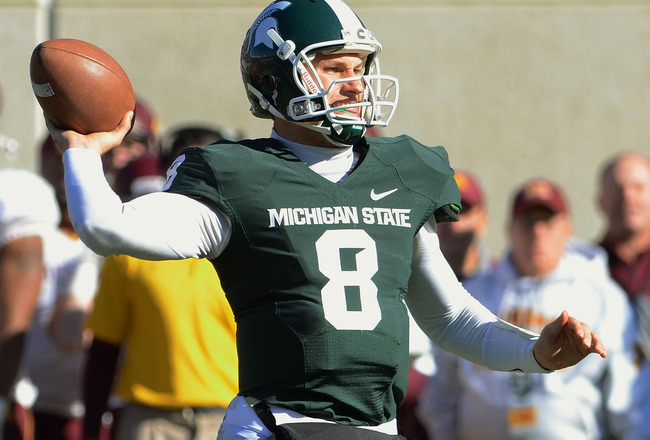 Mark A. Cunningham/Getty Images
In the 2012 NFL Draft, after Andrew Luck and Robert Griffin III, the quarterback position takes a steep nosedive.
Still, there's solid talent to be had in the middle rounds. Through the first two rounds, we can expect at least five quarterbacks to be off the board.
To that end, here's where some of the current projected mid-round quarterbacks will land.
Round 3, Jacksonville Jaguars: Kirk Cousins, Michigan State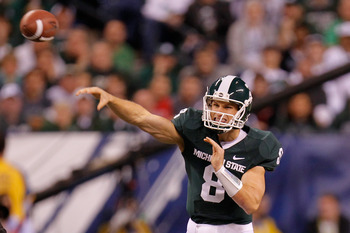 Gregory Shamus/Getty Images
Before the Jacksonville Jaguars think about selecting a quarterback, adding a stallion or two at wide receiver is a must.
Last season, one reason why Blaine Gabbert failed to live up to expectations was that he had no receivers capable of getting open on a consistent basis. Provided that Jacksonville addresses that area early, selecting Michigan State's Kirk Cousins early in Round 3 would make sense.
Cousins is a guy who has improved through each college season. He had a sound week during the Senior Bowl and impressed even more at the NFL Combine with smooth mechanics, great footwork and spot-on marksmanship.
His football IQ is arguably on par with Andrew Luck and Robert Griffin III, and he has all of the other intangibles as well.
With a top 10 defense and a stout rushing offense in Maurice Jones-Drew, Cousins won't have any pressure on his shoulders. Plus, Jags new head coach Mike Mularkey was the offensive coordinator for the Atlanta Falcons when Matt Ryan was a rookie.
In other words, Mularkey has proven he can develop young quarterbacks with a lot of potential. Cousins is just that.
Round 4, Seattle Seahawks: Nick Foles, Arizona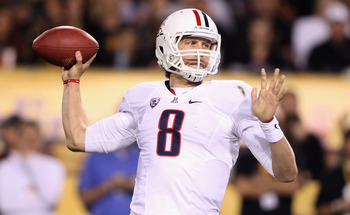 Christian Petersen/Getty Images
Nick Foles is a guy that would be a good fit for Seattle Seahawks head coach Pete Carroll.
Having coached at USC, Carroll knows how to develop quarterbacks, and Arizona's Nick Foles would be a great new project.
At 6'5", 240-plus pounds, Foles has a strong arm, great accuracy and sees the field better than most. Although Foles isn't the most mobile of quarterbacks, he displays confidence in the pocket and has a keen awareness of the pass rush.
With the Wildcats, Foles had one reliable receiver in Juron Criner. With the Seahawks, he would have an abundance of targets in Golden Tate, Ben Obomanu, Sidney Rice and Doug Baldwin. In addition, Seattle has one of the NFL's more underrated tight ends in Zach Miller and a solid two-back system with Marshawn Lynch and Leon Washington.
Throw in a respectable defense that ranked No. 9 in yards allowed last season, and Foles would be able to dish the ball around, rely on a great ground game and develop under Carroll.
Not a bad situation by any means.
Round 4, Green Bay Packers: Ryan Lindley, San Diego State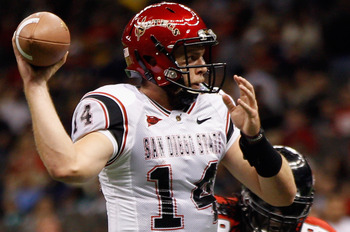 Chris Graythen/Getty Images
With backup quarterback Matt Flynn expected to move elsewhere before the 2012 NFL season, that will leave the door open for the Packers to draft a quarterback.
Because the Packers have so many other needs on defense and in the running game, San Diego State's Ryan Lindley is a good fit late in Round 4.
Lindley has solid mobility, a strong arm and great size at 6'4", 230 pounds. Right now his biggest issue is accuracy, an area where he experienced a slight decline in his college career. Having mostly relied on running back Ronnie Hillman against better defenses while at SDSU, Lindley also needs to prove he has better vision in the pocket. On the plus side, Lindley turned in a solid combine.
Green Bay is arguably the best situation for Lindley. He would learn under Aaron Rodgers and head coach Mike McCarthy in a system that has continued to develop quarterbacks.
Round 5, Pittsburgh Steelers: B.J. Coleman, UT-Chattanooga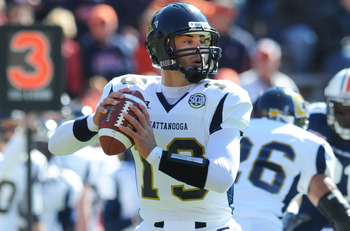 Al Messerschmidt/Getty Images
The Pittsburgh Steelers need a young and promising backup quarterback. Charlie Batch is old and both Dennis Dixon and Byron Leftwitch have proven to be injury-prone. Plus, all three are free agents this offseason and the Steelers are in big trouble in terms of the salary cap.
So looking at a guy like Chattanooga's B.J. Coleman late in Round 5 is a good idea. Pittsburgh can choose not to re-sign any of their other backup quarterbacks and let Coleman develop under Ben Roethlisberger and new offensive coordinator Todd Haley.
With size at 6'3", 235 pounds and a quality arm, Coleman was a model for consistency for three seasons in college. He can, however, get happy-feet at times when under constant duress. But he does have the ability to read defenses well pre-snap. It's his pocket performance after the snap that's most concerning.
Even with durability issues of his own, Coleman doesn't turn the ball over much and adapts fast. Pittsburgh should welcome him solely based on his appealing intangibles.
2012 First-Round NFL Mock Draft
| | |
| --- | --- |
| 1. Indianapolis Colts: Andrew Luck, QB (Stanford) | 17. Cincinnati Bengals (From OAK): Trent Richardson, RB (Alabama) |
| 2. Cleveland Browns: (From STL): Robert Griffin III, QB (Baylor) | 18. San Diego Chargers: Cordy Glenn, OG (Georgia) |
| 3. Minnesota Vikings: Matt Kalil, OT (USC) | 19. Chicago Bears: Dwayne Allen, TE (Clemson) |
| 4. St. Louis Rams (From STL): Justin Blackmon, WR (Oklahoma State) | 20. Tennessee Titans: Alshon Jeffery, WR (South Carolina) |
| 5. Tampa Bay Buccaneers: Morris Claiborne, CB (LSU) | 21. Cincinnati Bengals: Mike Adams, OT (Ohio State) |
| 6. Washington Redskins: Riley Reiff, OT (Iowa) | 22. St. Louis Rams (From CLE via ATL): Courtney Upshaw, LB (Alabama) |
| 7. Jacksonville Jaguars: Michael Floyd, WR (Notre Dame) | 23. Detroit Lions: Quinton Coples, DE (North Carolina) |
| 8. Miami Dolphins: David DeCastro, G (Stanford) | 24. Pittsburgh Steelers: Kendall Wright, WR (Baylor) |
| 9. Carolina Panthers: Nick Perry, DE (USC) | 25. Denver Broncos: Stephon Gilmore, CB (South Carolina) |
| 10. Buffalo Bills: Dre Kirkpatrick, CB (Alabama) | 26. Houston Texans: Dontari Poe, DT (Memphis) |
| 11. Kansas City Chiefs: Melvin Ingram, DE (South Carolina) | 27. New England Patriots (From NO): Whitney Mercilus, DE (Illinois) |
| 12. Seattle Seahawks: Devon Still, DT (Penn State) | 28. Green Bay Packers: Zach Brown, LB (North Carolina) |
| 13. Arizona Cardinals: Jonathan Martin, OT (Stanford) | 29. Baltimore Ravens: Dont'a Hightower, LB (Alabama) |
| 14. Dallas Cowboys: Janoris Jenkins, CB (Northern Alabama) | 30. San Francisco 49ers: Mark Barron, S (Alabama) |
| 15. Philadelphia Eagles: Luke Kuechly, LB (Boston College) | 31. New England Patriots: Jerel Worthy, DT (Michigan State) |
| 16. New York Jets: Michael Brockers, DT (LSU) | 32. New York Giants: Coby Fleener, TE (Stanford) |
John Rozum on Twitter.
Keep Reading