Lakers Rumors: Why the Team Should Not Trade Pau Gasol
February 29, 2012
Doug Pensinger/Getty Images
Trading Pau Gasol could be a huge mistake by the Los Angeles Lakers. 
Like the Orlando Magic with Dwight Howard, there's no way the Lakers can get equal value back for Gasol. When he's playing well, Gasol is one of the top 15 players in the entire league. It doesn't make sense why general manger Mitch Kupchak is so eager to trade him.
It's no secret that the Lakers are flawed. They have no good point guards on their roster and are getting very little production from any of their small forwards. They also lack athletic playmakers. Derek Fisher is basically a skeleton in uniform. He's just too old at this point in his career to rely on. Metta World Peace has been beyond terrible and Matt Barnes is what he is—a decent small forward who should come off the bench.
The Lakers' biggest strength is their size. They have two starting seven footers who can actually walk and chew gum at the same time. No other NBA team has that. That's why come playoff time, when the game slows down and turns into a half court game, the Lakers will have a huge advantage. Other than the Oklahoma City Thunder, what western conference teams will be able to match them defensively? 
Many teams have been trying to pry Gasol away from the Lakers. The problem is, most of the offers have been lackluster. The Lakers are only going to trade Gasol in a fair deal, not one that would bring them Carlos Boozer or Derrick Williams.
Sam Smith of NBA.com wrote that there is a 75 percent chance that the Lakers deal Gasol at the deadline. He went on to mention a trade that actually makes some sense for the Lakers.
He probably has the best chance of being traded among the current and former All-Star players. The Lakers are woefully short in the backcourt and with depth and athleticism. He was in that aborted preseason deal to the Rockets, and their interest is said to remain the most significant. The deal that's been most speculated is Gasol for Luis Scola and Kyle Lowry. The Rockets are said to be high on Goran Dragic and Jonny Flynn to replace Lowry, and the Lakers desperately need a point guard under Mike Brown's system. This is a deal, denied for now, that benefits both teams and seems likely to be made.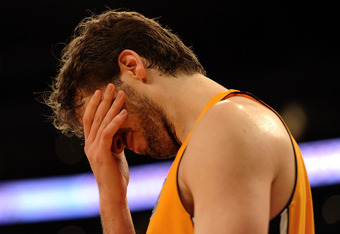 Harry How/Getty Images
Mike Brown's offense needs a good point guard to run it efficiently. Under Phil Jackson, the Lakers didn't need a great point guard because of the triangle offense. Lowry has developed into an all-star quality point guard and could help the Lakers run a more efficient offense. Adding Lowry could also make life easier for Kobe Bryant and Andrew Bynum. Scola is also a very good player. But he's not close to the kind of player Gasol is, and that's why this trade isn't as good as advertised.
Sure, getting Lowry will solve the Lakers point guard problems. They will probably look like a better team if they make this trade, but only in the regular season. Come playoff time, the Lakers will just be another team with Lowry and Scola. What will their strength be? They won't have the huge size advantage they would have had with Gasol in the lineup. Why do you think the Rockets want Gasol so bad? Because they know how good he is when he's playing at his usual level. He can be a difference-maker for their team. 
Gasol is the reason the Lakers became a dominant team again. Before he arrived, the Lakers were just another decent team in the western conference. After they traded for Gasol, they made three of the last four NBA finals.
If the Lakers are going to trade anyone, it should be Bynum. They could get better players back for Bynum because of his youth and potential. Jim Buss would never allow Bynum to be traded unless it was for Howard from the Magic. That's the trade they should be actively pursuing. Bynum has missed a lot of games over the past few years and the Lakers have been fine. Without Gasol, they have won nothing.
Gasol's judgement day is coming soon. If he gets traded or not, expect Gasol's play to drastically improve. His poor play (If you call 17 points and 10 rebounds a game poor) is due to questions constantly being thrown in his face about trade rumors. Imagine how hard it would be to produce if reporters asked you how you feel about being in trade rumors on a daily basis. 
The Lakers will probably trade Gasol eventually to solve their point guard and athletic issues. It may be the easy move to make; it just may not be the right move.