Red Sox Rivalry: Terry Francona vs. Bobby Valentine Is the Best Feud in Baseball
December 16, 2016
Elsa/Getty Images
"Remember, you get paid over there for saying stuff. You get paid over here for doing stuff."
Over there, in Bobby Valentine's quote, is ESPN, where Valentine worked before getting back into managing. Over here, per Valentine, are the Boston Red Sox, where he now works. 
Valentine was referring to former Red Sox manager and new ESPN analyst Terry Francona, who made waves this week by suggesting Valentine's policy of eliminating beer in the Boston clubhouse was a "PR move." 
Has there ever been a time in the history of sports where a guy left TV to take a coaching job and replaced a coach who then replaced him on TV?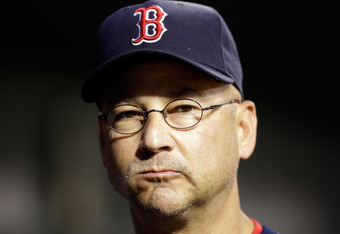 Rob Carr/Getty Images
The dynamic between Valentine and Francona is unprecedented. Already, just a week into MLB Spring Training, the tete-a-tete between the pull-no-punches manager turned analyst and the spotlight-hungry analyst turned manager is the best rivalry in the game.
Francona is not wrong that banning beer is a PR move for the Red Sox and Valentine. Even if it is good policy, which it is, making the decision public at the start of camp is a total PR move. 
In a way, everything is a PR move. Given how 2011 ended for Boston, everyone knew changes were going to be made. First and foremost on that list was going to be Francona leaving town. 
Firing Francona may have been a necessary end to last season for Boston, but the former manager certainly has a bit of an ax to grind with how it all went down. In the Boston Globe's epic front-page article "Inside the Collapse," readers may have focused more on revelations of the fried chicken and beer in the clubhouse that helped pull the team apart, but Francona was rightly more rankled by the opinions of some in the Boston front office that his marital issues and use of pain medication could have adversely affected his job.
It's one thing to fire a guy. It's another to talk to a newspaper and blame the season on the manager's private life or imply he has an issue with drugs. Francona may feel he has already been spun out of town by the Red Sox PR monster, so calling the new policy banning beer in the clubhouse a "PR move" could have been more a shot at the Red Sox front office than Valentine's policy itself.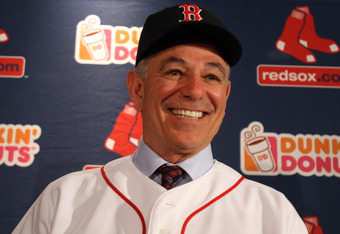 Elsa/Getty Images
Still, Valentine surely took that opportunity to get another dig in at Francona in reply, something that will be fascinating to watch all season.
This really is going to get interesting. It would be one thing if a manager and analyst swapped jobs, but it's another thing entirely when the team involved is the Red Sox and the network is ESPN.
So far on ESPN's schedule, the Red Sox and Yankees are only slated for two Sunday Night Baseball matchups, with two more Sunday dates between the two listing the time as TBD. Plus, with 18 games this season, there are a host of weekday games the Worldwide Leader will surely grab if it can.
ESPN's main campus in Bristol, CT is 119 miles from Fenway Park and 100 miles from Yankee Stadium. Over the last decade, the rivalry between the Yankees and Red Sox has been the best in baseball thanks to their records on the field—Boston has 932 wins and two World Series titles since 2002 while New York has 975 wins and one title—but you cannot discount what ESPN has done to stoke the Boston vs. New York flames during that span. The rivalry has done a lot to pique interest in the sport and much of that interest has come to the benefit of ESPN.
Now, by hiring Francona after he was fired by Boston, ESPN has perhaps inadvertently figured out a way to insert itself into the rivalry in a more direct way. Make no mistake, Francona is very good on TV and surely won't be so petty as to use his new platform to only grind his Boston ax. That's just a fabulous byproduct of the situation, it seems.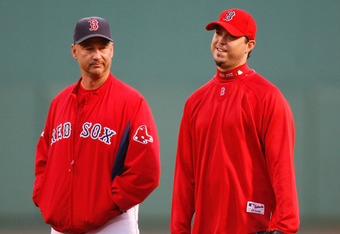 Jim Rogash/Getty Images
Now, the conspiracy theorists are already salivating over players on the Red Sox moving forward this year. Francona was a notorious players manager and Valentine will surely develop his own favorites on the roster. If Francona's favorites don't become Valentine's, or if Valentine starts to make an example out of some of Tito's boys, would it be out of the realm of possibility to think some of the players could feed inside information to a certain ESPN analyst to use against Valentine?
Already, Josh Beckett and Jon Lester cannot be happy with essentially being blamed for the Red Sox's demise last season. Surely there are other players who aren't happy with the way last season ended and may not be as happy with Valentine's style as the front office wants them to be.
If this situation wasn't volatile enough, add in that Valentine can't avoid the spotlight, already taking a random and unnecessary shot at Derek Jeter this spring (note to Bobby: don't poke the bear). 
At the very least, it will be interesting to see how ESPN treats its former employee at one of the most high-profile jobs in the sport this season. It will be even more interesting to see how that former employee reacts when ESPN's current guys take shots at his team. As Dan Lamothe at Red Sox Monster put it, this season is going to be an absolute circus in Boston. Will ESPN—and Francona—serve as the lion tamer…or the lion?