2012 Mock Draft: How Peyton Manning Could Influence Denver's Draft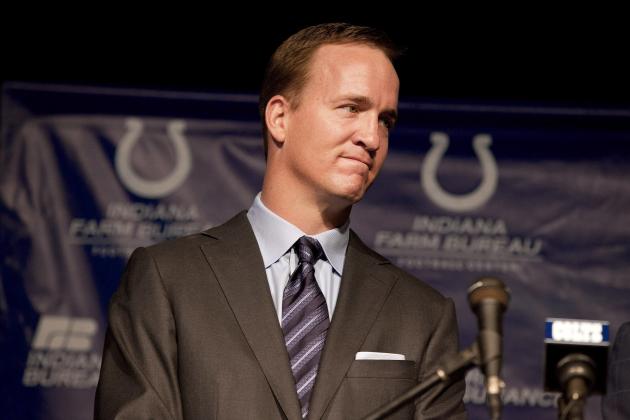 Joey Foley/Getty Images

I absolutely hate hypothetical situations, but I think it is important to look at how the Denver Broncos might approach the draft if in fact they do sign Peyton Manning.
Rumors have been circulating that Denver is currently the front runner in the Manning sweepstakes. If this is the case, and the Denver Broncos do sign the future hall of famer, Denver is likely to readjust its draft strategy.
I find it highly unlikely that Tim Tebow and Peyton Manning could coexist on the same team. Tebow truly believes that he deserves to be a starting quarterback in this league, and rightfully so.
The fact of the matter is that any quarterback that takes a franchise that was 6-22 in their previous 28 games, and leads them to a playoff victory should be a starting quarterback in the NFL.
If Manning is signed, I fully expect Tebow to be traded. Later in this article, I'll touch on where I think Tebow could potentially be traded, and it may just surprise you.
Begin Slideshow

»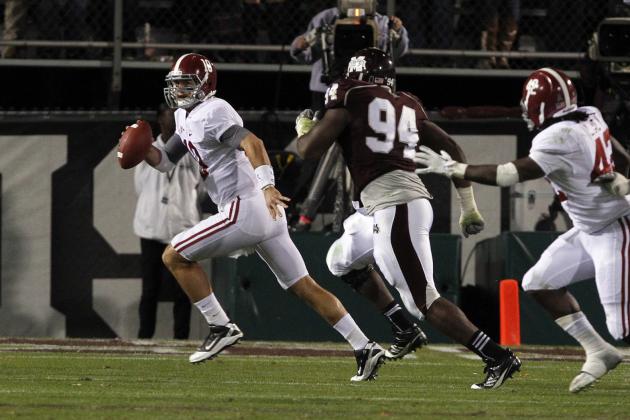 Butch Dill/Getty Images

Peyton spent most of his career attempting to win shootouts due to a below average defense in Indianapolis. John Elway needs to make sure that Peyton won't have to worry about that in Denver.
Denver's defense is a young unit which seems to be on the rise. The Broncos have bookend pass rushers in Elvis Dumervil and Von Miller. Robert Ayers made some progress in the 2011 season, and Broderick Bunkley was a monster in the run game.
One thing that the Denver defense does lack though is an interior pass rushing threat. Fletcher Cox could be the remedy to this glaring problem.
Cox is an athletic defensive tackle who has performed well in SEC. A nice combination of size and speed could help Denver become one the top defensive line units in the NFL.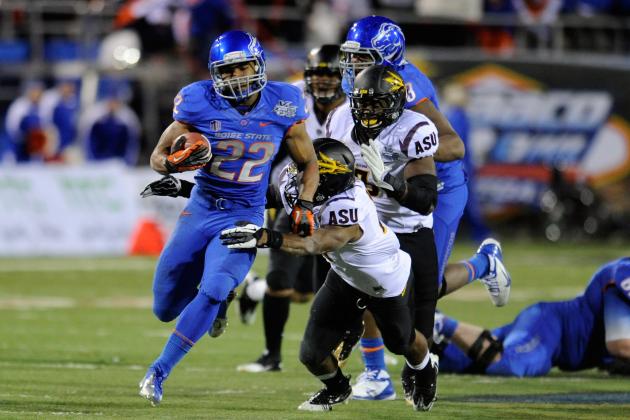 Ethan Miller/Getty Images

Peyton hasn't had a quality running attack in the past couple of years. Joseph Addai and Donald Brown have never been anything more than average running backs in the NFL.
Knowshon Moreno is likely on his way out of Denver, which leaves Willis McGahee, Lance Ball and Jeremiah Johnson on the roster. Willis McGahee had an excellent year last year, but wore down toward the end of the season.
Doug Martin is potentially a third-down back. Some draft analysts underrated Martin early in the draft season due to the quality of opponents that he faced.
Martin has risen on draft boards ever since and showed off his surprising speed and great hands at the NFL combine
In my opinion, Martin could potentially be the most valuable pick in the 2012 draft. He may not be a better prospect than Trent Richardson, but he reminds me of Ray Rice quite a bit.
Martin could be a great compliment to Willis McGahee and an excellent third-down back. The short shifty runner from Boise State could very well end up being a superstar in this league.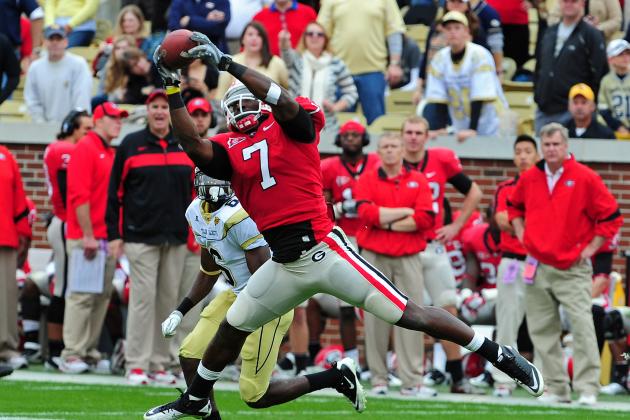 Scott Cunningham/Getty Images

Before the combine, Orson Charles looked like a second-round prospect who could sneak into the first round. A lot has changed since then.
First off, Charles decline to run the 40-yard dash at the combine for no real apparent reason. Since then, Charles has been arrested for a DUI.
Many of us watched as Charles' former teammate Justin Houston took a tumble into the third round before being selected by the Kansas City Chiefs. Charles may very well do the same.
Peyton Manning loves tight ends. He made Dallas Clark and Jacob Tamme into legitimate receiving threats and could do the same with the talented, but troubled Orson Charles.
Charles is a tad undersized at 6'2" and 240 lbs. Nevertheless, he is an instant upgrade over incumbent starter Daniel Fells.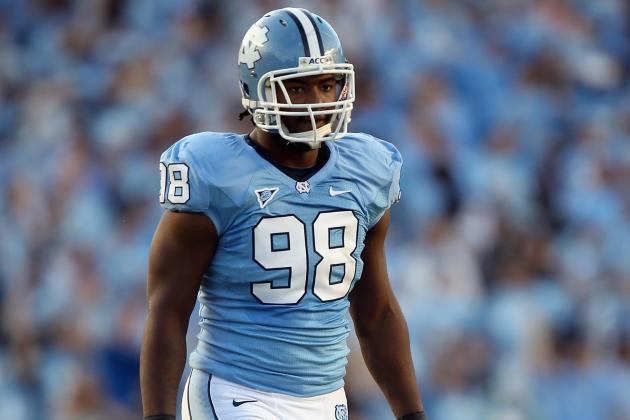 Streeter Lecka/Getty Images

Here is where Tim Tebow comes into play. Behind Tebow, the Broncos are thin at quarterback with only Adam Weber on the current roster.
Many see Jacksonville as a sure fire trade partner for Tebow's services, but I don't think that is where he is headed. So where exactly might he be headed? New England.
New England was rumored to be quite interested in Tim Tebow leading up to the 2010 draft. Right now the Patriots are set at quarterback with Tom Brady, but he won't be around forever. Brian Hoyer is currently the backup, but I just don't see Belichick handing him the reigns when Brady's career ends.
Most importantly, Tebow's biggest supporter just so happens to be Patriots' offensive coordinator, Josh McDaniels. In this trade scenario the Broncos acquire New England's third-round pick and third-string quarterback Ryan Mallet for Tebow.
With this pick, I believe the Broncos will look into drafting Donte Paige-Moss. Paige-Moss was considered a first-round pick prior to the 2011 collegiate season but immensely underachieved.
Drafting Paige-Moss, a solid pass rusher, instantly adds versatility to the Denver Broncos line. While Brodrick Bunkley is a monster in the run game, he offers very little in pass rush.
Drafting Paige-Moss could allow Robert Ayers to move inside and rush the passer on passing situations. A pass rush of Miller, Dumervil, Cox, Ayers, and Paige-Moss would give opposing quarterbacks nightmares.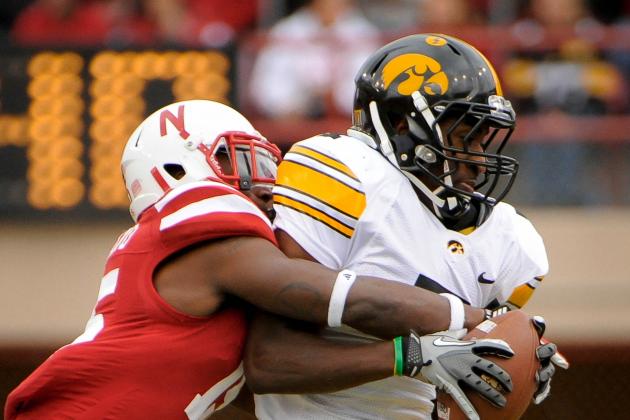 Eric Francis/Getty Images

Peyton Manning is no stranger to running four receiver sets, so depth at the wide receiver position must be improved. Marvin McNutt will probably be one of the top players available at this point in the draft.
McNutt impressed scouts at the Combine and could be on the rise. McNutt offers a nice combination of speed and size to go along with elite body control.
It is expected that Denver could be a possible destination for McNutt if Peyton signs there. It seems unlikely that Eddie Royal will return to Denver so a fourth wide receiver will be needed.
A receiving corps of Thomas, Wayne, Decker and McNutt would allow Manning to stretch the field both vertically and horizontally. This versatility could cause problems for many secondaries.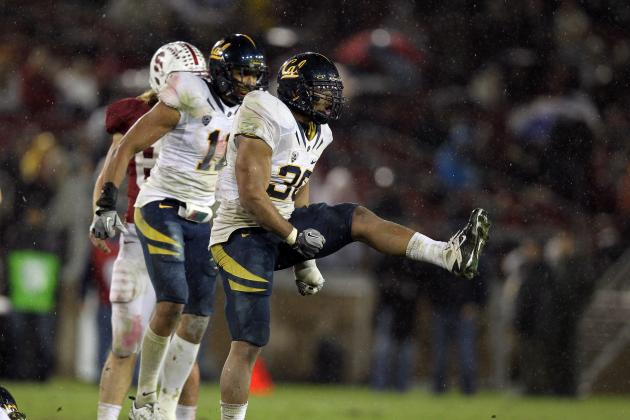 Ezra Shaw/Getty Images

The recent suspension of D.J. Williams is troublesome for the Broncos. Not only is an upgrade needed in at the MLB position, but Denver is now also in need of someone who can fill in for Williams for the first six games.
Mychal Kendricks could help both of these needs out. Kendricks is an undersized inside linebacker but makes up for it with solid tackling and great athleticism.
Some scouts actually questioned Kendricks athleticism prior to the combine, but Kendricks silenced these questions by running a 4.47 40 and posting a 39-inch vertical.
Kendricks could push both Nate Irving and Joe Mays for the starting spot at inside linebacker. In the case that he falls short, his athleticism allows him to possibly move to outside linebacker to fill the gaping hole that D.J. Williams has left.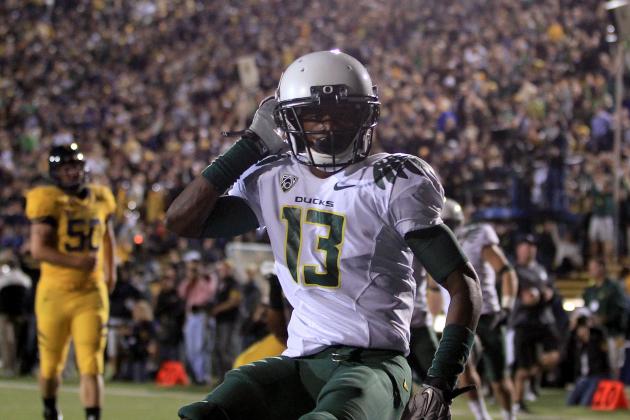 Ezra Shaw/Getty Images

This picture describes Cliff Harris perfectly. He is a showboat and a troublemaker. In all honesty, I am not so sure that I would be happy about this pick for those reasons. There is no denying that Harris is talented, though.
The Broncos' corner backs are aging. It probably won't be long before Champ moves to a safety position, and Ander Goodman should not be starting in this league.
Chris Harris, a promising undrafted free agent from Kansas, could take over Goodman's spot this upcoming season. Unfortunately that leaves a hole at the nickel back position.
Cliff Harris was kicked off of Oregon's team during the 2011 season, but he is undoubtedly the most talented prospect here in the fifth round.
Harris' size may restrict him from ever lining up on the outside, but he would certainly help in nickel situations.
Harris is also a dynamic returner who could assume that role for the Broncos in the 2012 season.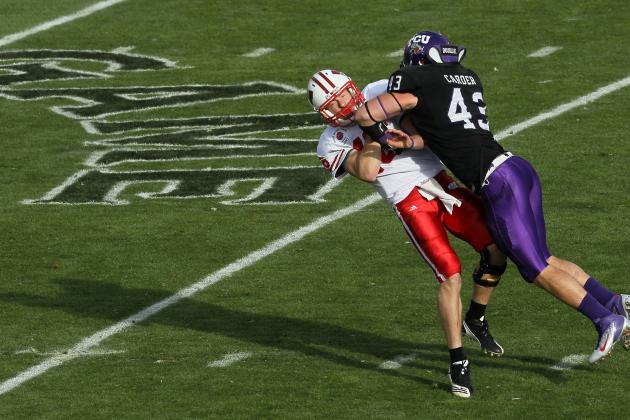 Stephen Dunn/Getty Images

We touched on the Williams suspension earlier, but if Mychal Kendricks does assume the starting inside linebacker role outside linebacker must still be addresed.
Wesley Woodyard will likely fill in for Williams during his suspension, but adding Tank Carder here gives the Broncos more versatility.
In the scenario of Woodyard getting hurt in the first six games, the Broncos would be in a deep hole. Carder was productive at TCU and could be a nice fit in the Denver defense.
This is more of a depth selection, but Carder could definitely become a contributor. Carder also would likely become a solid special teams player, which makes him a solid pick in the seventh round.