NFL Predictions: Players Expected to Make a Leaping Jump in Production
March 1, 2012

Thearon W. Henderson/Getty Images
Once every four calendar years, we celebrate (sort of) the arrival of a unique day; February 29. It is known as leap day. 
Every other year, February 28 fades into March 1. Those are called "common" years. 
Average. Ordinary. 
Lucky for us, today is another leap day.
An extra day to spend with loved ones.
An extra day at your desk, pretending to work, when you're really just watching ridiculous YouTube videos.
An extra day at school, pretending to take notes, when you're really just writing an article for Bleacher Report.
(I'm not referring to myself, I swear)
For most NFL players, it's an extra day of training and envisioning an actual leap in production from the prior season. From obscurity to notability. From average to good; good to great. 
Last season, it was Victor Cruz, who emerged out of nowhere to become a star. He sprinted onto the scene with 82 receptions for 1,536 yards and 9 touchdowns. All while salsa dancing his way to a Super Bowl victory.
Here are some likely candidates to make a leap this season: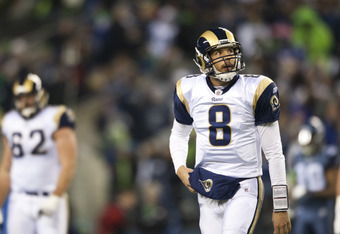 Jay Drowns/Getty Images
QB Sam Bradford, St. Louis Rams
Bradford's 2011 campaign was not a sophomore slump, it was a sophomore slap in the face. Every thing that could've gone wrong, went wrong. Key players were injured. Bradford got hurt. The team, expected to win the NFC West, struggled to an embarrassing 2-14 record.
Heading into the 2012 season, Bradford is the clear starter, and destined to have a career year. Variables, however, remain at play: teammates need to heal and the front office has to surround him with more playmakers.  
At this point, though, there is only one way to go: up. 
So, why not leap?
Projected stats: 3,620 yards, 22 touchdowns and 11 interceptions 
WR Denarius Moore, Oakland Raiders
The Raiders got a steal when they nabbed Moore in the 5th round of last year's draft. He's fast, runs crisp routes and has good hands. He had a productive rookie season (33 receptions, 618 yards and 5 touchdowns) despite a nagging foot injury and midseason change at the quarterback position.
A full season of health and better chemistry with quarterback Carson Palmer should translate into a significant leap in production.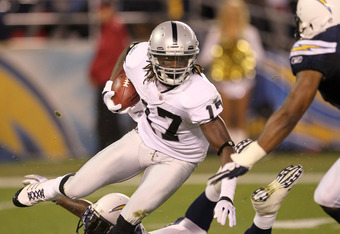 Stephen Dunn/Getty Images
Projected stats: 56 receptions, 990 yards and 8 touchdowns 
CB Sean Smith, Miami Dolphins 
Smith has the size (6'3", 215 lbs.) and speed of a shutdown corner. The swagger, too. But until this year, has been an inconsistent performer. There are moments of brilliance, quickly followed by lapses in coverage. 
This will be the season Smith makes the leap from saying he's the best, to actually playing like the best.
No better time to do that than leap year, right?
If not, his next leap may be a position switch to free safety. 
Projected stats: 54 tackles, 4 interceptions (1 for a touchdown) and 10 passes defended
RB Kendall Hunter, San Francisco 49ers
Hunter was a pleasant surprise as a rookie, and perfect complement to Frank Gore's downhill running. In limited duty, he had 112 carries for 473 yards (4.2 average) and 2 touchdowns. He was also dangerous as a receiver, hauling in 16 receptions for 192 yards and 10 first downs.
Hunter's opportunities will increase as Gore's age does the same. Expect the 49ers to utilize Hunter a lot more this season both as a runner and receiver out of the backfield. His speed and elusiveness in the open field is a huge weapon for the team's offense.  
Projected stats: 140 rushing attempts for 616 yards and 5 touchdowns; 25 receptions for 325 yards and 2 touchdowns.