Oakland Athletics Should Sign Miguel Tejada After Scott Sizemore ACL Tear
February 29, 2012
Jed Jacobsohn/Getty Images
Speaking of former performance-enhancing drug users and the Oakland Athletics...
No, not Manny Ramirez, the recently signed designated hitter.
No, not Jose Canseco, who lobbied earlier this offseason for A's general manager Billy Beane to give him a call.
The latest desperate housed-baseball-player to want into the Oakland clubhouse is former Athletic Miguel Tejada, according to ESPN.com. Tejada, the 2002 American League MVP while with the A's, is looking for a job after being released by the cross-Bay San Francisco Giants last offseason.
"Tell Billy to give me a call," said Tejada. "I don't want big money. I just want to play."
As unrealistic as the possibility of Tejada returning to Oakland sounds, it's not that obtuse of a notion. On Monday, it was reported by CSNBayArea.com that projected starting third baseman Scott Sizemore will be out for the entire 2012 campaign after suffering a torn left anterior cruciate ligament during a fielding session over the weekend. What a way to open up spring training.
Thus the necessity for a third baseman does in fact become a vital one for the A's, and that is why the offer of services by Tejada makes some sense—albeit outlandish sense.
Oakland isn't exactly deep at the infield spot, and yet they aren't thin, either. Currently on the A's roster are infielders Adam Rosales and Eric Sogard—both are logical candidates to fill Sizemore's void.
Though both are not bona fide third basemen, Rosales would be the more likely of the two, if based only on experience. In his four-year career, Rosales has started 57 games at the hot corner. His career fielding percentage at third is .942.
Sogard, meanwhile, started eight games at third for the A's. In his small sample size, he has a 1.000 fielding percentage.
Of the two, Roasales has the better all-around offensive game. He has displayed some power in his short career and can run the bases relatively well. The advantage that Sogard brings to the table is that he bats lefty.
Of course, that opens up the idea that manager Bob Melvin will opt to employ a platoon, as neither Rosales nor Sogard, on paper, have overly redeeming credentials to warrant a starting spot.
Another candidate is Josh Donaldson, a catcher by trade, who was fielding groundballs at third base during spring training even prior to Sizemore's injury—an effort to expand his versatility to secure a roster spot. He did play third base in college, and ESPN.com predicts that he would slide into third safely ahead of Rosales and Sogard.
However, the three of them combined have fewer career starts at any position than Tejada has in his career at third base. Tejada is thinking that he himself might be able to help the A's out in that regard.
And after the A's signed the over-the-hill Ramirez to a minor league deal, Tejada hopes that Oakland will throw him a bone just to give it a go. If he fails or if he doesn't live up to expectations, no big deal. But if he pans out, then the A's will have an experienced veteran infielder on the cheap, one who has some familiarity with the Oakland clubhouse.
In terms of marketing, the A's have certainly gone out of their way this offseason to bring in some stars. Ramirez is garnering a ton of spotlight in spring training after coming out of retirement following a failed drug test last season.
Meanwhile, Oakland (of all teams) landed the coveted Cuban defector Yoenis Cespedes, a surefire attraction to his fans and family in the Caribbean. Therefore, it wouldn't be that far out of an idea to at least invite Tejada to training camp and see if he could make the big league roster.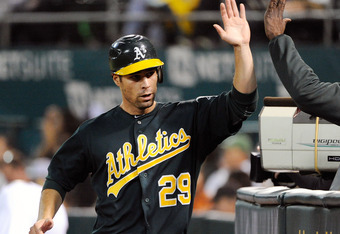 Thearon W. Henderson/Getty Images
Tejada was a tremendously likeable player during his tenure with the A's, an extremely popular fan favorite.
Imagine the Oakland Coliseum with their canvas of signs and flags welcoming back Tejada. It would definitely be a warm homecoming for Tejada, who started his professional career with the A's back in 1997.
For a franchise that is intending to celebrate the 10-year anniversary of the major league-record 20-game winning streak from its Moneyball glory days, why not have a member of that team on the roster of the current ballclub?
In fact, the old drum crew in the left-field bleachers would probably come out of retirement and shout "Tejada!" again each time he came to the plate. What a joyful chorus that used to be and would be again.
The soon-to-be 39-year-old will likely not get a call, however. After all, the A's already have one PED-estrian ballplayer on the club. Having another would be a little too inflating for the roster, no?
But Beane has done some unexpected things this winter and made some uncharacteristic moves.
Signing a washed-up former Oakland A's league MVP isn't all that bad of an idea; and it wouldn't the first time. In 2009, the A's brought back Jason Giambi for a reunion tour. Of course, it didn't last very long. But it did get fans excited about seeing a former superstar back in green and gold.
For a team that has had little star and staying power in recent years, it wouldn't worst thing in the world. Well, at least not for Tejada.
Follow me on Twitter: @nathanieljue