Lakers Rumors: Why LA Must Land Rajon Rondo
February 29, 2012

The Boston Celtics' Rajon Rondo is one of the top point guards in the league.  Rondo possess tremendous vision and court savvy that has defenders collapsing to their knees.
Rondo's creativeness and athleticism has landed him a championship ring and numerous All-Star appearances.  Playing in his fifth season, Rondo has been blessed to play with veteran talents such as Paul Pierce, Kevin Garnett and Ray Allen.
This season, Rondo has an improved jump shot and is averaging 14.1 points per game and dishing out 9.6 assists per game, which is second in the league only behind Phoenix Suns' veteran point guard Steve Nash.  Rondo's 14.1 points per game is a career-high for the 26-year-old.
The Los Angeles Lakers currently stand sixth in the Western Conference and will be without their star player Kobe Bryant, who is out for a few games after receiving a concussion during the 2012 All-Star Game in Orlando.
The Lakers have a tandem of bigs in Andrew Bynum and Pau Gasol.  They lead the league in rebounds per game at 45.7.  Under new head coach Mike Brown, the Lakers are a step back from where they were last year.
Their point guard production comes from 15-year veteran Derek Fisher, Steve Blake and rookie combo guard Andrew Goudelock.
Fisher averages 25.5 minutes per game, scoring 5.5 points and contributing 3.4 assists.  Blake plays about 25 minutes per game and scores 6.8 points with an average of 3 assists.  Goudelock gets an average of 11.4 minutes per game, where he contributes with averages of 4.7 points and .5 assists.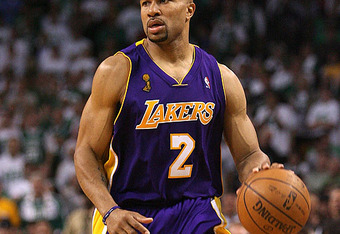 The teams leader in assists is Kobe Bryant, dishing out 4.9 per game.  The Lakers are clearly without a true point guard, and Rajon Rondo would be the perfect fit.
The Lakers have been known to have interest in the Celtics point guard.  Landing Rondo would take pressure off the 33-year-old future Hall of Famer Kobe Bryant.  Bryant averages a league-high in points with 28.4 per game.  Adding Rondo to Kobe's system would benefit both players.  
There is also the possibility of losing either Andrew Bynum or Pau Gasol for elite center Dwight Howard.  However, either Bynum or Gasol would benefit greatly from having Rondo running the system.
The Lakers have reached the NBA Finals three times in the last four years.  If the Lakers plan on returning this season, a point guard addition is necessary.
The talents of Rajon Rondo and Kobe Bryant working together, as well as with one of the two Lakers' seven-footers, the Lakers will be another team known as the "big three."