Dana White's 10 Biggest Rivalries in the World of MMA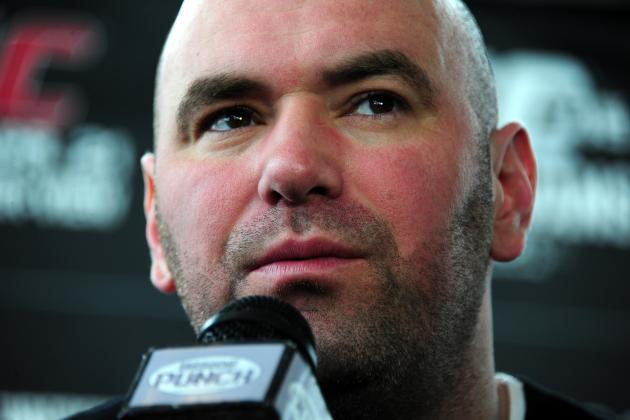 Scott Cunningham/Getty Images

Dana White is a caustic personality who has feuded with more people than all of the fighters in MMA combined. He just doesn't have the ability to walk away from a fight, whether it is verbal or physical.
Luckily for White and the sport, it hasn't ever come to blows, though, one of these rivalries came close.
This could take up 50 slides and still not be done, but for the sake of brevity, this list has been filed down to the top 10 feuds that White has competed in.
They run from the ridiculous to the ridiculously aggressive.
Some of the language is not safe for work, though, it shouldn't get too bad.
Begin Slideshow

»
Affliction was one of the biggest sponsors in the UFC at one point. While they have made it back to the Octagon, they are no where close to as powerful as they once were.
That is because Tom Atencio decided to expand Affliction from a t-shirt company into an MMA organization. It angered White so badly that he counter-programmed their first pay-per-view with a free Spike TV fight with Anderson Silva, who moved up to light heavyweight and fought James Irvin.
White was so livid at the former sponsor that he willingly lost money on a fight card.
He was willing to pay to see his competition hurt.
The reason the video posted above makes no mention of EliteXC or their controversy is because every single interview that White has had about the company is not safe for work.
There is just too much cursing involved.
That was the depth of his hatred for Gary Shaw, which hasn't waned in recent years.
His greatest anger came from the fact that Shaw paid Seth Petruzelli to stand and trade with Kimbo Slice instead of taking the fight to the ground and was quite verbal about it.
Even years later, that rage hasn't subsided, though, it has shifted focus.
The Culinary Union has been a serious antagonist to the UFC for some time now. As shown in the video above, Dana White talks about the union's opposition of MMA entering New York because of the Fertitta's casino business.
Keeping MMA out of a place like New York is a travesty as their could be great moments for MMA if the sport was allowed in a place like Madison Square Garden.
While politics can make anyone blow a gasket, it does even worse things to White. This is one of the more calm interviews that can be found about his stance on the union.
Others have more vitriol and like mentioned before, aren't safe for work.
Luckily, all of the expletives are bleeped out in the interview above.
Dana White tried signing Fedor Emelianenko to a contract and gave in to a large amount of demands. There was just one he wouldn't allow.
M-1 Global wanted to co-promote any fights with Fedor and earn a certain amount of the profit. That was never a realistic possibility, as the UFC would be the major selling point of the fight, not Fedor.
As interesting as the fight would be for hardcore fans of the sport, it was never going to garner serious attention unless it happened in the UFC, yet M-1 wanted to share in the profits.
For White, it must have felt like someone wanted to come late to the party and earn all the benefits without toiling for it. That feeling was voiced in the interview above.
White may be a fan of boxing, but that doesn't mean he is a fan of boxing's elite. This may be the only boxer on this list that the UFC president has beef with, but it is filled with more ire then most get from him.
He has anger towards Mayweather for his racist comments. He blasts Mayweather for not letting the Pacquiao fight happen.
He even talks about Mayweather having a "big mouth."
Dana White has had issues with fighters with attitudes before—one who will appear later on in this list in fact—so it is no surprise that Mayweather triggered some animosity from him as well.
Dana White got in hot water because of his rampage against Loretta Hunt and an article she had written about allowing managers in the dressing room.
He felt that the article was ridiculous and while he did mention why he felt the article was incorrect, he also attacked Hunt on a personal level calling her names.
He even went as far as attacking the anonymous source she had quoted in her piece and called them a homosexual slur.
Not exactly good PR material, and it put the UFC in hot water for a while.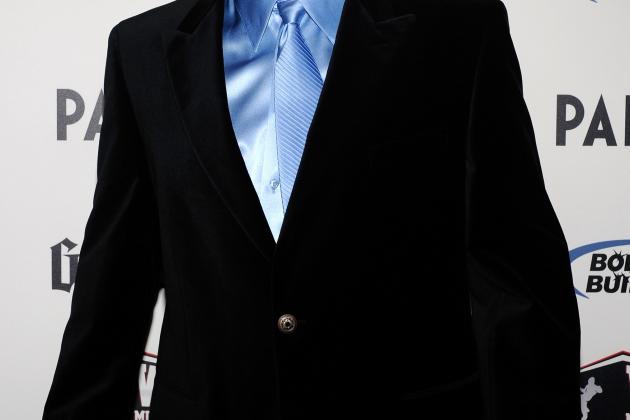 Ethan Miller/Getty Images

Randy Couture was the face of the UFC at one point along with Chuck Liddell, and he even came back to be almost as large a star as before.
In between his two times inside the UFC was his hiatus from MMA and his problems with Dana White.
Couture wanted to fight a then unstoppable Fedor Emelianenko and argued about money issues in the UFC. White didn't care for it and openly disagreed with Couture, using his own evidence to prove that such statements weren't true.
The two reconciled down the road, but it took some time for the rift to mend and for both men to continue their relationship.
There is no one who has done more to antagonize White than Tito Ortiz. The two have had a long relationship, going back years to when the sport of MMA was starting out and White was a manager.
Then they had a falling out.
Like several reasons on this list, it was because of money, but it seemed to reach a personal level of animosity between the two men and it looked as though nothing was going to close the divide.
They ended up smoothing over everything and now Ortiz is in the UFC, but it is still the biggest rivalry of White's career and one that will be remembered forever in the sport.