Ruthless Robben Spoils Scott Parker's Coronation as England Captain
February 29, 2012

Shaun Botterill/Getty Images
LONDON — As the white and orange throngs made their way up Olympic Way, breathing in the familiar football smells of processed meat, cigarette smoke and horse manure, they were met by two iconic images of the English game.
Lit up against the foreboding London sky was the new Wembley's trademark sweeping arch, an ambitious vision of a proud nation's footballing future.
And standing on the main concourse beneath it, a bronze statue of the man who stands tallest in its past—the late, great Bobby Moore, World Cup winner, consummate professional, veritable man of the people.
Those curious as to why the England captaincy is deemed so very important by the English need look no further than the unassuming Londoner who graced the role from 1962 to 1973—a man who delivered our nation's much-tarnished football team a dignity we're still trading off today.
It's been 46 years since Moore lifted the World Cup beneath the twin towers of the old Wembley, but his immortalised form remains the biggest draw for visiting fans seeking out a souvenir photograph.
There are those who say a team's choice of captain doesn't really matter; those who deem it a ceremonial role and not much else. But Moore made sure it will always mean more than that on this island.
His was a captaincy that doubled as an ambassadorship. Moore was England, just as the likes of Bryan Robson, Alan Shearer and David Beckham would be in years to come when they earned the right to wear his armband.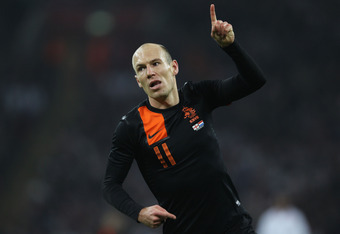 Clive Rose/Getty Images
Little wonder England meets the appointment of a new captain like a changing of the government. And little wonder the national team's friendly against the Netherlands was all about the latest man to take on Moore's legacy—Tottenham's Scott Parker.
Parker's selection by England's caretaker manager Stuart Pearce was something of a surprise, with most predicting the more seasoned international Steven Gerrard would take the armband. Young Manchester City goalkeeper Joe Hart was also thought a more likely candidate.
But the proudest honor for an English footballer, for this game at least, was bestowed on Parker. And when he took the field against a strong Holland lineup, pride was writ large upon his face.
The night capped a remarkable upturn in fortunes for the midfielder, who didn't even make Fabio Capello's squad of 23 for the 2010 World Cup in South Africa. Ironically, so bad were England, his reputation arguably benefited from the fact.
These days he's one of a handful of surefire starters—just reward for the consistent brilliance at West Ham that earned him the Football Writers' Player of the Year Award for 2010-11, and a move to Harry Redknapp's upwardly mobile Tottenham.
The 31-year-old is arguably in the best form of his life. He might not be making as many attacking surges as he once did, but he's not being asked to. Parker's stock is as a tenacious holding player, and his contribution has been key to Spurs' success this season.
But it's not just "Parker the player" who earns glowing praise everywhere he goes
In the age of spoiled, egomaniac prima donnas, he remains a bastion of levelheadedness. Parker is humble, he's focused and you certainly won't see him cavorting with topless models or shooting an airgun at interns anytime soon. You might even call him a role model.
"He's just a fantastic boy, a great professional, as I've said a million times," Redknapp said. "You couldn't get a better boy. Top-class, top-class person and a top-class player."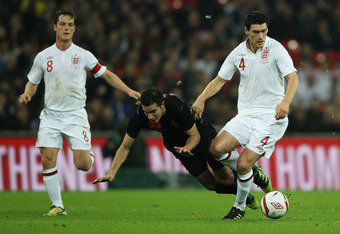 David Rogers/Getty Images
After the formalities, it was business as usual for the ever-industrious Parker on Wednesday night—a well-timed tackle on Robin van Persie on the edge of the area and a sprawling block to deny Wesley Sneijder were the highlights of his opening 45 minutes.
England and Holland went into the break goalless, and there was a strangely subdued feel to this meeting between two of international football's best-supported teams. A crowd of just over 76,000 never got going in the first half and, in truth, were given little reason to.
But on 57 minutes, the match suddenly burst to life. Arjen Robben picked the ball up inside the England half, ghosted forward and drove a low shot past Hart to put the Dutch ahead. So much for his grappling for form at Bayern Munich.
Two minutes later, Klaas-Jan Huntelaar, a man in prolific form at Schalke this season, rose above Chris Smalling to head home Dirk Kuyt's pinpoint cross from six yards. Hart once again had no chance.
Two flashes of black and orange. Two moments of quality that looked to have resigned England to defeat and served to once again illustrate their inability to summon attacking inspiration of their own.
How they missed Wayne Rooney's invention. How they'll miss Rooney against France and Sweden at Euro 2012, when the Manchester United forward will be serving a two-match ban.
With 10 minutes left, it appeared England would be left to reflect on a stuttering performance that would do little to boost confidence ahead of a tournament few expect them to do well in. The Dutch were better at making things happen, and they were better at stopping things from happening.
Same old, same old for England.
Then from nowhere arrived an uplifting moment for the Wembley crowd to take into the night, when Gary Cahill somehow found himself in the opposite penalty area to slot home and ignite England's hopes of an unlikely draw.
That should have been that. But, remarkably, England found an equalizer in injury time, through Ashley Young's fine finish. For a moment it looked like Pearce's tenure as manager—and Parker's as captain—were both equally charmed.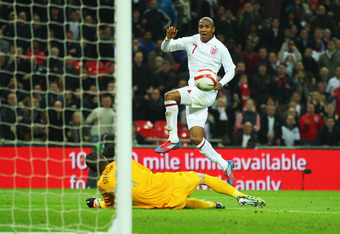 David Rogers/Getty Images
But Holland were not to be denied. A minute later, Robben collected the ball on the corner of the box and curled a sumptuous finish past Hart to win it. It was a moment of sheer quality deserving of winning any game—perhaps even better than the goal that knocked Manchester United out of the Champions League two seasons ago.
And it was the last meaningful contribution to a match Holland most certainly deserved to win.
For Parker, it was not the coronation he would have been hoping for, but perhaps in England's late salvo can be found the spirit of his captaincy should it continue.
Spirit won't be enough at Euro 2012 though.
It might be cruel to say it, England's performance was perhaps too fully in Parker's image—all huff and puff and not enough inspiration around him.
On this evidence, England will need every ounce of that fight this summer to avoid going home in the group stages.