NFL Draft 2012: 10 Late-Round Gems the Arizona Cardinals Must Look at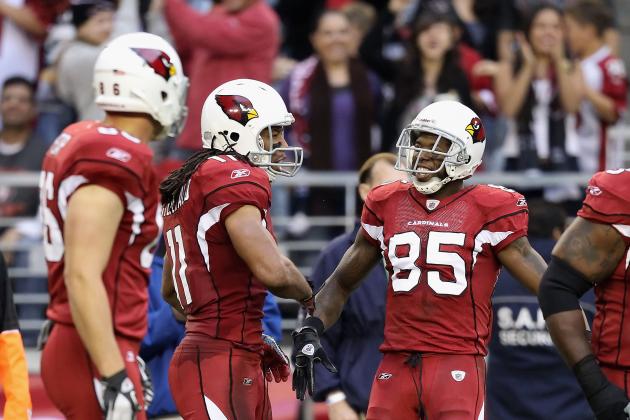 Christian Petersen/Getty Images

Many feel the Cardinals can compete for a wild-card spot next season. They played very well down the stretch of the season, and had to deal with injuries to key players over the course of the year.
Their division has not been that strong for the past several years, and it is not likely either the Seattle Seahawks or St. Louis Rams will emerge as powerhouses this upcoming year. If Arizona can play solid defense and have success within their division, there is a good chance they will be in the running for a wild-card spot deep in to the season.
If the Cardinals can take advantage of a few late-round surprises in the draft, they will have a solid group of young players competing for spots over the offseason. Building on their performances from the back end of last season, they will be a tough team to play against.
Here are some players that Arizona should consider drafting in the later rounds:
Begin Slideshow

»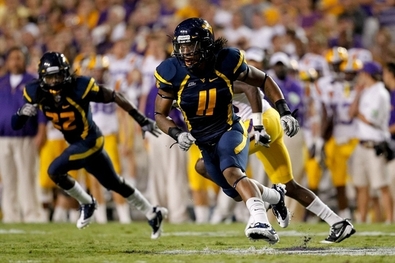 This is a position where Arizona will need to improve in order to cement a solid defensive corps heading in to next season. The San Francisco 49ers will certainly be favoured in that area once again, but the Cardinals put on some exceptional defensive displays last season.
It will be important to draft a guy who is able to close down on the premier running backs in the division such as Marshawn Lynch and Steven Jackson. Bruce Irvin could be a player who falls to the fourth or fifth round, and Arizona should definitely consider picking him.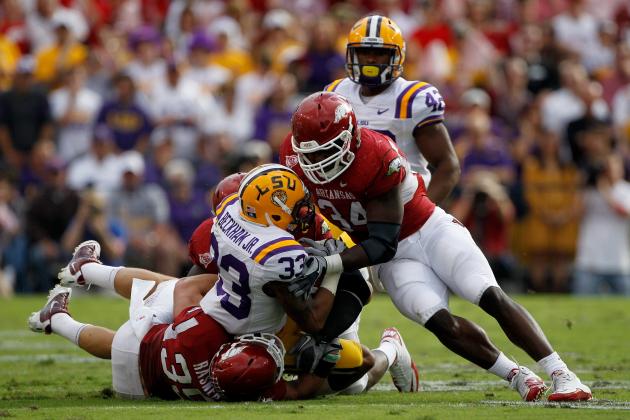 Chris Graythen/Getty Images

Similar to Irvin, Franklin had great success during his time in college. He would also help strengthen the linebacking options for Ken Whisenhunt. Franklin has been a guy who displays great work ethic and, as a projected late pick, would not take his opportunity for granted.
He was named second-team All-SEC by the coaches for his play at Arkansas in 2010, and has shown great qualities that scouts and coaches look for in an inside line backer. The Cardinals would be smart to give Franklin a chance.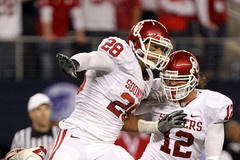 The Sooner has been described as a player with an amazing physical edge and one who is very strong. But perhaps his greatest asset is his ability to make the sure tackle and wrap guys up. All too often we have seen missed tackles by the Cardinals defense, so having a consistent tackler like Lewis would be a huge improvement.
He also possesses great leadership potential and has a history of getting to the quarterback in a variety of blitz packages. If Lewis is still on the board by the fourth round, this may be a no-brainer for Arizona.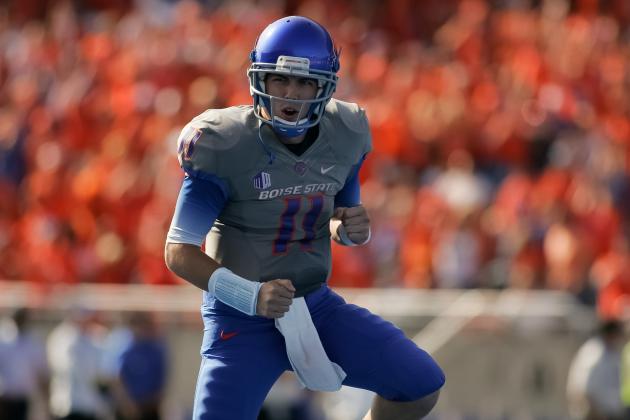 Otto Kitsinger III/Getty Images

There has been a decent amount of discussion surrounding Moore, most likely due to his storybook career at Boise State. It seems tough to predict how much success he will have at the pro level, as is the case with many standouts that played at smaller programs.
I feel it is worth some time for Cardinals scouts to study Moore and look at his upsides and downsides. We all know the quarterback situation in Arizona is questionable at this point, and it would be interesting if they were to select Moore and give him a full offseason to learn the offense under Kevin Kolb.
Many feel he has the potential to compete in the NFL, and Arizona should not ignore his positives. The kid has heart.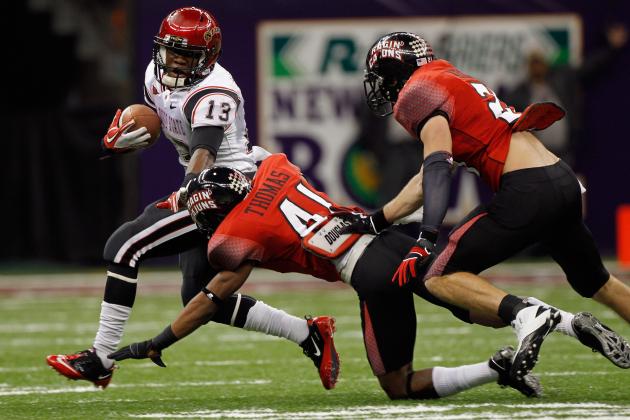 Chris Graythen/Getty Images

When healthy, Beanie Wells was a solid running back for the Cardinals this past season. However, we have seen these knee injuries reoccur and cause extended stints of missed playing time. It would be wise for Arizona to look at other options to balance out their offensive attack.
Ronnie Hillman, from San Diego State, is known as an explosive back that can hit the small hole and get up field in a hurry. He has shown his ability to produce multiple 90-plus yard plays, and his quickness allows him to evade defenders in the open field. One of his other positives is his ability to contribute to the passing game. This would certainly help out Kevin Kolb or John Skelton, whoever is the starting quarter back on that day.
He may be one of the true gems of the later rounds.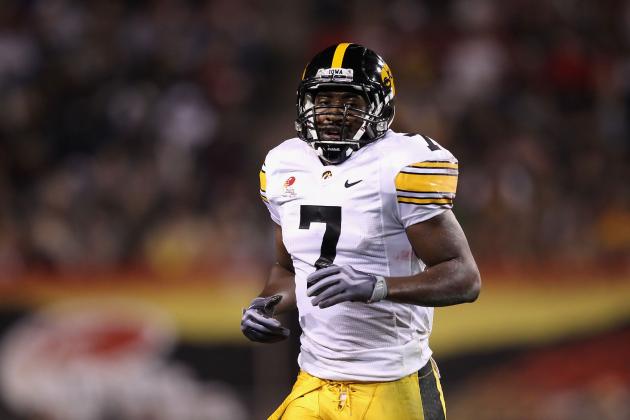 Christian Petersen/Getty Images

We all know that Larry Fitzgerald will continue to be the star wideout on Arizona, but if they are to draft one, if not two, young wide receivers they will increase the level of their vertical threat. Marvin McNutt would be a great receiver to pick up in one of the later rounds.
He has great strength and height, and has a proven history of creating yards after the catch. As a former QB, he has great vision of the field and is able to be open in the right spot at the right time to make a catch. He could be the next young star in a Cardinals offense that is still developing.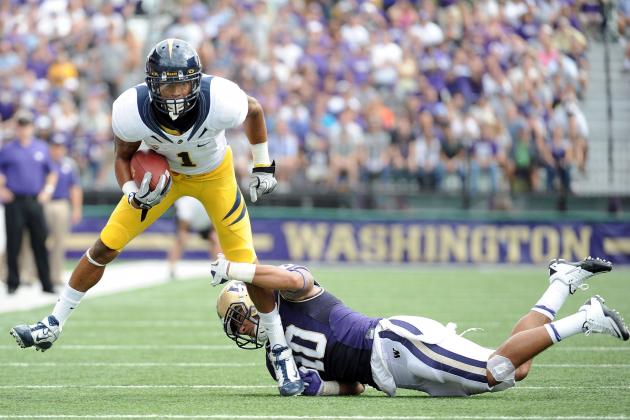 Harry How/Getty Images

Another good late-round pick up option for Arizona, Jones is an intelligent football player with soft hands and impressive speed. There have been some questions raised over his strength and his ability to get separation from defensive backs, but there is certainly an up side to drafting him.
If he can work on his technique and build up his strength, he will be a solid option third or fourth option for Kevin Kolb. His biggest positive is his football intelligence and attitude. If he were to come in and use Fitzgerald as his mentor, there is the chance he can improve at an impressive rate.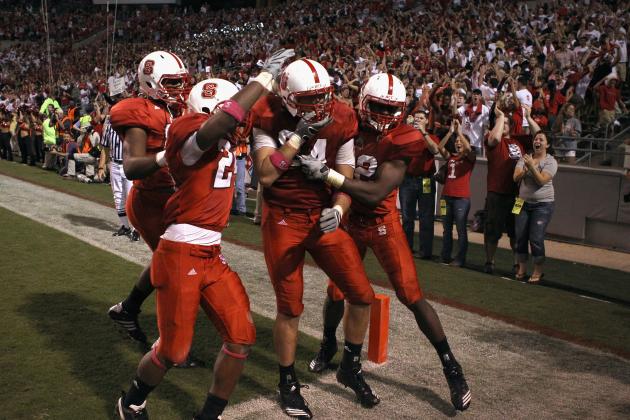 Streeter Lecka/Getty Images

One of the tight ends projected to go on day two or day three is George Bryan from North Carolina State. It was incredible how the tight end emerged as a crucial position this past year, and it is not likely that this will stop.
The Cardinals must consider their options at adding depth to this position in the draft, and Bryan would be a solid choice. He is known for having great hands, which is potentially the biggest requirement to be an effective tight end. If Arizona can improve his speed of the line of scrimmage, Bryan will be a solid player for years to come.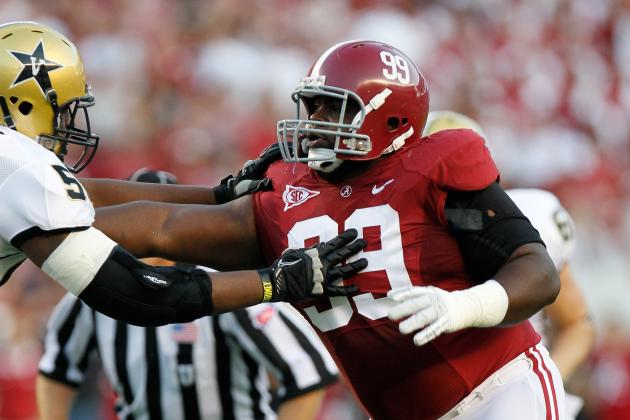 Kevin C. Cox/Getty Images

Chapman has incredible strength and causes offenses to double-team him at the line of scrimmage. He is also a guy who prepares well for different blocking schemes and plays with passion and emotion.
If he can improve his speed and conditioning, he will be a threat and a force on the defensive line. Although the NFC West is not renowned for its potent offenses, the ability to dominate at the line of scrimmage is always a key factor in victory.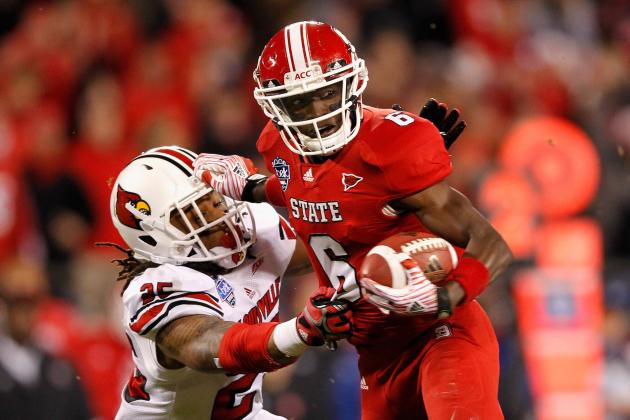 Streeter Lecka/Getty Images

Graham is perhaps one of the fastest receivers in the draft, and is attracting the attention of scouts based on this quality alone. He will always be able to get behind defenders playing man to man. He also has the ability to be an effective kick returner.
One of the knocks on Graham is his quickness in short areas, and his ability to cut and put moves on defensive backs. If he is able to improve his cutting talent, he will provide another deep threat for Arizona. If T.J. Graham is still on the board by the later rounds, the Cardinals should highly consider him.