June 16, 2016
If the Los Angeles Lakers pull the trigger on a trade for Michael Beasley, they could be setting in motion an all-star career for the talented young star. While his four seasons in the National Basketball Association have been far from consistent, it would be extremely foolish to write him off as a bust at this point.
The 23-year-old Washington D.C. native has plenty of room to grow, and his lack of maturity is what holds him back more than any flaws in his game. Providing him with a legend like Kobe Bryant as a teammate would ultimately do wonders for the young, small forward. He would be able to get a chance to see how a world champion prepares each and every day, not only for games, but practices as well. 
He would also get the opportunity to learn a great deal of basketball from the 14-time NBA all-star. Giving Beasley more components to his already lethal offensive arsenal would be absolutely devastating for opponents all over the league. Although he is only averaging 12.8 points per game this season, it is mostly because he has been relegated to minutes off of the bench.
Even with his inconsistent playing time this season, he has shown many glimpses of how naturally gifted he is with a basketball in his hands. The 6'10" small forward not only has ideal size for the position, but his variety of skills would make even the best forwards in the world drool. 
He can dribble with the fluidity of a shooting guard, post up with the power and finesse of a power forward, rebound extremely well, and his shooting is beginning to rapidly improve. This season, he is shooting 46 percent from behind the 3-point line, which makes him extremely dangerous as well as a matchup nightmare for forwards. He is also shooting a respectable 44 percent from the field, which is more than enough to keep defenses honest.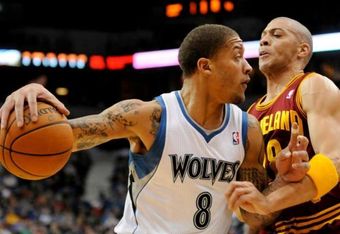 It is becoming more apparent that Beasley's future is not in Minnesota, and his recent play suggests that he is showcasing his skills in order to get noticed. Against the Los Angeles Clippers last night, he led the Timberwolves to a 109-97 victory. He scorched the Clips, currently one of the strongest teams in the league, for 27 points on 11-15 shooting, 3-3 from behind the three-point line. He also chipped in five rebounds in the stat sheet.
It's games like this that show basketball fans the tantalizing skill set of the former Kansas State star, which prompts prominent NBA figures such as Boston Celtics head coach Doc Rivers to give the small forward high praise, such as this. He even has a penchant for hitting clutch, late-game shots, like his buzzer-beating shot against the Clippers last season.
Michael Beasley is the classic case of an athlete who can be a superstar of the game, if he finds the right fit.
The Los Angeles Lakers are a historical franchise used to winning, while also handling their business with professionalism and maturity. By bringing him into the mix, he can learn valuable knowledge about the game of basketball, as well as life in general. He also would be teaming with Kobe Bryant, Andrew Bynum and Paul Gasol to form one of the deadliest lineups in the NBA game. 
Like the new article format? Send us feedback!