NBA Trade Rumors: Boston Celtics Would Be Wrong to Trade Paul Pierce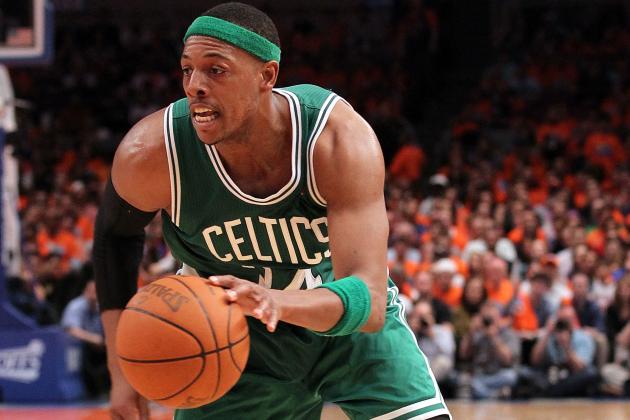 Nick Laham/Getty Images
Paul Pierce is a Boston Celtics Legend
For a while now, the Boston Celtics have openly been shopping for deals involving franchise superstar Paul Pierce. If they do end up pushing away the 14-year veteran, they would be making one of the worst trades of the past several years, regardless of who they attain in the process.
With a record of 16-17 this season, Danny Ainge and the current Celtics brass are now aware that the Celtics are no longer in position to win a championship this season. With strong teams like the Chicago Bulls, Miami Heat, Philadelphia 76ers and Orlando Magic all enjoying success with young stars littered throughout their rosters, the age of the Celtics team is very evident.
While getting rid of Kevin Garnett or Ray Allen would be a sad day for many Boston fans, a trade of Paul Pierce would be one of the truly sad days in the history of Beantown sports.
Here are four reasons why.
Begin Slideshow

»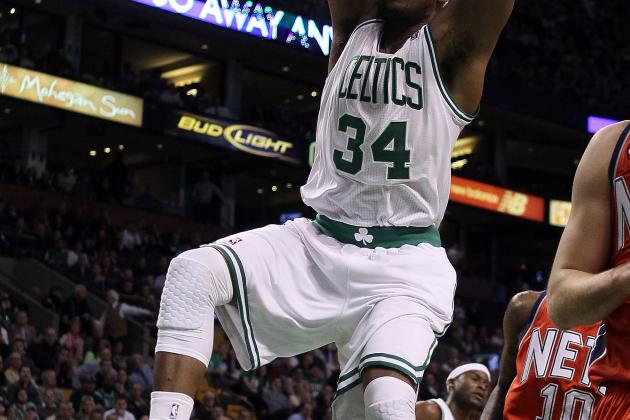 Elsa/Getty Images

Boston sports fans absolutely cherish their professional stars. Legends like Larry Bird, Tom Brady, Bobby Orr, Bob Cousy, Ted Williams and Pedro Martinez are some of the biggest names that are still talked about in the city for their accomplishments in Boston sports uniforms.
Paul Pierce is already on that list, and he is still in the midst of his playing days. He has carried the Celtics for much of the past decade-plus, finally winning an NBA championship in 2008. In that special season, he was named 2008 NBA Finals Most Valuable Player after his team defeated the Los Angeles Lakers in six games.
He has been a Celtic for his entire 14 seasons in the NBA, and if there is one thing Boston fans love, it's a loyal athlete who doesn't leave when the going gets tough. He never did, so he deserves the same respect by not being traded.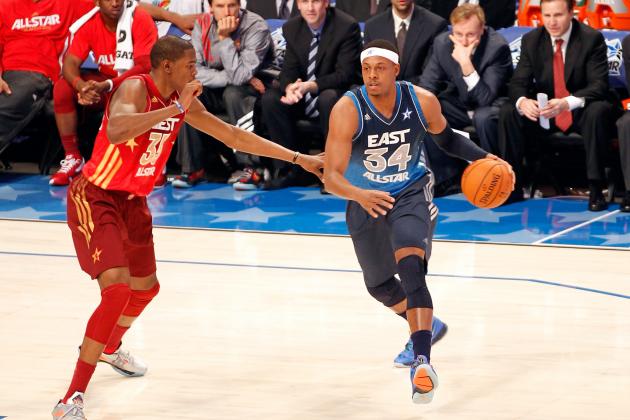 Mike Ehrmann/Getty Images

Paul Pierce may not be as good a player as he was four or five seasons ago, but he was still named to the 2012 NBA All-Star team. This year's selection marks the 10th time in his professional playing career that he received the honor, further stamping his NBA legacy.
Even at the age of 34, he is still having a very solid season for the Celtics. To date, he is averaging 17.4 points, 5.4 assists and 4.9 rebounds per game. The 6'7" small forward has been, and continues to be, one of the most effective players in the game today. Not only is he effective, but he has the veteran savvy and NBA Finals experience that can't be matched by any player that Boston would consider trading for him this year.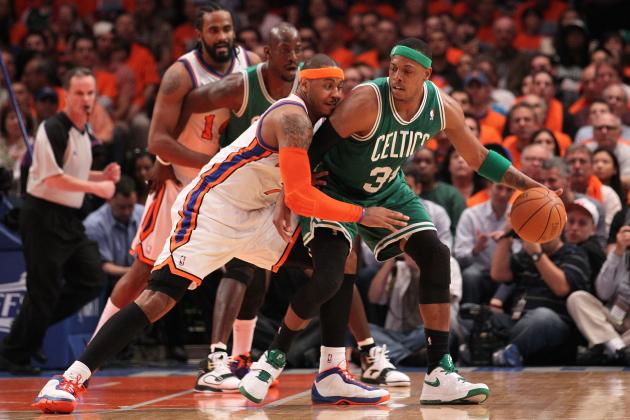 Nick Laham/Getty Images

In the NBA today, you won't find many players who value their team and teammates higher than they value themselves and their pay. With Paul Pierce, you will find that star.
He has spent every season in the NBA wearing green and white, and he wouldn't have it any other way. For five of his 14 seasons in the Northeast, he did his best to carry the team while they didn't qualify for the playoffs. While there was quite a bit of discontent and gloom engulfing the the Celtics franchise in those years, Paul Pierce marched on doing everything he could to make his team successful.
Well, one NBA title, one NBA Finals appearance, one Eastern Conference Finals appearance, and eight playoff appearances later, the historical icon can sit back and enjoy the impressive success he has had in his Celtics career.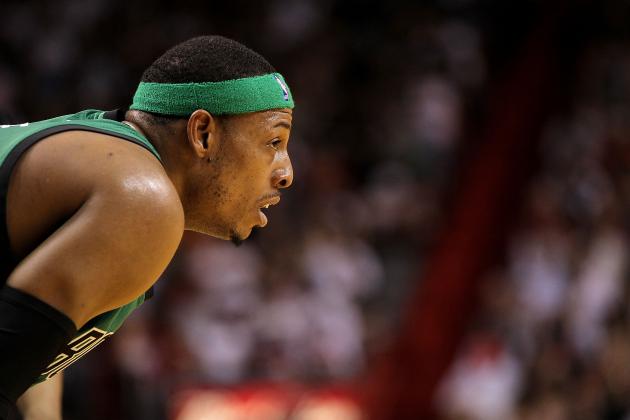 Mike Ehrmann/Getty Images

If there is one thing that is evident in Boston over the past several seasons, it is the impact Paul Pierce, Kevin Garnett and Ray Allen have had on the career of teammate and 2012 NBA All-Star Rajon Rondo.
Their veteran leadership and advice definitely paved the way for Rondo to become the success that he has in the NBA game. The same can be said about many other young players around the league, whose skills have grown under the tutelage of wiser, more seasoned teammates.
On the Celts' roster this season, Avery Bradley, E'Twuan Moore, JaJuan Johnson and Greg Stiemsma are all first or second-year players who could use some additional coaching on not only the NBA game, but how to properly handle the professional lifestyle. As his career winds down, Paul Pierce could use his playing career to help launch successful careers for younger Celtics players and pass the torch to the next generation of Boston stars.