8 Sexiest NBA Finals Matchups for 2012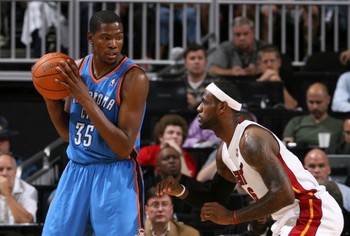 The NBA Finals always elicits a strong response from basketball fans around the world, and the 2012 championship battle will be no different.
Most people are already pegging Kevin Durant and LeBron James to be among the last men standing, but it's entirely possible that neither superstar small forward makes it that far.
Derrick Rose, Tony Parker, Kobe Bryant and Chris Paul will all be looking to make a title push of their own, and there are a number of matchups which could really get people tuning in over the summer.
San Antonio Spurs vs. Miami Heat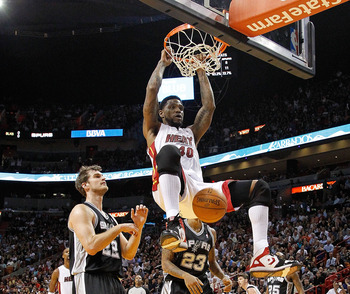 Mike Ehrmann/Getty Images
Some like to label San Antonio as an old, boring team that isn't much fun to watch, but that couldn't be further from the case.
Although the appreciation for solid execution and fundamental basketball has gone out the door among some fans, the Spurs play a consistently strong game that presents a tough challenge for every team in the league.
With "big three" pitted against "big three," a Spurs-Heat matchup would put on an unforgettable show.
Chicago Bulls vs. Oklahoma City Thunder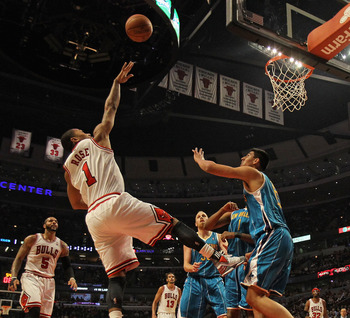 Jonathan Daniel/Getty Images
Derrick Rose vs. Russell Westbrook is a matchup of two phenomenal point guards, and the speed each brings to the position is something we don't see from many of their peers.
With great one-on-one battles at a number of spots on the floor, perhaps the most interesting could be Joakim Noah and Kendrick Perkins duking it out beneath the bucket.
Both clubs are incredibly well rounded and possess a great deal of depth. Rose's ability to routinely make plays that leaves you saying "wow" is an element that would be great to have in the Finals.
New York Knicks vs. Los Angeles Clippers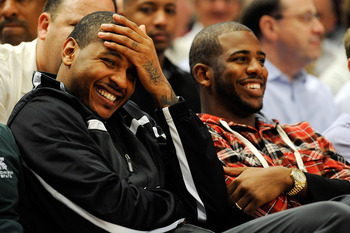 Patrick McDermott/Getty Images
Before Chris Paul was traded to Los Angeles, his request was to be in one place: New York.
Incredibly close friends with Carmelo Anthony, Paul had a strong desire to become the newest Knicks point guard long before the Jeremy Lin train ever started rolling through Madison Square Garden.
It's going to take a lot for the Knicks to get to the final round, but if Los Angeles and New York can put the pedal to the medal, it will be a media frenzy unlike anything we've seen in a long time.
Los Angeles Clippers vs. Miami Heat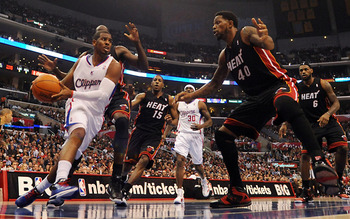 LeBron James and Chris Paul are known to be good friends off the court, but when they step onto the hardwood, it's a completely different story.
Both fierce competitors have the itch to win a championship and are in still search of their first ring.
With Blake Griffin and Chris Bosh matched up at power forward, Dwyane Wade could be the X-factor in this one.
Dallas Mavericks vs. Miami Heat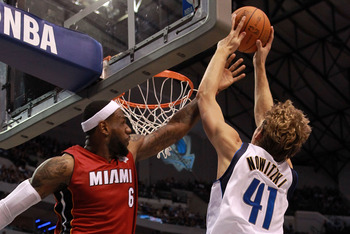 Ronald Martinez/Getty Images
Who wouldn't want to see a rematch from 2011?
There is nothing Miami would like more than to reach the Finals and have a chance to beat Dallas after a deflating end to last season.
It also doesn't hurt that last season's championship got great ratings across the country.
Los Angeles Clippers vs. Chicago Bulls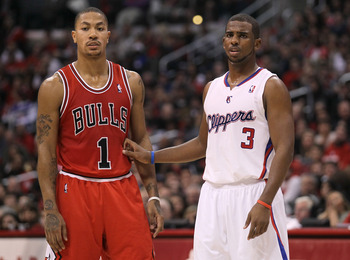 Stephen Dunn/Getty Images
In a point guard-driven league, it doesn't get much better than a head-to-head matchup between Derrick Rose and Chris Paul.
Both teams have multiple scoring threats, bench depth and players who are capable of taking over the game at any moment.
It would be very interesting to see if Chicago's staunch defense could slow down Lob City's fast-paced style of play. Each team presents unique challenges for the other.
Los Angeles Lakers vs. Miami Heat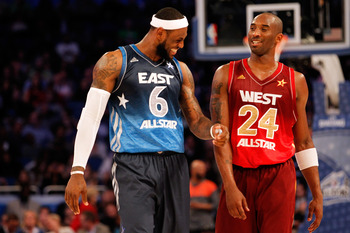 Ronald Martinez/Getty Images
LeBron James, Dwayne Wade and Chris Bosh vs. Kobe Bryant, Pau Gasol and Andrew Bynum. That is a serious "big three" battle, assuming both rosters stay intact beyond the trade deadline.
Television ratings would be through the roof, the two most recognizable players in the game would be on the same stage and Bryant would be fighting for his sixth ring while trying to prevent James from getting his first.
This is one series that the league would love to see.
Miami Heat vs. Oklahoma City Thunder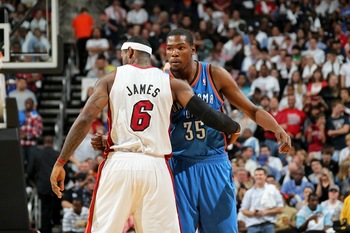 This is the matchup that most people want to see.
My preseason pick for what we would see in the Finals, a matchup between MVP front runners LeBron James and Kevin Durant would be must-see television for anyone who enjoys the game of basketball.
There would be strong national attention being paid to this particular contest. In a seven-game series, there is no question that this would be incredibly entertaining.
Keep Reading