Yahoo's Kevin Kaduk on Spring Training, Ryan Braun, Red Sox Skippers & More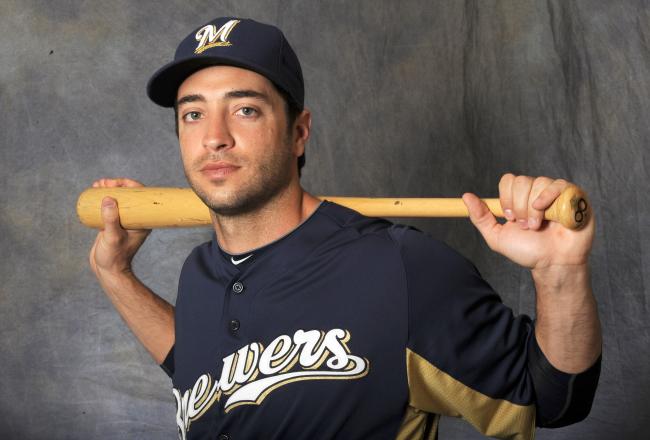 Rich Pilling/Getty Images
Kevin Kaduk of Yahoo's baseball blog Big League Stew is the guest this week, talking from a hotel room in Port St. Lucie, Fla. You can almost feel the sunshine and warmth coming through his phone.
Subscribe to the Wide Left podcast in iTunes here.
We start the show with a debate about the on-going Ryan Braun situation, which now features a full statement from the man who collected his urine sample and swears there was no tampering.
People have taken issue with Braun using a breakdown in the process as a defense for his suspension being overturned, going so far as to assume he is guilty because he did not challenge the result of the test.
The issue is the process, something that Braun could legally challenge. Under the rules of appeal, it seems arguing his innocence would have been rather impossible to prove, so finding a loophole was the only way back on the field.
Kaduk and I spend more time on the giant, gaping holes in MLB's testing system, with Kaduk pointing out that the mere fact we know the test collector's name at all shows an enormous fault in the process.
So what's next for Braun? Don't think for one second the talk of him "weighing legal options" is code for "he might sue." There would be no reason to expose himself to disclosure, but in the public eye, the threat of lawsuit is almost as good as an actual lawsuit.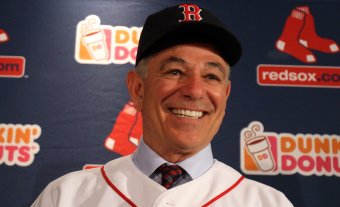 Elsa/Getty Images
"He must be innocent…he said he might sue!" Case closed.
Kaduk and I talk about the budding rivalry between former Red Sox manager Terry Francona and current manager Bobby Valentine. Has there ever been a case where a TV guy got a manager's job and the former manager who replaced him on TV was the same guy whose managerial job he took?
It's a rivalry that will be fun to watch all season, that's for sure. Neither guy is shy when a camera is in front of his face, and with ESPN's all-in coverage of the Red Sox, the season will surely get heated.
Rob Carr/Getty Images
We talk about the most obnoxious fans in baseball and discuss if Red Sox fans are more obnoxious than Yankees fans. (Result: they are.) Where do Phillies fans fall into that, and will Jonathan Papelbon feel more or less pressure pitching for Philly than what he had in Boston?
We try to hit the hot topics in the spring, including Manny Ramirez, Brett Myers as a closer for a team that will probably have fewer save opportunities than any other and injuries…lots and lots of injuries.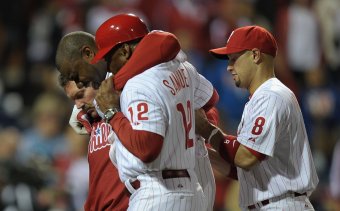 Drew Hallowell/Getty Images
Should teams be worried about early-spring tweaks, or is it just something that happens to some players in February? What about the more serious injuries, like the slow rehabilitation of Ryan Howard's Achilles tendon or Tommy Hanson's concussion situation?
Last, we touch on the reigning champs and discuss if the Cardinals can be a contender after losing Albert Pujols and Tony La Russa. It's still the spring, so don't hold us to any prognostications just yet.
Talking baseball…it feels as good as it sounds.
This article is
What is the duplicate article?
Why is this article offensive?
Where is this article plagiarized from?
Why is this article poorly edited?