Detroit Red Wings: Getting Top Seed in Western Conference Might Be Impossible
February 29, 2012

Christian Petersen/Getty Images
The Detroit Red Wings are in a battle. That battle is not for the playoffs, which they will at this point almost assuredly make for the 21st straight NHL season, but instead it is for the top seed in the Western Conference.
Their main opponent?
The Vancouver Canucks.
Detroit pulled to within one point (with 87 points now) away from Vancouver (88 points) as the Wings beat Columbus 5-2 on Tuesday night, and Vancouver lost a second straight game in a shootout to Phoenix 3-2.
Despite being only one point back of Vancouver, Detroit is not only going to find itself struggling to catch the Canucks, but might not be able to catch them at all.
Don't believe me? Let's look at some facts here as I try and convince you that it will be extremely difficult if not impossible to catch the Canucks for first place in the Western Conference.

Remaining schedule for Detroit

Detroit has 18 games left: eight road games, and 10 home games.
In those home games, Detroit plays Minnesota, Chicago twice, Los Angeles, Carolina, Washington, Columbus, Nashville, Florida, and New Jersey.
Their road games consist of Philadelphia, Nashville, a West Coast three-game California road trip, the New York Rangers, Columbus and St. Louis.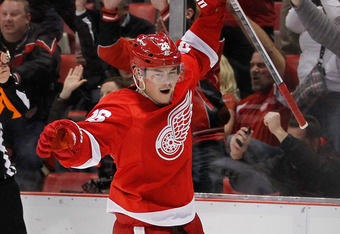 Gregory Shamus/Getty Images
Detroit has been just .500 on the road, with a 16-16-1 record, and the Red Wings have also struggled at home lately, picking up only one of a possible four points in their last two games.
So hypothetically speaking, let's suppose that Detroit wins seven or eight of their 10 remaining home games, and goes .500 on the road to finish the season.
That leaves Detroit with either 11-7 record or a 12-6 record over the last 18 games, for a total of 109 or 111 points.

Remaining schedule for Vancouver
Vancouver's remaining schedule could not, in my opinion, be more lenient.
Vancouver has 13 home games and five road games. Their home record is a very respectable 18-6-4, and most of their games are against non-playoff teams or teams on the bubble.
Coming up, the Canucks have a seven-game home stand, a four-game road trip and then play six of their final seven at home.
Their games consist of St. Louis, Buffalo, Dallas (three times), Winnipeg, Montreal, Phoenix, Minnesota, Chicago, Colorado (twice), Calgary (twice), Anaheim and Edmonton.
Excuse me for doubting most of the teams in that list (St. Louis and Chicago being the exceptions), but Vancouver could end up almost running the table at home.
Their most difficult remaining home contest is their next game against St. Louis.
So going by statistics, if Vancouver were to win 10 of their remaining 13 home games, and two or three of their remaining away games, that would give them a record of either 12-6 or 13-5.
That's more than enough to pull away with their one point lead over Detroit.

Pavel Datsyuk's absence
I don't think that I can emphasize this "math equation" enough.
Datsyuk equals offense. Simple as that.
When Datsyuk is in the lineup, Detroit is a far better team obviously.
But with Datsyuk potentially out for another week two weeks after knee surgery, the Red Wings are in a bit of a slump and in some trouble offensively.
Since getting his knee scoped and being sidelined, Datsyuk has watched his Red Wings go 1-2-1 in his absence—not exactly the most promising numbers ever.

Roberto Luongo is infinitely better at home than on the road
Since choking in last year's Game 7 in the Stanley Cup playoffs, Roberto Luongo has upped his game at home. In 22 home games so far this seaosn, Luongo has a record of 14-4-4 with two shutouts, a 92.9 save percentage and a 2.05 GAA.
With the teams coming up on Vancouver's home stand(s), and the fact that Vancouver plays 13 out of their last 18 games at GM Place in Vancouver, Luongo could add to his totals and push Vancouver into the first place spot in the Western Conference for the second straight season.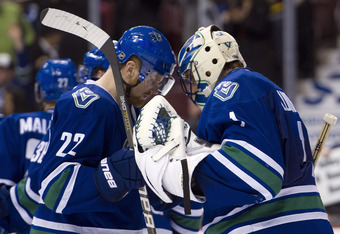 Rich Lam/Getty Images
All of this said, Detroit has their work cut out for them. I won't go into other injuries, but Detroit has a lot of work to do if they want to get the No. 1 seed in the Western Conference this year.
It will be interesting to say the least, hopefully Luongo lets the pressure get to him, because I don't really want to play Chicago or San Jose in the first round.
As always, for more article updates, follow @isaacesmith91