Carlos Condit's Interim Title is Worthless Without a Defense
February 29, 2012

Carlos Condit deserves to be the number one contender for the welterweight division, and the mandatory challenger for Georges St-Pierre when he returns. He just doesn't deserve to be an interim champion if that is the next fight he takes.
Condit won his title at UFC 143 where he beat Nick Diaz by controversial decision, choosing to move around the cage and throw leg kicks rather then exchanging punches. The fight wasn't without its detractors, but it did win over the judges and got him the title.
Condit hasn't made a decision on if he will wait or not, but the fact that Dana White, the president of the UFC, said that he would understand if Condit waited for St-Pierre, makes the idea of an interim title pointless.
An interim champion is supposed to have all the duties and obligations that the original champion had. He is supposed to fight mandatory challengers and keep himself busy.
If Condit doesn't do those things, the belt means nothing because he gets to make the choices of what he does with it.
Could you imagine Anderson Silva saying that he didn't want to fight Chael Sonnen and would wait for a different fighter to build themselves up?
How about Jon Jones saying that he was not going to fight until Rashad Evans could face him?
What about Junior Dos Santos trying to fight Brock Lesnar, who already retired, over Alistair Overeem?
None of these possibilities make sense and while they would all come from undisputed title holders, Condit is the interim champion. There is a vast difference between that designation and the one of mandatory challenger.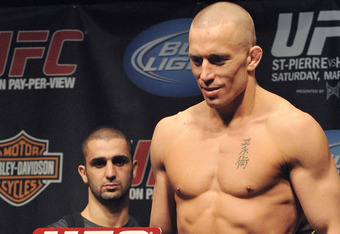 Jon Kopaloff/Getty Images
A challenger has no duty to anyone but himself, and is trying to become the man in his division. The interim champion is that top fighter until the reigning champion returns.
A champion is pushed by the company and given opportunities to make money that no one else has. Condit is now in that position, but it is a two-way street. He needs to fight as often as possible and make money for the company that has put so much into him and afforded him the designation as champion.
He shouldn't get the opportunity to wait, but he is.
With GSP slated to come back in November there is plenty of time for one defense. It should be happen in the ring instead of in interviews explaining why he waited for St-Pierre's return to fight again.
Because that isn't what champions do, and if Condit wants to walk around with a belt, he is going to have to keep earning the right to do so.
Otherwise, he is just another challenger with a gaudy belt.