Jeremy Lin: Where Does the New York Knicks Point Guard Rank Among Starters?
February 29, 2012

Chris Trotman/Getty Images
The story of the last few weeks has been the ascent of New York Knicks point guard Jeremy Lin. After coming into the league undrafted and unwanted, he received a starting job in New York and has flourished. As a starter, Lin is averaging 22.4 points per game, 8.8 assists per game and 2.5 steals per game. 
It's true, Lin has only put up these numbers for 12 games, but his game seems to have translated quite well, even against some of the better teams in the Association. The lone exception would be the Miami Heat game, but you can't judge a player off of just getting shut down by the best team in basketball.
So where does Lin stand?
And a disclaimer, I am a Chicago Bulls fan, so I feel like I don't have the bias that a Knicks fan would have. This is my attempt at objectivity, so don't call me a Knicks homer when I'm not a Knicks fan. 
To start things off, let's name point guards ahead of him. This group is the elite level point guards that Lin clearly is not as good as. DO NOT take this as me ranking those point guards, that's a completely separate issue:
1. Derrick Rose: the MVP.
2. Chris Paul: the floor general.
3. Deron Williams: the complete package.
4. Russell Westbrook: the dynamic scorer.
No matter how well Lin has played thus far, he is clearly not at the same level as these four guys. After that, however, you can start to make a case for Lin against many of the other great guards in the league. Again, I can't reiterate enough, I am not ranking these other guys, I'm just calling them out in the order that they pop into my head.
The Second Tier
5. Rajon Rondo
At this point, you can't say that Lin is better than Rondo. There is no question that Rondo is a far superior passer than Lin; that is the one thing you can say for certain. On the other hand, Lin has proven himself to be a much more dominant scorer.
But the thing that puts Rondo unattainably ahead is that he is a far superior defender to Lin. No question, you take Rondo in this case.
6. Steve Nash
This is actually a really great comparison since both players play the same roles in similar systems. While Lin has been great, Steve Nash is just ageless. He's averaging 14 points per game and 11 assists per game on 54 percent shooting, 40 percent from three and only 32 minutes per game.
I honestly don't even know how a player could possibly play offense more efficiently as a nonathletic point guard. Fact is, Lin hasn't hit Nash level yet. 
7. Tony Parker
I made the mistake of leaving Tony Parker off my All-Star game predictions, and I will be quick not to let that happen again. Parker has been absolutely carrying the San Antonio Spurs as of late.
In his last 10 games, Parker has averaged 24.7 points per game on 47.8 percent shooting to go along with a ridiculous 9.0 assists per game.
The craziest part? 10 straight wins. Those are MVP numbers. Lin is not Tony Parker.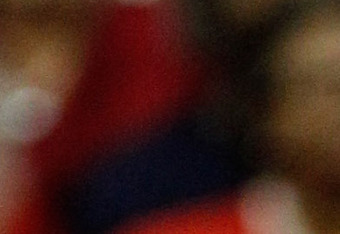 Rob Carr/Getty Images
8. Kyrie Irving
Irving has come out of the gate and established himself as one of the better point guards in the league already. Even though he is not as physically gifted as the Derrick Roses and Russell Westbrooks of the world, Irving has developed already into a dynamic scorer who can beat players off the dribble or punish them with his jump shot.
While Lin is talented, you can't say that he's the complete player offensively that Irving has shown himself to be. Defensively, they're both fairly awful so it's hard to compare. 
The Rest
At this point, we can begin putting Lin in the conversation.
Would I take him over John Wall? Wall is more physically gifted but Lin has better results. Would I take him over Steph Curry? It's hard to compare since Curry has been off the court so much, but probably at this point. Would I take him over Kyle Lowry or Brandon Jennings? Because of his efficiency numbers, probably. 
So what the Knicks are dealing with is a player who you could make a legitimate case is a top-10 player right now. I don't care if his production tails off, the fact that you can already start talking about him among the top 10 points in the NBA is an incredible feat.
Can he move up this list? Well I think he will eventually move past Nash when he curtails or retires. At the same time, Wall has the raw ability to move past him. So at this point, you'd have to say that this is Lin's ceiling. 
Even if this is Lin's ceiling, Knicks fans have to feel good about the fate of the franchise moving forward with two of the best scorers in the league—and a top-10 point guard.