Washington Nationals: Clippard/Storen Is the Best Setup/Closer Combo in NL
February 29, 2012

Jim McIsaac/Getty Images
Drew Storen established himself as one of the best closers in the National League in 2011. 
In just his second season in the league, Storen saved 43 games and struck out 74 batters in 75.1 innings. He posted a 6-3 record and a respectable 2.75 ERA as a first-year closer.
Tyler Clippard served as Storen's setup man in 2011, and proved that his strong 2010 season was not a fluke. 
During that 2010 season, Clippard recorded an incredible 11 wins out of the bullpen while posting a 3.07 ERA in 91 innings.
Last season, Clippard was actually able to improve a great deal.
He was able to lower his ERA to 1.83, lower his free passes from 41 to 26 and decrease his WHIP from 1.209 to .838. He also recorded a league-leading 38 holds.
Clippard offers the Nationals something that not many other late game relievers can.
Seeing as he is a converted starter, Clippard can still be used for multiple innings on occasion. He can also be used in several consecutive games because of his short-lived career as a starter.
In the American League, the duo that most closely resembles Storen and Clippard is the tandem at the back end of the Yankees' bullpen of David Robertson and Mariano Rivera.
Now, let me stop right here for just a second.
In absolutely no way am I comparing Storen to the great Rivera.
Rivera is in a class all his own as a closer, and comparing Storen to him would be idiotic.
Rivera is the greatest closer of all time, while Storen is entering just his second season closing games. There is no comparison.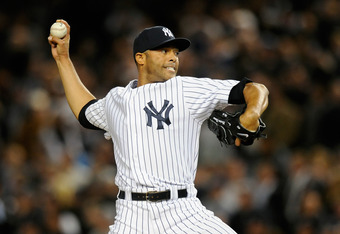 Patrick McDermott/Getty Images
Whew. 
Now that that's out of the way, I can continue on.
Based on stats and stats alone, the two duos are very similar.
Robertson and Clippard had pretty similar seasons in 2011. Robertson posted a 1.08 ERA in 66.2 innings of work, while striking out 100 batters. He also recorded 34 holds. His WHIP was a very respectable 1.125.
Ironically enough, both are products of the Yankees farm system.
The disparity between Rivera and Storen was much greater, but they still produced at a pretty similar rate.
Rivera saved 44 games last season, while posting an ERA of 1.91 and WHIP of .897.
Despite being edged out in all of those categories, Storen recorded more wins than Rivera (6 to 1), more strikeouts (74 to 60) and more innings pitched (75.1 to 61.1).
The combination of Robertson and Rivera is no question the best late-inning tandem in the majors. Robertson has himself to be the heir apparent to Rivera's throne, and Rivera is obviously one of the greatest pitchers to ever grace an MLB mound.
Clippard and Storen, on the other hand, are the best combination in the National League.
Clippard provides the Nationals with consistency and versatility, while Storen is one of the most promising young arms in the system.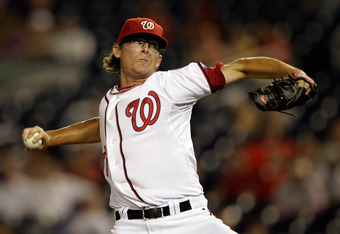 Rob Carr/Getty Images
Both young pitchers will continue their successes next season.
Expect Clippard to post an ERA around 2.20 in about 85 innings while striking out 90 batters and recorded 36 holds. Don't be surprised if he's elected to the All-Star Game, either.
Storen could be an All-Star candidate himself with a repeat performance. Expect him to lower his ERA as he now has sufficient experience as a closer. A 2.40 ERA with 46 saves and 75 strikeouts is certainly not out of the question for Storen.
The Nationals will continue to prove that they are a team on the rise in 2012, as they have a very strong offense and a much improved the rotation.
The bullpen figures to look very similar, though, but why change it?
Especially when it's anchored by the likes of Clippard and Storen, the best late inning combination in the National League.