2012 NFL Combine: 10 Players Whose Draft Stock Skyrocketed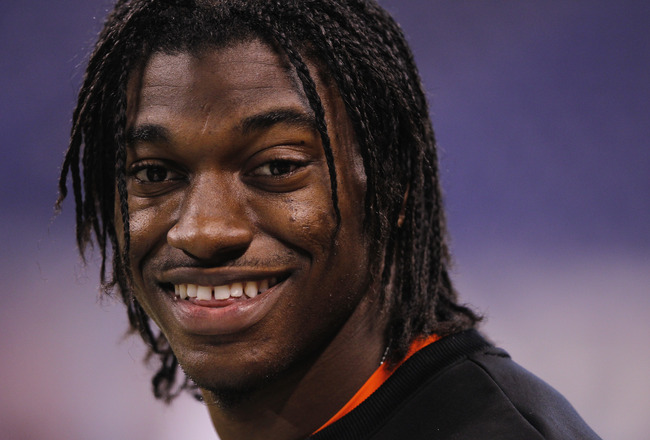 Robert Griffin's draft stock was already high, but his Combine showing may have prompted several teams to immediately take to the phone lines about a trade.
Joe Robbins/Getty Images
He smiled, he quipped, he dazzled and entranced. Then he ran the fastest 40 time ever run at the combine by a player destined to play quarterback in the NFL.
This was Robert Griffin's weekend.
His "official" 4.41-second result in the 40-yard dash is the second-fastest result for a quarterback in the history of the NFL Scouting Combine. The fastest quarterback to time in Indianapolis, Reggie McNeal, was quickly moved to wide receiver by the Cincinnati Bengals.
He also produced a 39-inch vertical leap, which ranks second only to Josh Portis among quarterback combine participants since 2000. His broad jump of 10'0" was good, but clearly could have been better with better technique.
As good as his athletic measurements were, his interviews had tongues wagging just as much.
"Never mind drafting these guys," Scott Pioli said of Andrew Luck and Robert Griffin. "I wish my daughter would marry one of 'em."
Griffin's draft stock was already about as high as you would imagine in any draft that contains Andrew Luck. But immediately after Griffin's dazzling performance, the St. Louis Rams let it be known that they will definitely trade the No. 2 pick in the draft.
That is a significant development because it tips the Rams' hand in a way many would feel is not wise. Traditional thought would see the Rams try and pretend they might take Griffin themselves at No. 2 overall, so as to get the better price.
But after this combine showing, they were so extremely confident that Griffin would have multiple, serious bidders that they decided the charade was unnecessary.
That makes Robert Griffin the first of a number of players whose draft stock is skyrocketing after the 2012 NFL Scouting Combine.
Let's take a look at some others.
WR Stephen Hill, Georgia Tech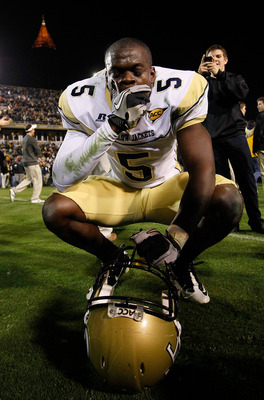 Georgia Tech wide receiver Stephen Hill's draft stock is soaring after an extremely successful combine weekend.
Kevin C. Cox/Getty Images
Nobody loves a workout warrior. Everyone loves speed.
This is the conundrum that faces us every year after the NFL Scouting Combine wraps up.
Arguably, Georgia Tech's latest deep threat from the triple-option attack was the biggest offensive star of the 2012 NFL Scouting Combine aside from Robert Griffin.
He ran the fastest unofficial 40 time in the combine at 4.30 seconds, which translated to a tie for second fastest "official" time, at 4.36 seconds.
Oh, but did I mention he measured 6'4" and 215 lbs, with nearly 33.5-inch arms and nearly 9.5-inch hands?
Let scouts chew on those triangle numbers.
He followed up with a 39.5-inch vertical, which tied for fifth best at the combine, and an 11'1" broad jump that tied for best.
The key to his draft stock skyrocketing is the fact that he averaged 29 yards per catch as the leading receiver in Georgia Tech's triple-option attack. Due to the nature of the offense, scouts have not really seen Hill run the full route tree. This left his draft stock in flux, with a lot riding on his pre-draft process (including the combine), which set the stage for a classic combine riser.
Scouts may have caught a glimpse of the unique, core skill set that Hill possesses when he went out and performed extremely well during field drills. The rest they will just have to infer.
In recent years, we have seen players like Darrius Heyward-Bey, Demaryius Thomas and Torrey Smith go in the first round based on a combination of big-play ability and measurables, despite not putting out a lot of tape of the player running the route tree.
Thomas, in particular, worked in the same triple-option attack at Georgia Tech, and finished the 2011 season on fire with 745 yards and four touchdowns in his final seven games of the season, including playoffs. His strong finish has likely made some evaluators more comfortable with the idea of taking Hill high.
WR Michael Floyd, Notre Dame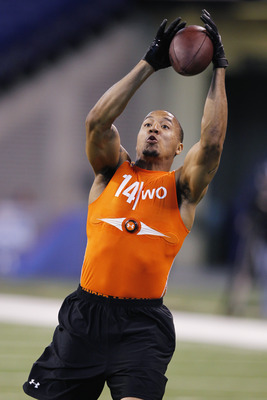 Notre Dame's Michael Floyd came to the combine with some questions to answer in interviews, but he showed that on the field he is the real deal.
Joe Robbins/Getty Images
Justin Blackmon chose not to participate in combine measurements such as the 40-yard dash and vertical leap, ostensibly due to a hamstring injury. This was a puzzling, albeit transparent decision, since Blackmon did not pull out of field drills and was able to showcase much of his trademark ability.
He came off as being afraid of his own measurements. That was good news for Michael Floyd of Notre Dame.
Floyd was already the second-best receiver in the draft behind Blackmon. His body of work on the football field had already shown that much. His combination of length, strength, vertical explosion, run after catch and hands are uncommon anywhere but the very top of the first round of the NFL Draft.
Justin Blackmon's decision not to run may be a sign that he does not have the wheels the scouts were hoping to see out of him. If that is the case, it could open the door for Floyd to leapfrog him.
Floyd did his part to make it a more difficult decision. At 6'3" and 220 lbs, he ran an "official" 4.47 in the 40-yard dash. He jumped 36.5 inches in the vertical, which is higher than some are expecting of Blackmon, and he had a 10'2" broad jump.
He was just as good in field drills, running crisp routes and plucking the ball out of the air with ease. He showed the ability to catch the ball over his shoulder.
He was a coveted interview in Indianapolis. He met informally with 25 or 26 NFL teams on the Thursday night before formal interviews began.
How those interviews went should hold the key to whether he rises or falls. Thus far, I have not heard anything detrimental (unlike, for instance, Alshon Jeffery or Vontaze Burfict). I think the NFL wants very much to believe in Michael Floyd, and I think Michael Floyd may have given them enough reason to do so.
WR Devon Wylie, Fresno State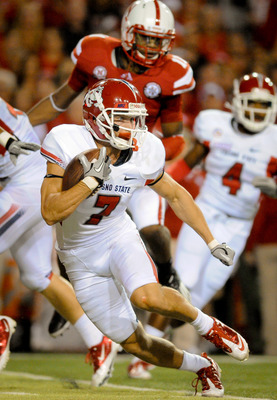 Fresno State's hidden gem Devon Wylie may not be so hidden anymore, after a very strong showing at the 2012 NFL Scouting Combine.
Eric Francis/Getty Images
Word is getting out on the man Fresno State teammates refer to as "Wiggles."
I saw him live in East-West Shrine practices breaking the ankles of defensive backs. I had not really looked at his work at Fresno State, so I walked into those All-Star practices with a clean slate.
I walked out thinking, despite the presence of players with much bigger names and much more street cred, Wiggles may have been the best receiver in town.
What drew me to Wylie was his combination of ball skills and change of direction ability.
I have seen plenty of players that can make routine catches so long as the ball is thrown accurately, but cannot spot the ball in the air quickly enough to adjust on it and make an inaccurate ball look more accurate.
Looking closely, I was able to get a sense during the week of practice that this is a player that can easily and quickly track the ball through the air, to the point he is able to make subtle and timely adjustments on the ball. This is not something that is easy to see, but it was there.
As for his change of direction ability, I wrote when I predicted him to have the best cone drill at the combine that the man has the suspension system of an Aston Martin. His Gumby ankles can make cuts that most players cannot match. This much was readily apparent throughout the practice week in St. Petersburg, Fla. He is quick as a water bug and has speed to match.
The latter is important, and this is where his combine showing comes into play.
I have seen plenty of short striders that show the great change of direction skills, look like fast players, but really are not fast at all.
James Rodgers, brother of Jacquizz Rodgers, is the latest example. If you look too closely, you're going to see a fast player. But if you broaden out your view a little bit, you see that the guy is doggy-paddling across the field while everyone else is swimming freestyle.
What I saw in Wylie at Shrine practices was a man that had speed to stretch the field vertically from the perimeter, not just short area quickness. He showed this at the combine by running an "official" 4.39 in the 40-yard dash. He followed up with a 39-inch vertical and a 10'3" broad jump. These are excellent numbers.
You put these skills together with his ability to run with the ball in his hands, which he showed with a 15.4-yard average on punt returns with two touchdowns in 2011, and you could have a special player.
The big question is, why the lack of production? This was primarily due to injuries suffered in 2008, 2009 and 2010. Secondly, he did have some circumstances going against him. Fresno State pegged Wylie as a slot receiver and had him run a lot of the short routes you see at that position. This in itself is fine, however the quarterback had very poor ball placement, which put a cap on Wylie's ability to use his significant run-after-catch skills.
He was still able to catch balls that he had no business catching, and even gained extra yards on receptions that other players would not have. However, it seemed at times the bad ball placement was making him work extremely hard for a mere seven-yard gain when better throws could have resulted in 27-yard gains.
I believe word will continue to get out on Wylie's talent level, especially after a blowout combine showing. Most people that bother to watch him on film like him. The problem is they do not yet have a feel for just how much they should like him.
Due to his injury history, he is a late-comer to a party that has a number of more established names. It takes a while to digest where to place a guy like that. I liken it to walking into a crowded business meeting 20 minutes late. You could be a future Warren Buffett or you could have been late because you saved three kids from a burning building, but when you walk in, the people in the room are still going to quietly stare at you with skepticism in their eyes.
They will figure it out. And when they do, they will see a player that is somewhere between a Wayne Chrebet, Wes Welker and Steve Smith (CAR).
OL Cordy Glenn, Georgia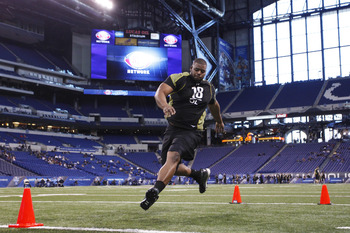 Georgia's Cordy Glenn showed athleticism that was highly unusual for his size and build.
Joe Robbins/Getty Images
The draft-going world could not hide its absolute shock when Memphis defensive tackle Dontari Poe (whom we will discuss in a few slides) ran an unofficial 4.87 in the 40-yard dash at 346 lbs. What seems to be getting a lot less air play is the fact that Cordy Glenn ran an unofficial 4.96 at 345 lbs just a few days earlier.
The "official" thumbs were a lot less kind to Cordy when they adjusted his 40 time than they were with Poe. Poe was adjusted to a 4.98-second result, where Cordy was adjusted to a 5.15-second result. Nonetheless, it was a highly impressive run for Glenn.
I wish I could say his jump and agility measures matched, but they did not. He had an extremely low 23-inch vertical. His broad jump measured only 7'9" and if you saw it, you saw a guy that ridiculously did not even bother to lift his feet during the broad jump at all. His shuttle and cone results at 5.00 and 8.13 seconds, respectively, were anything but ideal.
Nonetheless, I see his stock rising after this combine showing. The 40 time itself is very impressive for a man his size, with his combination of lower body girth and upper body strength. Glenn's arms measured out over 35 inches in length, which is extremely important to scouts. Typically, long arms translate poorly on the bench press due to inefficient mechanics. Cordy was able to put up 31 repetitions at 225 lbs regardless.
The player I saw in drills could clearly move well enough laterally to keep up in pass protection. He easily kept up in kick slide and mirror drills. When he had to serve the function of "rabbit" in the latter, it struck you just how unfair it was that a man of his size could move like that.
Overall, his combine reminds me of Marcus McNeill's back in 2006. McNeill had an unusually fast 40-yard dash for his size at that time, but his broad jump, shuttle and cone drill results were really not very good at all.
DT Fletcher Cox, Mississippi State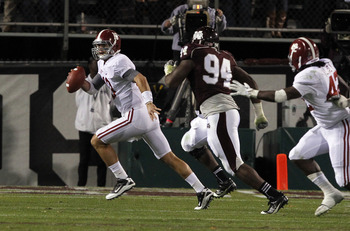 Mississippi State defensive tackle Fletcher Cox has a lot of buzz building around him after his showing at the 2012 NFL Scouting Combine.
Butch Dill/Getty Images
I wrote Fletcher Cox up prior to the combine as a potential Combine Warrior. Suffice it to say, he did not disappoint.
He started off by doing 30 bench reps at 225 lbs. He then ran a 4.79-second 40-yard dash with a highly impressive 10-yard split, and ran field drills with the quickness, flexibility and balance of a linebacker.
When recruiters showed up at Cox's tiny high school to recruit Desmond Johnson, they saw this 240 lbs dynamo running around the field all over the place. That guy ran a 4.47-second 40-yard dash at a recruiting combine, and Mississippi State intended to make him a 250-pound defensive end.
Cox quickly bulked all the way up into the 270's, which prompted the move to defensive tackle.
It is difficult to find players with his versatility. With his dimensions and ability to play the stack and shed game, 3-4 teams will be intrigued with the idea of playing him at defensive end. But it is not his stack and shed ability that will intrigue them most. It is not terribly hard to find square pegs for that square hole—big and strong guys that have good hands and can utilize power technique against offensive linemen, get off the blocks and make a play on the ball.
What is more difficult to find are players that can do that, and then reduce down to the inside on pass rush downs and be dynamic as penetrating players. Fletcher Cox shows the lateral quickness and flexibility to do this on a consistent basis. I have him as the No. 1 defensive tackle in the draft, also the most coveted 3-4 defensive end in the draft.
I believe this combine went a long way toward getting the rest of the media and scouting world to agree.
DT Dontari Poe, Memphis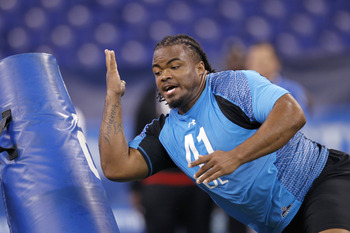 Memphis defensive tackle Dontari Poe took the Indianapolis Combine by storm, showing a size/strength/speed combination that most people have never seen before.
Joe Robbins/Getty Images
As I mentioned earlier, Memphis defensive tackle Dontari Poe shocked the world with his 40-yard dash at 346 lbs.
In an earlier Combine Warriors piece, I predicted him to not only be a Combine Warrior, but to also take the pole position in the bench press. He did exactly that, leading the entire combine with 44 bench reps.
That much was predictable. However, even though it was clear on tape that his get-off at 343 lbs was similar to defensive ends 100 lbs lighter, it was hard to predict that this behemoth could also run an unofficial 4.87-second 40 time. Running a 4.56 shuttle drill with a 8'9" broad jump and 29.5-inch vertical at that weight is just rubbing it in.
Watching Poe at Memphis, you could not help but see him as a little bit of an underachiever. He had all this immense strength and burst, but he did not make a ton of plays. He was on the ground a lot because he would get too extended, or he would fail to use his hands properly.
Of course, one thing you had to notice was even though he was put on the carpet many times, the quickness with which he got off the carpet at that size was mind boggling.
I am in no position to question the quality of Memphis' defensive line coaching relative to what Poe will find in the NFL. However, what I can say is that he will absolutely certainly coached harder in the NFL than he was at Memphis.
The NFL is a full-time job without as many of the restrictions you find at the NCAA level. Surrounded by hard-working NFL athletes rather than sub-par collegiate athletes, you may find that Poe is able to shake off the same inconsistency and underachievement labels that were stuck on other planet-theory prospects like Haloti Ngata, Vince Wilfork and B.J. Raji.
DE Nick Perry, USC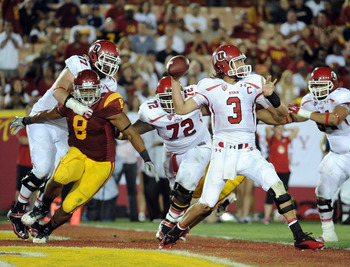 USC defensive end Nick Perry became one of this year's clear winners at the 2012 NFL Scouting Combine.
Harry How/Getty Images
Nick Perry showed up at the combine measuring 6'3" and 271 lbs, with 33-inch arms and 9.5-inch hands. All of this was very good, but to go on to run a 4.64-second 40-yard dash, with 35 bench reps at 225 lbs, a 38.5-inch vertical and a 10'4" broad jump, is ludicrous.
Watching him run and accelerate was a revelation. Most guys start low and by the end of the run they have popped up to where their upper bodies are lined up with their lower body, totally perpendicular to the ground. Perry has an enormous "bubble" (the term scouts use to refer to a player's butt and thighs), and that lower body of his just kept accelerating and accelerating, powering him forward like a jet engine pushing a wagon.
He ran unofficially at 4.50 before the demonic keepers of the "official" tag netted him up to a time of 4.64 seconds.
During drills, you could see him straddle the fine line between "tight" and "explosive." I would lean much more toward the latter. As a player, he lacks the flexibility to consistently get narrow at the bottom of an outside rush, dipping under the shoulder pads of a blocker. However, so did Ryan Kerrigan coming out of Purdue. You did not see him having any trouble getting to the quarterback or making plays.
I believe Nick Perry showed at USC that he carries an unusual amount of versatility and movement skills relative to his size and straight-ahead explosive characteristics. I see him rising up the boards after this showing.
LB Melvin Ingram, South Carolina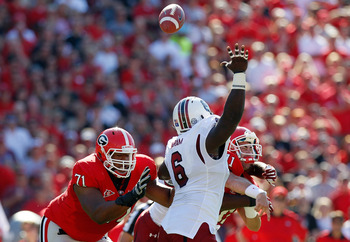 South Carolina's Melvin Ingram showed up to the 2012 NFL Scouting Combine slimmed down and ready to show off his explosion and movement skills, earning him honors as one of this year's clear combine risers.
Kevin C. Cox/Getty Images
There is definitely a buzz rising on Melvin Ingram's draft stock after this weekend's activities. He had an impressive showing at 6'1" and 264 lbs, with an unofficial 4.66-second 40-yard dash time that translated to a dreaded "official" time of 4.79 seconds. He had a 34.5-inch vertical, 9'1" broad jump and did 28 bench reps of 225 lbs.
Probably most impressive of all the combine results are the shuttle and cone times at 4.18 second and 6.83 seconds, respectively. These times highlight, for me, what I have been trying to say about Ingram all along.
I do not believe he is a full-time defensive lineman at the NFL level. I believe he is a true linebacker in the mold of an Adalius Thomas.
He is a guy that will thrive on multiplicity, much as Thomas did. Both players can play outside linebacker in a 3-4, inside linebacker in a 3-4, outside linebacker in a 4-3, defensive end in a 4-3, defensive tackle in four-man nickel fronts and possibly even situational defensive end in a 3-4. Adalius Thomas played all of these spots in his career with the Ravens and Patriots, and I think Ingram will thrive if allowed to do the same.
The problem for Ingram is his arm length. Just looking at him, it is clear that he has T-Rex arms. His combine arm measurements came out at 31.5 inches, but that may be a little on the generous side considering his look as well as the fact that his arms were measured 30.5 inches just a few weeks earlier at the Senior Bowl weigh-in.
I hate to overstate a measurement that may seem so trivial to the lay public, but arm length is a highly important measurement to scouts when it comes to valuing players at defensive line positions.
During drills, it was clear that Ingram moves and explodes like a real linebacker. I think it would be a shame for a team to not put this to good use, maximizing his best assets while reducing exposure to his weaknesses.
He strikes me as the kind of player that would fit well in the Steelers' style of 3-4 defense, which sees its outside linebackers staying on the same side and playing strong or weak depending on the formation, as opposed to flipping sides so that a player can maintain his specialty role. Outside rushers in that defense end up rushing the passer closer to 65 percent of passing downs rather than the 85 percent of passing downs you see in some other defenses.
LB Luke Kuechly, Boston College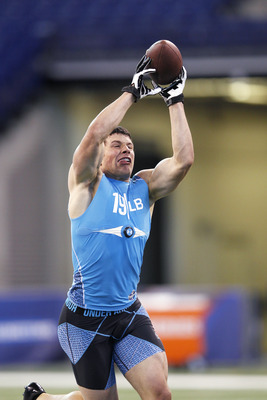 Boston College's Luke Kuechly put up some numbers and measurements at this year's NFL Scouting Combine that surprised many.
Joe Robbins/Getty Images
Another player that undoubtedly created a buzz for himself was Boston College linebacker Luke Kuechly, who blazed an unofficial 4.50 in the 40-yard dash, before being "official'd" to a 4.58-second time. He also had a 10'3" broad jump and 38-inch vertical. His shuttle and cone drill times at 4.12 seconds and 6.92 seconds, respectively, were superb.
Just to show off, he also did 27 bench reps at 225 lbs, was among the top performers in the 60-yard shuttle. All this he did at 6'3" and 242 lbs.
Kuechly was destined to be an underrated athlete at Boston College because he works in such small areas as a Mike linebacker that there are really only so many situations in which you can truly see his athleticism shine. They were there, but they were hard to spot.
Remember, this is the same position in which Vontaze Burfict, who ran abysmal times in Indianapolis this weekend, can garner all kinds of attention as a highly athletic player in the mold of Ray Lewis. Obviously, this can be a deceiving position, where it concerns athletic ability.
Examples of situations where you could see Kuechly's athleticism come out were mostly in pass coverage. Kuechly has the best feel for passing lanes of any linebacker in this draft. He translates angles and tendencies from the film room to the football field better than any linebacker in the draft. When Luke would close like a freight train on a check-down option, shutting the player down for minimal gain, I think most just assumed this was due to Luke's ability to diagnose the play before it happened.
While this is correct, it was also because he's just a heck of an athlete.
Watch him in the Miami (Fla.) game at the end of the season stick to Tommy Streeter like glue 30 or 40 yards down the field and knock a pass away, and tell me he is not a good athlete. Watch him close on all of Jacory Harris' short options, suffocating them until Harris (in typical fashion) became impatient and began forcing the ball down the field, leading to interceptions. Watch Kuechly undercut a ball because of his keen awareness of passing lanes, and then fend off Travis Benjamin (who tied for second-fastest player at the combine with a 4.36 "official" time in the 40-yard dash) for 45 yards with a combination of acceleration and stiff-arms.
This is a player that has been able to translate his athleticism onto the football field for a long time. We were just too dumb to notice it. It's getting noticed now, and I do not think he makes it out of the top 15 of the first round.
Keep Reading