NHL Trade Deadline 2012: Grading the New Jersey Devils
February 29, 2012

Bruce Bennett/Getty Images
The New Jersey Devils earned a B-minus for the two moves executed during the 2012 trade deadline period.  
On January 21st, Devils General Manager Lou Lamoriello sent minor league defensemen Joe Sova, as well as a fourth-round draft pick in the 2012 NHL Entry draft to the Carolina Hurricanes in exchange for winger Alexei Ponikarovsky.  Since his arrival in the Garden State, Ponikarovsky has notched 11 points in 16 games, including five goals and six assists. To boot, he is also the owner of a plus-five rating, skating with linemates Dainus Zubrus and Steve Bernier.
The Ponikarovsky trade is deserving of an A-minus grade for, if nothing else, the fact that expectations were low for Ponikarovsky and very little was given up in return for his services.  Also, the Russian forward has immensely outperformed original expectations, nearly doubling his point total for the season in just over a month since joining his new team.
The Devils' other transaction was something of a saga involving Minnesota Wild defensemen, Marek Zidlicky. 
On February 15th, it was widely reported that Zidlicky had agreed to waive his contractual no-trade clause in order to help facilitate a trade that would send him to New Jersey.  A deal was not reached immediately, but 10 days later Zidlicky finally found his way to the Devils.
Lamoriello and Wild General Manager Chuck Fletcher worked out a deal that would see Minnesota acquire veteran defensemen and power-play specialist Kurtis Foster, prospect Nick Palmieri, veteran forward Stephane Veilleux, a second-round draft choice in the upcoming draft and a conditional third-round pick in 2013.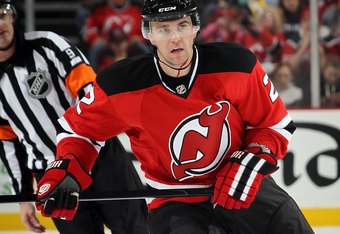 Bruce Bennett/Getty Images
So far, the Zidlicky deal has been unfortunate for the Devils.  Aside from the semantics of the deal itself, giving up three NHL quality talents, and potentially two draft picks in exchange for a 35-year-old defensemen with a $4 million salary who has struggled over the past couple seasons, Zidlicky hasn't proven the trade critics wrong with his performance over two games in New Jersey.  The Czech defenseman has yet to post a single point for the Devils, and sports a minus-three rating despite the fact that the Devils have only surrendered five goals since his arrival. 
For the aforementioned reasons and statistics, the Zidlicky trade is worthy of a C-minus grade.  The only reason that the deal receives a passing grade is because, while awful, Zidlicky's tenure with the Devils has just barely begun and he could very well turn his play around and help supply some much-needed offense for the New Jersey blue line.
Overall, the Devils had a solid trade deadline season with the combination of finding a diamond in the rough in Alexei Ponikarovsky, and taking a leap of faith in dealing a package of five different components to acquire a thus-far disappointing Marek Zidlicky.  All things considered, the Devils, and Lou Lamoriello especially, deserve a B-minus for the 2012 NHL trade deadline.  Whether that grade rises or falls depends entirely on Ponikarovsky and Zidlicky, but the bottom line is that, at present, the Devils were successful at the 2012 trade deadline.