One Cheat Code Each NFL Team Wishes It Could Have Used Last Season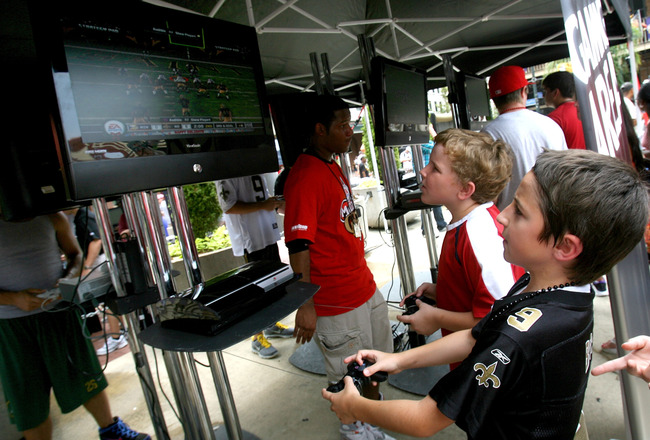 Sean Gardner/Getty Images
Few things can be more helpful or entertaining to gamers than to use a cheat code.
Want a fresh look at a game? Cheat code.
Want a see what its like to get past an unbeatable challenge or opponent? Cheat code.
There's no doubt that many NFL teams if given the opportunity would have sprung at the chance to throw in a well-timed button press or cheat code to help their chances last season.
Here is the video game cheat or powerup each NFL team would have liked to employ last season.
Arizona Cardinals: Moon Gravity, Tony Hawk's American Wasteland
Every week in the American Wasteland that is the Arizona Cardinals, it seemed like superstar wide receiver Larry Fitzgerald would have a pass his way sail way over his head.
I think with a little bit of gravitational support, that problem may be over.
Atlanta Falcons: DK Mode, Goldeneye 007
The Atlanta Falcons need a little bit of a confidence boost after their humiliating loss in the playoffs this past season, where they were held scoreless offensively.
In that sense, the big heads may not totally fit the bill, but at least it would give them the look of confidence (maybe just cockiness).
Baltimore Ravens: Blood Code, Mortal Kombat II
The blood code of Mortal Kombat II was a welcome sight to fans of the game who thought it was totally cleared in the Sega Genesis release.
Likewise, I can think of few teams who would take advantage of the terrifying sight of blood on the field more than the Baltimore Ravens.
I'm sure their opponents are hoping they steer clear of the kicks to the spike pit.
Buffalo Bills: Stop N Swop, Banjo-Kazooie
The Buffalo Bills need a big distraction after their confusing implosion this past year, and in that sense the Stop N Swop code of Banjo-Kazooie may fit the bill.
The code was originally planned to award gamers for doing well in the game's sequel, Banjo-Tooie.
However, the technical aspects of the trick were never set, and gamers found themselves playing for hours for no bonus.
At the very least, those gamers didn't have to watch the Bills in the second half of last year.
Carolina Panthers: Super Sonic Cheat, Sonic the Hedgehog 2
It seems the Carolina Panthers needed to lean on quarterback Cam Newton plenty in 2011, and in fairness, he should have had a little bit of help to make that work (something more than excellent wide receiver Steve Smith).
Super Sonic status may have helped out quite nicely, especially without having to go through the hassle of getting all of the Chaos Emeralds.
Chicago Bears: Bike Mode, Crazy Taxi
The Chicago Bears saw their season collapse under the lousy play of backup quarterback Caleb Hanie, who was in over his head operating the team's offense.
Bears fans probably would have preferred a trade-off like in Crazy Taxi, where players can switch to a bike taxi with no discernible drop-off in performance.
Cincinnati Bengals: Mega Jump, Megaman 3
The Cincinnati Bengals are close to being major contenders after their 2011 season. They just need a little extra push.
Or if they have a second controller plugged in...they could get a big boost in their jumping ability. Just push right on the D-Pad of the second controller to send MegaMan shooting into the air.
Cleveland Browns: Skateboarding, Metal Gear Solid 2
The Cleveland Browns may enjoy trying something different than playing football after their depressing 2011 season.
They may find some inspiration in Snake in Metal Gear Solid 2, who stepped away from his mission to enjoy some skateboarding.
In other words, the Browns may want to try a new game. I hear lacrosse or soccer can be pretty fun.
Dallas Cowboys: Brick Wall, Wayne Gretzky's 3D Hockey
I get this is more of an in-game powerup rather than a cheat code, but you can't tell me Dallas Cowboys defensive coordinator Rob Ryan wouldn't like a few solid defenders added to the roster.
So what if they're brick walls?
Denver Broncos: God Mode, DOOM
As blasphemous as this cheat code sounds, I'm sure fans of the Denver Broncos would have enjoyed the extra health and weapons provided in God Mode when they were getting emasculated by the New England Patriots in the playoffs this past season.
It wouldn't have hurt.
Detroit Lions: No Penalties, Bass Hunter 64
They may not have been the most penalized team (that would be the Oakland Raiders), but the Detroit Lions and their defensive tackle Ndamukong Suh found themselves in the worst possible light with all of their aggressive penalties, particularly a stomping incident on national television on Thanksgiving.
Turn off the penalties, and that problem would go away quite nicely.
Green Bay Packers: Big Ball Mode, All Star Baseball
The Green Bay Packers wide receivers may have enjoyed a larger ball, as they found the current ball in 2011 to be too small.
Dropped passes were a common problem all year and played a big role in their failure to repeat as champions.
Houston Texans: Konami Code, Contra
Given the health of their quarterbacks, the Houston Texans may have enjoyed some extra lives for both Matt Schaub and Matt Leinart. Why not go with the most popular code around to keep health up?
The Konami Code, performed by pressing Up, Up, Down, Down, Left, Right, Left, Right, B, A, Start, gives players 30 lives in Contra.
(In other Konami games, the code gives a variety of powerups, making it an iconic part of gamer culture.)
Indianapolis Colts: Meet Yoshi, Super Mario 64
The Indianapolis Colts didn't have a quarterback in 2011, but wanted to lead fans on that if they were patient, something cool would be waiting for them (Peyton Manning or Andrew Luck).
Likewise, players of Super Mario 64 found inspiration to go for all 120 stars with the promise of Yoshi at the end. Not only did he have a nice reward message for players, he also gave players 100 lives to help them continue to play.
Colts fans just have to hope their quarterback for 2012 is actually playable (Yoshi only stood on top of the castle and couldn't be hopped on like in Super Mario World).
Jacksonville Jaguars: Tank Spawn, Grand Theft Auto 3
The Jacksonville Jaguars were terrible offensively, with running back Maurice Jones-Drew the only positive thing with the unit. They needed extra firepower badly.
Why not a tank, like this one in Grand Theft Auto 3?
Kansas City Chiefs: Playing as Spider-Man, Tony Hawk's Pro Skater 2
The Kansas City Chiefs were ravaged by injuries on both sides of the ball last season and were desperate for some fresh talent to deepen their reserves.
Why not recruit somebody like Spider-Man? Judging by his special appearance in Tony Hawk's Pro Skater 2, he's definitely athletic.
The only challenge coaches would have is to balance his time so he could fight crime on the side. I guess with great roster additions come great responsibility.
Miami Dolphins: Skip Levels, Tomb Raider 3
The Miami Dolphins needed to get to the offseason while they had one of the worst records in the league. It would've hurt their pride, but they would have been in position to grab a great quarterback, something the team was lacking.
However, they turned up their play in the second half and won their way into a lousy draft spot.
They probably would have benefited from the ability to skip a few levels, or weeks of play, to get to the offseason.
Minnesota Vikings: All Weapons, Grand Theft Auto 3
The Minnesota Vikings needed help all over on offense and would have seen some major benefits from something like the all weapons cheat in Grand Theft Auto 3.
A little quarterback play here, some offensive line and wide receiver play there, and the Vikings offense may have turned into something.
New England Patriots: Skip to Mike Tyson, Mike Tyson's Punch-Out!
The New England Patriots were hurt badly by a late injury to tight end Rob Gronkowski in the AFC Championship Game against the Baltimore Ravens. They would have been better off being able to skip ahead like you can in Mike Tyson's Punch-Out!
Instead of going through several contenders, the code sends Little Mac (who kind of reminds me of Patriots wide receiver Wes Welker) straight to the championship with Mike Tyson.
New Orleans Saints: Debug Mode, Sonic the Hedgehog 2
For two years in a row, the New Orleans Saints have stumbled at the hands of an NFC West opponent in the playoffs.
It's time for the Saints to turn the tables.
Using the debug mode, which allows full level editing in Sonic the Hedgehog 2, the Saints might pull in the out of bounds line to cut off Alex Smith's touchdown run, or put spikes in front of tight end Vernon Davis.
New York Giants: Warp Zones, Super Mario Bros.
The New York Giants were so-so in the regular season, before turning it up in a major way for the playoffs.
Why the wait?
Skipping weeks like Mario skips levels in Super Mario Bros., the Giants could just move to the playoffs and get past that whole regular season thing.
It would certainly make Eli's third championship a lot quicker to reach.
New York Jets: Jetpacks, Grand Theft Auto: San Andreas
The New York Jets need something to get away from the constant questions about their team's chemistry or their future with quarterback Mark Sanchez.
Can I suggest a jetpack?
Oakland Raiders: More Lives, Super Mario Bros.
With no cheat code to build extra draft picks, the Oakland Raiders would probably be best off with extra lives for its players.
It lost several prominent starters halfway through the year (mainly quarterback Jason Campbell), which forced the team to act (signing quarterback Carson Palmer), which turned out to not get them into the playoffs.
Instead, the Raiders turned to shell games, switching to a new coach, Dennis Allen, to try to get the team over the playoff hump.
Philadelphia Eagles: Invisibility Mode, Goldeneye 007
The Philadelphia Eagles drew plenty of unnecessary attention at the start of the year by calling themselves the "Dream Team."
Given the results of the year, they may have been better off laying low. In fact, they would have done best had they done their best to remain invisible.
Pittsburgh Steelers: Unlimited Turbo, NBA Hangtime
The Pittsburgh Steelers ran out of gas as they were beat in the opening round of the playoffs by the upstart Denver Broncos.
The Steelers, as much as anybody, could probably use an infusion of unlimited turbo as in the game NBA Hangtime.
San Diego Chargers: IDKFA, DOOM
The San Diego Chargers needed any benefits they could get, with problems with players, coaches and front office management.
They probably would have loved the IDKFA code in DOOM, which gives players full health, all weapons and all keys to advance through the game.
Then again the Chargers may have blown it, even with all that additional help.
San Francisco 49ers: Grip Cheat, F1 2010
The San Francisco 49ers showed some problems holding onto the ball as they ended their season in the NFC Championship Game. They might enjoy a 1,000 percent increase to grip ability.
It would certainly be an easier remedy than sending Twitter death threats to wide receiver Kyle Williams.
Seattle Seahawks: Score Multiplier, LEGO Batman
For a team that lost several games by one score, the Seattle Seahawks would probably appreciate a point multiplier more than anybody. This cheat code for LEGO Batman, obtained by plugging in "18HW07" in the code menu, made each coin (originally worth one point) worth 10 points.
St. Louis Rams: Wario Stadium Shortcut, Mario Kart 64
The way many of their games went, the St. Louis Rams probably would've liked to have their games end as quickly as you can clear Wario Stadium using this (cheap) shortcut.
Tampa Bay Buccaneers: XP Boost, Pokemon Emerald
The Tampa Bay Buccaneers may be one of the youngest teams in the league, and it showed for good portions of last season.
While it's great to see a team build experience through a hard season of play, I'm sure Bucs fans would have preferred them adding those experience points through a cheat, like this one for Pokemon Emerald.
Tennessee Titans: 75 Coin Trick, Donkey Kong Country 2
I'm positive the Tennessee Titans would love to get rewarded for backtracking and going back to the same place like Diddy and Dixie Kong do in Donkey Kong Country 2.
Instead, they got a lot of frustrating losses and more questions then answers going into next season.
Washington Redskins: Paintball Mode, Goldeneye 007
Washington Redskins got killed (figuratively) on the football field for good portions of last season, and at the very least it could have been good looking.
In that sense, when (literally) killing bad guys in Goldeneye 007, it's sometimes nice to make it good looking and less gory. Paintball mode does the trick quite nicely.
Keep Reading