Alex Rodriguez vs. Paul Konerko: Which Aging Slugger Would You Rather Have Now?
February 29, 2012

Hannah Foslien/Getty Images
Both Alex Rodriguez and Paul Konerko have been premier sluggers since the start of the 21st century. The Chicago White Sox first baseman has hit 30 home runs in seven of the last 11 seasons. Meanwhile, the New York Yankees hot corner guy had hit 30 home runs in 13 straight years before 2011. Few would compare Konerko to A-Rod before last season, but it's now a fair one.
At least for Konerko it is.
Rodriguez and Konerko are headed in different directions at this point in their respective careers. Rodriguez, 36, has been on a steady decline since his MVP year in 2007. Konerko, who turns 36 on Monday, drove his production back up the last two years after two down years.
Recent Performances Favors Konerko
Rodriguez saw his numbers fall off after rocking the 2007 regular season with 54 home runs, 156 runs batted in and a 1.067 on-base-plus-slugging rate. His home run totals have dripped down (35 in 2008, 30 in 2009 and 2010 each and 16 in 2011). His slugging percentage has steadily declined (.675 in 2007, .573 in 2008, .532 in 2009, .506 in 2010 and .461 in 2011).
Also, Rodriguez has played no more than 138 games since 2008. He suffered a torn meniscus in June 2011 and had to undergo knee surgery. In his first game back, A-Rod broke his thumb.
After hitting only 22 home runs with a .344 on-base percentage in 2008 and 28 home runs with a .353 on-base rate in 2009, Konerko had two of his best seasons the last two years. In 2010, he hit 39 home runs (second), had a .393 on-base percentage (sixth) and .977 on-base-plus-slugging (fourth in the AL).
In 2011, Konerko once again put up solid numbers for his age. He hit 31 home runs (eighth in the AL), hit the basepaths at a .388 clip (sixth in the AL) and had a .906 on-base-plus-slugging rate (seventh).
Also, Konerko had another great fielding year in 2011 with a 9.4 range factor per game (tops among AL first basemen) and .995 fielding percentage (fifth among first basemen).
Konerko has aged more gracefully than Rodriguez. After playing in 122 games in 2008, Konerko has played 149 games or more in each of the last three seasons.
Unlike A-Rod, Konerko Is an Upstanding Character
Rodriguez, who had long been considered a clean, respectable player, has fallen from grace in recent years. In 2009, Sports Illustrated reported that he had tested positive for steroids in 2003. Rodriguez made matters worse in the aftermath, bullying SI reporter Selena Roberts, who broke the news, and answering questions about his steroid use indirectly.
Meanwhile, Konerko, always thought to be clean, has maintained his sterling reputation. After the 2010 season, Konerko re-signed for four more years with the White Sox. Konerko seems likely to finish his career playing for the same team with which he's spent all of his good years.
Superstars like A-Rod would have recoiled at the clause in Konerko's contract that defers $7 million of his 2013 contract for $1 million per year for seven years afterwards, but Konerko took it.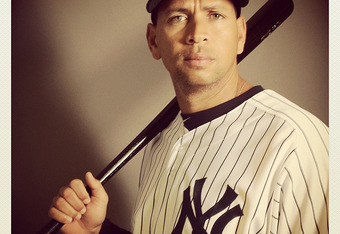 Nick Laham/Getty Images
Konerko's A Better Playoff Slugger
Even the biggest A-Rod fan would prefer to have Konerko in the playoffs. Konerko has seven home runs, a .554 slugging percentage and an .854 on-base-plus-slugging rate in 17 playoff games. In 69 playoff games, Rodriguez has 13 home runs, a .498 slugging percentage and an .884 OPS.
Rodriguez has had the good fortune of playing in the playoffs in 10 seasons. Konerko, who hasn't been lucky enough to be surrounded with the talent Rodriguez has had, has made only three trips to the playoffs. Konerko hit multiple home runs in three of four playoff series he's played in to only four of 16 for A-Rod.
Konerko knocked in seven runs in the 2005 American League Championship Series, more than A-Rod totaled in any series.
Conclusion: Konerko Will Have A Better 2012 Season
Joe Girardi claims that A-Rod, who participated in orthokine therapy in the offseason, will rebound. Girardi, who is planning to place Rodriguez in the cleanup spot, told reporters on February 20, "I don't expect him to hit 45 home runs; that's just not easy to do, but I expect him to be extremely productive."
Girardi added, "He's had the whole season to get ready and not feel like he has to catch up and get into playing shape."
No one could believe it when Girardi said that Rodriguez doesn't have worry. Seriously, he plays in New York City, the most ravenously critical baseball city.
After doing orthokine, A-Rod said he hopes to play 145 to 150 games. He said he wants to come off orthokine the way Kobe Bryant did this season. While Bryant, who is three years younger than A-Rod, is playing 38 minutes per game, leading the league in scoring and field-goal attempts, he'd shoot the Earth around the sun if it were possible.
The reality is that A-Rod, who turns 37 in July, is declining. He likely won't be able to put up the same numbers he did before last year.
Konerko seems more likely to put up strong numbers in 2012 than Rodriguez, continuing a strange juxtaposition of an under-the-radar first baseman and a renowned slugger. His recent numbers are better and he's a bit younger than Rodriguez.
To expect A-Rod to fail to post an .800 OPS is reasonable, while Konerko could very well post one better than .850. Trusting Rodriguez, an arrogant character, on his health is difficult. Konerko, a self-effacing man, is a better bet while making less than half as much as Rodriguez.