2012 NFL Mock Draft: Denver Broncos Seven-Round Mock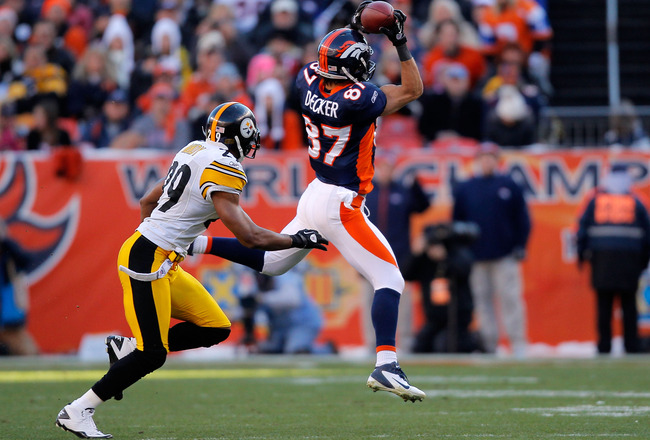 Justin Edmonds/Getty Images
As uncertainty looms around the Broncos, they have a lot of holes to fill. The draft is the prime place to do so.
With aging players like Champ Bailey, Brian Dawkins, and Willis McGahee, the Broncos would benefit immensely from adding youth to their roster.
The draft is full of young players with great potential. This draft possesses a large quantity of possible late round steals, such as Tennessee Volunteer running back Tauren Poole.
If the Broncos can snag two or three immediate starters this draft and one or two more down the road, they will be a much better team in 2012 and beyond. They have to select players that are of necessity.
Round One: (25th Pick Overall) DT Fletcher Cox, Mississippi State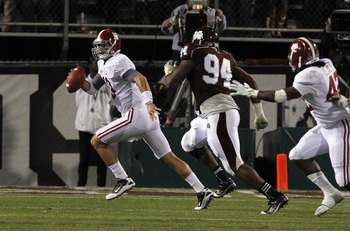 Butch Dill/Getty Images
The Broncos need to bolster their defensive line. That is the bottom line. Fletcher Cox is a top-tier defensive tackle and would immediately give the Broncos the boost that they need.
When December and January rolled along, and offenses grounded and pounded the ball more and more against Denver, the Broncos displayed their weakness. They had trouble thwarting the running game.
Cox can plug up a hole right off the ball, and can also add some fiery pass rush. With that versatile of a player, the Broncos would be dumb not to select Cox.
Round Two: (57th Pick Overall) CB Alfonzo Dennard, Nebraska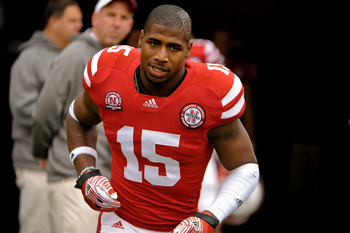 Eric Francis/Getty Images
Alfonzo Dennard's stock has been slipping as of late. There is a tremendous chance that the corner will slide all the way to the later portion of the second round.
Broncos CB Champ Bailey is as great as he's ever been, but he is 33 years old. Fellow cornerback Andre' Goodman is also 33 years old. The Broncos need to add youth to the corner back position.
Right off the bat, Dennard, like Cox, would get the starting nod. He would get immense playing time in just his first year, bearing any setbacks.
If Dennard is available at the 57th pick of the draft, the Broncos would almost be forced to select him.
Round Three: (88th Pick Overall) WR Tommy Streeter, Miami (FL)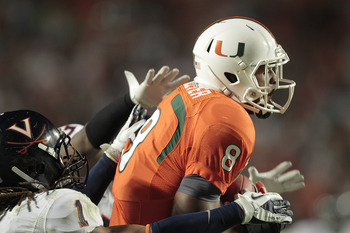 Joel Auerbach/Getty Images
Tommy Streeter stands at an impressive 6'-5. He also bolted the 40-yard dash in 4.40 seconds.
He is big and fast, and would immediately be a weapon for whoever is quarterbacking the Broncos offense. This monster would immediately be a factor for the Broncos air attack.
Streeter is projected to be selected around this range. He could be picked as high as in the second, or as low as in the fourth. The third round, however, is the perfect place for Streeter to be picked.
He won't have nearly as much pressure as the first picks. Meanwhile, he'll have time to grow into the league and start at the same time.
Round Four: (120th Overall) MLB JK Schaffer, Cincinnati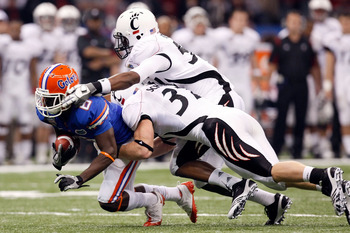 Kevin C. Cox/Getty Images
JK Schaffer is a small for middle linebacker.
In fact, he looks more like a safety then he does linebacker.
Nonetheless, Schaffer is very active in the defense. NFLDraftScout.com said "LB JK Schaffer is the emotional leader of Cincinnati's defense and its top playmaker." Pretty impressive stuff.
Schaffer needs to bulk up quite a bit, as he weighs 228 pounds. If he can get up into the mid 240s, he would be much better suited for the NFL.
The Broncos need another interior linebacker. MLB Joe Mays is a free agent, and Mario Haggan is better off as an outside linebacker. The Broncos need more depth at middle linebacker, and that is what Schaffer brings to the table.
Round Five: (129th Overall) RB Tauren Poole, Tennessee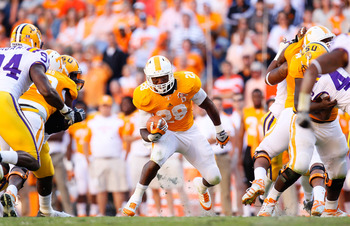 Kevin C. Cox/Getty Images
Despite having the number one rated rushing attack in 2011, the Broncos could use help at the running back position.
RB Willis McGahee, who ran for well over 1,000 yards last season, only had four rushing touchdowns. Also, McGahee is 30 years old. RB Knowshon Moreno hasn't lived up to his first-round expectations, either. He tore his ACL in 2011, and was recently arrested for DUI.
Tauren Poole is an explosive back who is lightning quick. He's versatile, dynamic, explosive, and tough to bring down.
The Broncos would eventually turn Poole into their feature, first string running back. He has that type of potential. At round five, he's a bargain.
Round Five: (152nd Overall) QB Chandler Harnish, Northern Illinois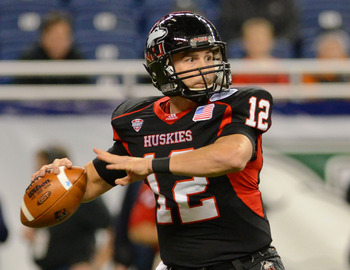 Mark A. Cunningham/Getty Images
Chandler Harnish is 6-2, 221 pounds and has a rocket arm. He makes smart decisions, and is fast.
The Broncos lack quarterback depth. Aside from Tim Tebow, they are very slim at that position. Brady Quinn is a free agent, and Adam Weber is not more than a third stringer right now.
Harnish is a reliable number two quarterback and would be a futuristic selection for the Broncos. Also, if Tebow got injured, Harnish could easily fill in in the read-option offense.
There are so many quarterbacks this draft that Harnish will slide all the way to the fifth round.
Round Seven: (216th Overall) OLB Nathan Stupar, Penn State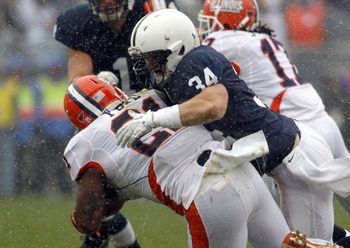 Justin K. Aller/Getty Images
Nathan Stupar is an under-the-radar outside linebacker.
He is 6-2 and a tad over 240 pounds.
What I really like about Stupar is that he can cover tight ends and can be very effective in run support. He can get past blockers, plug up holes, and track down the running back.
Stupar is a superb player with great value. Like Chandler Harnish, Stupar will be very effective in the future some how. He will immediately add depth for the Broncos' defense, and could even start on special teams.
Keep Reading

Denver Broncos: Like this team?