Reviewing the Washington Redskins' 11 Biggest Scouting Combine Takeaways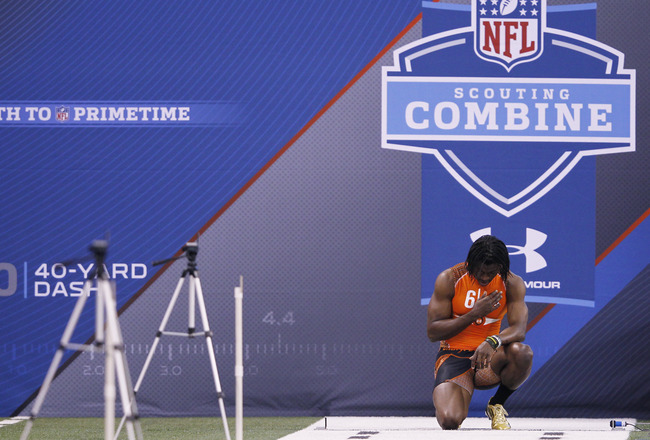 Joe Robbins/Getty Images
Although there's so much more to evaluating an NFL prospect than physical measurements and practice drills, you'd be lying if you didn't admit your fascination with and attraction to the NFL Combine.
From now until April, the Redskins will be arguably the most talked about team in the league.
Is Peyton headed to Washington? Will Shanahan mortgage for RG3? Will the Redskins honestly think about trading down? Is Justin Blackmon the team's real target?
We all have hunches and opinions regarding most questions, but the Combine results from this past weekend are undoubtedly important for the Redskins' front office and fans alike.
Here's a list of players with notable takeaways from the Combine that was.
Harrison Smith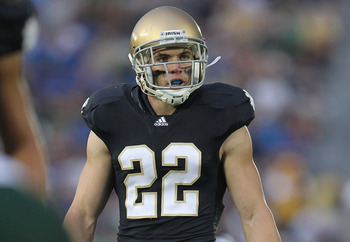 Jonathan Daniel/Getty Images
With the likely departure of LaRon Landry, the Redskins are in need of some help at safety. Unfortunately, the market for safeties this offseason is bare, with the best options arguably coming via the draft.
If you watched any of the Combine coverage last weekend, you know that draft analyst Mike Mayock is in love with Notre Dame safety Harrison Smith. I tend to be right there alongside.
Smith is an underrated athlete with incredible experience at the college level and the size to be successful as an NFL safety. Smith has natural instincts and his tackling is very sure for a man his size, who often finds himself in one-on-one situations.
Smith measured in at 6'2", 213 pounds. He has big hands (10.25") and a 34-inch vertical leap. Smith's 4.57 forty time was decent, but I feel as if he plays a little faster than that.
In my opinion, Smith is the type of player that Mike Shanahan and Jim Haslett will take a liking to. Although he isn't great in coverage, Shanny and Haz will enjoy Smith's maturity, experience and nose for the football.
Casey Hayward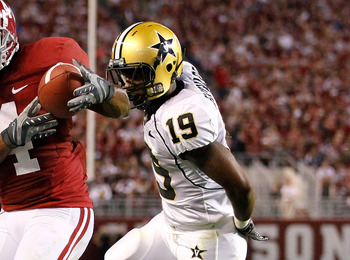 Kevin C. Cox/Getty Images
This isn't the first time I've talked about Vanderbilt cornerback Casey Hayward and it likely won't be the last.
I was originally high on Hayward for a number of reasons. He has valuable experience in the nation's best conference, he has the speed to hang with any receiver, he's physical at the line and he's underrated as a tackler and contributor in run-support.
Hayward's Combine performance was very close to what I expected. His speed wasn't blazing (4.57) and his 34-inch vertical isn't jaw-dropping, but I was impressed with his 19 reps on the bench. Hayward's strength only adds to his physicality as a man-to-man cover corner.
Trumaine Johnson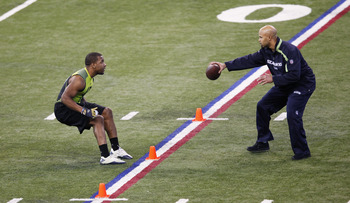 Joe Robbins/Getty Images
Montana cornerback Trumaine Johnson is from a small school, but he's no secret. He made sure of that at the Combine.
Johnson measured in at 6'2", 204 pounds with a 10'2" broad jump and a 4.6-second forty-yard dash. But amongst those numbers were the more impressive ones that included 19 reps on the bench, 33.25-inch arms and hands just shy of 9.5 inches.
Although he hasn't played against the best of competition in college, Trumaine Johnson can flat-out play. For a team like the Redskins that needs a legitimate cover corner, Johnson would fit the bill.
James-Michael Johnson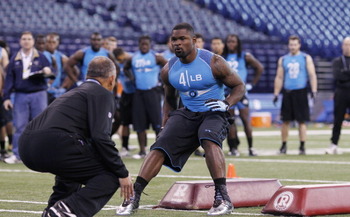 Joe Robbins/Getty Images
As a future replacement for the ageless London Fletcher, the Redskins need look no further than Nevada's James-Michael Johnson.
Johnson has four years of valuable experience playing both inside and outside, but he'd fit very well as an inside linebacker in a 3-4 scheme. He has good instincts, he's a strong tackler and he's a constant threat in the box.
Johnson's Combine performance was good, but maybe enough under the radar to give the Redskins a chance if they don't mortgage for a quarterback. A 4.68 forty, 23 reps on the bench, a 10'3" broad jump and a 37-inch vertical were all impressive enough numbers for me.
Yes, please.
Mychal Kendricks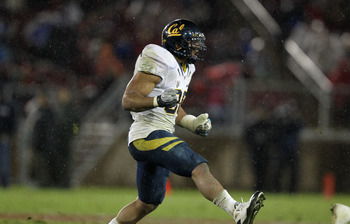 Ezra Shaw/Getty Images
Speaking of a potential replacement for London Fletcher, California linebacker Mychal Kendricks is a must-mention after solidifying himself with an incredible Combine performance.
Kendricks ran a 4.47 forty, pushed out 24 reps on the bench, ran a sub-4.2 in the 20-yard shuttle, registered a 39.5-inch vertical and leaped an impressive 10'6" broad jump.
It didn't take workout numbers to know that Kendricks can play the middle and fill the gaps, but those numbers are very nice to see.
Shanahan, take note.
Cordy Glenn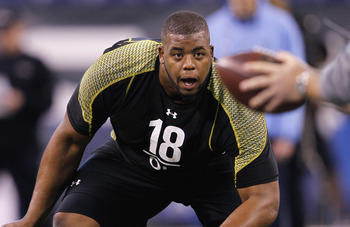 Joe Robbins/Getty Images
At this point, I do believe that the Redskins will do everything in their power to land Robert Griffin III with either the second or third pick, but anything is possible.
If the Redskins discover that they can't move up to take their man, perhaps they look to trade down and acquire more picks for the sole purposes of adding depth and continuing the youth movement.
Georgia offensive lineman Cordy Glenn is a versatile lineman that has literally played every position along the offensive front (minus center), in the nation's best conference.
Glenn displayed his athleticism at the Combine, recording a 5.15 forty, cranking out 31 reps on the bench press and pulling off a 23.5-inch vertical.
Initially thought of as an interior lineman, Glenn is making a case for his potential at right tackle. Solid athlete, long arms, tough blocker, durable and a team-first mentality. We'll take all of that in Washington.
David Molk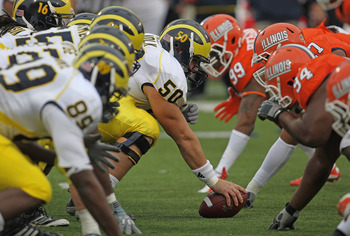 Jonathan Daniel/Getty Images
Just a quick Combine note on Michigan center and 2011 Rimington Trophy winner David Molk, who cranked out an impressive 41 reps on the bench press last weekend.
Most will attribute Molk's reps to his short arms—and that has something to do with it—but that doesn't take away from his brute strength.
Molk is undersized, but he has a high football IQ and his effort is always top-notch. Especially made for the zone-blocking scheme, Molk would start immediately for Mike Shanahan in Washington.
Stephen Hill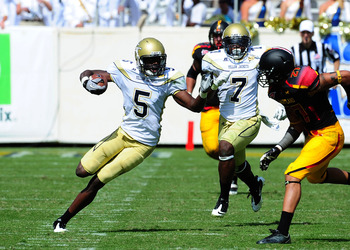 Scott Cunningham/Getty Images
Before the Combine, Georgia Tech wideout Stephen Hill was one of my favorite sleepers.
Not anymore.
Hill blew the doors off the Combine, running a 4.36 forty and recording a 39.5-inch vertical. In addition to those numbers, Hill measured in at 6'4", 215 pounds with 33-inch arms and hands just shy of 9.5 inches.
Every year we see a guy that increases his draft stock exponentially thanks to a solid Combine performance. This season, it was guys like Dontari Poe, Mychal Kendricks and...wait for it...Stephen Hill.
I wouldn't be surprised to see Hill go before the middle of the second round. The chances of him suiting up in burgundy and gold next season are very slim.
Marvin Jones
Ezra Shaw/Getty Images
I wouldn't dare call California wideout Marvin Jones a sleeper, but I'd be willing to bet that not enough people know just how good he can be.
Many are critical of Jones because he struggles to create separation. Although this is true, it's the things like a 6'2" frame, a 4.46 forty, 22 reps on the bench, a 6.81 three-cone drill and hands over 10 inches that make Jones such an attractive prospect.
For me, Jones has the potential to be a very good pro. For a Redskins team that would like to add playmakers to their roster, I think they'd be more than satisfied with a solid receiver (not necessarily a game-breaker) like Marvin Jones.
Running Backs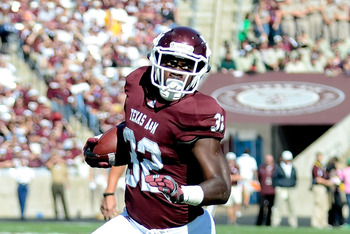 Sarah Glenn/Getty Images
Shanahan doesn't draft running backs early and this year shouldn't be any different. The good news, however, is that the running back pool is deep.
Despite the awesome thoughts of Doug Martin, Lamar Miller and David Wilson, they're all first-round talents. Consider those guys unattainable.
But when you think of my man-crushes Robert Turbin and Cyrus Gray—both of those guys are potential late-round flyers for Shanahan and his backfield philosophy.
Nevada running back Robert Turbin carries with him an inspiring story that includes heartache, struggle and physical injury. He has battled his way for a chance to play in the NFL, and this young man is hungry. Turbin is built like a Hummer and he's considered a bruiser at the next level, but his athleticism and speed are underrated.
Texas A&M running back Cyrus Gray was a very productive college back that serves as a reliable dual-threat out of the backfield. He runs hard, he's a disciplined football player and he's dependable.
Robert Griffin III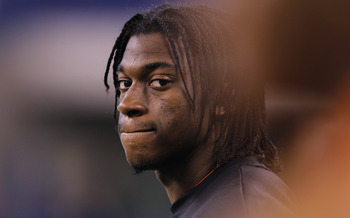 Joe Robbins/Getty Images
Sure, there's other quarterbacks that we could talk about. Nick Foles, Brandon Weeden, Russell Wilson—okay. But no one blew the doors off the Combine like Robert Griffin III. No one.
If I were a betting man, I'd say the Redskins are all over RG3 and doing whatever they can to have him suit-up in Washington next season. And that was before the Combine.
Griffin quieted the doubters by measuring in closer to 6'3" than 6'1", with 9.5-inch hands. He scorched a 4.38 forty and he pegged a 39-inch vertical. Not to mention, Griffin killed it in his interviews.
There is nowhere Griffin's stock can go but up, and I expect it to do so. This guy is the truth.
Keep Reading

Washington Redskins: Like this team?