Which NFL Franchises Have Had the Best Elite Quarterback Combos?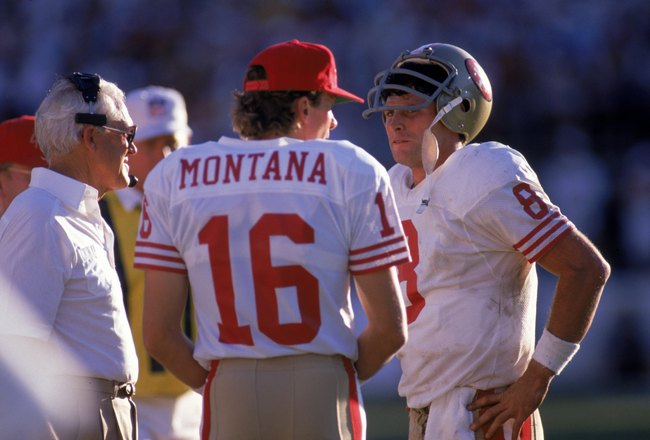 George Rose/Getty Images
The Peyton Manning dilemma caused me to wonder about other elite quarterbacks and the franchises that have been fortunate enough to have more than one great quarterback in their history. If Manning can: a) come back healthy and play; and b) leave Indianapolis and play somewhere else, as popular opinion suggests, the landscape of this list will change considerably.
If you're wondering why you don't see Warren Moon, John Elway or Tom Brady on the list, it's because they are the only truly big-time signal-callers to play for their respective teams. More than one is needed to make a combo.
Apologies go out to the Redskins, Chiefs and Vikings fans. Washington had a formidable trio in their own right with Sammy Baugh, Sonny Jurgensen and Joe Theismann. Kansas City could counter with Len Dawson and Joe Montana, who was still productive at the back end in his time with the Chiefs. Montana achieves a double-double, as he was part of a combo with two different teams.
Minnesota isn't chopped liver, either: Fran Tarkenton and Brett Favre, another double-double performer, form a strong combo as well.
Favre attempted to become a triple-double guy with Broadway Joe, but we all know that transition year in New York was just used to kill time until he could go to Minnesota. Plus, he faded down the stretch anyway.
Might as well start with the two guys pictured above. Joe Cool and Steve Young are as strong as it gets. Both men made a living throwing darts to Jerry Rice. Mr Rice became the greatest of all WR's by hauling in said darts.
Montana is a perfect 4-0 all time in Super Bowls. Young set a Super Bowl record by torching San Diego for six touchdowns in Super Bowl XXIX. San Francisco wasn't big enough for the both of them, but they both thrived in their time there.
There is no particular order to this list, so feel free to rank them, debate them, agree or disagree. Here come the rest.
Green Bay's Finest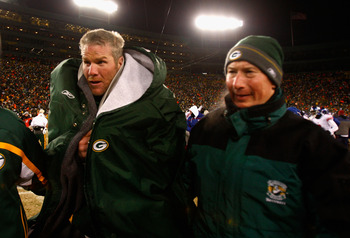 Jamie Squire/Getty Images
Bart Starr was at the helm for Vince Lombardi for the birth of Titletown, leading the Packers to the first two Super Bowls in football history by beating the Chiefs and Raiders in succession. Prior to that, he won a handful of NFL championships.
Favre capped off the rebirth with a win over the Patriots in Super Bowl XXXI. He also set several NFL records along the way, running the gamut from most touchdown passes to most interceptions thrown. However, only one man is still completely beloved in Lambeau right now.
It's still early, but Aaron Rodgers is well on his way to changing this duo into a trio.
Big D's Big Duo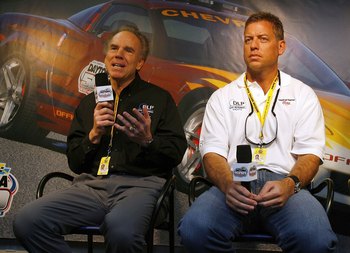 Rusty Jarrett/Getty Images
Roger Staubach was the legendary dual-threat quarterback who, along with Tom Landry, helped America's Team become America's Team. They made it to five title games, winning Super Bowls VI and XII.
Staubach's three Super Bowl losses were agonizing. They were by a combined 11 points. He's that close to having five rings and looking down at all the other elite quarterbacks.
Tom Brady, the new Staubach, can relate. Brady's two losses to New York are by a combined seven points. He's that close to having five rings himself.
Troy Aikman was deadly-accurate from the pocket as part of the Triplets. He was there from the humble beginnings, going 1-15 as a rookie to winning three titles in four years as the core of Dallas' dynasty in the '90s.
Solid, steady, reliable and 3-0 in Super Bowls. Need I say more?
Colt Status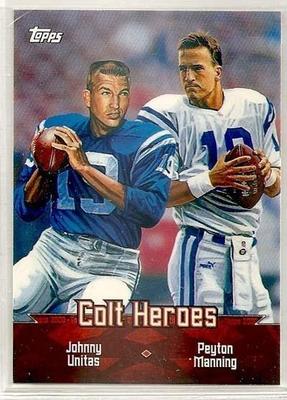 addoway.com
Was Johnny Unitas Peyton Manning before Peyton Manning, or is Peyton Manning the most like Unitas since Unitas? This is really six in one hand, half a dozen in the other, chicken-or-egg-type stuff.
Unitas threw a touchdown pass in 47 straight games from 1956-60. This is back when they only played 12 games a season, which stretched this feat out over a longer period of time, making it all the more impressive.
Don't talk to me about defenses being less complex back then. It's true, they were, but no one else was doing work like that back then, either.
Manning has thrown 25 touchdowns or more for 13 straight seasons. The Colts just went out and won their 12 games every year and were legitimate contenders year in and year out.
Giants Among Men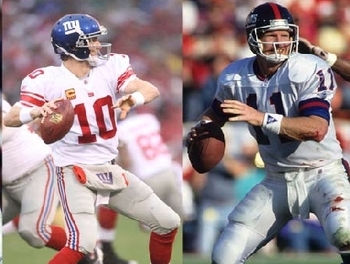 aztecadeportes.com
Eli Manning is on his way to becoming elite. He said he was and since then, he's walked the walk. He's also eclipsed big brother Peyton and the legend in New York who preceded him, Phil Simms.
Oh, and he's 2-0 in Super Bowls against Tom Brady, the best quarterback of my generation/age bracket. No one else on the planet can say that.
From 1979-1993, Phil Simms was the man for Big Blue. He reached the pinnacle 25 years ago last month when he went 22-for-25 for 268 yards and three touchdowns in leading the Giants over Denver in Super Bowl XXI.
Mind-boggling stats even after all these years.
The only comparable performances are Magic Johnson's 42-point, 15-rebound, seven-assist game in the 1980 Finals or Jack Morris in Game 7 of the 1991 World Series.
Miami's Main Men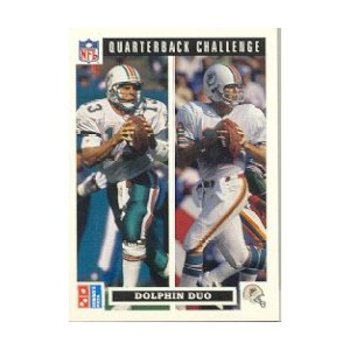 amazon.com
Bob Griese's numbers were never anything to write home about. He never passed for 3,000 yards, never threw 25 touchdowns in a season.
Granted, the game was different back then. He did have Jim Kiick, Larry Csonka, Mercury Morris and Paul Warfield. That helped. He also has two more numbers: 17-0.
He's still the only quarterback to guide a team to a perfect season, as we're all so very well aware thanks to his champagne-popping buddies. If only New England could've beaten New York and gone 19-0.
Marino, possibly the best quarterback ever, is definitely the best to never win a ring. His 48-touchdown season in 1984 is still remarkable. The man averaged three touchdowns a game for an entire season.
This record has since been broken, but he accomplished this in an era that wasn't conducive to airing it out so easily. Peyton Manning and Tom Brady have since surpassed him, when the rules favored the offensive side of the ball.
Steel City Legends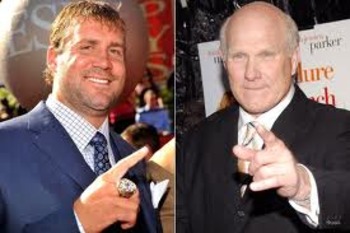 blak4rest.com
Terry Bradshaw gets criticized because he wasn't the greatest there ever was. Fair or not, his accomplishments speak for themselves. Sure, he was on great teams that stayed together and maintained that greatness for an extended period of time.
Right place, right time, right situation? Call it what you want, but Bradshaw was the first quarterback to achieve a 4-0 Super Bowl record, a trailblazer. He was later joined by Joe Cool. Pretty exclusive club.
Big Ben has a nice 2-1 record in Super Bowls himself and a reputation for coming up big in the clutch to go along with it. If he can stay healthy, he will be in the mix for more down the road.
They may not be the best of buddies, but Bradshaw and Roethlisberger are the reasons there are an NFL-best six Lombardi trophies in Pittsburgh.
Jack & Jim
huntershope.org
Jack Kemp just had a productive life, plain and simple. He had a distinguished political career after he retired.
When he arrived in Buffalo in 1962, the young franchise had yet to experience a winning season. Kemp helped change that, and led them to four consecutive seasons above .500.
Jim Kelly was involved in some firsts in Buffalo, too. He took them to their first of four consecutive Super Bowls. We all know how that went, and the Bills have yet to recover.
If they had somehow found a way to beat the Giants in Super Bowl XXV, the history of the Bills could have been very different. Despite all of this, Kelly had a great career, one he can be proud of.
SoCal Is in the Building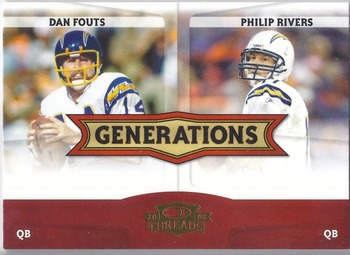 s891.photobucket.com
When you think of Chicago or Baltimore, tough, aggressive, hard-nosed, physical defense comes to mind. That's just the attitude those teams portray. It's also a reflection of those cities.
When San Diego comes to mind, 75 and sunny is number one on the list.
When you finally get around to talking San Diego football, prolific passing is the main topic of conversation. Don "Air" Coryell and Dan Fouts formed the perfect partnership, as they lit up the league through the air in the late '70s and '80s.
Philip Rivers has kept the tradition going, as he puts up numbers year in and year out. This duo is the only one on the list that doesn't have a Super Bowl appearance between them. That honor goes to Stan Humphries.
Since Rivers has been the Chargers quarterback, they have resembled the Milwaukee Bucks and the Atlanta Hawks of the '80s. They have strong regular seasons, make the playoffs, go somewhat deep in the playoffs—maybe make an occasional conference finals trip—and then get bounced by the Celtics.
In San Diego's case, their Celtics are the Patriots.
Keep Reading