2012 NFL Free Agents: Michael Bush and Best Values on the Market
February 28, 2012

Stephen Dunn/Getty Images
With just two weeks to go until the start of NFL free agency, GMs around the league are already poring over the long list of available players, looking for value at every turn.
That's no easy task, considering just how fragile a task it is to keep a team under the cap and how vast and deep the pool of free agents is. Those looking to shore up their rosters with quality players at an affordable price would do well to place calls with the agents of these three job seekers.
Michael Bush
In just about any other year, Michael Bush would be the creme de la creme of free-agent running backs. The 6'1", 245-pound bruiser is coming off a breakout season with the Oakland Raiders, in which he amassed nearly 1,400 yards from scrimmage and eight total touchdowns in Darren McFadden's stead.
Unfortunately for Bush, he's still a ways down on the totem pole of employable ball carriers, behind the likes of Ray Rice, Arian Foster and Marshawn Lynch. That placement should benefit whichever team is smart and savvy enough to wait out the market for Bush, who could be had at a severe discount given proper timing. 
Robert Meachem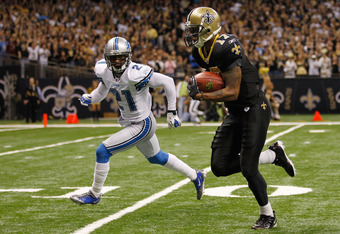 Chris Graythen/Getty Images
As is the case with so many pass catchers, working with Drew Brees has worked wonders for Robert Meachem's career, though he may not be so handsomely rewarded for his work. Like Bush at running back, Meachem will likely have to wait his turn for a big payday behind a host of other star receivers, including Mike Wallace, Vincent Jackson, Wes Welker, Dwayne Bowe and New Orleans Saints teammate Marques Colston, among others.
That being said, plug a talented downfield threat like Meachem into a larger role and you'd have yourself a 1,000-yard receiver guaranteed with double-digit touchdowns to boot.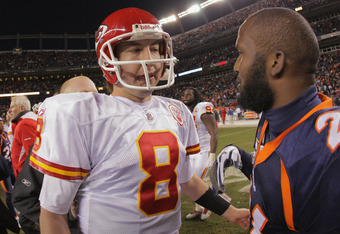 Doug Pensinger/Getty Images
I know, I know, I'm tired of Captain Neckbeard, too.
But the dude can still play quarterback (to some extent) and there are plenty of teams out there in need of another arm or two, if only to provide depth and fill out the roster. He's serviceable, at the very least, and should be on the table after everyone's done scrambling and scrumming over Robert Griffin III and Matt Flynn.
By that point, he may be just what the doctor ordered for someone, assuming the doctor comes well equipped with a strong defense and a sound ground game.