Reviewing the Philadelphia Eagles' 10 Biggest Scouting Combine Takeaways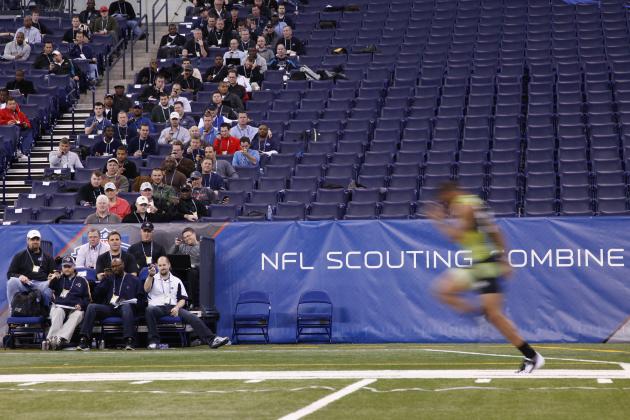 Joe Robbins/Getty Images

The 2012 combine has come and gone and every coach, general manager and scout now has a better idea of the value of each prospect. The 40-yard dash and how many times each player can bench press 225 pounds isn't the final say on each prospect, but each individual drill gives scouts and coaches a better understanding of what these guys can do physically on the football field.
Most players put up numbers that were expected. Some players greatly exceeded expectations, some were slower then previously though and couple players have greatly lowered their draft stock.
The combine also serves as a great opportunity to get to know what the players are like beyond physically. The combine isn't the final say on how good these prospects really are and where they should be drafted, but it gives teams a better understanding on just how high their ceiling is.
The Eagles should take away the most from these 10 draft prospects and potential Eagles.
Begin Slideshow

»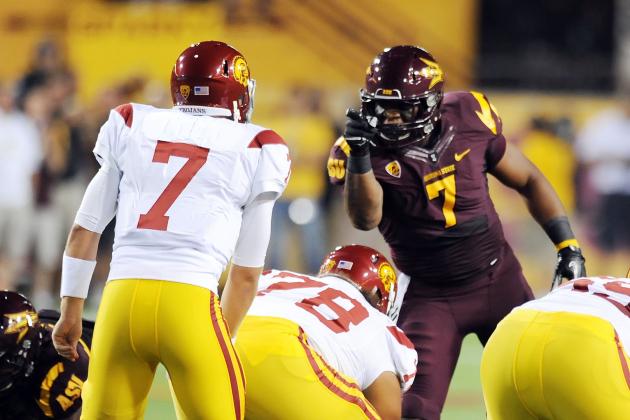 Norm Hall/Getty Images

Yikes! No one has been on a bigger free fall since the college football season. Once thought as one of the 10 best prospects coming out of college, now will struggle to be even drafted at all.
It all started when Burfict got a chance to talk with the media. It couldn't have gone any worse. Burfict was asked about a locker room fight he had with a teammate and his best answer to the question was
"My first response was to swing." The high number of personal fouls he racked up while at Arizona State raised some serious concern. His session with the media probably scared off 10 teams from drafting him at all.
It only got worse when he got a chance to show his athletic skills. Burfict ran a 5.09 40 at the combine. To put that into proper perspective, Dontari Poe ran a 4.98 40, and he is nearly 100 pounds heavier then Burfict. He also had a vertical inch just a half inch shorter then Burfict.
Burfict is viewed as a head case and completely unreliable. He was supposed to offset that by being an athletic freak that someone would take a chance on. Right now, he is still viewed that way by some, but after the combine, there is probably less than a third of the league still interested in him, and nobody will take him any earlier then the fifth round. A good pro day could change that, but as of right now he is a fifth-round projection at best.
It wouldn't be that crazy if he didn't get drafted at all the way things are going.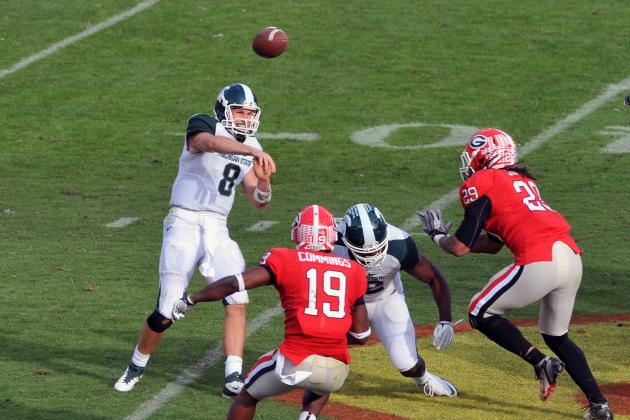 Al Messerschmidt/Getty Images

Andrew Luck, Robert Griffin III and Ryan Tannehill are the clear-cut top three quarterbacks heading into the 2012 NFL draft. The battle for the fourth and a possible second-round selection has been on the line since the Senior Bowl. Kirk Cousins is starting to take control of the fourth spot.
Cousins has demonstrated excellent leadership skills, accuracy and footwork since the Senior Bowl, and he didn't disappoint at the combine. His intangibles and his ability to lead his receiver down the field will make him a very sold pick late in the second round for a team looking for a good backup quarterback they can mold into a starter very quickly.
Cousins doesn't have the arm strength you want in a top 10 pick at quarterback, but his composure and his throwing touch are what teams really look for in a quarterback. Think Tom Brady. Maybe a bit of a reach for Cousins right now. But like Brady, he doesn't possess elite arm strength, but he has enough to make all the throws needed at the next level. They both are great leaders and have a knack for leading their team back in the fourth quarter.
If the Eagles want a quarterback they can develop into Michael Vick's eventual replacement, then they should look no further then Cousins in the second round. Cousins would be a great fit in the West Coast offense.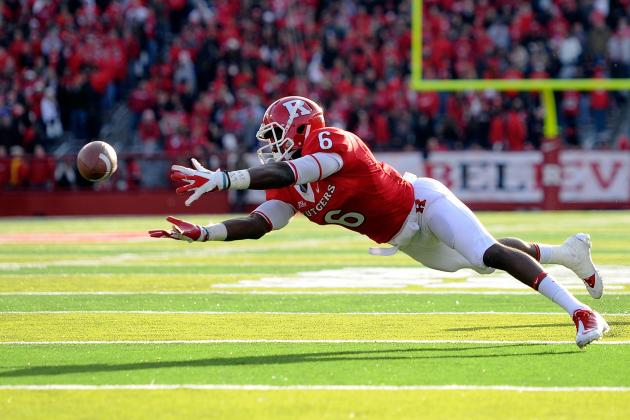 Patrick McDermott/Getty Images

If you take speed completely out of the equation, then Mohamed Sanu is the second best receiver in the draft behind only Justin Blackmon. Sanu is the perfect possession receiver. He is strong, he runs crisps routes and he catches everything thrown his way.
His 4.67 40 won't get too many fans excited about Sanu, but Eagles fans should want this guy in midnight green next season. He excels in short yardage passing situations. He is absolutely fearless going over the middle and will catch anything that he can get his hands on. He is the ideal outside receiver you want in a West Coast offense.
Speed is great and all, but what good is it when you can't convert the critical third downs and red zone opportunities?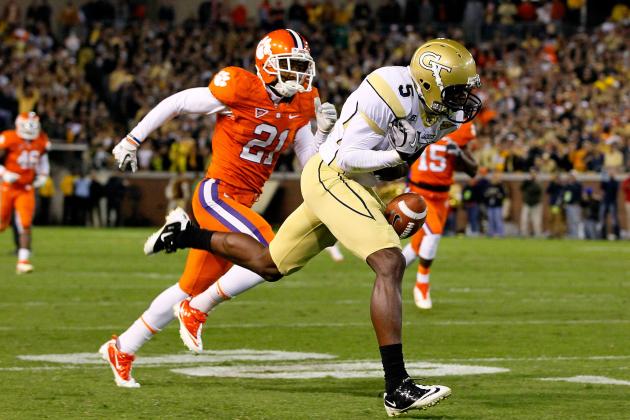 Kevin C. Cox/Getty Images

When 6'4", 215-pound Stephen Hill came into the combine, I thought good long jump ball type receiver. It was hard to get a good read on a receiver who caught less then 30 passes this season playing in an option attack.
Hill made every scout's jaw drop with a 4.36 40 including a 10-yard split of 1.20 seconds. Hill came out of the combine as a true deep threat. A very long and very fast deep threat.
Hill has bumped himself right into the second round, and with a good pro day with similar numbers, he could even sneak into the late portion of the first round.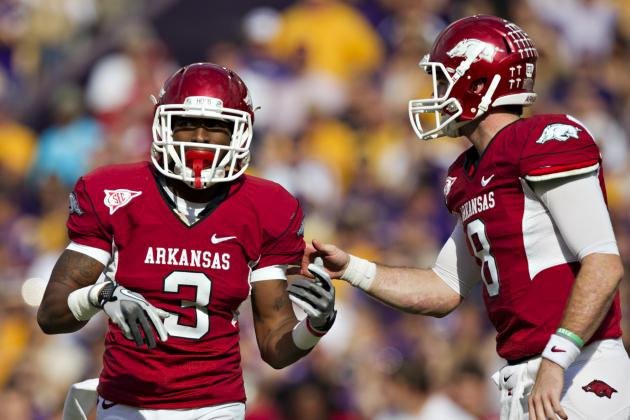 Wesley Hitt/Getty Images

Joe Adams is more quick than he is fast, but a 4.55 40 still really hurt his stock. Adams is one of the faster receiver coming out of college, but he did little to impress at the combine.
Adams is projected to be a slot receiver right away and a dynamic punt returner that could rival what Patrick Peterson did in his rookie season. His 40 time won't help his value, but a better time in his pro day could make scouts forgot about a 4.55 time.
Even if he runs another 4.5 plus 40, he is still worth a third-round selection. This is actually good news for the Eagles who could be on the market for a very quick receiver with punt return ability should DeSean Jackson play elsewhere next season.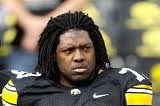 courtesy of espn.go.com
Adam Gettis helped himself more then any other offensive linemen at the combine when he ran a 5.00 40. He proved to be one of the most athletic linemen in the draft and should be a very attractive player for the Eagles.
Howard Mudd's blocking scheme calls for more athletic linemen, and Adam Gettis will be a serious target for the Eagles from here on out. He is undersized at just 292 pounds, but he is well coached coming out of Iowa and wouldn't have to start anytime soon playing behind Evan Mathis(if he is re-signed) and Danny Watkins. The Eagles need depth on the offensive line, and Gettis would be a nice late-round target.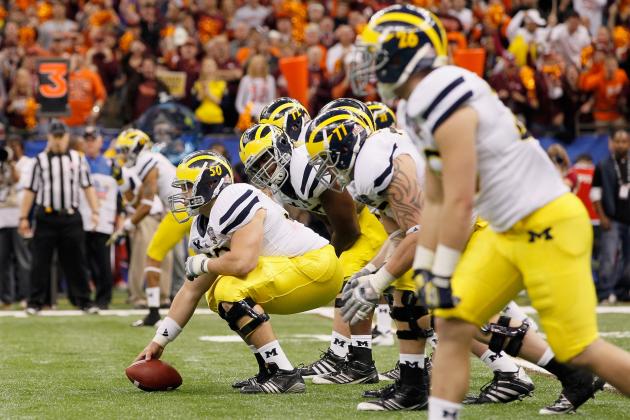 Kevin C. Cox/Getty Images

David Molk was probably already high on the Eagles draft boards. He is an undersized center that is very athletic for the position and blocks really well upfield. He is already being compared to current Eagles center Jason Kelce.
Molk demonstrated just how strong he is by putting up 41 reps in the bench press at the combine. It was the most reps in the bench press by an offensive linemen in over 10 years.
He is a bit undersized at just under 300 pounds, but he moves extremely well and is excellent in pass protection and blocking upfield on screens. He is the ideal backup center for the Eagles behind Kelce. The Eagles would be wise to scoop him up in the fifth round.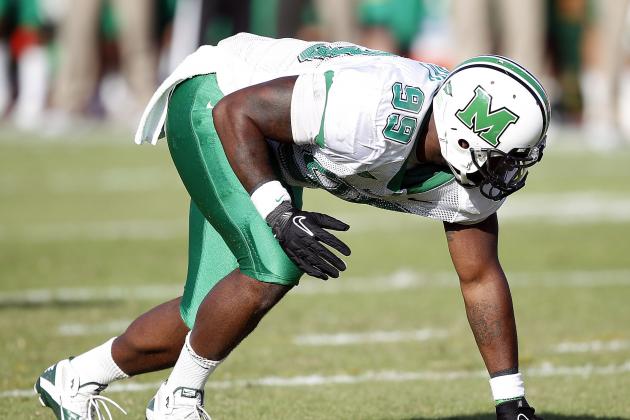 Bob Levey/Getty Images

Vinny Curry had one of the most disappointing 40 times at the combine with his 4.97 mark. He made up for it by posting a 6.90 time in the three-cone drill.
Curry proved just how agile and quick he is, but we would have liked to see a better time in the 40. When you watch the tape on Curry both at Marshall, and at the Senior Bowl, you see a very explosive pass-rusher.
Curry is still one of the best pure pass-rushers coming out of college. If the Eagles want to add another defensive end, Curry would be the perfect selection in the second or third round.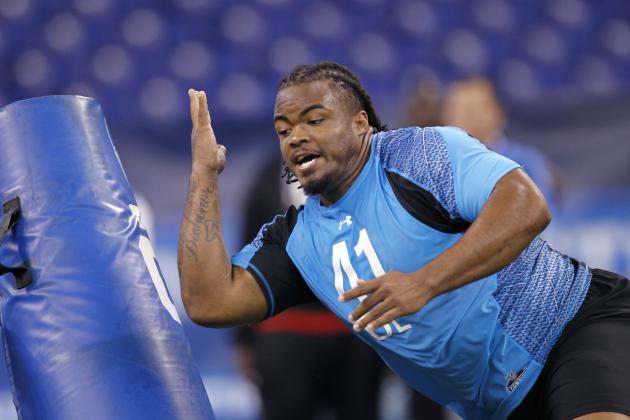 Joe Robbins/Getty Images

Dontari Poe had himself one impressive workout at the combine. He started out by putting up 44 reps in the bench press then wowed everyone when he ran a 4.98 40, which is incredibly fast for some who weighed in at 346 pounds.
Poe isn't the ideal fit for the Eagles wide-9 scheme, but he will eat up double teams in any defensive scheme and could free up current Eagles Cullen Jenkins, Trent Cole and Jason Babin in one-on-one matchups.
Poe would also free up linebackers to roam free against the run instead of having to take on 300-plus pound linemen.
He is a very intriguing player heading into the draft. He is still incredibly raw and relies on his strength far too much. He doesn't show much explosion off the line, and his technique needs work. A full offseason with Jim Washburn would do wonders for this kid, and it will be interesting if the Eagles take a closer look at Poe heading forward.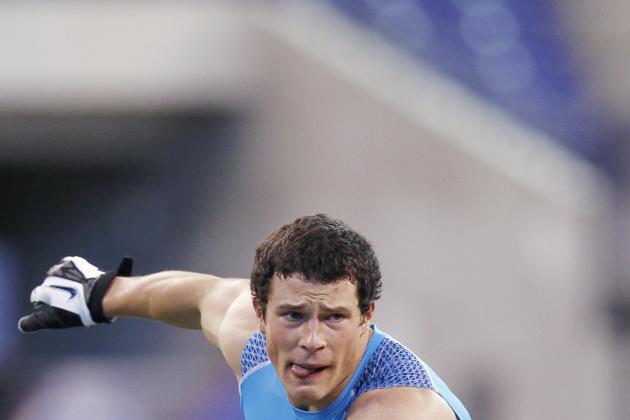 Joe Robbins/Getty Images

Wouldn't be much of an Eagles draft article without at least mentioning Luke Kuechly. He is by far the most popular player being selected by the Eagles in mock drafts so far, and that might actually change after the combine.
Kuechly was thought of to be an undersized at linebacker and a tad slower than most people would like. Those notions were erased when Kuechly ran a 4.58 40-yard dash, put up 27 reps in the bench press and weighed in at 242 pounds.
He also had 38 inches and the vertical and ran a solid 6.92 in the three-cone drill. Kuechly might have actually jumped into the top 10 of the draft.
Depending on what the Eagles do in free agency, this could be bad news. I believe the Eagles will sign a veteran middle linebacker to improve the defense, but if the right guy isn't out there, they won't reach on the next best player.
Kuechly showed he is an ideal middle linebacker in the 4-3. He is easily athletic and strong enough for the position, and his football instincts are through the roof.
It was pretty split between Eagles fans on who was the better choice at middle linebacker in the draft. Some fans loves Vontaze Burfict's physicality, some liked the instincts and consistency of Kuechly. After the combine where the linebacker with much better instincts and maturity was far more athletic, it's hard to make a case for the Eagles to draft Burfict over Kuechly.