2012 NBA Trade Deadline: 5 Unexpected Trades That Should Be Made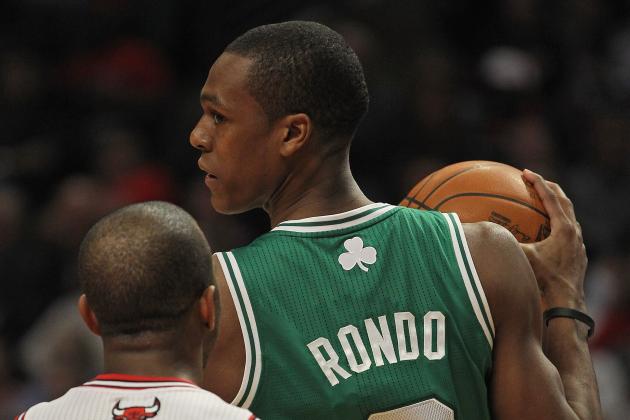 Jonathan Daniel/Getty Images

Come 3 p.m. on March 15, the NBA Trade Deadline will come and go for this shortened season. With some big names rumored to be on the move, there is rampant speculation about what moves will be made this midseason.
With big names such as Dwight Howard, Rajon Rondo and Pau Gasol the subjects of trade talks since the preseason, anything can and will happen. Expect some big trades in the coming weeks.
Some teams will desperately go for these big names in an attempt to bring back the winning way to their franchises. However, there are some contenders that could make some noise this trade deadline, noise that could push them over the top and make them title favorites.
There are five trades that make perfect sense for some teams. Though some sound outlandish and crazy, they should be considered because of their logic.
Begin Slideshow

»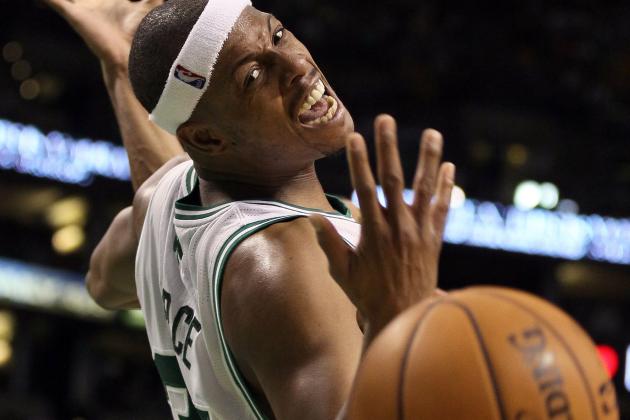 Elsa/Getty Images

The Truth in a Lakers jersey? Blasphemy!
The Original Big Three's time is coming to a quick end. This offseason, the Celtics will begin to rebuild their once-proud franchise. Paul Pierce, a Celtics legend, is closer to retirement than most think.
Rajon Rondo has been the subject of trade talks since the preseason for slightly unknown reasons. Danny Ainge needs to realize that Rondo cannot win without a supporting cast, and he could ask for a trade like so many other superstars have in the NBA. Trading Rondo is certainly an option.
Enter the Los Angeles Lakers. Pau Gasol and Meta World Peace have been included in trade talks since day one of this condensed NBA season. Pau is a top-tier PF and could be a centerpiece for a team that needs strength down low.
The Lakers need upgrades at the PG and SF position, and the Celtics need help in the paint on both sides of the ball. With Garnett slowing down, Gasol could start at PF for the Celtics, and World Peace is solid on either the bench or starting. Rondo and Pierce would be instant improvements over Derrick Fischer and Matt Barnes, respectively.
The Lakers would boast the one of the best backcourts in the NBA, and with a strong presence from Bynum, would be hard to stop. The Celtics would begin their rebuilding process with a star player in Pau Gasol and some cap room. Both could also include draft picks.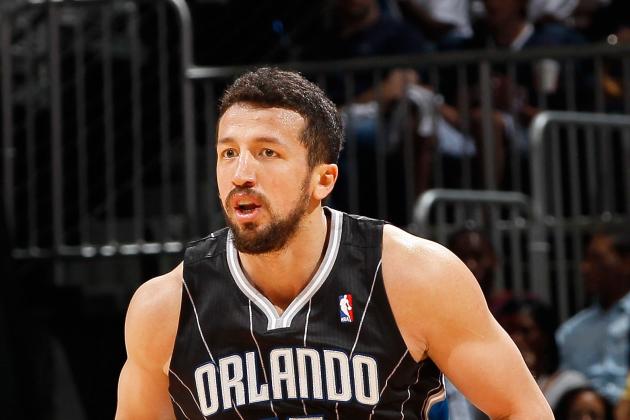 Kevin C. Cox/Getty Images

Alright, this trade does sound a bit unfair for the Celtics, but hear me out.
The Orlando Magic need key players to keep Dwight Howard in Disney country. The Celtics need pieces for their rebuilding process and some cap space. Still with me?
As I stated earlier, Pierce and Rondo are the subjects of trade talks, as are Nelson and Turkoglu for the Magic. This trade helps both parties.
The Magic would get their big-name player in Rondo, which will appease Howard's desire for better cast players. The Celtics would get two solid three-point shooters in addition to a solid role-player in Ishmael Smith. Plus, the Celtics would free up about $5 million in cap space for the upcoming free agency.
The Celtics could boast a solid roster of three-point shooters that includes Nelson, Turkoglu, Ray Allen, Mickael Pietrus and Keyon Dooling. The Magic would boast an incredible tandem in Rondo and Howard, possibly forcing Howard's hand and getting him to resign with Orlando.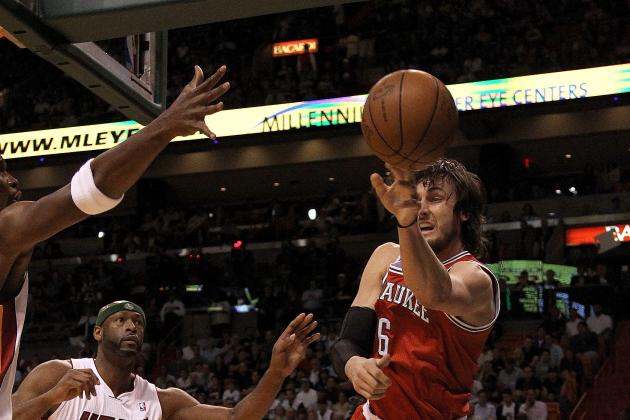 Mike Ehrmann/Getty Images

The Milwaukee Bucks are a team that quite honestly lacks star power. With the exception of Brandon Jennings and Andrew Bogut, there are no big-name players on this team.
Bogut can be a dominant center and is possibly the best player on the Bucks. That is, when he is healthy. The oft-injured center has once again missed a chunk of time in an NBA season, which does not bode well for the deer.
The Magic are changing their stories when it comes to Dwight Howard and the trade deadline. First, they're listening to trades, then they're not, then they are again. GM Otis Smith and owner Richard DeVos have had separate stories when it comes to Howard.
When it comes down to it, it is likely that Howard will go to free agency. To prevent them from getting nothing in return for Superman, the Magic need to listen to offers.
Enter the Bucks.
The Bucks want a dominant center who can stay healthy, and the Magic want players that can win now in return. Andrew Bogut is a great starting center for any NBA team, and Stephen Jackson is an upgrade for the Magic at SG.
Howard would be going to a solid team, while the Magic could still stay in contention in the Southeast Division. Everyone wins.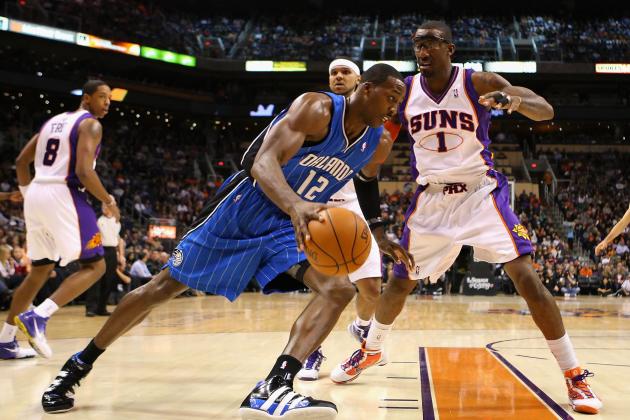 Christian Petersen/Getty Images

Amar'e Stoudemire has not been his usual self this season. He has played sub-par, much like the Knicks in the last decade or so, and it is showing. With the emergence of Jeremy Lin at PG and the on-and-off play of Tyson Chandler, the Knicks are close to being over .500 for the first time in a while.
As stated earlier, Howard is threatening to leave Orlando unless he gets some solid role players. This is where the Knicks can help.
Orlando wants to stay a contender. The Knicks want star power to get back to their winning ways. Both teams have the trade assets to help each other.
Howard would be packaged with Hedo Turkoglu and Jameer Nelson, both great three-point shooters, in exchange for Amar'e, Chandler, and Iman Shumpert. Orlando could boast a solid frontcourt where Amar'e would be the star, like he was promised in New York. New York would finally have their true big three in Howard, Carmelo Anthony and Jeremy Lin, in addition to a great roster of three-point shooters.
Orlando would still be in contention in the Eastern Conference, while New York could be fighting Miami, Chicago and Oklahoma City for top spot in the NBA.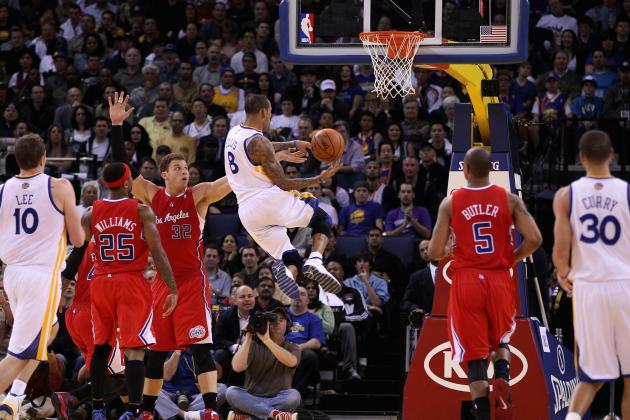 Ezra Shaw/Getty Images

OK, another ridiculous trade, but let me explain.
The Chicago Bulls' one weakness last year was at shooting guard. They thought they filled that hole this year with Richard Hamilton. Hamilton, however, has been both injured and not effective as promised. They could use someone solid at the SG position. Someone like Monta Ellis.
With Dwight Howard possibly on the market, either before the trade deadline or in free agency, the Golden State Warriors would be foolish not to look at him. But, in order to make some cap room and gain some trade pieces, they need to make a deal with the Bulls.
With Boozer's slow production this year, its a no brainer that Lee could be a valuable upgrade at PF. And with SF Dorell Wright playing better than Kyle Korver, it makes sense to upgrade where you can.
The ultimate prize for the Bulls, however, would be the acquisition of Ellis. Can you imagine a backcourt of Ellis and Derrick Rose in addition to the team the Bulls have now? Scary, right?
With this trade, the Bulls could already be crowned NBA champions this year and would be able to compete for years to come. And the Warriors would be able to trade for their prized center, thus giving them their newest superstar tandem of Curry and Howard.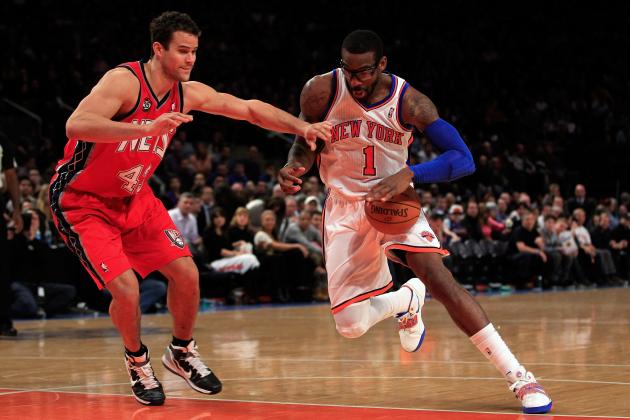 Chris Trotman/Getty Images

While some of these trades sound far-fetched, they could all change the standings in the NBA very easily. It would put teams like the Bulls and Lakers over the top while helping teams such as the Magic and Celtics begin their rebuilding processes.
While I hope some of these trades do not happen, they certainly make sense for the teams involved. While some of you will brush these all off as nonsense, it would be foolish not to, for a minute, consider the possible benefits of these trades.