UFC on FX 2: Ian McCall vs. Demetrious Johnson Breakdown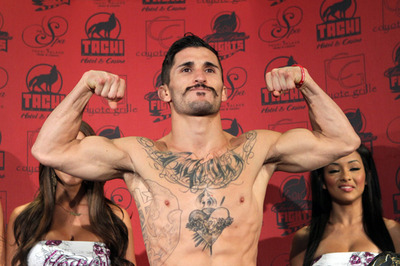 Ian McCall/ Jeff Sherwood for Sherdog.com
This Saturday, the UFC will finally unveil its flyweight division, kicking off the newly minted weight class with a tournament of epic proportions.
On one end of the spectrum, perennial contender Joseph Benavidez will be taking on the world-renowned Yasuhiro Urushitani, while Demetrious Johnson takes on UFC newcomer Ian McCall.
"Uncle Creepy," regarded as the best 125-pounder in the world, will look to cement his spot at the top of the mantle, all the while looking to capture UFC gold in the process, though a stern test in Johnson awaits him.
Ian McCall/ Jeff Sherwood for Sherdog.com
Begin Slideshow

»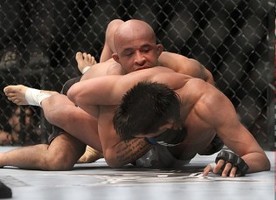 Johnson (top)/ Scott Petersen for MMAWeekly.com
As a bantamweight, Johnson didn't have too many advantages against bigger and stronger opposition.
What he did well, though, was exploiting the one innate trait that he had, which was his blinding speed. "Mighty Mouse" would dart across the cage at his opponents, throwing a seamless array of strikes.
Waiting to lull his opponents into a false sense of security, Johnson would be aware of his openings and look to bring his opponents to the canvas once they became too overzealous.
Against McCall, Johnson now faces a man with good takedown defense. However, even as a 125-pounder, Demetrious is still head-and-shoulders faster than most; even the flyweight kingpin.
McCall will fair well early against a few takedowns here and there, but Johnson's relentless pressure, cardio and tenacity will eventually secure him the top position as the fight wears on.
"Uncle Creepy" does well from the top position, but how will he fare when he's put on his back?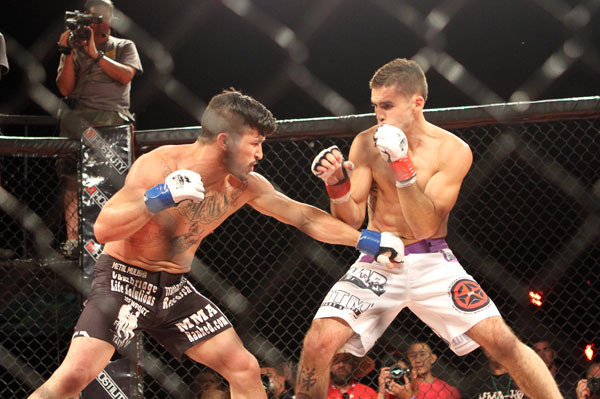 McCall (left)/ Jeff Sherwood for Sherdog.com
He's not exactly Anderson Silva-esque by any stretch of the imagination, however, as far as flyweights are concerned, McCall is one of the more technical strikers in the division.
Thanks in large due to his ties with Team Oyama, which helped breed the likes of Quinton "Rampage" Jackson in the past, among others, McCall has is more than well-versed when it comes to trading punches.
Mixing in kicks with his punches, McCall has proven that when his right hand connects, his opponents are in for a world of hurt.
That's not to say that landing his signature punch will be easy against the wily and aggressive Johnson, though if the fight remains standing and is solely decided on their feet, McCall will have the decided advantage against the brawling style of Johnson.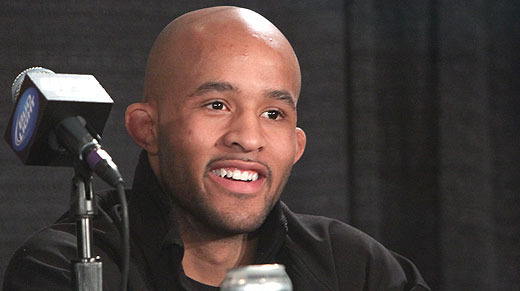 Johnson/ Ken Pishna for MMAWeekly.com
As previously mentioned, McCall will do well at the onset when it comes to nullifying Johnson's repeated takedown attempts, though the relentlessness and persistence of the Matt Hume protege will prove to be the deciding factor.
With a never-say-die attitude, Johnson was largely successful as a bantamweight. Now venturing into a level playing field at 125-pounds, we can truly see the culmination of Johnson's real skills on the big stage, as he fights opponents that he can exploit with more finesse.
Expect Johnson to wade in with hooks, working his way in the clinch before taking down McCall to the canvas.
Wash, rise and repeat for Johnson after three rounds of action, as the 25-year-old takes home the decision win.