Colorado Avalanche: The Final Push
February 29, 2012

Doug Pensinger/Getty Images
The dust has settled after the trade deadline of 2012.  Kyle Quincey, T.J. Galiardi and Daniel Winnik no longer find themselves in Colorado Avalanche sweaters. 
Enter Steve Downie, who has already accumulated seven points (two goals, five assists) in just four games with the Avalanche, and Jamie McGinn, who is expected to make his Avalanche debut tomorrow against Columbus.
The Avalanche also added depth to their system by acquiring youngsters Mike Connolly and Michael Sgarbossa from San Jose.
With "Iron Man" Downie and Jamie McGinn, Greg Sherman, Joe Sacco and company are hoping these two players are the final pieces for needed for Colorado's playoff push. 
With the additions of Semyon Varlamov and Jean-Sebastien Giguere last summer, they have shored up the Avs' goaltending situation, and the additions of Erik Johnson, Shane O'Brien and Jan Hejda over the last year have added size and strength to the blue line.
Where the Avs were lacking this season was depth and grit at the forward position, and Downie and McGinn address both of these issues.  Sure, neither of the acquisitions were considered blockbusters like former stars Patrick Roy, Ray Bourque, Rob Blake and even Erik Johnson recently, but they do address specific needs.
Greg Sherman has taken a lot of heat during his short tenure as Avalanche general manager, but he has proven to be willing to make deals that address the needs of the club.
Don't look now, but the Avs have gone 7-2-1 over their last 10 games and have won their last four in a row, including completing a sweep of the Los Angeles Kings, hammering the Columbus Blue Jackets 5-0, handing the Detroit Red Wings their first home regulation loss since November and beating the red-hot Anaheim Ducks 4-1.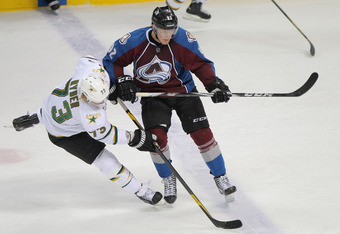 Doug Pensinger/Getty Images
Matt Duchene has five games under his belt since returning from injury and is surely beginning to return to form.  He had his best game the other night against Anaheim. 
He scored a goal on a beauty of a saucer pass from Paul Stastny and was awarded the game's No. 1 star.  The way he is skating now, you would never know that he missed more than seven weeks with a knee injury.
After the trade of Daniel Winnik and injuries to Milan Hejduk and Ryan O'Byrne, rookie Gabriel Landeskog finds himself the lone Avalanche player to appear in every game this season to date.  Landy went on a tear during the month of February with 13 points in all, including 10 over his current six-game point streak, the longest of his very young career.
Landeskog has pushed his name to the front of the list for Calder Trophy candidates, and while I'm sure Landy is much more concerned about the Avs' playoff push, the Calder would be a great accomplishment for No. 92. 
He is currently one point behind New Jersey's Adam Henrique but leads the pack in goals, plus/minus, shots and takeaways.  If you look at the scoring stats alone, he is right there.  But if you look at everything else, he blows everyone out of the water.
Players who got off to slow starts this season, like Erik Johnson, have played some good hockey of late. 
Jay McClement, Chuck Kobasew and Jan Hejda have all seemed to find their places on this Avalanche team.  McClement and Kobasew have solidified the penalty kill as well as the fourth line.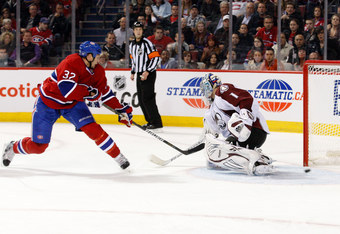 Richard Wolowicz/Getty Images
After a brutal performance in Winnipeg, Hejda has stepped his game up and been plus-6 over the last four games, including tallying two assists against the Ducks.  He has really shored up the defense for the departed Kyle Quincey and injured Ryan O'Byrne.
The oft-scratched Matt Hunwick got his chance to get back into the lineup after the Quincey trade and is playing as if he's determined to stay there.  Hunwick, who is often the butt of jokes due to his sporadic appearances in the lineup and shaky defensive play last year, has really played well over the past few games.
He is using his speed effectively, playing responsibly in his own end and even scored his first goal with Colorado after over a year of service.  The way he's playing now is a bit reminiscent of John-Michael Liles when he was at the top of his game in Colorado.
Semyon Varlamov is also on a hot streak after allowing only two goals in his last three games.  If Varly can keep this level of consistency in his game, he will give the Avalanche a chance to win every night.
With 18 games to go in the regular season and the Avalanche currently in a tie for the eighth and final playoff spot, there is still a lot of hockey left and a lot of work to be done. 
The Avs are playing good hockey right now.  If the players keep playing their games well and the team keeps winning, the conversation will not be about making the playoffs, it will be about playoff positioning.