2012 NFL Draft: New Orleans Saints Should Trade Up for WR Michael Floyd
February 29, 2012
Justin K. Aller/Getty Images
When the Atlanta Falcons traded away the majority of their 2011 draft last season to get to No. 6 and pick Alabama wide receiver Julio Jones, it sent a small shock across the NFL. To that point, it was fairly uncharacteristic of the Falcons under GM Thomas Dimitroff. 
It also came as a huge surprise to draft experts who expected Jones to go no sooner than No. 10. Most of all, it sent a strong message to the NFC and the South Division in particular that Atlanta planned to become a more explosive offense. 
Jones erupted in the second half of the season after a slow start. His final numbers included 959 yards and eight touchdowns on just 54 receptions. These totals made for a wonderful 17.8-yards-per-catch average. 
Jones may not have had met expectations for his rookie season. But if you were to compare his rookie season to most rookie receivers in the last 10 years, Jones' inaugural campaign shines brightly above the majority. 
Going forward, this impacts the New Orleans Saints in two distinct ways. First, the Saints need to build their own team in a way that prepares them to slow down if not stop this rising phenom. Second, it puts the onus on New Orleans and the rest of the NFC South to be able to match the Falcons' explosive abilities. 
That has never been a problem in the past, but without Marques Colston—and possibly Robert Meachem—the Saints are in danger of trading places with the Falcons in terms of offensive explosiveness.
Without Colston and Meachem (hard to imagine him not returning but it certainly is not automatic), defenses could put together a more exclusive game plan to stop Darren Sproles and Jimmy Graham. In other words, defenses could put all or most of their efforts into stopping those two players.
Yes, the corners still must be aware of Devery Henderson and Lance Moore (and Meachem, should he return). But those guys become infinitely easier to cover without a flexible "X-receiver" like a Colston. In a perfect world, Colston would return to New Orleans. But given his likely cap figure, that no longer seems to be a strong possibility.
Therefore, the Saints face quite a conundrum at a spot that once seemed so secure. That conundrum is a giant hole with a diameter of 90-plus catches, 1,000-plus yards and 10 touchdowns.
Into that hole could go many future Saints. In previous articles, propositions have been made for Chaz Schillens, Plaxico Burress and Laurent Robinson. Of those three, only Schillens could realistically make for a long-term solution. None would be financially costly but all come with some form of baggage and a long list of question marks in terms of their future.
Insert one rookie who could fix all the Saints' "X-receiver" problems, and do so on the cheap for the next five seasons. At 6'3", 220 lbs,. Floyd doesn't match the exact measureables of Colston but his play is so similar it's hard to even notice.
I won't say I discovered Floyd because frankly, everyone already knew of him. I won't even say that I had some new revelation about him. But upon doing film study of Michigan defensive tackle Mike Martin, Floyd kept coming up. The Irish's leading receiver burned the Wolverines time and again.
What he did to that Michigan defense—with a below-average quarterback—was nothing short of unbelievable. He seemed to go under, over and around the entire defense on his way to one of the finest seasons of any receiver in college football during 2011.
What a more complete view of Floyd shows is a player with outstanding physical ability. At the 2012 NFL Scouting Combine he ran his 40-yard dash in the 4.4 range—considered very solid for any receiver above 6'0". With that measureable, Floyd began the Julio Jones comparisons. Interestingly enough his playing style does too.
He is a player who excels at getting down the field when he's running sideline routes. But he is even better working in the slot on linebackers and safeties. He has great lateral quickness and body control to get in and out of breaks.
This makes him the ultimate Colston replacement since he excels in the middle of the field and has great size. He can take a hit and keep on going. In fact he'll be even more explosive than Colston because of his tremendous speed and strength.
He may not be as great catching the ball in traffic while running the seam route, but he should be able to pick up that aspect of the game in short order as he gets used to the speed of the NFL game. That adopted trait would elevate his game above Colston's and make him the better fit for the Saints now and going forward as they look to the future.
Because of Floyd's unique athletic ability and versatility, he would instantly become their most dangerous receiver—or almost certainly would by year two judging by the way Graham improved by leaps and bounds from his freshman to sophomore year at the NFL level.
His presence would alleviate any stress the organization may feel about losing Colston and the possibility of a forced transition in becoming a power-running team. That direction would still remain the advisable one for the Saints, but would not have to be forced should Mark Ingram not develop into the back we all expect him to become.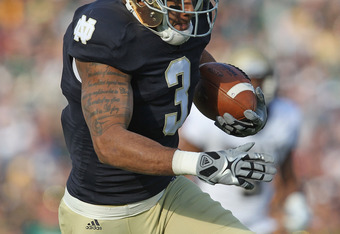 Jonathan Daniel/Getty Images
Before we all assume this is the best deal the Saints could possibly make, there are some question marks and some baggage Floyd brings with him. First and most notably, Floyd had some serious alcohol-related incidents at Notre Dame, which actually caused coach Brian Kelly to suspend him indefinitely. Bringing a player with such a history to New Orleans can be a very dangerous proposition.
Second, Floyd is not as tall as Colston and therefore may not fit in quite so seamlessly at the
"X-receiver" spot as I have outlined above. And third, it could take more than one year for Floyd to become the player the Saints would expect him to become. Frankly, the Saints don't have time to wait for a player to ease into his role.
Therefore, the Saints organization would have to be fully convinced Floyd is the right fit for this New Orleans Saints squad right now before they even begin to speak with teams about the possibility of trading up to the 15th selection (or thereabouts).
And if they decide he is, they better be willing to give up on the majority of a draft where they could land two or three quality starters—including the possibility of an elite pass-rusher. Finally, they must convince themselves (as I already have) that Floyd is the best fit for the Saints of any rookie receiver in the 2012 NFL draft.
The cost is likely to be their 2012 second- through fourth-round picks and their 2013 first-round pick, if not significantly more. It could even cost the player off the Saints' current roster.
Making such a decision requires some rather large "cajones." That is something the Atlanta Falcons displayed in the 2011 NFL draft. Keeping up with the Joneses is a part of the NFL, like it or not—especially when that team is in the same division.
The Saints—should they lose Colston—may require such a large decision. After all, the NFL in 2012 revolves around offense. A pass-rusher alone will not be the reason the Saints win a Super Bowl in 2012 or any year after.