Each MLB Team's X-Factor Heading into the 2012 Season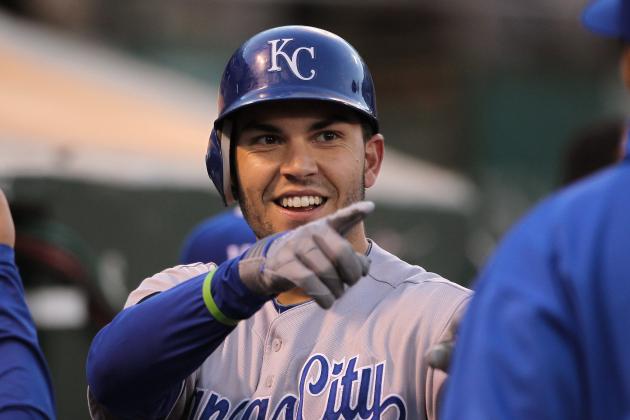 Ezra Shaw/Getty Images

Every year, we all have players we expect good things from and players we expect a whole lot of nothing from.
Then there are those guys who we just don't know what they're going to at the plate, on the field or behind the scenes.
Here's a list of each team's X factor—the guys who we just aren't sure what to expect from them, but it might make all the difference to their team.
Begin Slideshow

»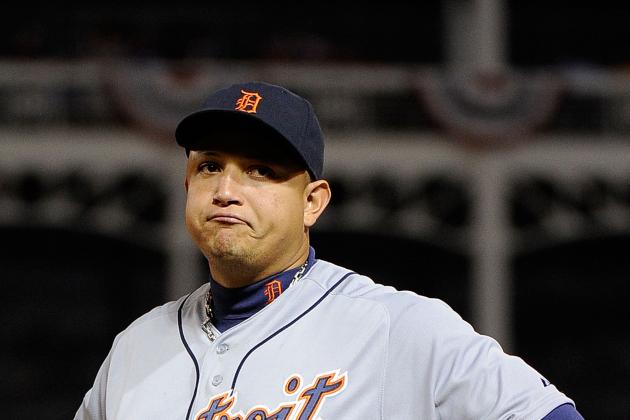 Kevork Djansezian/Getty Images

In a surprising offseason move, the Detroit Tigers won the second-biggest, first-baseman, free-agent sweepstakes out there.
Despite already possessing perennial All-Star and occasional nuisance to the authorities Miguel Cabrera, the Tigers went out and signed Prince Fielder to the most lucrative contract in the team's history.
Fielder's presence brings a heavy bat to an already formidable offense. Combine that with a solid pitching staff led by Justin Verlander and it's tough to not hand them the AL Central crown before the game's even begin.

The keys to Title City, however, lie largely with Miguel Cabrera.
Cabrera is making room for Prince Fielder at first base by moving all the way across the diamond to take the reins at third base. While the offense of the Tigers is one to be feared, the defense has often proved marginal at best.
In Cabrera and Fielder, the infield corners are now manned by two gentlemen not exactly known for their speed or agility. If Cabrera can make the switch without disastrous difficulty, the Tigers should be in great shape.


Pool/Getty Images

David Freese made a name for himself during the 2011 playoffs when he set the record for most RBI in a single postseason, during his historic run to claiming both the LCS and World Series MVP trophies for his hometown St. Louis Cardinals. Those sort of postseason heroics, besides creating somewhat of a miracle for the underdog Cards, gave the world a glimpse into the player that Freese just might become.

Having only hit five career home runs prior to the five he hit last October alone, Freese had a reputation previously that didn't necessarily precede him. He wouldn't embarrass himself, but he wasn't who the manager would hope would be up in a pivotal spot.
Now Mike Matheny would probably be relieved to see it was Freese's turn in the lineup in a clutch situation. While keeping up the pace he set for himself during the Fall Classic will prove to be impossible, if Freese can find the happy medium between who he was and who we were all privileged to watch him morph into, the Cardinals might just find themselves on the hot seat again.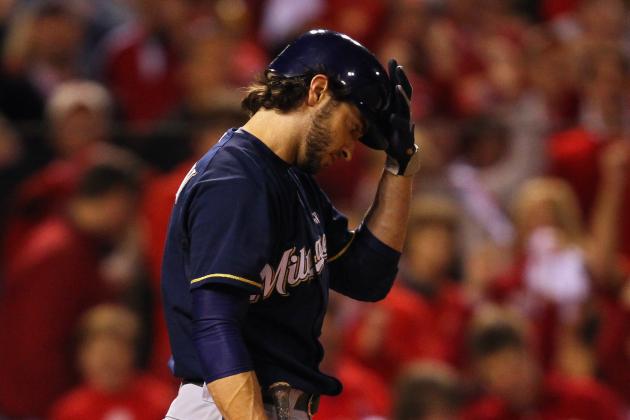 Dilip Vishwanat/Getty Images

When it comes to Ryan Braun, whether you believe that not guilty is akin to innocence or just to having a good legal team, one thing remains absolutely certain—all eyes will be on the reigning NL MVP this season.
While Braun has been exonerated within MLB's system, his good name certainly hasn't been cleared in the court of the public at large.

Playing under such intense media and public scrutiny will be an entrance into a whole new arena for Ryan Braun and the Brewers. Despite the fact that Braun has enjoyed a career of impressive and stable statistics, playing in smaller-market Milwaukee has allowed for some degree of flying under the radar—at least as far as plenty of New York, LA and Chicago players know it.
How Braun handles the pressure could very well dictate the playoff hopes of the very solid Brewer squad.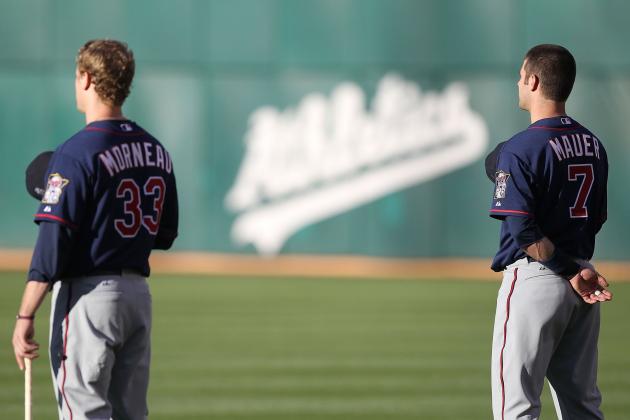 Jed Jacobsohn/Getty Images

The Minnesota Twins posted the largest number in their loss column in 29 years last year.
While it's hard to isolate just one reason for the train wreck of 2011, it was absolutely due in no small part to the injuries that continued to plague Justin Morneau and Joe Mauer.
Mauer and Morneau, who together will earn approximately one-third of the team's projected 2012 payroll, combined to miss 173 games during the 2011 season. The Twins' ability to rise out of the cellar of the AL Central rests on the shoulders of the M&M boys.

While any team boasting two former MVPs in the starting lineup could be expected to rely heavily on them, the urgency the Twins feel to keep these two healthy is enhanced by what remains at their back.
Any absence of Mauer at catcher brings in backup catcher Drew Butera who last year put up the worst single-season batting effort since 1950, among those with at least 250 plate appearances. Between Butera and expected DH Ryan Doumit (who only put eight balls over the fence last year), the Twins are going to need the offensive production of Mauer and Morneau to have any chance at success.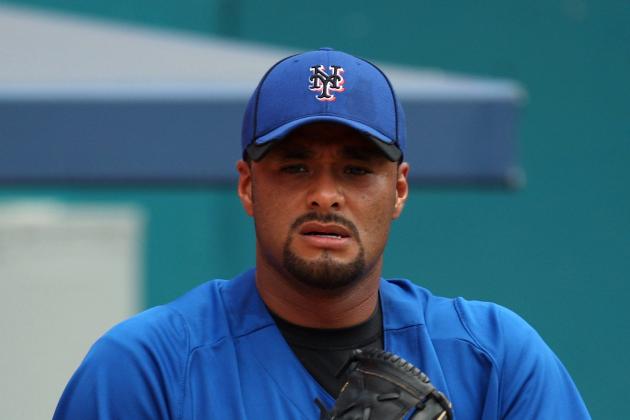 Sarah Glenn/Getty Images

In comparison to the dire straits the Wilpons' financial dealings have left the team in, it seems like even the McCourts might make better bedfellows.
Off-the-field dramatics have led the New York Mets to dump a large portion of their payroll, which has led to the inability to make big signings, and perhaps worse, keep their homegrown superstar shortstop Jose Reyes.
The great cash predicament means the New York Mets need to rely on what they've already got for the 2012 season, and a lot of that is nothing to get excited about.

There's still one man whose return to the mound just might be able to take premonitions of the Mets season from abysmal to respectable—two-time Cy Young winner Johan Santana. A healthy Santana, who has averaged 15 wins a year throughout his career, would be a more-than-welcome replacement to any one of the Mets potential No. 5 hurlers.
With the rest of the staff all coming across more like four or five starters than an ace, a true-to-form Johan Santana would be a major boost to the Mets' rotation.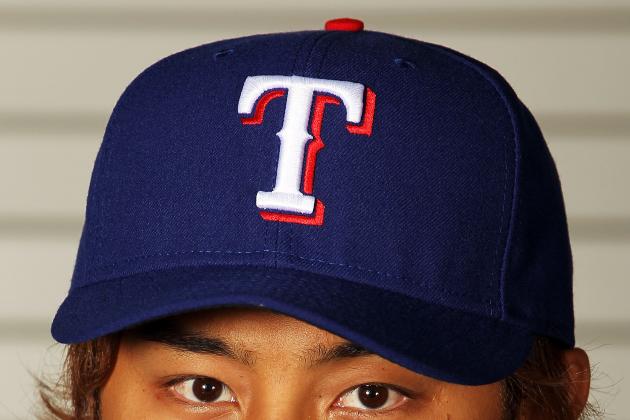 Jamie Squire/Getty Images

The two-time defending AL champions 2012 roster looks nearly the same as the team who came this close to winning it all last season. In fact, the Rangers only major loss this offseason was starting pitcher CJ Wilson, who went from middle reliever to All-Star starter once he stopped trying to throw the gyroball.
The incredibly strong Rangers rotation shouldn't take much of a hit though—barring the success of the Yu Darvish experiment.

Japanese phenom Yu Darvish comes to the Rangers sporting a hefty price tag and a whole lot of hype. Despite the fact that historically most pitchers from the Nippon Baseball League have not enjoyed consistent success, Darvish's scouting says he might just be a cut above the rest.
With a heavy-armed lineup from start to finish, a bullpen that runs six deep and a reliable rotation, the Rangers just might three-peat as long as Yu Darvish is more Hideo Nomo than Kei Igawa.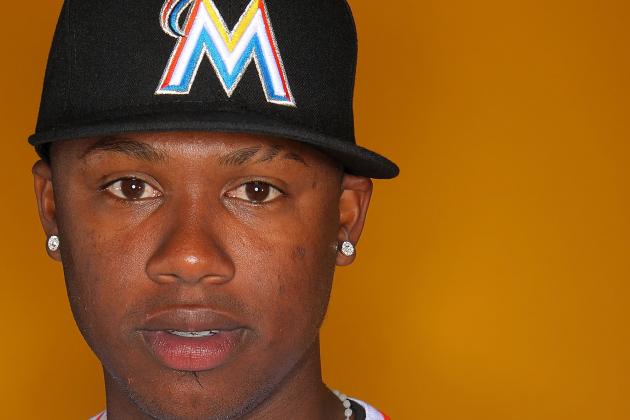 Marc Serota/Getty Images

The Marlins had a busy offseason.
When they were able to take a breather from changing their name and designing rainbow-esque fish hats, they were busy stacking their squad with high-caliber free agents—the most notable of whom being Mark Buehrle, Heath Bell and Jose Reyes.
The acquisition of speedy shortstop Jose Reyes was a major cause of distress, not just for the brass at his former employer, the NY Mets, but even more so for newly-banished-from-shortstop-now-reluctant-third-baseman Hanley Ramirez.

Hanley Ramirez, the usual All-Star and fantasy baseball darling, put up the most abysmal numbers of his major league tenure in 2011. When he wasn't performing far below the expectations he had set for himself, he was spending his days on the DL.
Hanley's ability to bounce back to the superstar he has always been is imperative to the Marlins' run at another title. They just have to hope he rebounds well and with a smile at his new position, or all that money spent putting together a championship-caliber squad might prove to be for naught.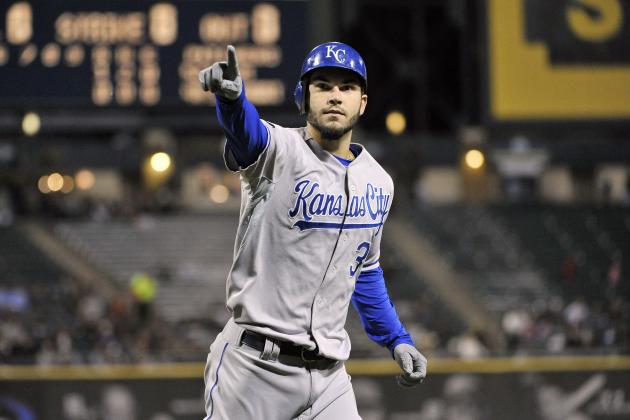 Brian Kersey/Getty Images

The Kansas City Royals enter 2012 with a squad just about ready to burst with young talent.
Theirs is a farm system that has been honed over the last several years, and all that tilling is just about to pay off. Is this the year that the Royals youth is able to trump the greater experience of division favorite Detroit Tigers?
Probably not, but the Royals are bound to make it an exciting season to watch—words that haven't been spoken about the Royals pretty much since George Brett's name was etched in the lineup card.

At the forefront of the Royals' young hopefuls is first baseman and last year's most pleasant Kansas City surprise Eric Hosmer. As the Royals arrive at the brink of their team's turnaround, it is expected that Hosmer will be at the helm.
Hosmer put up 19 home runs in his rookie year—a year that saw him finish third place in the Rookie of the Year voting. At only 22 years old, Hosmer still has a lot of projected improvement awaiting him. If he can turn that corner and become an elite hitter a little sooner than expected, we may not have to wait as long as we thought for exciting Royals baseball.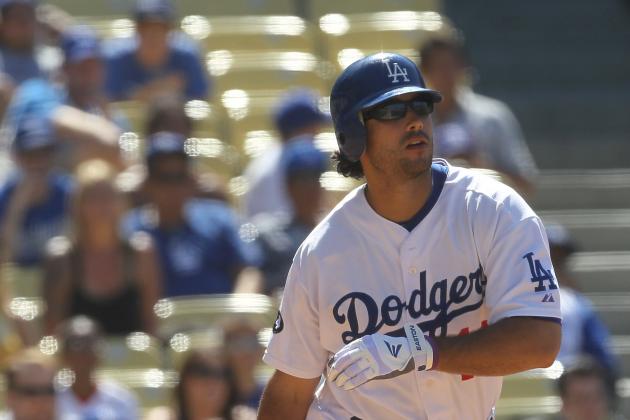 Stephen Dunn/Getty Images

The Dodgers squad is a prime example of baseball's Great Divide.
If you play in Dodgers Stadium, you are either a stud or a dud and never the twain shall meet. The team, while blessed with talents like Clayton Kershaw and Matt Kemp, is unfortunately also saddled with halfway-out-to-pasture relics like Juan Uribe and Mark Ellis. Most of the projected starters are passable but couldn't pass for a championship squad, even costumed as the 1927 Yankees.

The Dodgers expect their studs to carry the team, but the difference will be made with a guy like Andre Ethier.
Ethier, who is hoping to bounce back from a knee surgery that ended his season early in 2011, is going to have to get and stay healthy quickly. With the rest of the lineup possessing no immediate threats, a return to his pre-injury form is imperative for Los Angeles.
If Ethier can perform up to par and shoulder some of that heavy offensive burden, it might just be enough to tip the scales in the Dodgers' favor.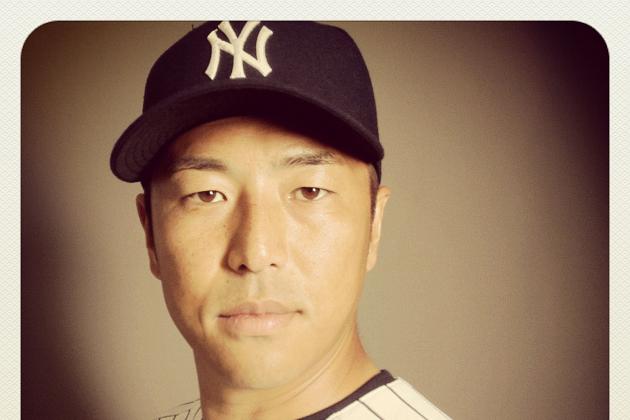 Nick Laham/Getty Images

They say money can't buy love, but it can usually buy one helluva starting pitcher.
Yankee ace CC Sabathia is damn near unhittable when he's throwing the ball (If one is throwing the ball at him? Totally different story). The Bronx Bombers, who very often cash in big on a free agents during the offseason, went without this year.
Their one big move was packaging up catcher Jesus Montero in exchange for Seattle Mariners' breakout pitcher Michael Pineda. With that lone significant move, they hope to have filled any holes the team might have had and give Mariano Rivera a shot at one final championship.

The only problem is everyone in the starting rotation who is not named CC Sabathia could prove to be a risk. While Pineda had an incredible first half of 2011, his second half was less than spectacular—and that's before he's forced to pitch regularly in a stadium where balls just seem to fly out of the ballpark.
Starter Ivan Nova is coming off a stellar 2011 season but could have issues repeating it. Hideki Kuroda could prove to be a gem if he's got another great year in him, but at the age of 37, he could also struggle in the batter-friendly ballpark. Phil Hughes has always been a serviceable pitcher, but will he repeat last year's struggles with injury and velocity?
The question marks could spell trouble, but the smart money says if at least two of the hurlers who come after the No. 1 live up to the potential, the Yanks should have a great year.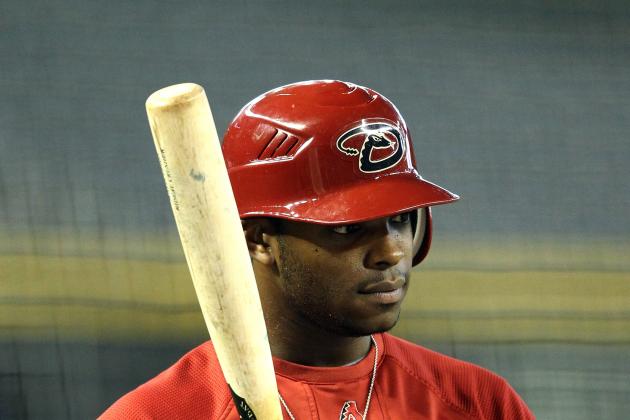 Christian Petersen/Getty Images

Last year's Arizona Diamondbacks came seemingly out of nowhere and were two runs in extra innings shy of competing in the NLCS.
The quiet talent and managerial finesse of Kirk Gibson puts the Diamondbacks within striking distance of the on-paper, stronger-looking Rockies and Giants teams.
The strong offensive lineup saw great improvements by Ryan Roberts and Miguel Montero. Combine that with the emergence of Paul Goldschmidt and Justin Upton taking his rightful place as team leader and you've got a formidable contender in the NL West.

Justin Upton, entering his fifth full season with Arizona, is coming off a career-best season and seems poised to finally break out as the bona fide superstar who has always been expected of him. He has always had the raw talent to carry Arizona, and in 2011, he seemed to have finally figured out how to do it.
Justin Upton's normally high strikeout ratio took a dip in 2011. If he can keep that number low and finally shed the last of his apprehensive skin, he could carry the Diamondbacks all the way to the pennant.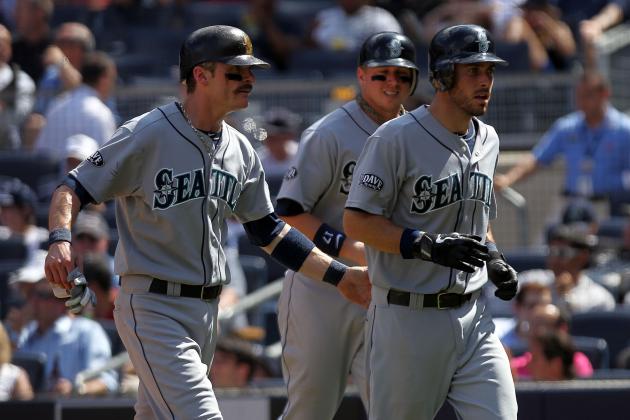 Nick Laham/Getty Images

The Mariners return to the diamond with a team not entirely different from last year's division bottom feeders.
The major difference between 2011 and 2012 for the Seattle Mariners is the loss of breakout pitcher Michael Pineda—well, that and another candle on aging superstar Ichiro Suzuki's birthday cake.
The loss of Pineda brought over Jesus Montero, a prospect highly touted for his offensive prowess and occasionally panned by critics for his defensive liabilities at catcher.

Seattle, heading towards a season that can only be viewed as a rebuilding year, has their 25-man roster stuffed with a bunch of maybe guys.
Maybe budding star Dustin Ackley will prove he's worthy of taking over the role handed to him as successor to Ichiro's leadoff hitter throne. Maybe Justin Smoak will come into his own as the power hitter he was gearing up to be before being plagued by injuries. Maybe Casper Wells or Mike Carp will shine a little brighter than anyone thought they could.
Filled to the brim with young guys with great potential upside and veterans past their prime, the Mariners need one of their young guns to have a breakout year, or they just might have a repeat of the offense that was MLB's worst in 2011.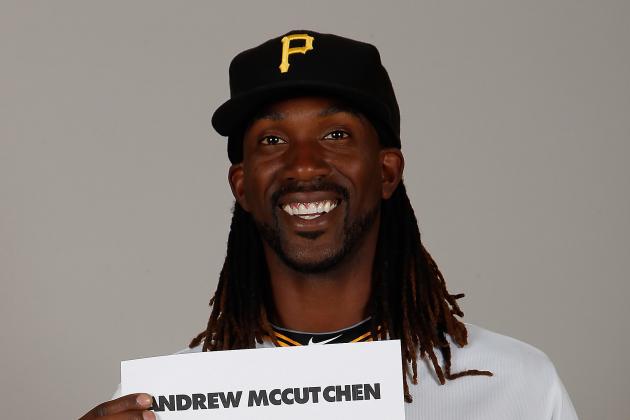 J. Meric/Getty Images

Pirates fans have suffered through more consecutive losing seasons than is fair for anyone to sit through sprinkled in non-sequential order throughout a lifetime.
If you can count just how many good players Pittsburgh has traded away in the last decade, then you probably have way too much time on your hands. The years of heartbreak have not been entirely in vain, however. The farm system now boasts a deep stable of pitching prospects, and the team seems nearly ready to make a real run.
Will this be the year the Pirates finally end the losing record streak? The answer to that may lie in the capable hands of Andrew McCutchen.

Yes, it's no secret that McCutchen is the team's best player who isn't named Joel Hanrahan. The last few seasons have seen McCutchen's power numbers and OPS rise while he's been more successful in other years with batting average, stolen bases and not striking out quite so much.
If McCutchen can meld all these things, he's absolutely capable of, into one season, the Pirates just might see some long-anticipated success sooner than expected.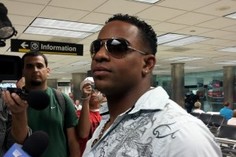 Photo Credit: Sun Sentinel
Thanks to the success of Moneyball, the offseason has been filled with chatter about the magic Billy Beane can make with a little bit of money.
A movie fan who finds themselves removed from the game of baseball would find great shock at what Beane's brainchild has devolved into. Beane's roster has become entirely absent of successful players on the rise. Cost ruling all has forced Beane's hand into getting rid of his potential stars before their price tag becomes too steep for the A's pockets.
This offseason saw the loss of Gio Gonzalez, Trevor Cahill and Andrew Bailey. The mound in Oakland is looking pretty barren before the season even starts.

The one surprise move and the only hope to hold onto in a place where the players seem to exit the revolving door as quickly as they come is the signing of Yoenis Cespedes. The center fielder, known as the Cuban Willie Mays, is set to join the team in camp this weekend. This hopeful offensive superstar is the one shining light in an otherwise abysmal looking Athletic offense.
The signing of Cespedes is absolutely a gamble, especially for Beane who is quoted as saying "...the lottery is not a good way to invest your money."
For Oakland fans, though, the arrival of Cespedes just might be the injection of excitement and offensive prowess the team has been desperately missing.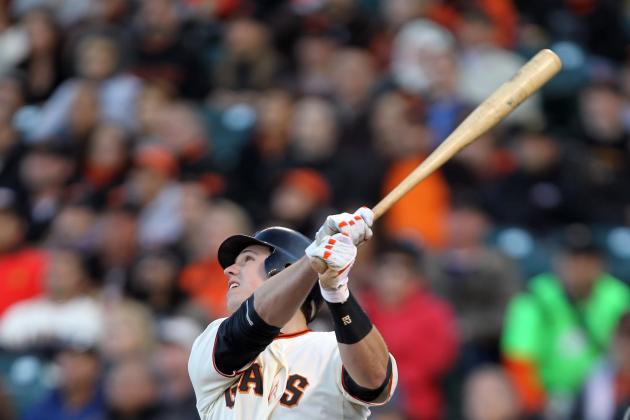 Ezra Shaw/Getty Images

Both last year's San Francisco Giants and the 2010 World Series championship team have one very unfortunate thing in common—an inability to score runs.
Luckily for Bruce Bochy and his boys, the absolutely stellar pitching staff—from starters to middle relievers to the closer—have been dominant time and time again despite the often complete and utter lack of run support.
Pitching may win championships, but you've got to score a run to take the lead.

Last year, the San Francisco Giants early on looked poised to make a second run at a World Series title. Unfortunately for them, Murphy's Law prevailed, and everything that could go wrong absolutely did.
The worst of the 2011 catastrophes came early on when a collision at the plate left Buster Posey with a broken leg and the Giants without their reigning Rookie of the Year for the season. (I could link to a video of the play here, but you've seen it already. And I might accidentally click on it and be forced to live that moment again. No thanks.) When Posey went down, he took with him the Giants' strongest offensive presence and the anchoring force to that incredible pitching staff.

Posey is back in the saddle at spring training but still remains questionable for the Cactus League opener. After nearly a year away from the diamond, questions remain about whether or not Buster is ready to head back into action. And if he does, will he remain the fearless defensive presence he was in his inaugural year?
A lot rests on the shoulder of the team's young catcher. If Buster is up to the challenge, the Giants could find themselves playing October baseball again.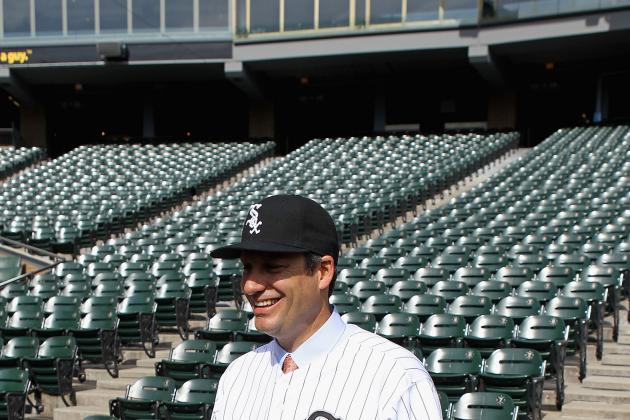 Jonathan Daniel/Getty Images

The 2012 Chicago White Sox at first glance don't seem to be entirely different from the 2011 White Sox—not that that's anything to be dancing in the streets about.
2011's squad saw a record of four under .500 while playing in a division that contained a team who actually finished behind the Kansas City Royals. The offseason's biggest losses were team ace Mark Buehrle and the insert-insulting-adjective-that-is-really-meant-complimentary manager Ozzie Guillen going to sunnier pastures down South. With the remainder of the squad littered with players whose careers seem to be on the decline, this season could prove to be a bleak one.

Smart managerial decisions may be the only thing preventing this iffy squad from taking a nosedive to the bottom of the rubbish pile. How do you replace a guy like Ozzie Guillen? He may be a polarizing public figure, but he has been known to be able to rally his troops into battle, already possessing one World Series title in his eight years as a manager. The only man who could possibly take the reins from Ozzie is Nolan Ryan. I know I'd listen to a guy who put Nolan Ryan in a headlock.

Ventura has a tough job ahead of him—desperately needing to coax comeback seasons from Jake Peavy, Alex Rios and Adam Dunn if he is to even have a shot at staying out of the cellar. If he isn't up for the job, Ventura may find he starts his era as the team underneath the Kansas City Royals.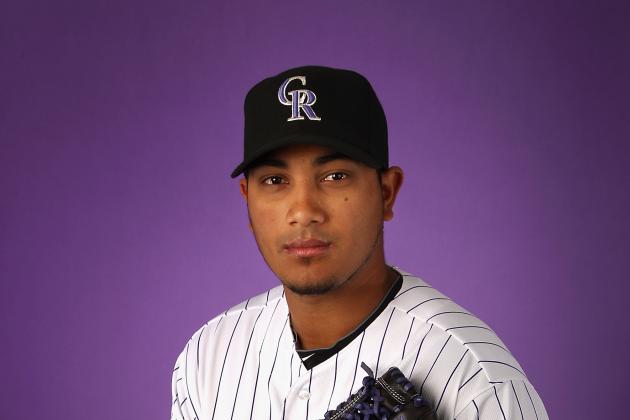 Christian Petersen/Getty Images

When a shaky NL West and a powerful Colorado offense are combined, the result is the Rockies in fighting shape to win their first ever division title.
A lineup featuring Troy Tulowitzki and Carlos Gonzalez as anchors to an otherwise respectable lineup certainly has a shot in a division devoid of a ton of power bats. The only thing standing in Colorado's way is a highly suspect starting rotation.

While his inaugural season with the Cleveland Indians may have been lacking in the fireworks and victory department, the loss of Ubaldo Jimenez was felt throughout the Rockies' organization.
2011 saw Colorado put some of the major league's most ineffective starting rotation on the mound. 2012's hopefuls are a hodgepodge of potentially emerging prospects, including Jhoulys Chacin, Drew Pomeranz, Alex White, Tyler Chatwood and Esmil Rogers. Entering his third full season, Chacin is the most proven of the bunch, having already maneuvered through more than a handful of starts.
The rest of the motley crew are far more of a mystery at a major league level. The offense will do its job, so if the pitching staff can hold up its end of the bargain, there just might be a playoff contender in Denver.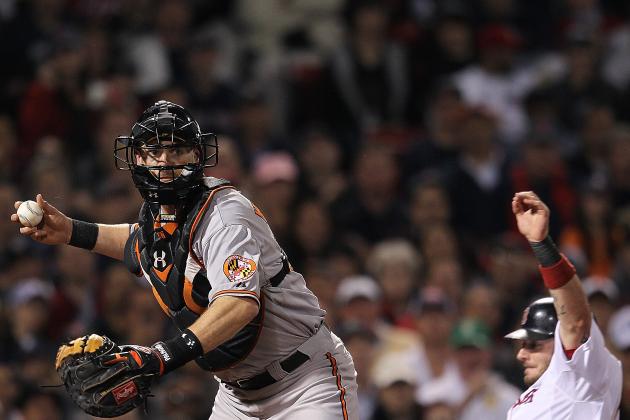 Jim Rogash/Getty Images

Long gone are Cal Ripken's Orioles, where the boys from Baltimore would often find themselves in playoff contention and able to compete with the division's other squads.
The Orioles haven't sniffed a record over .500 in 14 very long seasons. The only positive mantra coming out of the O's camp as of the last few years always seems to revolve around the team's X factor—Matt Wieters.
Is it finally time that he has the tremendous year we have been promised all along?

Wieters has done a decent job fine tuning the revolving crop of young pitchers with tremendous upside the Orioles keep churning out. But it was never his defense that had people craning their necks; it was the declaration that Wieters would prove himself to be Joe Mauer, except with power.
So far, that has been a promise made in vein, as Wieters' .265 career batting average and 166 total RBI have been nothing to write home about. The 2011 season did, however, see an upward swing in the catcher's home run total, doubling from 11 in 2010 to 22.
If Wieters can keep that power going, while honing the other skills the hype swore he possesses, Orioles fans just might have something to get excited about.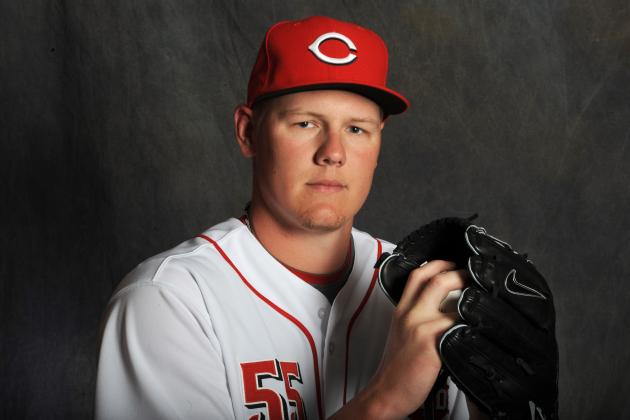 Rich Pilling/Getty Images

With Prince Fielder and Albert Pujols fleeing the NL Central coop, the Reds have a chance to return to their 2010 home atop the division.
The lineup is stacked, with Joey Votto, Jay Bruce, Drew Stubbs and Brandon Phillips leading the offensive pack. After having the best season of his career, Jonny Cueto seems set to spend 2012 as the staff's ace.

The Reds could see a return to their former glory if newly acquired Mat Latos can make a comfortable home for himself in the Great American Ballpark.
When the Reds traded Edinson Volquez and some high-level prospect for pitcher Mat Latos, they made the statement that they were ready to win now and bounce back from 2011's disappointing sub .500 season.
Latos posted a 3.47 ERA and a 1.18 WHIP for the Padres last year. In his 4th full season in the pros, Mat seems ready to make improvement on already respectable numbers. If going from pitcher-friendly Petco to batter-friendly doesn't destroy Latos, the Reds could steal the division title out from under the Cardinals and the Brewers.
Mike Ehrmann/Getty Images

Like any fan of any team in the AL East will remind anyone who will listen ad nauseam, the Tampa Bay Rays play in a very tough division.
Between the Yankees, the Red Sox and themselves, it's almost never entirely clear which team will emerge on top in any particular year. The Rays have five very dependable starters and a generally reliable lineup, usually led by the bats of BJ Upton and Evan Longoria.
Unfortunately in a division like the AL East, being all around reliable isn't going to win any titles. In order to win here, a team needs a little something extra. And for the Rays, 2012's something extra just might be Desmond Jennings—the heir apparent to Carl Crawford.

After toiling away in the minors for two-and-a-half years, Jennings was finally given his prolonged shot in the Show last year. And he certainly put on his own show. The speedy outfielder made his biggest mark when he hit a walk-off home run against the Texas Rangers to mark the franchise's 1,000th win.
Jennings has all the makings of a superstar leadoff man. He's quick and a smart baserunner who also can be relied on in the clutch. In a division where a team needs a little extra razzle dazzle to win it all, Jennings has the best chances to be that guy for Tampa Bay.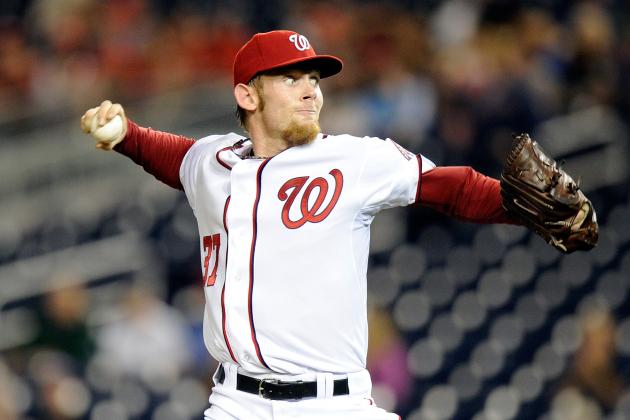 Greg Fiume/Getty Images

When Stephen Strasburg made his debut in the Big Show, there were rumblings that not since Doc Gooden could one pitcher's start put that many fans in the stadium as a Strasburg start could.
Averaging over 11 strikeouts per nine innings and under two walks in the same timeframe over his first 17 games showed that Strasburg could hang with the big boys. The small sample size Strasburg gave before being sidelined for the better part of two seasons with Tommy John surgery proved this kid just might be the real deal.

With the offseason pitching upgrades of Gio Gonzalez and Edwin Jackson, the Nationals brass seems to finally have a starting rotation they don't need to be ashamed of.
The team, whose 25-man roster features starters Ryan Zimmerman, Michael Morse, Jayson Werth (who just cannot possibly be as awful as last year) and Wilson Ramos, might have finally put together enough talent to make some noise in the very tough NL East. With Strasburg leading the way, their starting pitching remains the dominant factor in just how far the team can go.

Strasburg's Davey Johnson-enforced 160 innings limit will make for interesting managerial decisions all season long. Johnson has reportedly said that even in a pennant race, he will not allow Strasburg to exceed his innings cap. Strasburg is going to feel added pressure to make every start and every inning count, as his limit may allow him less maneuverability to get himself out of pitching trouble.
If Strasburg is on, the rest of the team should follow suit, and there might just be some meaningful baseball played in our nation's capital this year.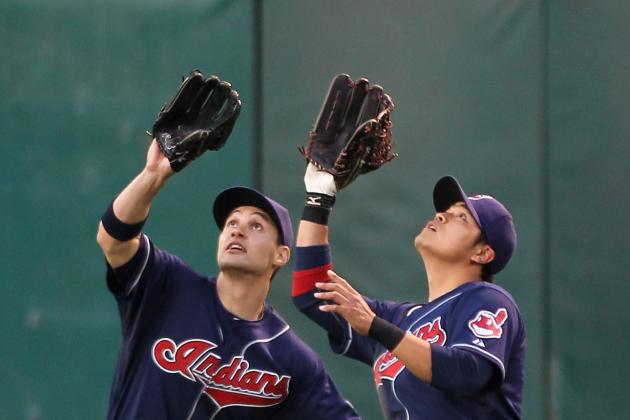 Ezra Shaw/Getty Images

When the news emerged earlier this week that Grady Sizemore would miss the beginning of the season with (yet another) injury, anyone who found themselves shocked must have been living under a rock the last three years.
Grady, who has had five surgeries in the last two years and has only been healthy enough for 210 games in three seasons, has marred his potential legacy by becoming the butt of incessant injury jokes.
Teammate Shin Soo Choo had a 2011 season that included a drunk driving arrest, a broken thumb and 2011's seeming injury du jour—the oblique injury. The smaller role Choo and Sizemore played in last year's season most certainly attributed to the Indians' inevitable downward spiral and ejection from the race for the division title.

Having Choo and Sizemore back healthy and productive would be a difference maker for the Indians. Michael Brantley, while serviceable, is no match for the heyday of Grady Sizemore. And injuries or not, Grady isn't yet old enough for all hopes of the heyday's triumphant return to be dashed.
And as for the five-tool-tough-to-replace Choo, according to Release Points, 122 eligible players had a higher slugging percentage than Choo's combined replacements. The Indians, while maybe not quite ready to compete with the Tigers, can at least make some noise in the AL Central with their two top hitters back in top form.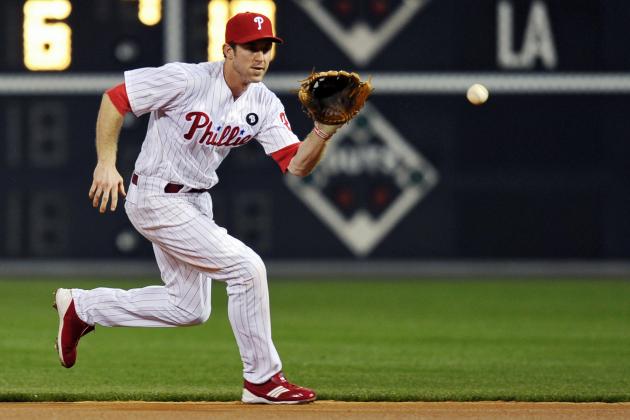 Drew Hallowell/Getty Images

After putting up MLB's best record for the second year in a row, it comes as no surprise that the Philadelphia Phillies are the odds-on favorite in the gambling world to take it all once again.
Taking this bet might not be in your best interest when you consider just how the last two years have panned out for The City of Brotherly Love's best. The Phillies' starting rotation remains formidable despite the loss of Roy Oswalt, but the Three Horsemen just doesn't have the same ring to it.
The lineup continues to be strong, but like all good things, it must come to an end. The increased median age of the projected starting lineup has begun to sap some of the life out of it.

With the news that Ryan Howard would be missing the beginning of the season, things start to look a little darker for Philadelphia. Sure, one man's trash is another man's treasure, and a lot of team's would be gladly accepting of the Phillies' bad in order to also claim their good. The problem, however, with the Phillies' lineup is the age. And the big question is: will age hold up?
With the majority of their players edging past their prime, there are likely to be no breakout years or huge surprises. The Phillies know what they're getting, and they have probably already been the recipient of it.
Will it be enough this year when it hasn't been for the last three years? Only time will tell and the Phightin' Phils may not have a whole lot of that left.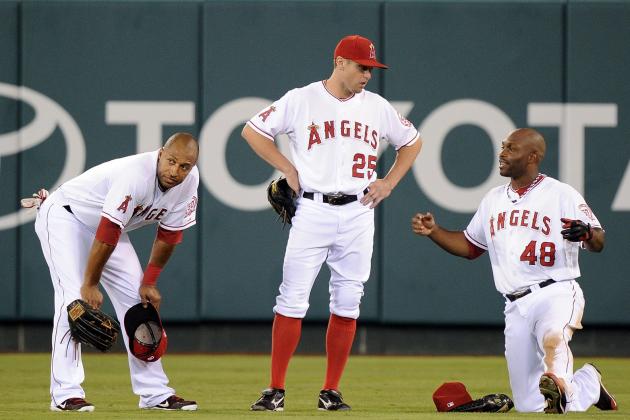 Harry How/Getty Images

With the addition of Albert Pujols and CJ Wilson to an already dominant team, the Angels are starting to look downright filthy.
Anaheim comes fully loaded with a starting rotation that just might make Philadelphia's Four Horsemen look subpar. While Pujols may be the Angels' only true stud at the plate, the rest of the lineup is so notoriously reliable that adding Pujols' usual 100-plus RBI, a year will take the team from good to great. With a team that's looking this all-around consistent, they seem to be a lot of folks' early choice for the AL pennant.

The true X factor here are the aging Angels in the outfield: Torii Hunter and Vernon Wells.
The Angels defense is the one question mark in their elite program, and while it may seem blasphemous, this could be the year that Torii Hunter finally loses a step. Vernon Wells has been seeing a steady, if not marked, decline in his defensive prowess as well.
Scioscia has become accustomed to expecting low batting averages from the pair, but it seems like a fair trade for the power they bring in. If this is the year that the power wanes and the defense fades, the Angels could find their smooth-sailing ship lost at sea.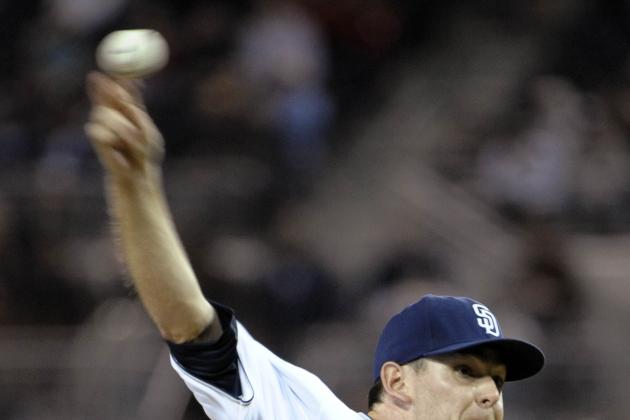 Denis Poroy/Getty Images

The Padres' curious choice of offseason moves made them by far the most difficult team to select an X factor for.
They traded away pitching stud Mat Latos for Edinson Volquez and some top-quality prospects. Maybe a smart move in the long term, but it remains an absolute downgrade in the short term. The Padres then sent two minor league pitching prospects off to Chicago in exchange for Carlos Quentin.
Quentin is a proven slugger who is absolutely the short-term answer if a team is trying to win games now and not heading into a rebuilding phase. Confused about what the Padres' end game is? If so, just know you aren't alone.

On a team where Carlos Quentin's main competition for the team's top slugger is Cameron Maybin, division rivals the San Francisco Giants start to look like masters of run production.
With the loss of closer Heath Bell paving the way for fading star Huston Street, this leaves the daunting task of difference maker to the Padres' No. 1 starter Tim Stauffer. Despite posting only a 9-12 record in his first full season as a starter, Stauffer's ERA and WHIP were above average, at 3.73 and 1.25 respectively.
If Stauffer finds himself in the unlikely position to receive some run support, he might be able to take those nine wins to 15. That's about all the Padres can hope for this year.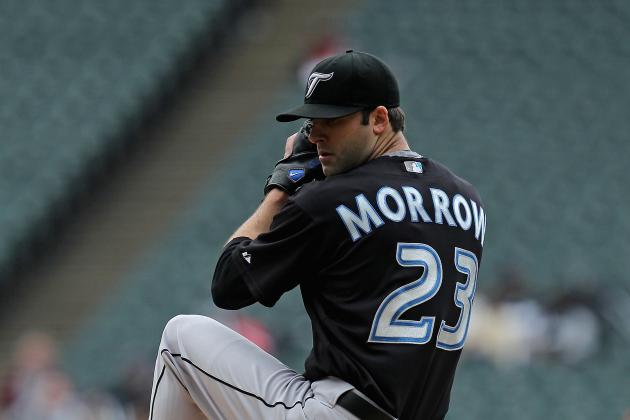 Jonathan Daniel/Getty Images

The Blue Jays haven't seen the peak of the AL East since Roberto Alomar's days in the early 90s.
More often than not, Toronto has a pretty good team that just isn't good enough to compete in the AL East. While 2012's team might be no exception, don't count them out just yet. A powerful offense led by Jose Bautista, a reliable bullpen and dependable starters might be enough to include them in playoff potential discussions.

Brandon Morrow has often been the kind of pitcher who seems to take one step back for every two steps forward. Throughout his career, he has provided the Jays with hints of greatness. He's had the highest strikeout ration in the major leagues for the last two seasons and cut his walk ratio down considerably last year.
In the heavily loaded AL East, the Blue Jays often have trouble competing, but if Morrow can become the ace behind Romero, there's wild-card hopes yet.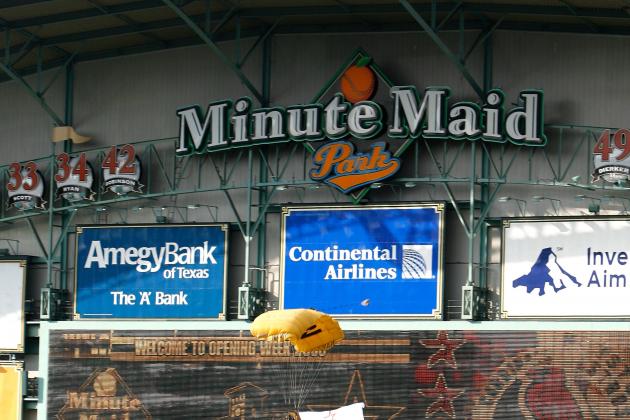 Bob Levey/Getty Images

The 2011 Houston Astros ended the season with a record of 56-106, for their worst winning percentage of all time.
The early Houston Colt .45s must have rolled in their graves or retirement-home rocking chairs when they got a load of that one. Short-sighted thinking has landed the Astros in a predicament where they have no quality veterans to hang their hat on, and their farm system has been pillaged by, well, everyone.
When a guy like Jose Altuve, who is on par with Dustin Pedroia in the height department but not yet in the talent department, is the team's best hope, there's trouble. The best the Astros can hope for is that their front office has a little foresight and truly begins to rebuild instead of just standing around, looking helpless.

The Astros hired two of the guys behind the Cardinals' now-storied success—GM Jeff Luhnow and his sidekick Sig Mejdal. With the proper player grooming and decision making by the pair, there should be some visible improvement in guys like Altuves and Bud Norris. If they play their "front-office-y," suited-up cards right, they could be on the way to building a franchise that the Colt .45s would be proud to call their legacy.
If not, it may be a Pirates long time before the Astros spy a winning season again.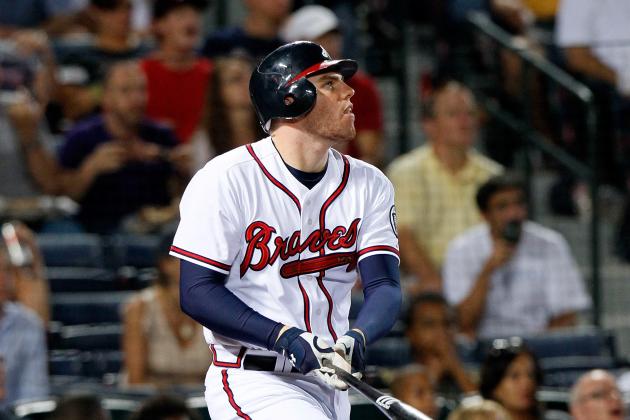 Kevin C. Cox/Getty Images

The 2011 collapse of the Atlanta Braves was only slightly muffled by the bigger and badder collapse of the Boston Red Sox.
The Braves' 2012 projected lineup looks eerily similar to the team who blew a nine-and-a-half game lead for the wild card in late August. This could be a good thing for Atlanta, as it is a team that was able to gain a nine-and-a-half game lead late in the season. But it could also be a bad thing, as it is also a team with an inability to come up in the clutch.

Freddie Freeman, in his sophomore year, has the potential to bring enough to the Braves to avoid a late fiery collapse. Freeman's inaugural year in the MLB saw him leading Atlanta in batting average and putting up 21 home runs and 76 RBI. That was enough to earn him second place, only behind teammate Craig Kimbrel, in the Rookie of the Year voting.
The Braves' starting rotation has the potential to be trouble and could need all the run support they can get. Freeman needs to avoid the plague of the sophomore slump, or the Braves will find themselves out of contention quickly in the NL East.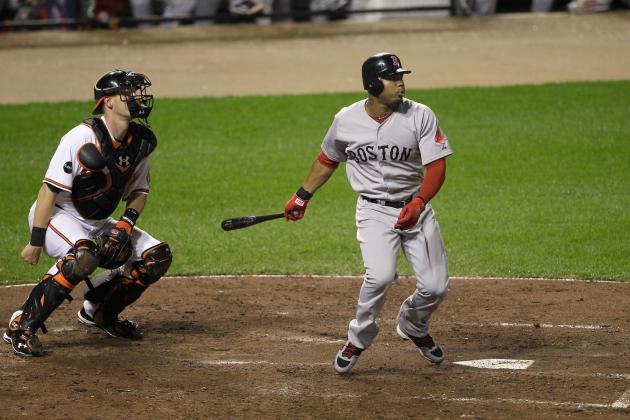 Rob Carr/Getty Images

When Carl Crawford first joined the Red Sox organization, he seemed a little wary of his choice, despite the large payday.
He seemed weirded out by all the digging the Red Sox organization had done into his life and certainly came across as someone who might have been second guessing his choice. Be that fact or fiction, 2011 saw Carl Crawford have arguably the worst season of his career. Even when he wasn't plagued by injuries, his on-field presence was certainly not what the Red Sox had paid for.

This year, things will be different in Fenway. There will be no more chicken and beer. Terry Francona is no longer the team's skipper; that role instead belongs to fake mustache enthusiast Bobby Valentine.
Mets fans have cried out for years for the return of Bobby V and his baseball magic, to no avail. Instead, that baseball wizardry belongs to Boston, and the front office is most definitely hoping he has a little something for Carl Crawford. He could be the guy to help restore Crawford to his former glory.

Carl Crawford needs to get some extra work in and fix all those mechanics that went hideously awry last year. If Crawford can become the guy that Boston forked over all that cash for, Red Sox fans might find an end to buyers' remorse.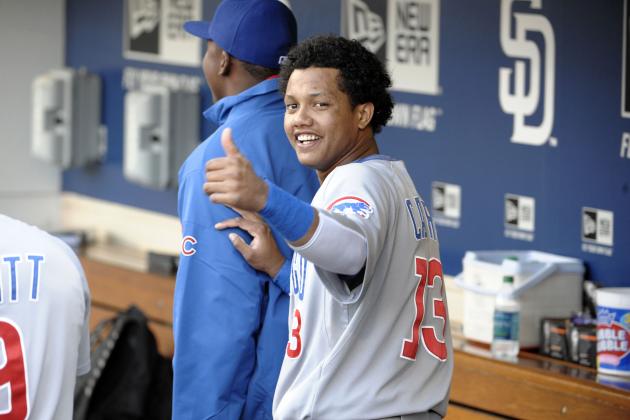 Denis Poroy/Getty Images

It may only be a few years removed, but the memories of the Cubs team a few years back who seemed to have the goods to finally bring a World Series home have already started to fade.
The Cubs' chances in 2012 seem to have crashed before they have even gotten off the ground. The lineup isn't atrocious, but it doesn't seem to have a prayer against much tougher NL Central rosters. On the mound, Matt Garza should put up decent numbers, but there's a very good chance that the cheese will stand alone on that one.

This could be a breakout year, however, for Starlin Castro. He certainly has a chance to be the Cubs' shining light and the ability to bring a little bit of excitement to Wrigley Field. Castro has already proven that he can hit and has plenty of speed; it's just his defense that needs a whole lot of work.
As of the 2011 season, he seemed a more likely candidate for a Chuck Knoblauch airmail deliver than to ever even be allowed near a Golden Glove. If he can ever get his defensive skills together, Castro could be a nice surprise for the Cubs.