1 Thing That Could Derail Each MLB Team's Season Before It Starts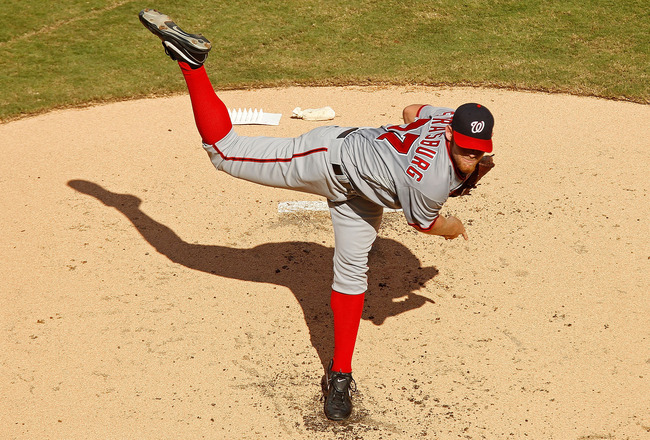 Mike Ehrmann/Getty Images
Baseball is one of those sports that always seems to have a team or two come out of nowhere to make the playoffs. Conversely, it has teams expected to perform well fall apart completely.
The Arizona Diamondbacks and Minnesota Twins show both sides perfectly well with their 2011 seasons. In the case of the Twins, it was a slew of injuries to their best players and ineffectiveness in the starting rotation, issues which could hurt any team at any time.
Here is one thing that could derail each team's season before it gets going.
Baltimore Orioles: Brian Matusz Doesn't Rebound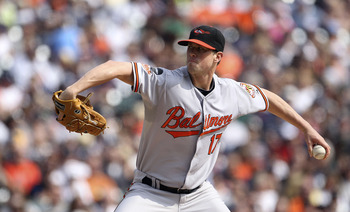 Leon Halip/Getty Images
The Baltimore Orioles had a terrible pitching rotation in 2011, which may be even worse with the departure of Jeremy Guthrie. For them to have any chance at competing this year, the rotation needs to improve.
The Orioles are looking to Brian Matusz to step up, and fast. If he can't rebound from an embarrassing 2011 season, then it'll be another year in the AL East cellar.
Boston Red Sox: Jon Lester Gets Injured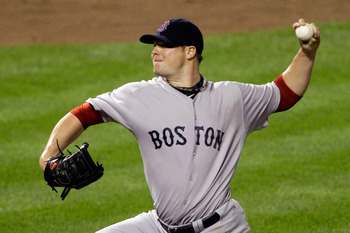 Rob Carr/Getty Images
The Boston Red Sox have enough weapons in the lineup where if one were to be ineffective, like Carl Crawford was last year, they would be alright.
They need Josh Beckett and especially Jon Lester to be healthy over the course of the season. Lester has been the most consistent, so if he were to succumb to injury, I can't see the rest of them picking up the slack to get the Sox over the playoff hump.
New York Yankees: Old Guard Tires out
Patrick McDermott/Getty Images
While the Yankees have a lot of great young players, the mental core is still led by Derek Jeter and Mariano Rivera, as well as perhaps A-Rod to a lesser extent.
If these players are sluggish to start the season and appear older than they are, then that could spell doom for this season. The Yankees need guys that can play well down the stretch and can't be worried about bringing sluggish guys into October.
Tampa Bay Rays: A Starting Rotation Controversy
J. Meric/Getty Images
The Tampa Bay Rays have an abundance of starting pitching. We know that David Price, James Shields and Jeremy Hellickson will be in the starting rotation, leaving Jeff Niemann, Matt Moore and Wade Davis to battle for that fifth spot.
Those in the Tampa Bay area have even noted that Moore would have no trouble making a starting rotation on nearly any other team. A pitching duel will erupt during spring training to see who the odd man out will be.
If they don't decide who it is in March, then this could become a big problem during the season, even if it's just a clubhouse problem.
Toronto Blue Jays: Jose Bautista Gets Injured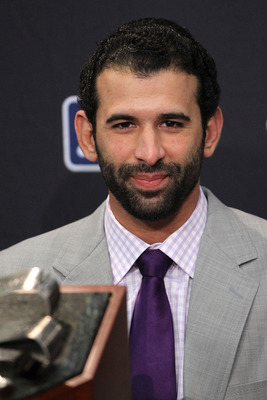 Ezra Shaw/Getty Images
Jose Bautista more than anyone else has breathed new life into the Toronto Blue Jays the past two seasons. What would they do if they did not have him in the lineup for whatever reason?
The Blue Jays have enough weapons in their lineup numbers-wise with players like J.P. Arencibia and Adam Lind, but mentally, Bautista's absence would keep them in fourth place again this year.
Chicago White Sox: No One Replaces Mark Buehrle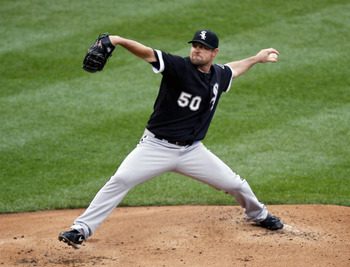 Ed Zurga/Getty Images
The White Sox lost the heart of their team this offseason when Mark Buehrle signed with the Miami Marlins. As a result, it will be difficult to consider the White Sox contenders this year.
They gave John Danks a nice contract extension, but while Paul Konerko leads the lineup, someone has to step up as an ace not only numbers-wise, but as a leader for the pitchers. If no one does, 2012 will be a long season.
Cleveland Indians: Asdrubal Cabrera Gets Injured
Jason Miller/Getty Images
The Indians had about a .500 record last year despite pretty much everyone in the lineup missing some playing time. Only Asdrubal Cabrera and Carlos Santana played over 115 games.
They showed they can win some games without Shin-soo Choo, Grady Sizemore and others, but if Cabrera goes down they lose the heart of their lineup, and their season will go along with it.
Detroit Tigers: Deciding to Phone It In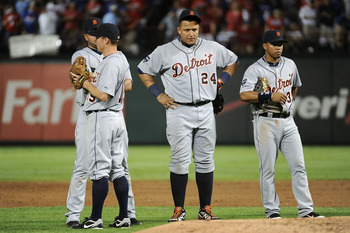 Harry How/Getty Images
The Detroit Tigers ran away with the AL Central last year, and with the addition of Prince Fielder, it's hard not to think they'll win the division again. As a result, it could be tempting to shrug off this season and focus everyone's energy on the playoffs.
Anytime a team does that it ends badly, and I'm sure the Tigers are smart enough not to do let it happen. Still, the division is weak enough that the idea will subconsciously rest in their mind.
Kansas City Royals: Team Forgets to Play Small Ball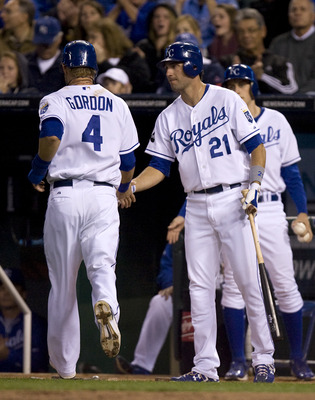 Ed Zurga/Getty Images
If there's one thing the Kansas City Royals do well, it's play small ball. They were fourth in batting average, first in triples, third in hits and second in stolen bases last year, so they know how to do the little things.
That is what kept them over the 70-game mark. If they want to improve on last year's record, they can't forget to do that, even though they're gradually making themselves a more formidable opponent.
Minnesota Twins: Miring Themselves in the Past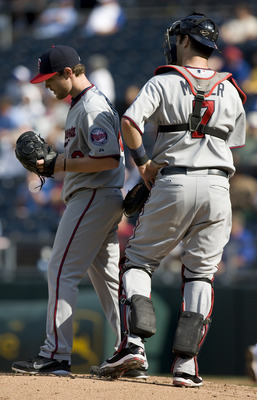 Ed Zurga/Getty Images
The Minnesota Twins went from having a great decade in the 2000s to a rather terrible 2011 season. They had a myriad of players on the disabled list which included Justin Morneau and Joe Mauer, but they still should have performed better on the field.
If they concentrate on this past season and mire themselves in that failure, then this year is not going to be any better. They have to shrug off last year's failures and move on if they want a good record in the AL Central.
Los Angeles Angels of Anaheim: Pujols and Wilson Needing to Adjust
Stephen Dunn/Getty Images
This one I find to be pretty unlikely, but you never know. C.J. Wilson is moving to a rival team in the division, while Albert Pujols is changing conferences.
Adam Dunn had a horrendous year after swapping conferences, and while that won't happen to Pujols, there could be a snag. Likewise, Wilson playing at home in a different ballpark might make it difficult for him to get going this year.
If Pujols and Wilson actually do need time to adjust to the Angels, which I doubt, then this season could feel longer then expected.
Oakland Athletics: Trading Away Their Best Pitchers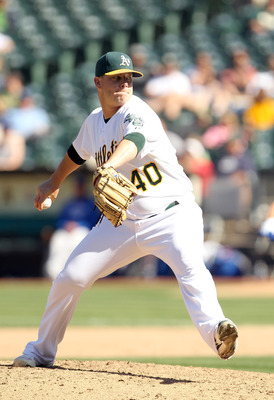 Ezra Shaw/Getty Images
Oh wait, the Athletics already did that. As a result, the 2012 season has already been tossed aside as they build to the future, though they already had the pitchers of the future on their roster.
Seattle Mariners: No One Steps Up in the Lineup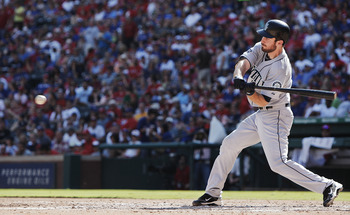 Brandon Wade/Getty Images
As we know, the Seattle Mariners has a good cast of pitchers led by Felix Hernandez, which is naturally the strong point of the team. Conversely, their lineup is flat out bad, and Ichiro's decline has not helped.
Someone needs to step up in 2012 for the Mariners to have any shot a in the division. Dustin Ackley seems the most likely person to do so, but I don't care who steps up as long as someone does.
Texas Rangers: Players Thinking about Contracts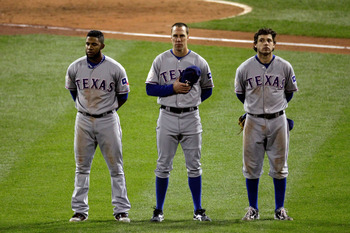 Rob Carr/Getty Images
It's a shame that the Texas Rangers were unable to win it all in 2010 or 2011 because those days were the team's best opportunity to win. This year, the players will have contracts in the back of their mind, though they won't admit it.
Josh Hamilton, Ian Kinsler and Colby Lewis will be free agents at the end of the season, and tackling any contract issues during spring training will be necessary. If they allow the issue to frequently be brought up during the season, the Rangers will get distracted and fall apart.
Atlanta Braves: Forgetting How Long the Season Is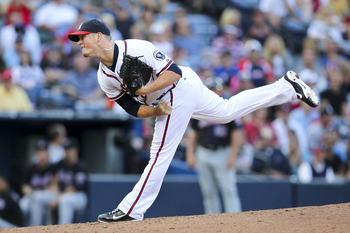 Daniel Shirey/Getty Images
This is a mistake that the Atlanta Braves made last year, but it's hard to fault them given how young the team was. Many such as Craig Kimbrel and Freddie Freeman were just starting their major league careers, so the September grind was new to them.
As long as the sophomores on the roster shrug off this past season and help out any rookies who may feel that grind, they should be fine. If they go into this year fast then they may end it just as quickly.
Miami Marlins: Jose Reyes Gets Injured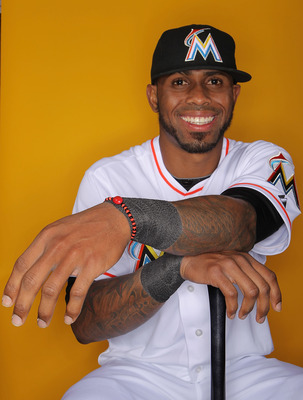 Marc Serota/Getty Images
Unlike the other slides where I use an injury, where it's simply a case of the team's best player getting injured causing a problem, this one has further ramifications.
If Jose Reyes can't play a full season, then suddenly those that spoke against that trade have a lot of ammunition, so the Marlins will have that to deal with. They are in a tough enough division as it is, they don't need things to be more difficult.
New York Mets: Johan Santana Doesn't Return to Elite Status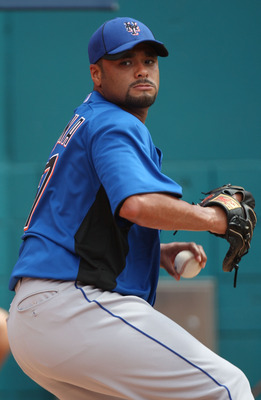 Sarah Glenn/Getty Images
The New York Mets have a lot of work to do as they restart. Johan Santana, meanwhile, has to find his former glory after missing the 2011 season. He never had a bad full season, so he has that to look forward to.
Having said that, for the Mets to have any chance at all, Santana has to be elite again sooner rather than later, and if he isn't able to do that, the Mets won't have a chance in their division this year.
Philadelphia Phillies: Underestimating the Division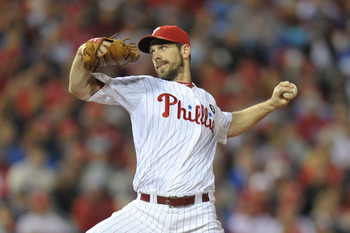 Drew Hallowell/Getty Images
Like the Detroit Tigers in the AL Central, the Phillies likely think the division is theirs to lose in the NL East, and rightfully so given their great pitching.
However, the Nationals could be a dark horse, who knows how the Marlins will do and the Braves are a rising power again, so acting like 2012 will be a cakewalk early on is the worst thing this team can do.
Washington Nationals: Stephen Strasburg Relapses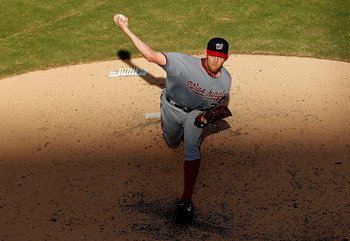 Mike Ehrmann/Getty Images
With the addition of Gio Gonzalez alongside Stephen Strasburg and others, the Nationals have their best starting rotation since their move to D.C.
Ideally, Strasburg will be 100 percent recovered from Tommy John surgery now since he seemed fine in a few starts last year. However, should there be any problems in spring training, that will put the Nationals' title hopes on hold for another year.
Chicago Cubs: A Slew of Young Guns Get Injured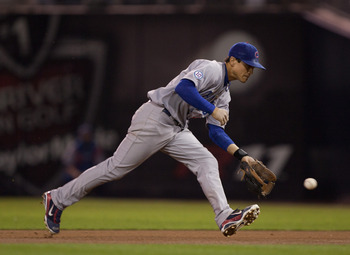 Kent Horner/Getty Images
The Cubs are in the midst of rebuilding, so they know they aren't going to be that competitive in 2012. They also know they don't really have anything that can be derailed.
As long as the new blood makes it through spring training intact, the Cubs should be fine. Having Anthony Rizzo, Starlin Castro and everyone else healthy is all they need.
Cincinnati Reds: Mat Latos Realizes He's Not in San Diego
Rich Pilling/Getty Images
The Cincinnati Reds took a huge risk, sending most of their farm system to the San Diego Padres to acquire Mat Latos. Latos on the surface appears to be a great young pitcher who should serve the Reds well for many years.
However, he did pitch in San Diego, where nearly anyone can be a successful pitcher. The odds of his stats falling down to earth are very real, which would hurt the Reds' playoff chances big time.
Houston Astros: Veterans Stop Producing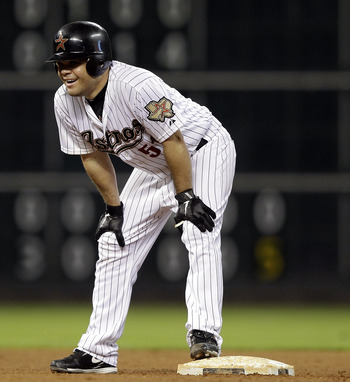 Bob Levey/Getty Images
The Houston Astros are in the midst of rebuilding and have already shipped many of their productive pieces. Carlos Lee, Wandy Rodriguez and Brett Myers could all potentially follow during the season.
If they were to all stop producing or have very slow starts, then they could end up entering free agency without the Astros getting anything in return for them, making the rebuilding process that much harder.
Milawukee Brewers: Ryan Braun Gets Injured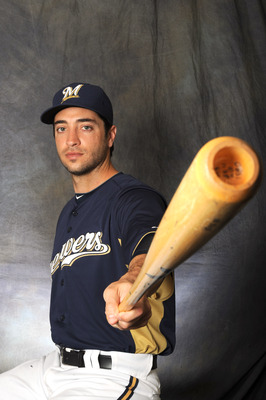 Rich Pilling/Getty Images
The Milwaukee Brewers spent all offseason dealing with the positive PED test of Ryan Braun, which has finally been resolved, and now he won't have to miss any of the 50 projected games.
Imagine if he were to get injured after all that. The Brewers not only can't afford that in their lineup, but they can't afford such a thing mentally either.
Pittsburgh Pirates: A Bad Call in a Close Game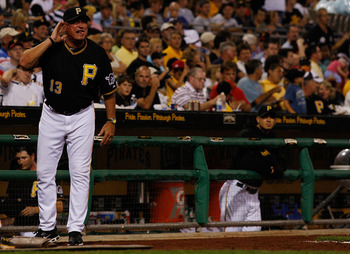 Jared Wickerham/Getty Images
The Pittsburgh Pirates are a team that will probably be underestimated in 2012. They made a lot of nice free-agent moves, they had a few nice streaks last year and they at least get to face Houston plenty of times.
Last year, at the end of July, a bad call against the Atlanta Braves sent their season in a downward spiral that they mentally couldn't get past, going 8-22 the following month. I could only imagine what would happen to the Pirates if that were to happen again.
St. Louis Cardinals: Adam Wainwright Relapses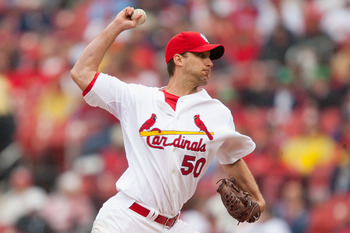 Dilip Vishwanat/Getty Images
The St. Louis Cardinals were able to win the 2011 World Series without ace Adam Wainwright, so they should certainly be dominant with him even if he's not at 100 percent, right?
That's not necessarily the case. The Cardinals knew they'd be without Wainwright in 2011, so they were able to work around that. It's a lot harder to work around someone who's still on the active roster but isn't quite up to snuff.
Arizona Diamondbacks: Outfield Controversy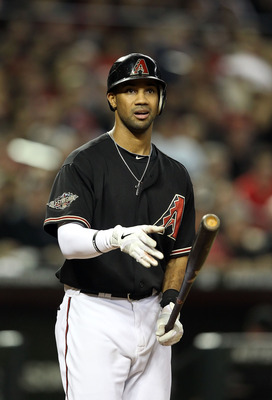 Christian Petersen/Getty Images
Right now, the outfield seems clearly set. Jason Kubel, Justin Upton and Chris Young make up the main three while Gerardo Parra is the fourth defensive outfielder. What happens if Kubel or even one of the other two is ineffective?
I could see there being rumblings rather early on here, and while the Diamondbacks look on pace to win the division again, that's not something they can afford to deal with.
Colorado Rockies: No Ace Pitcher Steps Up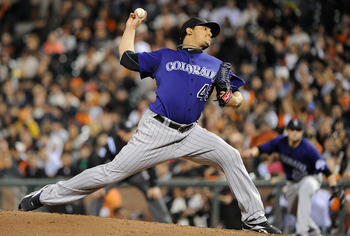 Thearon W. Henderson/Getty Images
The Colorado Rockies, as usually seems to be the case, have a big group of pitchers that could be capable starters, but few with experience in Coors Field and fewer that have proven they can pitch there.
At least one pitcher needs to step up and be great for this new rotation. The best bet is Jhoulys Chacin, who I presume would be the Opening Day starter and has done well so far. They can't rely on just one guy though, others have to step up.
Los Angeles Dodgers: The Ownership Dispute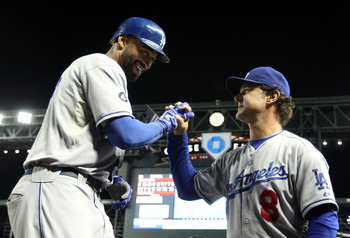 Christian Petersen/Getty Images
The Dodgers won't admit it, but their season is going to be tough thanks to the ownership issue, which won't be resolved until the season is underway. They have an MVP-quality player and Cy Young winner as the main pieces to their team, so they should be on the rise.
If a questionable group ends up winning the ownership battle, this could be an extremely tense season. There's no way of knowing what will happen until it's resolved, which is its own issue for the Dodgers' front office and the players.
San Diego Padres: Carlos Quentin Gets Injured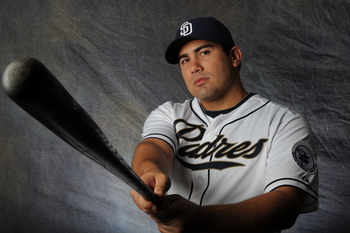 Rich Pilling/Getty Images
For the San Diego Padres to have any chance in the NL West, they need at least one hitter to, well, hit. That's why they brought in Carlos Quentin from the White Sox; he's hardly a phenom but he's better than anyone else they have.
If he gets hurt, then it doesn't matter how good the starting rotation is, as the Padres won't be able to score any runs to get some wins.
San Francisco Giants: Pablo Sandoval Regresses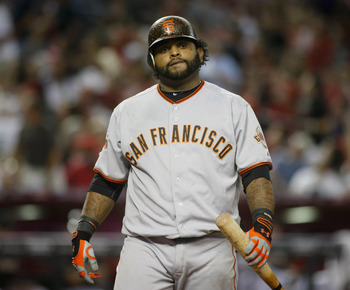 Ralph Freso/Getty Images
With Tim Lincecum, Matt Cain and others, we know the San Francisco Giants are going to have a great starting rotation in 2012. The lineup, however, is full of question marks, with no one looking like the focus of the offense.
Last year, Pablo Sandoval had the best season of anyone on the team, but he was coming off a slump in 2010. If he regresses to those numbers, the Giants won't be seeing the playoffs yet again. He has to keep his numbers up and hope the rest of his team can as well.
Keep Reading