Carmelo Anthony on the New York Knicks' Trading Block: Why It Should Happen
February 28, 2012

Chris Trotman/Getty Images
The New York Knicks should put Carmelo Anthony on the trading block.
(Let me get this in quick before you rush to the comment section.)
That does not mean they should trade Carmelo Anthony. It just means they should be open to trading Carmelo Anthony. 
Why would the Knicks be wanting to do this after they did so much to get him in the first place?
The answer is simple, they never should have gotten him in the first place. 
Whatever else happens and however else everything works, Anthony is now, and will always be, a square peg in a round hole. The square peg being the way he plays and the round hole being the way that coach Mike D'Antoni wants his players to play. 
Anthony likes to hold the ball. He likes to run iso plays. This year with the Knicks he has run isolation plays 31.8 percent of the time, a total of 190 plays.
The rest of the team runs it about 11.1 percent of the time, a total of 349 times. 
So what you have on one hand is a player that likes to play a certain way and on the other, a coach that likes his players to play a different way. 
I'm not assigning any fault here. It's not a matter of right and wrong. It's a matter of works and doesn't work.
You can't wear Air-Jordan's with an Armanni suit. It's ice cream and lasagna. It's not that one or the other is wrong individually, just wrong together.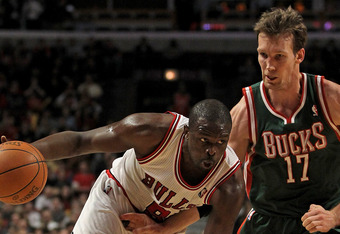 Jonathan Daniel/Getty Images
If you can get a solid wing defender and a player who can hit from deep to replace Anthony at small forward—not suggesting Luol Deng, but a player like that—and some depth to do with that, you would have a player that fits the system. 
The Knicks wouldn't need to get a superstar caliber player, but a star player who fits the system better and a solid bench player in return.
Like Kyle Korver for instance. He would make the Knicks a better team than they are with Carmelo Anthony. 
Don't get caught up in the specifics of the idea of a Deng and Korver for Anthony trade. That exact scenario would never happen.
It's the type of trade I'm thinking the Knicks should at least check into.
I'm just thinking of a small forward who plays both sides of the court well and hits threes. That's what fits the Knicks system. 
Maybe they get Gerald Wallace and depth form Portland. Maybe they get Josh Smith and someone from Atlanta. Maybe it's Deng and someone else from Chicago.
The specifics here don't matter because the point of putting him on the block is to see what the specifics might be. 
This is one of those cases where you have to focus on the separate pieces and how they work together, not the individual components.
It's what the Knicks have been remiss in doing.
Jeremy Lin has been a huge addition, and the Knicks were doing just fine without Anthony. 
Consider that team, and add a player like Deng, Wallace or Smith to the mix along with some more depth. Which way is the team better?
Obviously Anthony is a better player than any of them, but the Knicks might be a better team with them and the extra depth. 
What's available for the star? If they don't like what they're getting offered, then they just don't do the deal. 
For now, though, they can start doing some discreet checking around the league to see what's available for him.