The 10 Best NFL RTs of All Time (With Bonus Tackles)
February 29, 2012

Nick Laham/Getty Images
 Ah, the offensive line. So overlooked, so misunderstood for so many years.
It's really only the last decade or so that the offensive line has gotten the attention it deserves. Today I take a look at some of the greatest right tackles of all time. Many of the names will be unfamiliar to you and some you might vehemently disagree on.
In part because of the explosion of NFL draft coverage, the average fan has begun to take notice of the guys in the trenches who keep their favorite quarterback upright.
Even then, we focus on the left tackle—often referred to as the "Blind Side" because of the high percentage of right-handed quarterbacks who need someone on their left watching their backs.
Just as vital to the health and well being of an offensive line is the right tackle. If you don't believe me, ask the New York Jets and Mark Sanchez, who had to suffer through the underwhelming combination of Wayne Hunter and Vlad Ducasse.
More than a few spent time in multiple spots on the offensive line, most often at left tackle as well as right. If a player spent half his career at right tackle, I've given him the nod here if he was dominant.
Without further ado—here are the 10 All-Time Greatest RTs to have graced the field in the NFL (with a little bonus at the end).
1) Forrest Gregg—Green Bay Packers (1956-1970), Dallas Cowboys (1971)
None other than football legend Vince Lombardi had this to say in his book Run to Daylight: "Forrest Gregg is the finest player I ever coached!"
Gregg played on five NFL Championship teams and in two Super Bowls while with the Packers and played in 188 consecutive games—a record in his era.
At 6'4", 249 pounds, Gregg was considered small for his position, but he overcame his size with good technique and countless hours in the film room. According to his Hall of Fame biography, "it wasn't long before he knew the moves of every opponent and had perfected ways to combat them."
According to his Hall of Fame page, Gregg was selected to nine Pro Bowls and named to eight All-NFL teams between 1960 and 1967. He was also a selfless player who switched to guard several times in his career when injuries required it of him.
Gregg was key to the success of the Packers in the 1960s and Lombardi knew he could count on Gregg to keep his quarterback clean and the running lanes open for Lombardi's vaunted power sweep.
2) Joe Stydahar—Chicago Bears (1936-1943, 1945-1946)
I've mostly seen listings of Stydahar's position as 'tackle' but have seen a few places listing him as a right tackle including this picture, taken prior to a playoff game against the Washington Redskins.
'Jumbo Joe' played at West Virginia and was the first pick by the Bears in the very first College Draft just before the 1936 season. George Halas famously passed on bigger names because, according to Stydahar's Hall of Fame entry, "West Virginia alumnus Bill Karr, tipped off the Bears coach to the talents of Stydahar."
Stydahar was a big part of the Bears' offensive line when the team was the Monsters of the Midway. He feared nothing and nobody, often eschewing a helmet in his early years and playing with a ferocity that was not often matched. Stydahar left the Bears for a couple of years when drafted to serve in the US Navy during World War II, but then came back to play for two more years.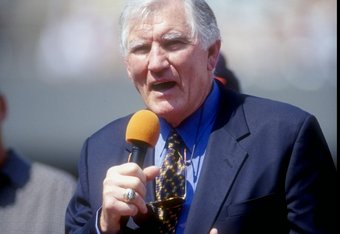 Mark Lyons/Getty Images
3) Bob St. Clair—San Francisco 49ers (1953-1963)
St. Clair, or 'The Geek' as he was often called, was a third rounder taken in the 1953 NFL draft and was the tallest player of his generation, measuring at a towering 6'9".
He was a dominant right tackle who could hold up during both run and pass plays with ease. While he played with a nasty streak on the field, St. Clair was a savvy, intelligent player.
He just loved to hit people.
St. Clair was versatile as well, serving on special teams often throughout his career and blocked 10 field goals in 1956.
He started in five Pro Bowls during his career, which ended after an Achilles' injury (his second) forced him to retire in 1963.
You'd be hard pressed to find such a dominant player in his time.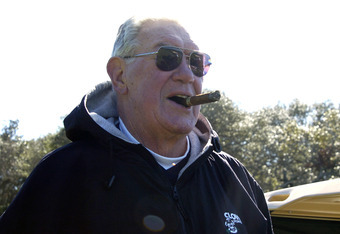 A. Messerschmidt/Getty Images
4) Dan Dierdorf—St. Louis Cardinals (1971-1983)
Dierdorf actually played several different positons on the offensive line for the Cardinals, from right tackle, to guard to center. He played at the right tackle position for six years and was tremendous during that time so he gets a nod here.
It's hard to argue with someone who was a huge reason that from 1975 through 1980, his offensive line led the NFL in fewest sacks allowed during three of five seasons while leading the NFC five of six seasons.
They were the 'Mean Machine' for a reason.
Dierdorf played in every game for most of his first seven seasons, until he broke his jaw and missed two games. When he returned, he had a special helmet with a modified facemask to protect the healing jaw.
He was an All-Pro for five seasons and went to six Pro Bowl games. His contemporaries in the NFLPA named him the best overall blocker in the NFL three straight years in a row.
5) Mike McCormack, New York Yanks/Cleveland Browns (1951, 1954-1962)
For a guy who was a beast on the offensive line, it might surprise you to know that McCormack's first job in the NFL was as a defensive lineman. After one season on the defensive side of the ball, McCormack was moved to right tackle and spent the next eight years dominating at the spot. 
McCormack was a key factor in Hall of Fame running back Jim Brown's success and according to Browns coach Paul Brown in The New Thinking Man's Guide to Pro Football, McCormack was the best offensive lineman he ever coached.
A fast, powerful tackle, McCormack went to six Pro Bowls, the first of which was during his rookie season.
By the way, McCormack was drafted by the Yanks, but traded in a mammoth 15-player deal right before the 1953 season even though the Browns knew he'd be in the Army.
6) Rayfield Wright, Dallas Cowboys (1967-1979)
Wright spent his first three years doing odd jobs for the Cowboys—tight end, defensive lineman as well as offensive tackle. In 1969, Dallas RT Ralph Neely was hurt and Wright was given his first start.
It was against the Los Angeles Rams who had a defensive end you might have heard of—Deacon Jones.
When told by his line coach that "The Deacon is big and strong and mean," Wright replied, "Well," said the confident Wright, "so am I."
Wright did so well against the future Hall of Famer that by the start of the 1970 season, he had locked the right tackle job up.
While being named to first or second team All-Pro every season between 1971 to 1976, Wright played at a time when the right tackle often faced the opposition's best defensive player.
Wright helped the Cowboys win 10 division titles as well as six conference titles, and the offensive line he was a part of finished in the top 10 in scoring all 10 seasons during the 1970s.
7) Jackie Slater—Los Angeles Rams (1976-1995)
Slater started out as a backup, only getting a chance to start in his fourth year when he took over at right tackle. 20 years later—that's right I said 20—259 regular-season games played were the most ever by an offensive lineman and his 20 years is tied for third all-time for the most seasons played in the history of the league. It's the most for an offensive lineman as well.
It's not just about longevity but consider that an offensive lineman is one of the most grueling and abused spots on the field. 20 years? The fact that he could walk at the end is a testament to how tough he was.
During the two decades he played, Slater blocked for seven different 1,000 yard rushers, was named to seven Pro Bowls, five first or second All-Pro teams and was the glue which held his line together.
Slater led by example and his work ethic and skill were an inspiration to the players around him.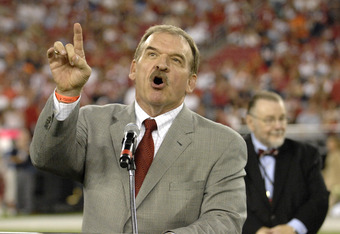 A. Messerschmidt/Getty Images
8) Ron Mix—Los Angeles/San Diego Charger, Oakland Raiders (1960-1969, 1971)
Mix could have played for either the NFL or the AFL, but chose the AFL because the money was better. It didn't matter as the two leagues would eventually merge.
He started out playing for the paycheck but ended up loving the game, continuing to play while he got a law degree which earned him the nickname "The Intellectual Assassin."
As hard as he studied in school, Mix studied football equally hard. He constantly worked on his technique and skills, so that he could maximize the physical skills he had.
On passing plays, he showed great timing, hitting a defender right when the ball was snapped. He could drive the player back and hold him long enough for his quarterback to get the ball off.
He was equally adept on running the plays and could routinely get to the second level, often taking down a defensive back when he did so.
He was an All-AFL selection eight times as a tackle and once as a guard, and played in eight AFL All-Star games and five of the first six AFL title games.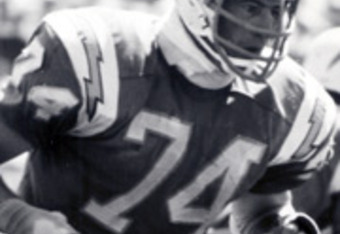 9) Ron Yary—Minnesota Vikings, Los Angeles Rams (1968-1981, 1982)
Ron Yary was the first player chosen in the 1968 AFL/NFL Draft and it only took him until his second season to win the right tackle job for the Vikings and he never looked back. Yary played for 15 years, 14 with the Vikings and one final season with the L.A. Rams and during that time he played in seven consecutive Pro Bowls and was named All-NFC eight seasons in a row from 1970-1977.
Yary was dominant with the type of physical talent and tremendous football intellect that is necessary for a tackle to be elite in the the NFL regardless of the era he played in. He was fast and agile, played with an aggressive style, which put his opposition on its heels and kept them there and kept ahead of his opponents through hard work and tenacity off the field.
During his time in Minnesota, the Vikings won two NFL Central Division titles, nine NFC Central championships, the 1969 NFL Championship and three NFC titles. He also played in three Super Bowls and five NFL/NFC Championships.
10) George Kunz—Atlanta Falcons, Baltimore Colts (1969-1980)
Kuntz is on my list, but he isn't on the Hall of Fame list. I'm not sure why that's the case—perhaps because the Falcons teams Kunz played on weren't very good (though the Colts teams were). It could be that Kunz came into the league with a five of Hall of Famers (including O.J. Simpson and Joe Greene). It could be that he was hurt often, including suffering an injury which kept him out of the game from 1978 to 1980.
When Kunz was on the field though, he was a force to be reckoned with. He started in his first season and was named an All-Pro that year. He would go on to make the Pro Bowl a total of eight times in nine years. He was named an All-Pro in 1972, 1973 and 1975 and a second team All-Pro in 1976 and 1977.
Kunz was incredibly tough, fighting through and returning from injuries numerous times in his career and always returning to play at a high level. He was a vital part of both the Atlanta and Baltimore offensive lines and kept the right side locked down.
I don't want to totally slight today's players, so I decided to add a little something extra to the column—I'll call them the Up and Comers. Guys who are still playing but are worth keeping an eye on as they make their way though their careers. Often it seems the best tackles get moved to left tackle these days, but the following are players who could very well stay on the right side.
Up and comers:
Tyron Smith—Dallas Cowboys—A likely candidate to move to left tackle, but an athletic, fierce blocker.

Bryan Bulaga—Green Bay Packers—Still developing but has improved a great deal. Needs to stay healthy.

Michael Oher—Baltimore Ravens—Was expected to lock down the left side, but has struggled. Very good on the right side of Flacco though.

Charles Brown—New Orleans Saints—Flanked by a good center and great guard, is Brown good because he's good or because the line is?

David Diehl—New York Giants—Played on the left side this past year but speculation is he might kick over to the right side. If so, he's definitely one to watch for this list. Diehl suffered a broken hand during the 2011 season and yet never appeared on the injury report.