University of Georgia Study Attributes Player Deaths to Temperature
February 28, 2012

Amid the excitement of the NFL combine and college football's National Signing Day for high school prep stars, the newest warriors of the gridiron have been on most every pigskin sports fan's mind. It should be.
This is an exciting time for diehard football fans that love the game in its purest form—on high school fields across American and on college campuses around the nation. Often lost in the wash of college football's fanatical excitement is the dangers that come with playing what famous Michigan State football coach Duffy Daugherty always referred to as a collision sport.
"Football isn't a contact sport, it's a collision sport. Dancing is a contact sport."
All too often in recent memory, the mind-bending and gut-wrenching injuries haven't been from 250-pound linebackers slapping bone crushing sticks on 190-pound running backs. Nor, has it been from the silent footsteps over the middle when a full-speed defensive back is about to blindside a limp noodle receiver in the open field. 
No, these injuries have crept from the quiet and the unknown.
These are the types of injuries that result in death and leave college campuses devastated with grief and teammates and coaches wondering how someone that seemed so healthy, so fit, could be susceptible to such extreme danger. A danger that has no face or name on the back of a jersey, an extreme danger of Mother Nature—heat.
AB Associate Editor Emily Atwood reported that the number of heat-related deaths among high school and college football players tripled between 1994 and 2009. Studies by scientists at the University of Georgia points to weather conditions as a possible cause.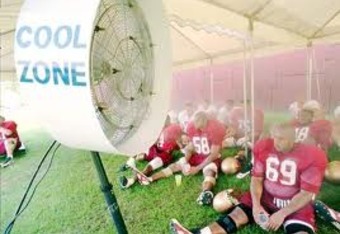 Data analysis reviewed temperature and climate on the days where the deaths of 58 players occurred in the 30 years prior to 2009. Other variables of consideration in examining player deaths related to heat factors included the height, weight and position of each player.
The results of the study are indicative of the supposition that summer's hottest heat has long played a key role in the deterioration of an athlete's body to resist and withstand extreme heat. University of Georgia researchers found that the number of increased deaths in the last 15 years of the 30-year longitudinal study window they tested coincided with heat indexes that were much higher than the first 15 years.
It is no surprise that size of the player played a role in the number of deaths reports. Eighty-six percent of all deaths were lineman-type players, normally equating to bigger, heavier, less lean athletes. A factor not considered that could also contribute to an athlete's core temperature is the amount of sports related equipment. 
"In general, on days the deaths occurred, the temperature was hotter and the air more humid than normal local conditions," said climatologist and associate professor of geography Andrew Grundstein, senior author of the study. 
The study, which was published in the International Journal of Biometeorology, found that the majority of the deaths occurred in August. These deaths had a high occurrence of early morning to mid-day incident, occurring prior to noon in most cases.
While the American College of Sports Medicine offers intensity guidelines for athletic practices based on a wet bulb globe temperature measurement and the National Weather Service offers a heat index, neither system adequately accounts for sun exposure or protective pads and helmets, says Grundstein.
Unfortunately, there is no clear-cut steadfast number, equation or magic number for making the right call regarding practicing and playing in extreme heat. 
"We all want a single magic number to indicate the heat threshold," Grundstein said. "But so many factors contribute to heat stress that it's impossible to draw the line at a single temperature." 
Grundstein, instead, encourages coaches and players to educate themselves and use the power of the information they have readily available to make informed decisions.Gradual acclimation to extreme conditions while working out and providing plenty of non-exposure cooling periods and water intake are crucial to best equipping athletes for heat. 
The data provides only a brief snapshot in time from 1980 to 2009, but the awareness it creates is immeasurable.
Grundstein, however, knows that the data hasn't gotten any better and after an awful week in 2011 where at least three heat-related deaths on high school football practice fields were reported, including a coach from Texas and two players from Georgia, he knows more research is desperately needed. That same week, four high school players in Arkansas were hospitalized for dehydration when temperatures peaked at a record 114 degrees.
So, as we marvel at the skills and talents of the nation's next gridiron heroes, Grundstein would prefer to see the unfortunate trend of all too soon sports and heat-related death greatly diminish, if not altogether stopped.