New York Giants: 5 Players Who Could Replace Wideout Mario Manningham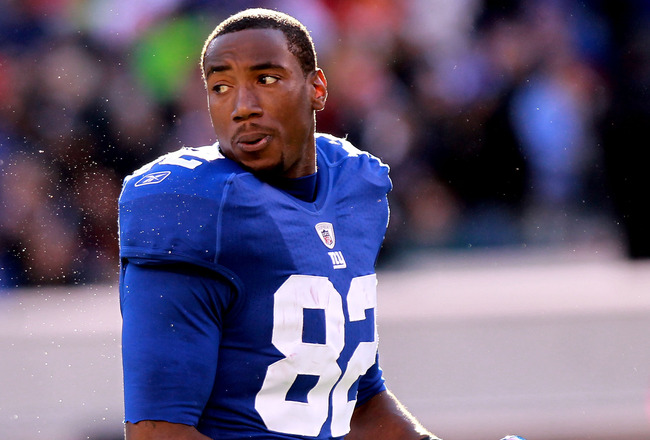 Nick Laham/Getty Images
If Mario Manningham is seriously contemplating leaving New York in search of No. 1 wide receiver money and props, the New York Giants will surely miss him.
Heck, without Manningham's miraculous catch in Super Bowl XLVI, the Giants may have conceded to Tom Brady and the New England Patriots.
But even if the guy who reproduced David Tyree's historic grab decides to part ways with the team who gave him a chance coming out of Michigan in 2008, New York should be just fine.
Not for nothing, they would still have arguably the best wide receiver tandem in the NFL, with Hakeem Nicks and Victor Cruz.
But as it is on any team around the league, with or without an elite quarterback like Eli Manning, everybody needs a third option.
Here are five quintessential and reasonable replacements for Manningham, if he decides to pack his bags.
5. Ted Ginn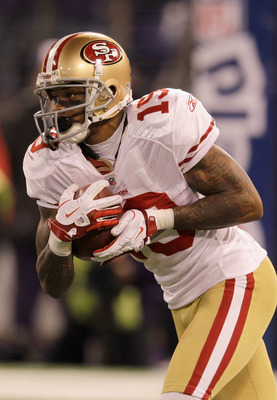 Rob Carr/Getty Images
There are two reasons why Ted Ginn makes for a perfect fit with the New York Giants, if they're in need of a No. 3 wideout.
First is Ginn's ability to get open down field. Manningham was the Giants' biggest deep threat over the past two seasons, even though both Hakeem Nicks and Victor Cruz offer greater play-making ability overall.
Regardless, the Giants are going to need a speedy option who can run simple routes and make things happen along the sidelines. Now, I realize Ginn hasn't exactly panned out in the NFL in this type of fashion; but at 26 years old, there's a lot of room for improvement.
The second reason is Ginn's return skills. I can't tell you the last time the Giants had a respectable kick returner who logs significant yards time and time again.
Honestly, the last guy to do it was probably Ron Dixon, and that isn't saying much.
So, by implementing Ginn as a key factor in the offense and special teams, New York will be able to semi-replace Manningham's speed and down field ability while completely upgrading a portion of their team that hasn't existed for nearly a decade.
4. Plaxico Burress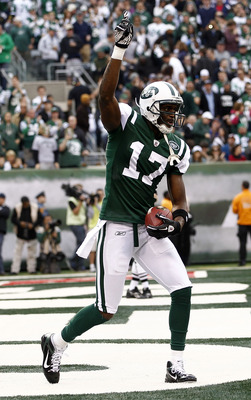 Jeff Zelevansky/Getty Images
Before you split your pants, here me out.
Plaxico Burress was extremely close to re-signing with the New York Giants when he was released from prison back in June. The discrepancy between the two was literally over a few million dollars.
But at this point, with Manningham's contract seemingly out the door, alongside Burress' 2011 campaign in which he proved him self not only healthy but productive, a reunion makes perfect sense.
Of course, Burress would have to know his role within the Giants' offense and keep his mouth shut; but considering he's already familiar with the play-calling and adjusted schemes, that shouldn't be too hard.
If money wasn't an issue, Burress would already be back in blue. But for now, it is, making this a wait-and-see situation.
3. Ramses Barden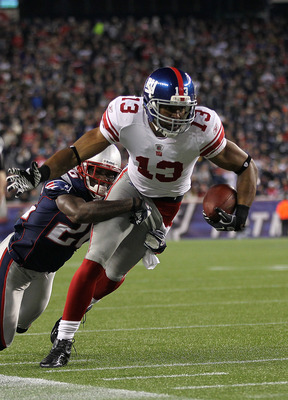 Jim Rogash/Getty Images
My question to you is, why not Ramses Barden?
The New York Giants have already cooked up some talent within their own system once before, à la Victor Cruz in 2011. So why not give another potentially budding star the option to earn his keep?
Honestly, it may seem fairly easy to hand Manningham's reigns to Barden; but the Giants need to gauge this situation more closely before we crown him successor. There's no question that the Giants have been waiting on Barden for far too long now. He wasn't drafted alongside Hakeem Nicks in 2009 for nothing. New York had planned to turn the young tandem into their one-two punch for the future.
But, while Nicks continued his progression, Barden fell far behind, losing any momentum he once had. Of course, the arrival of Cruz didn't help.
Regardless, Barden's career thus far has been riddled with injuries and the inability to fully understand the playbook and what his coaches are asking of him. But following a season in which he caught a few significant balls along the way, Barden's exposure to winning a Super Bowl and knowing what it takes to be champion will surely help his maturation.
Not for nothing, the guy is 6-foot-7, 235 pounds. What more does he have to do to earn constant snaps in the NFL?
2. Steve Smith
Patrick McDermott/Getty Images
Similar to Plaxico Burress' situation, a reunion between the New York Giants and team's ex-wide receiver, Steve Smith, is hardly out of the question.
Quite frankly, it's logically sensible.
Smith will not be looking for any sort of lucrative contract, sort of like the one he thought the Giants had owed him following a season-ending injury back in 2010.
Unfortunately for Smith, and fortunately for the Giants, who found a gem in Victor Cruz this past season, a contract with New York was never reached. Smith was then forced to sign with the Philadelphia Eagles, formerly known as the "Dream Team." Some Giants fans saw this situation as betrayal, but the more intelligent followers realized it was just business.
With that said, I highly doubt the bridge for a reunion has been burned. Smith will be 27 years old when the 2012 season starts, so he's still relatively young.
Add into the mix that Smith knows the Giants' system and has already contributed to a Super Bowl victory, and it's hard for Eli Manning and company to deny him for a second straight offseason.
Food for thought, Smith's only touchdown as an Eagle came against the Giants during Week 11. If that doesn't spew irony, then I don't know what does.
1. Robert Meachem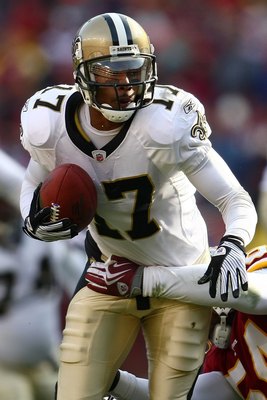 Chris McGrath/Getty Images
Besides Super Bowl reunions, in-house fixes and kick return specialists, there's only one guy available this offseason that can completely replace Mario Manningham for a reasonable price.
That guy is Robert Meachem.
Similar to Manningham for the New York Giants, Meachem has been a major role player for the New Orleans Saints offense over the past few seasons.
And even though the Saints continuously showcase different go-to wide receivers on a week-to-week basis, Meachem was still able to log 23 touchdowns over four seasons while sporting a cool 16.1 yard average.
It's honestly a perfect fit. Eli Manning and Drew Brees have been very comparable quarterbacks over the past two seasons, so a switch from New Orleans to New York shouldn't decrease Meachem's numbers at all.
Meachem is slightly older than Manningham, but he's bigger and arguably faster. Plus, he doesn't drop even nearly as many balls as Supa Mario does.
At this point, New York has got to consider signing Meachem, for the right price of course. He's a steady contributor to any offense and has the overall tools to fill the big shoes being left by number 82.
For more NFL news and coverage, Follow @DHiergesell
Keep Reading

New York Giants: Like this team?