NBA Trade Rumors: Why New Jersey Nets Don't Want Dwight Howard Now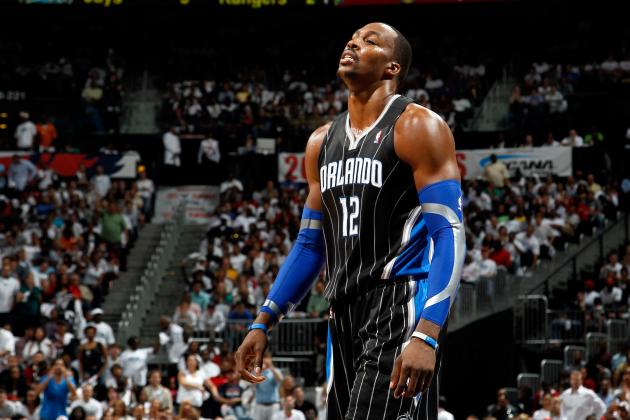 Kevin C. Cox/Getty Images

With all the buzz around Dwight Howard, sometimes you have to ask why? Why would the New Jersey Nets want Dwight Howard now? Why give up Brook Lopez, promising-rookie MarShon Brooks and draft picks when you don't have too?
Why would Nets' general manager Billy King even entertain a trade offer to the Orlando Magic for Dwight Howard when he doesn't have too?
This is assuming that Howard's first choice is to team up with Deron Williams and to be the face of the first professional sports franchise in Brooklyn since the Dodgers.
If Howard is about more than just basketball and has the desire of being a global star—which the Nets' Russian owner would be promising—all he needs to do is stand firm, play hard, and leave the Magic and Orlando under the best circumstances possible.
Who knows, maybe a Magic championship run can happen this season? But if it doesn't, no one can blame Howard for leaving in free agency. He would be leaving after seven years with millions of dollars on the table.
There will be some Orlando fans that will hate him forever, but a man should have a choice of where he wants to be and should not be relegated to the team he was drafted by for the rest of his career if he does not want to be there.
Here are some reasons why the Nets should not want Howard now and should welcome a free agent battle with the Dallas Mavericks.
Begin Slideshow

»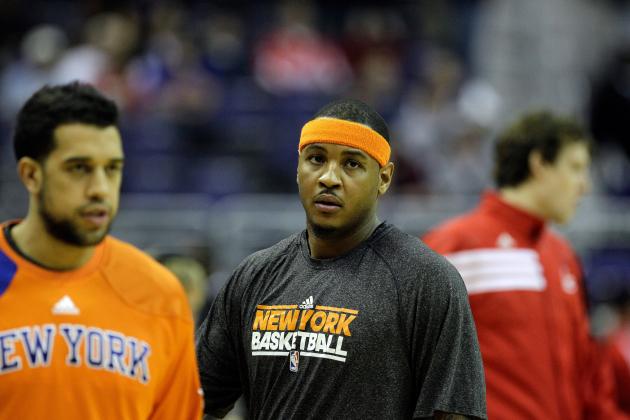 Rob Carr/Getty Images

Hopefully the New Jersey Nets learned something from their cross-river, soon-to-be-much-closer rivals, the New York Knicks and the way they handled the Carmelo Anthony trade.
Anthony wanted to be a New York Knick, he stated that he would only sign an extension with them. The Knicks knew this, the Denver Nuggets knew this.
So if this was true, what was the sense of surrendering Raymond Felton, Wilson Chandler, Danilo Gallinari, Timofey Mozgov and a 2014 first-round pick to them?
Why didn't the Knicks just call Denver's bluff, laugh off their trade offer and just wait until the offseason to sign Carmelo?
Think of what could've been the Knicks' roster today. They would be two-deep at every position—possibly the deepest team in the league—and a legitimate championship contenders for years to come.
The Dwight Howard situation is similar. If the Nets get him through a trade, they would most likely have to give up Brook Lopez, MarShon Brooks, draft picks and other pieces to get Dwight through trade.
But, if Howard, like Anthony, is only willing to sign with one team—the Nets in this situation—Billy King needs to just wait it out.
If Howard comes during free agency, not only would he be teamed with Deron Williams, Lopez, Morrow and Brooks, but the Nets can also add on a high first-round pick and a possible mid-first round pick in this year's deep draft.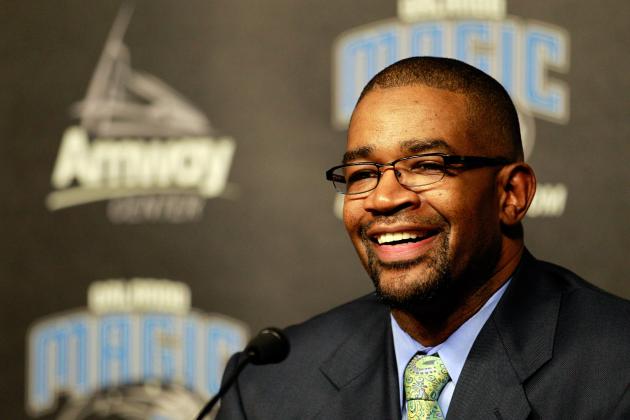 Sam Greenwood/Getty Images

Orlando Magic general manager Otis Smith, owner Rich DeVos and anyone else involved with basketball operations are not in control: Dwight Howard is.
Contrary to popular belief, the Magic just can't go out and get the best deal they can. Howard's preferred-destinations list has handcuffed them. They might have to cross the Los Angeles Lakers off that list as well.
The Lakers can offer Andrew Bynum and Pau Gasol, the Miami Heat can offer Dwayne Wade, the Oklahoma City Thunder can put a package together around Russell Westbrook, but if Howard tells the team he is going to be traded to that he will not sign long-term with them, the deal would be off the table.
If a team isn't going to get any assurances from Howard, are they going to give up any value with the risk of him being gone in a few months? It is very risky for a team to hope it can convince him to stay, because if he decides not to, the team would be left with nothing.
If Dwight wants the Nets, he will be with them.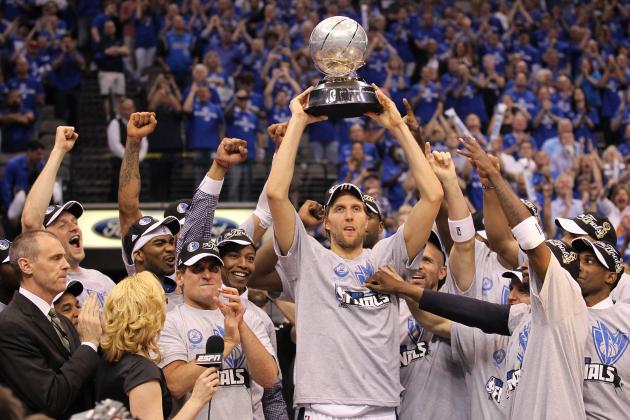 Ronald Martinez/Getty Images

The New Jersey/Brooklyn Nets are the only team who can sign both Deron Williams and Dwight Howard without absolutely gutting their team. Their competition, the Dallas Mavericks, who many believe can also sign both, are simply not a viable option.
For the Mavs to sign both Williams and Howard, they would have to trade Vince Carter and Lamar Odom. Then they would most likely have to amnesty Brendan Haywood. Then they would have to find a team with enough cap space to take on Shawn Marion's contract. Then they would have to convince both Williams and Howard to take less money.
While that would be a nice Big Three in Williams, Dirk Nowitzki and Dwight Howard, they would basically be surrounded with minimum salary players. With an aging Nowitzki, the brighter future may be the Nets with MarShon Brooks, Brook Lopez and this year's first-round pick.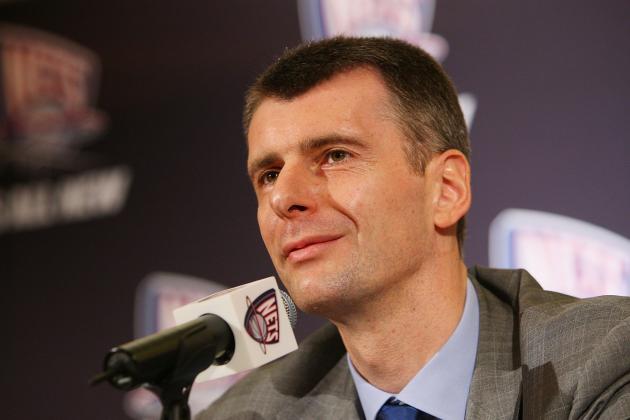 Mike Stobe/Getty Images

When Mikhail Prokhorov offered LeBron James the world, he didn't take it. This time, he can offer Dwight Howard the world, the $1 billion Barclays Center, Brooklyn and Deron Williams.
If Howard wants the bigger market, Dallas cannot offer what Brooklyn can.
Hopefully Prokhorov will give Howard the same pitch he gave to James. Lately, he has been a bit of an absentee owner, as he has been running for president of Russia.
He recently proclaimed that his plan of winning a championship within five years still stands; this is year two.