2012 Spring Training: Should Phillies' Hitters Listen to Schmidt's Plan in Camp?
February 28, 2012

Mike Schmidt is in Phillies camp for the next few weeks for his annual instructional visit to Clearwater to work with the current roster of his former team. He announced on Feb. 27, however, that he would be making a longer-than-usual stay at spring training.
Schmidt described to reporters what he would be doing there, and shed light on the reason for his extended stay:
"There will be times when I chat with guys about mechanics, but for the most part, the additions I'm going to offer this year are in-game strategies like, 'Let's be more aggressive in fastball counts, let's be tougher to strike out, let's figure out a way to give up fewer at-bats,'" he said. "A guy like me is only good if there are ears that want to listen. I never said I'm the end-all when it comes to that, but I'm a sounding board for guys, and I enjoy it."
That was among a lot of other things he said, and there's a lot of things just in that one quote, but he may be on to something as to what seems to be his underlying message. It is also interesting that he made a mentioning to "ears that want to listen".
Remember Ruben Amaro and Charlie Manuel's remarks at the end of the 2011 season? They seemed to both be interested in making the Phillies more patient and to change their approach. Manuel specifically mentioned, when referencing his talk with Amaro, which both he and Amaro would like to see the team "learn how to work more counts" and have more plate discipline.
Schmidt seems to be making it an initiative to do the opposite of those things. He's a Hall of Famer that has led the league in strikeouts the same amount of times he has led the league in walks, doing each four times. So he would likely have a good understanding on the difference between being too aggressive and too patient.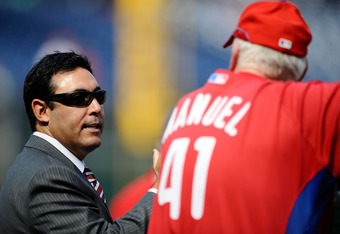 Jeff Zelevansky/Getty Images
So were the Phillies too aggressive and not patient enough, as Amaro and Manuel suggested, or were they too patient and not aggressive enough, as Schmidt's initiative is suggesting?
In reality, they were split on one front—their ability to work counts, as they were slightly below average (by exactly one hundredth of a point) in pitches per plate appearance. But this does not necessarily mean they weren't patient; if a pitcher is throwing strikes against them, they can only work the count so much.
The actually were the most patient team in all of Major League Baseball last season as far as first pitch swinging, having the lowest total in that category at 21 percent, and 10 percent off from the league leader. They were tied for third to last in the league in percent of total pitches at which they swung. Twenty-nine percent of their strikes came without swinging, only three percent off from the leading team, the team featured in Moneyball—the Oakland A's.
Further adding to Schmidt's side was the fact that one of the Phillies' best offensive games came in one that featured their most aggressive attack. In Game One against the Cardinals, the Phillies were so aggressive that they allowed Lohse to throw a dozen pitches over a two inning span, and 23 pitches over a three inning span. They scored 11 runs that day and put up 14 hits in only eight innings worth of play.

So if the Phillies clearly were patient last year (despite what Amaro and Manuel would have you believe), and they obviously were not aggressive, yet there is a concern that something must change for them to improve on offense, is it that they need to be more aggressive?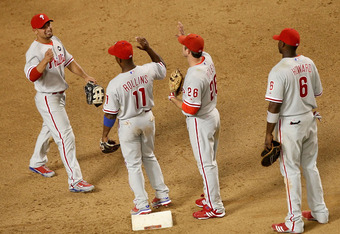 Christian Petersen/Getty Images
Well, it may not be that simple.
The reason for that being they do not have the pop in their bats as there was in, say, 2007. They are all five years older so they likely won't cause the same damage that they used to when aggressive. Chase Utley's batted ball in the ninth inning of Game 5 likely lands in the Phillies bullpen in 2007, not three feet in front of the wall.
Back to Schmidt, it is interesting which years he led the league in walks, and which he led the league in strikeouts.
All four times he led the league in strikeouts, he also led the league in home runs. The first three were in his first, second, and third full seasons. A trend Ryan Howard did not exactly match, but followed similarly.
The years in which he led the league in walks are increasingly interesting. For three consecutive years, Schmidt led the league in walks. His ages those three years: 31, 32, 33. Shane Victorino is 31, Ryan Howard and Carlos Ruiz are 32 and Chase Utley and Jimmy Rollins are 33. The average age of the other three regulars is 31.
The only other year Schmidt led the league in walks was at age 29, which incidentally Hunter Pence will be a week into the season.
Even more interesting is the fact that at age 33, he led the league in homers, walks and strikeouts on the way to leading the Phillies to a pennant. He got results while mixing in patience, aggression and long counts.
Could Ryan Howard follow that trend in 2013, at that same age, when he will have his first realistic chance at a full season? That's too far down the line for now, just something to think about next year.
No, the focus is on this 2012 team and their approach at the plate for this season, one at a time as Schmidt works on in-game strategy. But it opens up more questions.
Aside from were they patient or were they aggressive, now there is the question of should they do as Schmidt says (be aggressive), or do as he did (years of both, more patient with age)?
How aggressive is too much and how patient is too much?
And finally, who should they listen to, the Hall of Famer or the boss and his boss?
Who do you side with, Schmidt or Amaro and Manuel? Patient, aggressive or both?