2012 MLB Preview: Predicting the Tampa Bay Rays Batting Order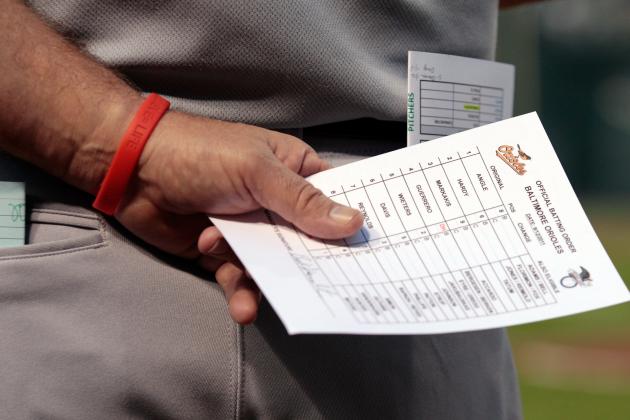 Rob Carr/Getty Images

The birds are chirping, people are flocking to Arizona and Florida, and pundits are starting to gear back up. That's right, folks. Spring Training is almost underway.
With that, we're going to see lots of speculating at who this year's World Series Champions will be, the front-runners for all the major awards, and even the worst contract signings this off-season.
Before one can talk about any of those things, we need to first know the teams that we are dealing with.
Everyone knows that Joe Maddon loves to tinker with his line-ups as much as any manager in the Majors, and chances are that the obvious line-up choices may not be the ones that he decides to go with. But, we're going to try to get into the mind of the skipper as best as we can.
Is Carlos Pena going to have a comeback season with his former team? Read on to find out.
Begin Slideshow

»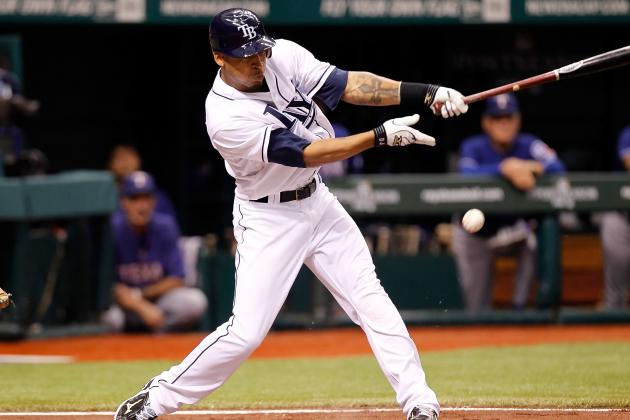 J. Meric/Getty Images
How will Jennings follow up last season's performance?
2011 MLB stats: 63 games, 247 ABs, 44 Runs, 10 HR, 25 RBI, 20 SBs, .259 BA, .356 OBP
After spending almost two and a half seasons at AAA, Desmond Jennings finally got his chance to play full-time for Tampa Bay during the 2011 campaign.
Jennings didn't disappoint and he showed a nice mixture of his signature speed and some surprising pop in his bat, as he hit 22 home runs between AAA and the MLB during 2011.
Jennings looks to be the type of player that Rays fans and management expected BJ Upton to become.
While we only have a small sample size of what Jennings can do in the Majors, someone with his speed should generally be able to avoid large slumps, as they can beat out a lot of ground balls that their slower counterparts would not be able to.
Look for Jennings to start the season in the lead-off spot, and keep a firm grasp onto the position.
2012 Prediction: 145 games, 543 ABs, 89 runs, 17 HR, 72 RBI, 37 SBs, .262 BA, .351 OBP
J. Meric/Getty Images
Will BJ ever put it all together?
2011 MLB Stats: 153 games, 560 ABs, 82 runs, 23 HRs, 81 RBI, 36 SB, .243 BA, .331 OBP
BJ Upton can be one of the most frustrating players in the Major Leagues. When it comes to pure physical ability, it's hard to match Upton. A player that can display plus power with plus-plus speed is hard to come by. Upton is one of those players.
The problem with BJ is that he can become too swing happy. Over the past three seasons, BJ Upton has struck out a whopping 477 times in 1656 at-bats. BJ Upton strikes out almost 29% of the time he heads to the plate.
Because of these discipline issues, Joe Maddon has tried moving BJ all over the line-up. Upton has batted everywhere from the lead-off role to the 9th batter and everywhere in-between.
This could be the season that Upton settles down into the two hole and starts to put his tools together. If BJ is able to cut down on his strike-outs this season, he could be the key to one of the best offenses in the American League.
2012 Prediction: 155 games, 570 ABs, 87 runs, 21 HRs, 84 RBI, 42 SB, .254 BA, .345 OBP
Stephen Dunn/Getty Images
'Los is hoping to bring back some of the magic he formerly had with the Rays.
2011 MLB Stats: 153 games, 493 ABs, 72 runs, 28 HRs, 80 RBI, 2 SB, 101 BBs, 161 SO, .225 BA, .357 OBP
Carlos Pena is never going to hit .282 on a full season again. But, he shouldn't even hit .196 over the course of an entire season again either. During the 2010 season where Pena batted an abnormally low .222 on balls put into play, it was clear that 'Los was just putting the ball right where fielders were.
For comparison, Pena's career BABIP is .278. That put him a full .056 lower below his career average.
Being able to put Pena in front of a huge threat like Evan Longoria doesn't hurt either. Carlos should see his fair share of fastballs, as pitchers won't want to have to face Longo with a man on base.
You're not going to see the monster 46 HR, 121 RBI season that Pena blessed the Rays with in 2008, but he will prove that his first farewell season in Tampa was an absolute fluke.
2012 Prediction: 157 games, 524 ABs, 90 runs, 33 HRs, 95 RBI, 1 SB, .240 BA, .353 OBP
2011 MLB Stats: 133 games, 483 ABs, 78 runs, 31 HRs, 99 RBI, 3 SB, .244 BA, .355 OBP
Evan Longoria has quickly become one of the premier players in all of Major League Baseball. Having been drafted out of Cal-State Long Beach in 2006, Longo made a big splash in the Majors during his rookie season in 2008, batting .272 with 27 HRs, and 85 RBI in just 122 games.
Evan dealt with a myriad of injuries during the 2011 season, and even missed a little over two weeks after being put on the DL with an oblique injury. It didn't look like Longoria was ever completely healthy at any point during the season.
Most players would be ecstatic to hit 31 HRs and have 99 RBI in season, and even Evan didn't scoff at those numbers. However, the .244 batting average that the third baseman had left a lot to be desired.
However, like our man in the three spot, Longoria saw an absurd amount of bad luck when it come to balls that he put into play. While Longo's career BABIP is .301, it was only .239 during the 2011 campaign.
This could be directly attributed to Longoria's injuries, as the third baseman couldn't get entirely comfortable at the plate during the season.
This season should see a great turn-around from an already decent season. Coming into the year healthy, Longoria looks to have to his buddy Carlos Pena batting ahead of him, with a couple decent bats behind him as well. Something that the California native didn't see a lot of last season.
2012 Prediction: 156 games, 583 ABs, 103 runs, 35 HRs, 115 RBI, 9 SB, .301 BA, .377 OBP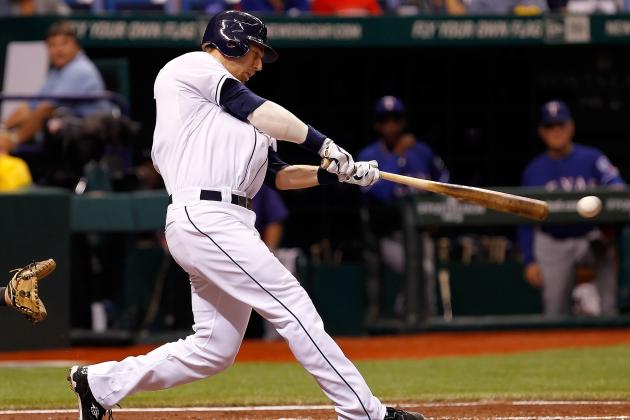 J. Meric/Getty Images

2011 MLB Stats: 156 games, 588 ABs, 99 runs, 20 HRs, 91 RBI, 19 SB, .269 BA, .353 OBP
Ben Zobrist had somewhat of a bounce back season last year after hitting .238 with only 10 HRs in 2010.
This season, Zobrist looks to get a majority of his playing time at second base, as Reid Brignac and Sean Rodriguez are battling it out for starting shortstop spot. Being a switch-hitting second baseman with some decent pop from both sides of the plate bodes well for the Illinois native.
While Zobrist doesn't have the power of a Carlos Pena, he does put the ball into play a lot more than the heavy-handed slugger does.
It was tough deciding between Luke Scott and Ben Zobrist as to who would be the number five hitter, but for at least the first part of the season, Zobrist seems to be the better bet to bat here. The mixture of speed, contact, and power plays well for the Rays.
Should Pena struggle and have a hard time getting on base, Longoria and Zobrist shouldn't have much of a problem getting on base for the number six batter, Luke Scott.
2012 Prediction: 158 games, 601 ABs, 94 runs, 21 HRs, 94 RBI, 22 SB, .261 BA, .347 OBP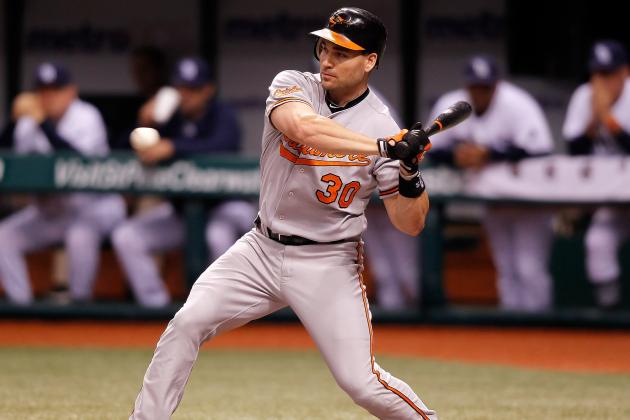 J. Meric/Getty Images
After a down year last season, will Luke Scott be the answer at DH?
2011 MLB Stats: 64 games, 209 ABs, 24 runs, 9 HRs, 22 RBI, 1 SB, .220 BA, .301 OBP
The former Baltimore Oriole and Houston Astro is trying to prove that the 2011 season is not the norm for him.
After battling threw a torn labrum, a groin strain, and a bruised knee, Scott saw the worst season of his Major League career.
Luke Scott came over to Tampa Bay this season to become their primary DH. By being able to stay off the field and focus on hitting, Scott shouldn't see as many injury problems pop up for him this season.
If the DH can stay on the field, he could bring some major pop to the Rays' lineup.
To start the season, I expect to see Luke Scott occupy the sixth spot in the batting order, but knowing Joe Maddon, we'll see the DH bat clean-up on some days, and it's possible that he could see time anywhere between the fifth and seventh spots in the order.
I expect Scott to have a better season that he did with the Orioles last year, but I think the Rays may have to look elsewhere for the solution to their DH problem.
2012 Prediction: 125 games, 429 ABs, 52 runs, 21 HRs, 62 RBI, 2 SB, .234 BA, .325 OBP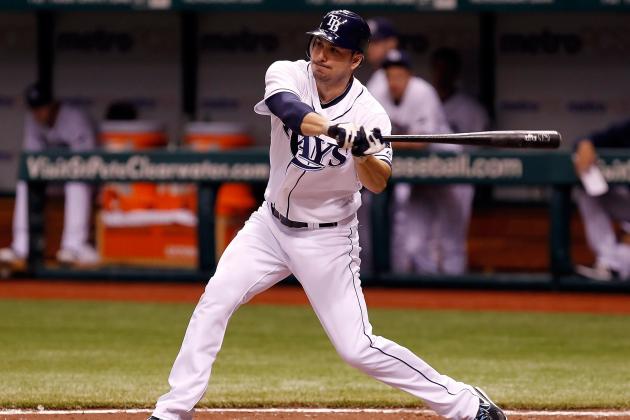 J. Meric/Getty Images
Joyce had a semi-breakout year last season. Will he be able to keep it up?
2011 MLB Stats: 141 games, 462 ABs, 69 runs, 19 HRs, 75 RBI, 13 SB, .277 BA, .347 OBP
Matt Joyce received the first all-star selection of his career last season while playing right field for the Rays and it's now looking like the Rays made a wise decision moving Edwin Jackson for the outfielder.
The seventh spot in the batting order is what I like to call the second clean-up batter. Having Longoria, Zobrist, and Scott batting in front of him should give Joyce plenty of chances to drive in runs, and this is something that I think he will be able to capitalize on.
There isn't one part of Joyce's game that he particularly excels at, but the outfielder does almost everything well.
Before last season, it looked like Joyce may be capable of drawing close to 100 walks in a season, but the slugger took a more swing happy approach in 2011, seeing his BB% drop from 15.3% in 2010 to 9.4% in 2011.
With a line-up that should perform a lot better than they did in 2011, Joyce should be able to start settling back down again and drawing more walks. Look for this to be another all-star season for Matt Joyce.
2012 Prediction: 147 games, 501 ABs, 65 runs, 26 HRs, 89 RBI, 14 SB, .282 BA, .358 OBP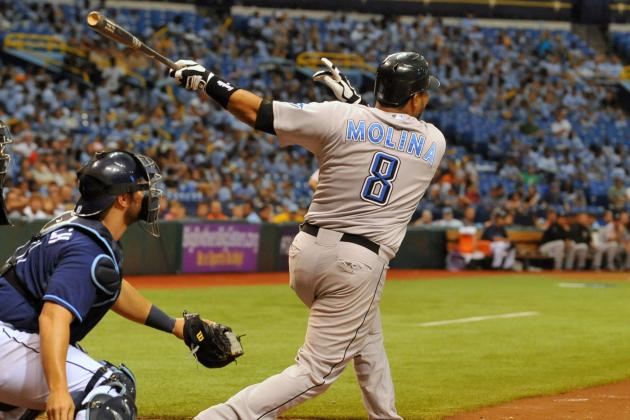 Al Messerschmidt/Getty Images
Molina has never been a force a the plate, but can he at least hold his own for the Rays?
2011 MLB Stats: 55 games, 171 ABs, 19 runs, 3 HRs, 15 RBI, 2 SB, .281 BA, .342 OBP
If there ever was going to be a black hole in the line-up for Tampa, Jose Molina would be it.
Never known for he prowess at the plate, Molina has always left a lot to be desired offensively. However, behind the plate is where Molina shines. Even at 36 years old, the Puerto Rican player is still one of the best defensive catchers in the game.
While Jose Molina won't become an automatic out for the Rays, a lot should not be expected out of him. The runs that Molina saves behind the plate should cancel out any offensive incapabilities that he has.
2012 Prediction: 75 games, 243 ABs, 35 runs, 6 HRs, 22 RBI, 1 SB, .244 BA, .317 OBP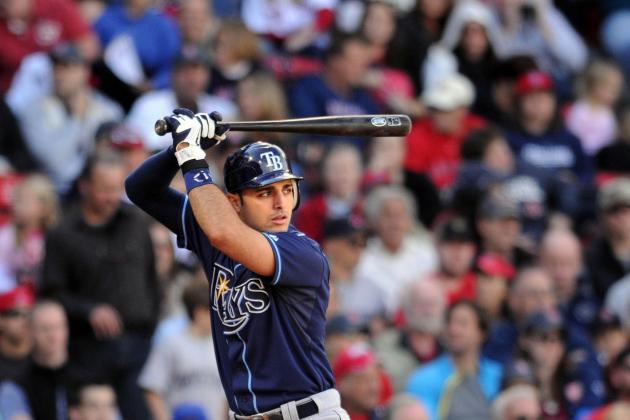 Darren McCollester/Getty Images
Will Sean-Rod finally live up to his expectations?
2011 MLB Stats: 131 games, 373 ABs, 45 runs, 8 HRs, 36 RBI, 11 SB, .223 BA, .323 OBP
In the ninth hole, Joe Maddon loves to have a player with some speed. As Maddon won't likely put BJ or Desmond into the nine hole, this is where Rodriguez comes into play.
In my opinion, Sean Rod's skill set plays better for the Rays than that of Reid Brignac's. Now anything could change and Brignac could blow the top off at Spring Training this season, but I don't see that happening.
Barring anything crazy, Sean Rodriguez will be starting at shortstop for the Tampa Bay Rays.
Rodriguez would like to prove that he's not just another Angels prospect that never pans out to be anything at the major league level. In the minors, Rodriguez showed an impressive amount of power for a middle infielder, hitting 30 home runs in AAA during the 2009 season.
The shortstop hasn't shown this power yet, and I'm not totally convinced that he will ever reach those levels. However, I do believe that his contact game will come around.
Rodriguez will be in the line-up for his glove and his ability to make fielders have to react a little quicker when he's hit a ground ball. Don't expect miracles out of the Miami native, but he shouldn't do anything to make the Rays regret giving him the starting job.
2012 Prediction: 137 games, 403 ABs, 50 runs, 12 HRs, 41 RBI, 19 SBs, .238 BA, .339 OBP