NCAA Bracket 2012: Predicting Which Teams Will Make the Field of 68
February 28, 2012

Elsa/Getty Images
The calendar is just days away from March, which means the madness is not far behind.
This year the field is Kentucky, Syracuse and the rest, but with 68 open spots, the bubble watch has been kicked into high gear as we enter the final week of the regular season.
Here are the latest rankings from one through 68 as of Tuesday grouped into 10 different categories.
Potential No. 1 Seeds
1. Kentucky (28-1)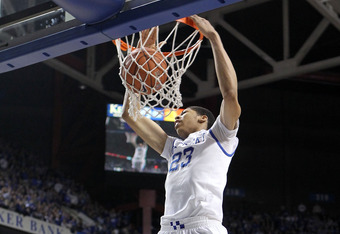 Andy Lyons/Getty Images
Anthony Davis is the undisputed Player of the Year and it's not even close, when you shoot 65.8 percent from the floor and average 4.8 blocks a game that will happen.
There is no doubt that the best player and team in the country reside in Lexington. Coming off a Final Four, the Wildcats are much more dangerous this season.
2. Syracuse (29-1)
The emergence of Fab Melo had made 'Cuse the main challenger to knock off Kentucky from their perch.
3. Kansas (25-5)
4. North Carolina Tar Heels (25-4)
5. Michigan State Spartans (24-5)
6. Duke Blue Devils (25-4)
Fringe Title Contenders
7. Missouri (25-4)
Blowing a 14-point halftime lead to rival Kansas really stings. They've lost two in a row and with the 16th best RPI are no longer in the running for a No. 1 seed unless they win the Big-12 conference tournament.
8. Ohio State (23-6)
The Buckeyes have struggled of late but there are still plenty of reasons to be high on OSU.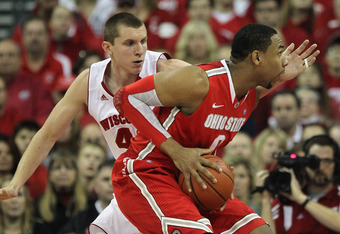 Jonathan Daniel/Getty Images
Jared Sullinger and his back-to-the-basket style bode well in the tournament when games begin to slow down and every possession really counts. William Buford provides excellent senior leadership and they have one of the best coaches in the game with Thad Matta.
9. Baylor (25-5)
The Bears are such a hard team to gauge. Perry Jones III has the ability to lead them to the Final Four, or he could get in foul trouble and be sitting on the bench as his team gets upset in the second round. This is a team that can really screw up your bracket. Yet if the 11-2 road/neutral record is an indication, the Bears will be just fine.
10. Georgetown (22-6)
11. Marquette (24-5)
Final Four Potential
12. Wisconsin (21-8)
Nobody is more suited for the style of play in the NCAA tournament than the Badgers. They force you to pass the ball for 30 seconds before getting stuck hoisting a bad shot up as the shot-clock strikes zero.
This year's team is incredibly disciplined and has the ability to hang with any team in America despite not possessing the same amount of talent. Beating Ohio St. on the road is a great sign.
13. Florida (22-7)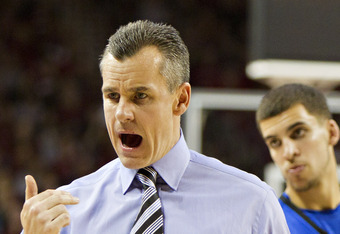 Wesley Hitt/Getty Images
The Gators live and die by the three and they died over the weekend in a bad loss to Georgia.
But that's okay. Billy Donovan is one of the best tournament coaches in recent memory and this team is beginning to have the feel of last year's squad that made it all the way to the Elite Eight.
14. Louisville (22-7)
15. Michigan (21-8)
16. UNLV (24-6)
Good, But Not Great
17. Murray State (28-1)
The Racers have had a ton of close calls lately and I'm beginning to wonder if Isaiah Canaan is wearing down.
Then again, when you have a 28-1 record, you must be doing something right.
18. Indiana (22-7)
The seventh most efficient team in the country hits an incredible 49-percent of their field goals. With their midseason swoon behind them, the Hooisers are a going to be a tough out.
19. San Diego State (22-6)
20. Florida State (19-9)
21. Wichita State (26-4)
22. Notre Dame (20-10)
Not much talent, but Coach of the Year candidate Mike Brey keeps this team in contention with three RPI top-25 wins and eight in the top 50. The Irish could get crushed by 20 in the first round of sneak into the Sweet 16.
23. Creighton (25-5)
24. Temple (22-6)
25. Virginia (21-7)
Sweet 16 Ceiling
26. Saint Mary's (25-5)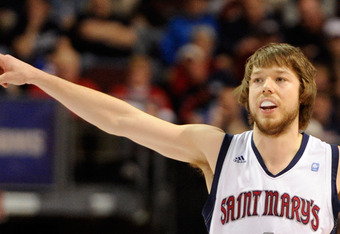 Ethan Miller/Getty Images
The Gaels are a tough read. They have four top-50 RPI wins, but have been blown out by Baylor and Murray State. This team will go as far as star guard Matthew Dellavedova takes them.
27. New Mexico (21-6)
28. Vanderbilt (20-9)
29. Memphis (21-8)
30. Creighton (25-5)
31. Gonzaga (24-5)
The 'Zags are only 6-4 in true road games and possess an ugly loss to San Francisco. Yet they have won 11-of-13 games and will be entering the tournament with plenty of confidence and a tourney-tested roster.
Generic 8-to-9 Seed's
32. Virginia (21-7)
33. Kansas State (19-9)
34. California (23-7)
35. Southern Miss (23-6)
36. Iowa State (21-8)
37. Saint Louis (22-6)
38. Alabama (19-9)
39. BYU (24-7)
Bubble Watch
40. Arizona (21-9)
Nobody is too sure what to make of the Pac-12 and the Wildcats are impossible to judge because of it. They sport a 12-5 conference record, but they have a 70 RPI and their best win was at California.
They are lucky the bubble is so soft this season.
41. Cincinnati (20-9)
Nick Laham/Getty Images
The Bearcats may have a 76 RPI, but they do hold four top-50 wins, including two in the top 25. They play strong defense and value every possession with a resilient point guard in Cashmere Wright.
That's a solid formula for a team that won a tourney game last year and is Big East battle tested.
42. Mississippi State (19-10)
The 6-8 SEC record is not looking very good right now, neither is their RPI of 63. But we can't forget about the three top-50 wins earlier in the season and a non-conference RPI of 14.
I think they take care of business against South Carolina and Arkansas to end the regular season and sneak in.
Last Four in
43. Miami (17-10)
Their 14-point win over Florida State was huge, even without the suspended Reggie Johnson. Sure, a 3-9 RPI top-100 mark is rough, but with NC State and BC on the slate to end the year, the Hurricanes are going to finish the season on a high note.
 44. UConn (17-11)
The Huskies are in the middle of one heck of a roller coaster ride.
After a great start the wheels began to fall off before a big win at Villanova last week on Shabazz Napier 30-foot buzz-beater.
This team is by no means a threat to repeat as national champions, but still have enough talent to deserve a spot in the dance.
45. Xavier (18-10)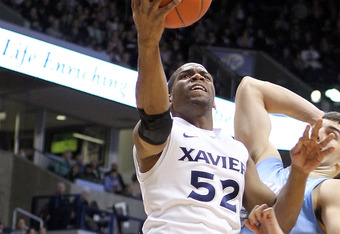 Andy Lyons/Getty Images
Ever since the Crosstown Shootout brawl the Muskies haven't been the same. Yet Tu Holloway is still one of the best guards in the country and the resume put forth before that infamous fight are enough to sneak them in, assuming they take care of business tonight at Saint Louis.
46. Colorado State (17-10)
They may be 0-for-6 in road conference games, but they have a top-25 RPI and the fourth hardest schedule in the country.
They have a huge test home against UNLV this week that could be the deciding factor.
Cinderella Potential
47. Nevada (23-5)
48. Long Beach State (21-7)
49. Iona (24-6)
50. Drexel (25-5)
51. Harvard (24-4)
They are 10-2 in their last 12, 7-3 vs. the RPI top 100 and hold a solid RPI of 38, this team has proven to be the class of the Ivy League. Combine a ton of senior leadership with a 13-3 road/neutral record and you have a great formula for a team that can do some damage.
52. Ohio (23-6)
The Bobcats are fresh off dismantling the first place Akron Zips and have gone 10-2 in their last 12. Guard DJ Cooper can beat almost anybody off the dribble and his ability to pass the ball in traffic makes the Bobcats a team you don't want to see in a 4-13 matchup.  Just ask Georgetown in 2010.
53. Drexel (25-5)
They have gone 12-0 in their last 12 and own four top-100 RPI wins. Sure, their 270 ranked SOS is alarming, but it's not the player's fault. Blame the athletic department for scheduling a weak non-conference schedule.
Automatic Bids with No Shot of Winning a Game
54. Iona (24-6)
55. Oral Roberts (26-5)
56. Belmont (24-7)
57. Nevada (23-5)
58. Davidson (22-7)
59. Bucknell (22-8)
60. Texas-Arlington (22-6)
61. Middle Tennessee (25-5)
62. Weber State (23-4)
63. Valparaiso (21-10)
64. Mississippi Valley St (18-11)
65. Stony Brook (20-8)
66. UNC-Asheville (21-9)
67. LIU Brooklyn (22-8)
68. Savannah State (20-10)