2012 NFL Mock Draft: Predicting Studs and Duds, Post-Scouting Combine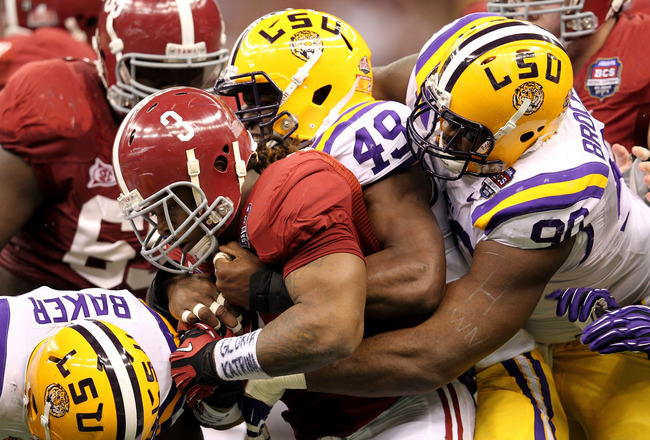 Andy Lyons/Getty Images
As with every draft, this year's crop of prospects is littered with players who have a chance of either being all-time greats or massive busts.
Now that the combine results are in the books and most of a player's measurables have been confirmed, the "workout warriors" will begin to climb up draft boards as they intrigue evaluators with their incredible athletic prowess.
Here is my latest mock draft that will separate the "studs" from the "duds."
Indianapolis Colts: Andrew Luck, QB, Standford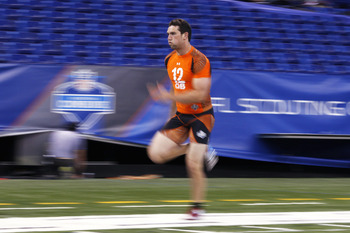 Joe Robbins/Getty Images
Is there anyone out there that thinks Luck is anything but a stud?
Not only was he a great "classic" pocket passer, but he actually outperformed Cam Newton at just about every drill at the combine. He even out-jumped the former Heisman Trophy winner.
Who says white guys can't jump?
The Colts should just focus all of their attention on their later picks, because this is a done deal. Luck is the best prospect in the draft and perhaps the best quarterback prospect ever.
Luck has the ability to start right away. His best attributes are his football acumen and what he does in terms of recognition and adjustments pre-snap, which has become an increasingly important part of quarterback play over the last decade or so.
Verdict: Stud
TRADE: Cleveland Browns: Robert Griffin III, QB, Baylor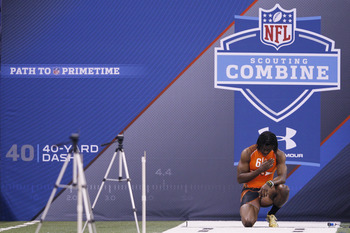 Joe Robbins/Getty Images
Trade Terms: Cleveland sends St. Louis two 2012 first-round picks for St. Louis' 2012 first.
The team with the most draft ammo combined with the biggest need for some excitement in its offense decides to roll the dice on college football's most exciting player in 2011.
Griffin has all of the tools to be an exceptional player at the next level, but he is not the "can't miss" prospect that Luck is. He had some durability issues and is a bit of a one-year wonder.
Still, Griffin is insanely athletic and has all of the tools to be a successful quarterback. On top of that, he has been exceptional in interviews.
Verdict: Stud
Minnesota Vikings: Matt Kalil, OT, USC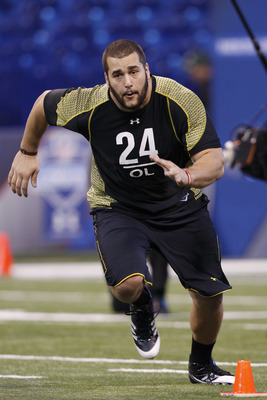 Joe Robbins/Getty Images
St. Louis Rams: Justin Blackmon, WR, Oklahoma State
Joe Robbins/Getty Images
Blackmon did not run a 40-yard dash at the combine, which will not help his stock. The biggest issue with Blackmon is his top-end speed, and scouts will want to see a decent 40 time out of him before spending a top-five pick on his services.
He has a great wingspan and has a natural ability to "pluck" the ball at its highest point.
Still, Blackmon is a tall, physical presence that would be a great target for a young quarterback like Sam Bradford. The Rams need a receiver in the worst way, and Blackmon fits the bill.
Verdict: Stud
Tampa Bay Buccaneers: Morris Claiborne, CB, LSU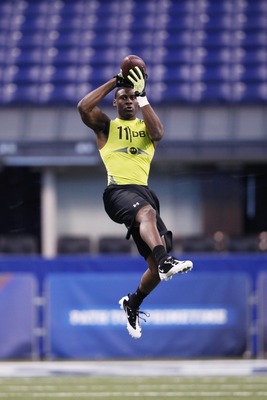 Joe Robbins/Getty Images
Claiborne was not quite as impressive as his former LSU teammate Patrick Peterson was a year ago at the 2011 combine, but he did all he needed to do to cement himself as the top corner on the board.
He had the best combination of of arm length (33.2) and 40 time (4.47) in the draft. His physical gifts, combined with his natural instincts and coverage ability he showed on tape should ensure that he does not make it past the Buccaneers with the fifth pick in the draft.
Verdict: Stud
Washington Redskins: Riley Reiff, OT, Iowa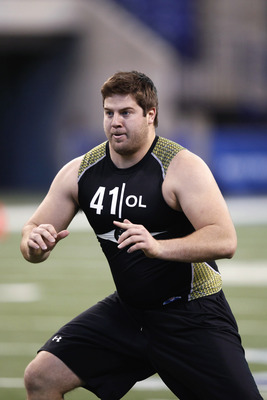 Joe Robbins/Getty Images
Reiff was not going to change his stock a whole lot after the combine, but his arms were measured to be incredibly short (33 1/4 inches) for a top-10 left tackle prospect.
Still, Reiff is a consistent, technically sound tackle that is more athletic than he is given credit for. He may drop a little because of his short arms, but his tape doesn't lie.
Reiff will be a welcome addition on a Redskins line that is in desperate need of a right tackle.
Verdict: Stud
Jacksonville Jaguars: Kendall Wright, WR, Baylor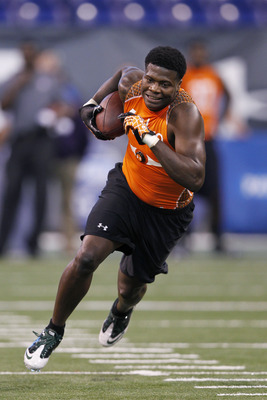 Joe Robbins/Getty Images
Known for his great speed, Wright had a bit of a disappointing combine, posting a 4.61 on the 40-yard dash. I thought Wright would be among the fastest players at the draft, but he ended up being the 31st-fastest receiver at the event.
That number could really hurt his stock, but Wright plays much faster than a 4.61 player. He draws comparisons to Mike Wallace and DeSean Jackson, both who are known for elite speed and big-play ability.
He will have to improve his time at the combine, but to me, Wright is the second-best receiver in this year's class regardless of his 40 time. It just depends on how much NFL teams value his disappointing measurables.
Verdict: Stud
Carolina Panthers:Devon Still, DT, Penn State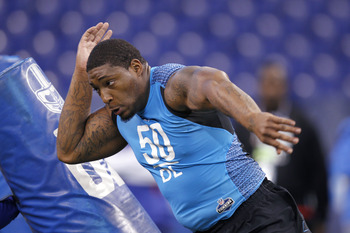 Joe Robbins/Getty Images
Michael Brockers, who was once considered a favorite to be taken in this spot, has pretty much played himself out of the top 10 with his poor showing at the combine.
The Panthers, with such a desperate need at defensive tackle, will elect to take Still over Brockers because he is the safest bet at the position. He had a solid showing at the combine to solidify his first-round status.
Verdict: Stud
Miami Dolphins: Jonathan Martin, OT, Stanord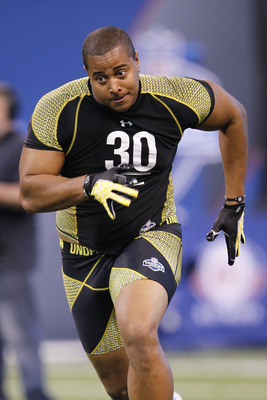 Joe Robbins/Getty Images
The Dolphins are going to have a major issue on their hands if they don't find themselves a right tackle this offseason. Martin played on the left side at Stanford, but he has the athleticism to make an easy transition to the right side.
A pairing with Jake Long would make the Fin's set of tackles among the best in football.
Verdict: Stud
Buffalo Bills: Melvin Ingram, DE, South Carolina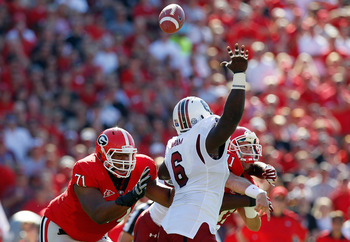 Kevin C. Cox/Getty Images
Melvin had a solid combine, posting average-to-good numbers in all of the events.
With the anticipated move to a 4-3 defense, Melvin Ingram is a nice fit for the Bills. Ingram was very impressive at the Senior Bowl and is probably the best pure 4-3 end is this year's draft class.
Ingram is a bit raw, but he has long arms and explosiveness that will translate well to the next level. He has shown the ability to get to the quarterback in a lot of different ways and can shed blocks and make an impact in the run game.
To me, Melvin is the safest pass-rusher in the draft, and that is exactly what the Bills need.
Verdict: Stud
Kansas City Chiefs: Trent Richardson, RB, Alabama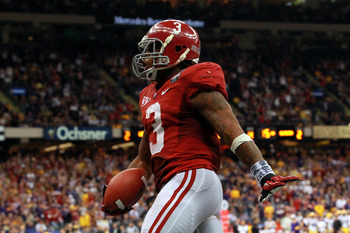 Ronald Martinez/Getty Images
Richardson was unable to participate at this year's combine due to a sports hernia, but a hernia is not the kind of injury that lingers, so his stock should not fall too far.
Richardson doesn't necessarily fill a huge need here, but the value is far too good to pass up. Richardson has a chance to be something special. Jackie Battle filled in admirably when Jamaal Charles went down in Week 2, but he is not a dynamic player that defenses must game-plan around.
If Richardson can become the feature back, the Chiefs can keep Charles fresh, which is when he is extremely effective. With this pick, Kansas City would arguably have the best tandem of running backs in all of football.
Verdict: Stud
Seattle Seahawks: Quinton Coples, DE, North Carolina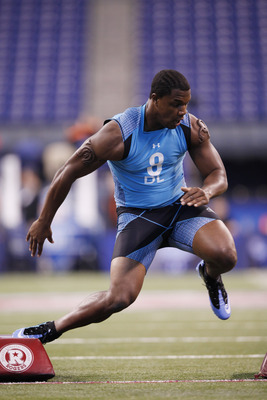 Joe Robbins/Getty Images
To no one's suprise, North Carolina defensive end Quinton Coples had an excellent showing at the combine, making him an even more frustrating player to evaluate on tape.
He had a pretty lousy senior season, but his junior tape, where he played a lot of defensive tackle, was excellent. He was also very impressive at the Senior Bowl, which makes you wonder if he is motivated and playing for the right reasons.
I just have a hard time taking a player who excels at everything except the most important aspect of the evaluation: senior season game tape.
However, outside of quarterback, Seattle is a pretty complete football team. They can gamble on a player like Coples and will be able to sustain a bust and could really benefit it he turns out to be the great pass-rusher we saw in Mobile. Raheem Brock is on the wrong side of 30 and is deteriorating quickly. If they can slowly inset Coples as a rotational player, he can prove to be quite effective.
Verdict: Dud
Arizona Cardinals: David DeCastro, OG, Stanford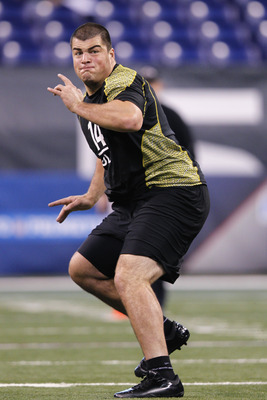 Joe Robbins/Getty Images
The Cardinals could probably use a new starter at every spot on their line. So why not take the best offensive lineman in the draft?
The only reason DeCastro is not a top-five pick is because he plays guard. But the Cardinals are so desperate for surefire talent on the offensive line that taking a guard over a tackle here is the smart move.
DeCastro had a nice combine to avoid any kind of first-round slip. I don't see how he makes it out of the top half of the first round.
Verdict: Stud
Dallas Cowboys: Dre Kirkpatrick, CB, Alabama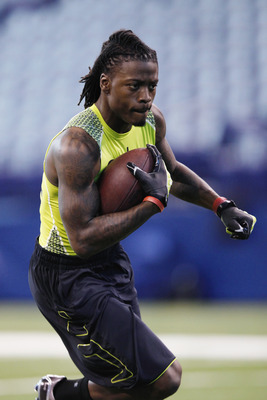 Joe Robbins/Getty Images
It is no secret that Dallas needs secondary help in the worst way. Kirkpatrick had an excellent showing at the combine, going toe-to-toe with Claiborne in a battle for cornerback supremacy.
Being able to select Dre Kirkpatrick at this spot in the draft provides great value. He has ideal size and length and is very instinctive, making him an excellent zone corner. He is also patient and physical at the line of scrimmage when in press man coverage. He is also regarded as the best tackling corner in the draft.
Verdict: Stud
Philidephia Eagles: Luke Kuechly, LB, Boston College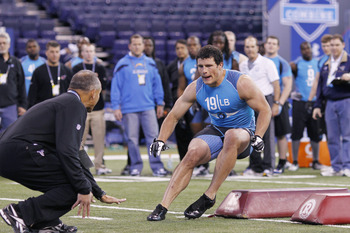 Joe Robbins/Getty Images
The onus was on Kluechly to run with other stud linebackers and show that he has all of the measurables necessary to warrant a top-15 pick.
Kluechy was beyond impressive, running in the 4.4s and dominating in the linebacker drills. To me, he has cemented himself as the safest linebacker prospect in the draft.
His great instincts and physicality makes him an excellent fit for the Eagles at this spot, who have struggled to defend the run and desperately need linebacker help.
Verdict: Stud
New York Jets: Courtney Upshaw, OLB, Alabama
Joe Robbins/Getty Images
Upshaw had an interesting combine to say the least. He put up just 22 reps in the bench press, and decided to forgo the running and jumping drills at the last minute .
Still, the Jets have been looking for a pass-rusher since they whiffed on Vernon Gholston in the 2008 draft. They have been able to use their great coverage to hide their deficiencies at outside linebacker, but at some point you have to put your hand in the dirt and get after it.
Upshaw is a very versatile player, capable of playing in a 4-3 or 3-4 scheme, making him a perfect fit in Rex Ryan's multiple looks. He plays well in space and sheds blocks easily.
He's not quite the terror off the edge like, say, Melvin Ingram is, but he can start right away and still be a much better option as a pass-rusher than anyone else on the Jets' roster.
Verdict: Stud
Cincinnati Bengals: Cordy Glenn, OG, Georgia
Joe Robbins/Getty Images
Glenn was impressive at the combine, mostly with his sheer size, weighing in a just over 6'5'' and 345 lbs. For a man of his stature, he had excellent results in the 40-yard dash, finishing in 5.15.
With 11-year veteran guard Bobbie Williams on his way out, the Bengals need to brig in another big body to keep their downhill running game on track. They will need to replace him with top-level talent, as the running game is a vital part of what the Bengals do on offense.
Verdict: Stud
San Diego Chargers: Nick Perry, DE/OLB, USC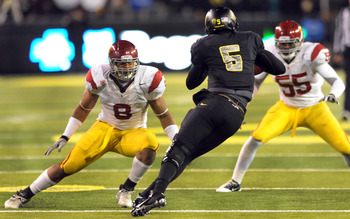 Steve Dykes/Getty Images
Nick Perry's tape at USC is a bit inconsistent, but he does flash a lot of potential as an outside linebacker in a 3-4 system, even though he lined up as a defensive end in college.
The Chargers need a pass-rusher in the worst way and Nick Perry has the most potential of any defensive prospect on the board. However, potential is a scary word, and the Chargers have been burned recently when selecting pass-rushers in the first round.
After missing on Larry English just three drafts ago, the Chargers need to make sure Perry is the right guy before pulling the trigger.
Verdict: Dud
Chicago Bears: Michael Floyd, WR, Notre Dame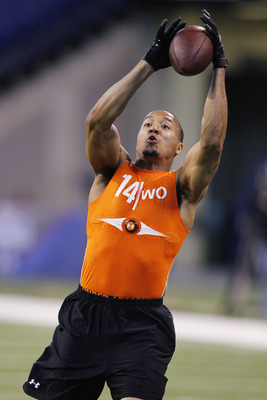 Joe Robbins/Getty Images
Michael Floyd may end up being the best receiver in this draft. He ran a solid 4.42 at the combine, dispelling notions that he lacks top-end speed.
After several off-field incidents at Notre Dame, Floyd claims to be a changed man after spending his final season isolated in a freshman dorm. Still, the Bears need to do their homework in this area.
Either way, adding a target for Jay Cutler is of paramount importance, and Floyd could provide outstanding value at this point in the draft.
Verdict: Stud
Tennessee Titans: Dontari Poe, DT, Memphis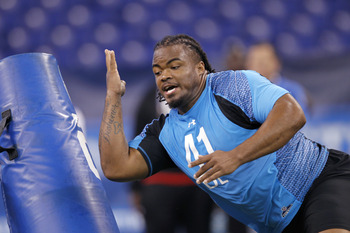 Joe Robbins/Getty Images
Besides Robert Griffin and Andrew Luck, Poe may have been the most impressive player at the combine.
He ran a 4.87 in the 40—at almost 350 lbs. That is unheard of for a man his size. Expect to see Poe fly up draft boards after his amazing performance in Indianapolis, even if his tape does not quite match his athletic prowess.
For the Titans, adding Poe would fill the hole at defensive tackle left by Jason Jones, who is expected to leave via free agency.
Verdict: Stud
Cincinnati Bengals: Janoris Jekins, CB, Northern Alabama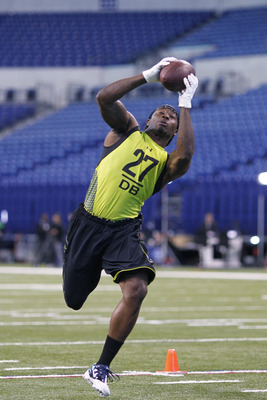 Joe Robbins/Getty Images
Jenkins' performance at the combine pretty much confirmed what we all knew he was: first-round talent, 7th-round character.
He impressed in all of the physical drills and was insistent that he is a changed man that will live up to his talent level, but we have heard that same speech over and over before.
However, the Bengals are known for taking chances on guys with character issues, and with two first-round picks, they can afford to take another chance on Jenkins.
With two top corners on their team, the Bengals could play the same kind of defense that they had when Leon Hall and Jonathan Joseph were on the same team (assuming Jenkins stays out of trouble).
Verdict: Stud
St. Louis Rams (from Cleveland): David Wilson, RB, Virginia Tech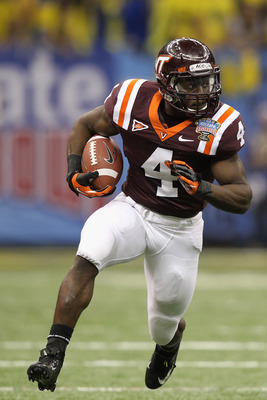 Matthew Stockman/Getty Images
Now that they have their quarterback in Robert Griffin III, the Browns need to surround him with as many weapons as possible.
Wilson has a ton of potential, and it was all on display at the combine. He has the ability to change the game with a single carry. That kind of explosion has been missing from the Browns offense since Derek Anderson was chucking bombs to Braylon Edwards.
With Peyton Hillis' contract situation up in the air, the Browns may need to add another runner anyway.
Verdict: Stud
Detroit Lions: Mike Adams, OT, Ohio State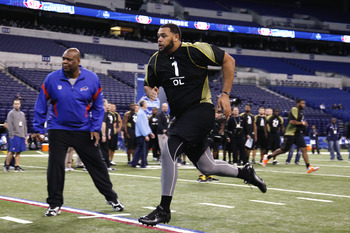 Joe Robbins/Getty Images
Mike Adams takes a bit of a fall here, despite a stellar performance at the Senior Bowl. He was underwhelming in the strength components of the combine, and his tape does not quite exemplify play of a can't-miss prospect.
He only registered 19 reps in the bench press, which is hardly acceptable for an offensive lineman.
Still, the Lions need to find a replacement for Jeff Backus, who is a free agent. Stafford stayed healthy in 2011, but if the Lions want that to continue, they must find a way to upgrade their offensive line.
Verdict: Dud
Pittsburgh Steelers: Dont'a Hightower, ILB, Alabama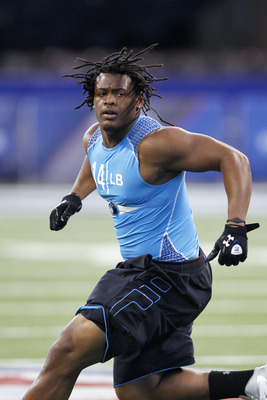 Joe Robbins/Getty Images
The Steelers have a pedigree of taking the best player available, regardless of need.
In this case, the best player available also matches up well with their need at inside linebacker. James Farrior is not getting any younger, and Lawrence Timmons was forced to play out of position due to injuries to their outside linebackers.
Hightower showed us what an elite athlete he is. He has a chance to be the best inside linebacker in this draft, if he were to play with a high motor all of the time.
Adding a talent like Hightower, while moving Timmons back to his more natural position, will make a huge impact on a Steeler defense that desperately needs to get younger.
Verdict: Stud
Denver Broncos: Alshon Jeffery, WR, South Carolina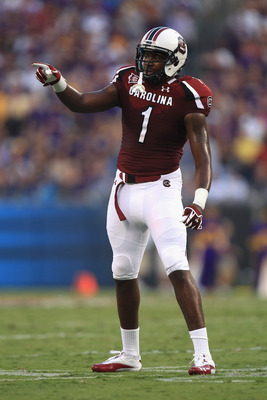 Streeter Lecka/Getty Images
I feel like Jeffery really blew an opportunity to push himself to the top of the first round by not participating in the combine. He silenced rumors of him blowing up to linebacker weight by showing up at the combine in shape, but not doing drills makes you curious as to exactly what kind of weight he lost.
Did he starve himself for a month and lose muscle mass in the process? Is he too weak to workout?
Either way, Tim Tebow needs some guys who can make catches in traffic, and Jeffery can certainly do that, no matter what his weight is.
Verdict: Dud
Houston Texans: Michael Brockers, DT, LSU
Joe Murphy/Getty Images
This is a bit of a luxury pick for the Texans, but Brockers' inability to show incredible upside at the combine will cause his stock to plummet, as he has been exposed as a player that is just not a great pass-rusher.
He shows potential on tape, but all he does is stop the run. Perhaps a move to the five technique would do him a world of good.
Verdict: Dud
New England Patriots: Whitney Mercilus, DE, Illonis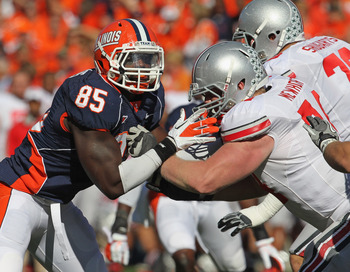 Jonathan Daniel/Getty Images
Mercilus has a great combine, showing that he has natural pass-rush ability combined with a great athletic prowess, which is a recipe for shooting up draft boards.
However, he was not all that impressive to me on tape. He does not do things well technically. Plus, the vast majority of his sacks came from one season, making you wonder why he was not producing earlier in his college career.
Verdict: Dud
Green Bay Packers: Lamar Miller, RB, Miami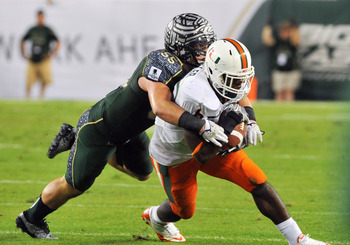 Al Messerschmidt/Getty Images
Miller was one of the fastest players at the combine, which should come as a surprise to no one. He did nothing but help his stock over the weekend.
Meanwhile, the Packers are not expected to retain Ryan Grant, and James Starks is best used as a complementary player.
There is a significant need for an dynamic running back to add yet another dimension to the Packer offense, and Miller fits the bill.
Verdict: Stud
Baltimore Ravens: Peter Konz, C, Wisconsin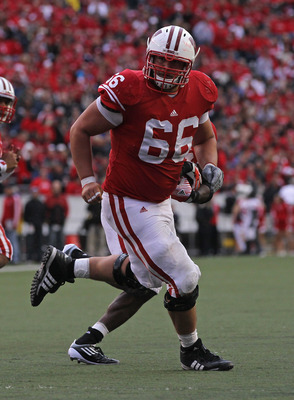 Jonathan Daniel/Getty Images
The Ravens, with the possible retirement of Matt Birk and possible departure of Ben Grubbs, may find themselves with some significant holes on the interior of their offensive line.
Konz is another product of a Wisconsin line that has produced high draft picks and dominated college football over the past few seasons. He is a smart player who can gain leverage and get to the next level, finding his assignments in a hurry.
The Ravens rely on good interior line play to operate their offense, and with two spots possibly opening up, they need to replace at least one of those spots with quality talent.
Verdict: Stud
San Franscisco 49ers: Rueben Randle, WR, LSU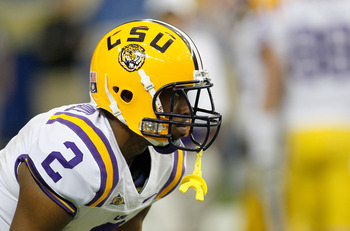 Kevin C. Cox/Getty Images
The 49ers don't have a lot of needs, but outside of Vernon Davis, they don't have enough downfield threats. Their lack of talent at the receiver position was on display during the NFC Championship game, where all of their big plays came from the tight end position.
With his big frame and ability to separate with speed, Randle is going to be a nice addition to a limited 49er offense.
Verdict: Stud
New England Patriots: Mark Barron, SS, Alabama
Joe Robbins/Getty Images
Barron was unable to perform any drills at the combine because of a knee injury, but he remains, unquestionably, the best safety in this year's class. How his medical prognosis grades out will be the difference between him being a first- or second-round pick.
Barron is an extremely physical player who will shoot like a cannon to make plays in the backfield. He can cover a lot of ground in a hurry and has great instincts and ball skills. He has experience lining up at linebacker in nickel situations, and he has the ability to be a cover-1 center fielder.
Barron has his faults, but he is still better than anyone else in the Patriots secondary.
Verdict: Stud
New York Giants: Zach Brown, OLB, North Carolina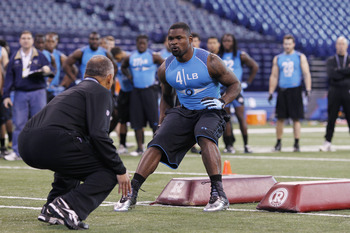 Joe Robbins/Getty Images
Brown ran a somewhat disappointing 40 time at 4.45, but he showcased his athleticism in the rest of the drills. His combine performance did little to change our minds on Brown.
As good of an athlete that Brown is, he lacks the ideal toughness scouts look for in a linebacker. He is not going to run through blocks and impose his will. He also whiffs on a lot of tackles.
Either way, adding a player like Brown makes a lot of sense for the Giants. First, it gives the Giants more depth at a position that had a lot of injuries in 2011 and will give them another player with a lot of athleticism, which they lack outside of Michael Boley.
Second, should Osi Umenyiora leave via free agency, the Giants will be able to move Mathias Kiwanuka back to his natural spot at defensive end and move Zach Brown into the lineup. Kiwanuka was forced to move to linebacker a few seasons ago, due to the lack of athleticism the Giants had at outside linebacker and the glut of talent they had at defensive end.
Verdict: Dud
Keep Reading