2012 NFL Draft: Could Philadelphia Eagles Move Up to No. 2 Overall?
February 28, 2012
Rob Carr/Getty Images
There's some really, really interesting draft talk coming out of Philadelphia the last couple of days. 
And it all revolves around a monster trade for the Philadelphia Eagles to move up to the No. 2 overall spot in the 2012 NFL draft.
Phil Sheridan of the Philadelphia Inquirer laid out the possibility of the Eagles packaging several picks in an effort to get the St. Louis Rams' No. 2 pick, which is likely to be used on Baylor quarterback Robert Griffin III. 
"There will be plenty of teams in the mix," Sheridan wrote this week. "It should be no surprise if the Eagles, who draft 15th and hold two second-round picks, are one of the more aggressive suitors."
Shiel Kapadia of Philly.com went into more hypotheticals about a potential trade.
"I wouldn't be surprised at all if Reid really likes Griffin," Kapadia wrote after Sheridan's piece. "The charismatic and talented QB seems to be liked by most at this point, which is why the Rams are in great position to get teams into a bidding war for that No. 2 pick."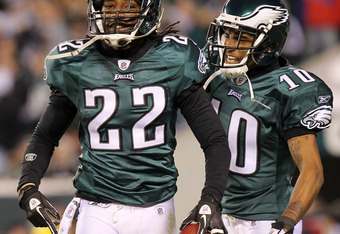 Nick Laham/Getty Images
Kapadia also pointed out that the Eagles haven't been shy about making splashes with trades or in free agency. 
"Having said that, I've reached the point where I won't rule anything out with the Eagles," Kapadia wrote. "Not after they surprised us with the Nnamdi Asomugha signing, the Michael Vick signing and the Donovan McNabb trade to the Redskins in recent years."
Finally, Kapadia put together the most interesting hypothetical yet: The Eagles not only hold draft picks (two second-rounders and No. 15 overall pick), but they also have players that might be valuable in a potential trade scenario. 
"One other thing to keep in mind—not necessarily as it pertains to Griffin, but as it relates to draft trades—is that the Eagles are in position to trade players too," Kapadia wrote. "DeSean Jackson could be a trade chip if they franchise him. And Asante Samuel could be dealt too."
That's where this story really could gain some traction. Kapadia wasn't reporting that any scenario was in the works, but the addition of Jackson or/and Samuel to a deal gives the Eagles a punching chance to get to No. 2 overall. 
The Rams are in need of both a receiver and cornerback, and you would have to think the new leaders of that franchise would take a serious look at an offer from the Eagles that includes Jackson, who the Eagles could franchise tag and then trade, Samuel, the No. 15 pick and one or both of the second rounders.
Could the Cleveland Browns or Washington Redskins really beat that offer?
And maybe a better question, would the Eagles actually be willing to pull the trigger on that trade bazooka? 
The Eagles met with Griffin III at length at the combine, so there might be some underlying interest inside the organization in the electric quarterback.
Also, the guaranteed money in Michael Vick's $100 million contract will be mostly paid out by the time 2012 is over, which could make that position more fluid than you would think. Vick will turn 32 in June and has battled injuries his entire career.
Could acquiring the next big name at the quarterback position be enough to begin Vick's path out the door?
Getting Jackson (and agent Drew Rosenhaus) to re-structure a franchise tag deal with the Rams would be one major hurdle to jump over, too. The Rams would want a long-term deal in place before any trade would be made.
The Eagles have pulled have some draft day trades in recent years, most notably for Jeremy Maclin in 2009 and Brandon Graham in 2011, but this deal would dwarf those moves. While history does not predict future events, there is a precedent for the Eagles making a splash. 
Still, this scenario is obviously a long shot. The Browns, Redskins and Miami Dolphins are the front-runners to move up to No. 2, and the Eagles might be a distant fourth or fifth. This is just something juicy for Eagles' fans to chew on during the wide-spread speculation portion of the NFL schedule.
If you were owner Jeffrey Lurie or head coach Andy Reid or GM Howie Roseman, would you push for this deal to get the right to draft Robert Griffin III?