UFC on FX 2: Ian McCall and the 8 Best Fighters to Keep an Eye on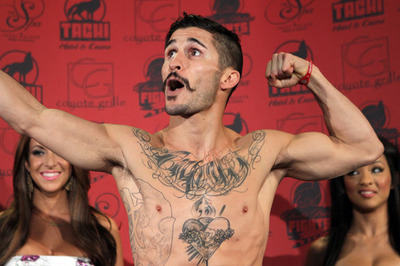 Ian McCall/ Jeff Sherwood for Sherdog.com
Come this Saturday, Ian McCall will be making his UFC debut when he takes on recent title challenger Demetrious Johnson in Sydney, Australia.
It's a culmination of his life's work as a mixed martial artist. After washing out of the WEC going 1-2, McCall has since compiled a four-fight win streak and is widely regarded as the best flyweight in the world.
Now, "Uncle Creepy" will be taking on arguably his toughest test to date in Johnson, though he will now have the opportunity to assert his claim as the best in his class.
Besides McCall, here is a batch of fighters who could be making waves in the MMA world in the near future.
Ian McCall/ Jeff Sherwood for Sherdog.com
Begin Slideshow

»
This heavy-hitting Russian first garnered high praise for his surprise first-round drubbing of then-Sengoku middleweight champion Jorge Santiago, though the Brazilian would later avenge the loss.
Since then, Khalidov has been on a tear. Undefeated in his last five fights, Khalidov has defeated four UFC veterans consecutively, stopping Yuki Sasaki, James Irvin, Matt Lindland and Jesse Taylor all before the final bell.
The well-rounded and aggressive McCall was a stern test to those in the bantamweight division.
Now competing in his more comfortable surroundings at 125 pounds, McCall's true strengths have shined brighter than ever.
With incredible takedown defense and some underrated punching power, McCall figures to be the saving grace of a division that has played hot potato with its top dog for a long time.
After besting a field of 16 men in Dream's featherweight Grand Prix, submission whiz Bibiano Fernandes has since pared down to the bantamweight division.
Now at 135 pounds, Fernandes continues to assert his dominance, having blown through his competition in his escapades in the organization's most recent GP.
In the finals, Fernandes TKO'd UFC veteran Antonio Banuelos in the finals, cinching the GP title and making history in the process, becoming one of two men (besides Gegard Mousasi) to capture belts in two different weight classes in Dream.
Regarded as one of the most powerful men at 155 pounds, Kawajiri has since moved down to featherweight, where he has since looked every bit unstoppable.
The "Crusher" has been undefeated since moving to 145 pounds, earning back-to-back submission victories over Olympic wrestler Kazuyuki Miyata and former Dream champion Joachim Hansen.
Recent UFC signee, Brazilian heavy hitter Glover Teixeira may sound familiar to most, as he graced the Tapout series alongside friend and training partner Scott Lighty some years ago.
However, extenuating circumstances kept him from reentering the United States and an extended trip to Brazil turned into a near four-year endeavor.
During this absence, however, Teixeira has continued to plug away in his MMA career, training with the Black House crew and notching up notable victories over the likes of UFC vets Marvin Eastman, Antonio Mendes, Marcio Cruz and former champion Ricco Rodriguez.
Now in the UFC, Teixeira will make his highly anticipated debut this May against Kyle Kingsbury.
One of the best-kept secrets at 125 pounds, Mamoru Yamaguchi has ascended the flyweight ranks thanks to his pristine striking skills.
Though a relatively small man, Yamaguchi packs some serious power both in his punches and kicks, to which Stonnie Dennis can attest, as the American was savagely knocked out by the Afro-donning Japanese fighter.
Arguably the most aggressive lightweight fighter out there, Caros Fodor is a fighter that Strikeforce has kept under wraps until his most recent performance.
In his last outing, Fodor made quick work of the powerful Justin Wilcox, who at the time looked to be one of the top contenders in Strikeforce's 155-pound class.
In just seconds, Fodor sprinted towards his opponent, throwing bombs, connecting and securing the knockout finish.
His gas tank is arguably his greatest asset, as this battle with the always-tough David Douglas would indicate.
The once-beaten Ryan Jimmo recently vacated his MFC light heavyweight title in order to sign with the world's premier stage for mixed martial arts in the UFC.
Currently riding a 16-fight win streak, Jimmo has used his karate background effectively in MMA, keeping his opponents at a distance while darting in with some telling blows of his own.
Jimmo owns impressive victories over the likes of UFC vets Jesse Forbes, Marvin Eastman, Wilson Gouveia and Sokoudjou.