2012 NFL Free Agents: Big-Name Stars Looking for New Teams
February 28, 2012

Bob Levey/Getty Images
This is one of the rare offseasons where big-name players who aren't unrestricted free agents are on the verge on donning new uniforms.
Whether it be financial issues, schematic differences or simply time to move on, there are going to be some superstars in new cities in the coming month.
Where will they go? There are teams with a ton of cap room and reason to spend.
Mike Wallace, WR
The superstar receiver is simply too expensive for the Steelers to afford. They're going to have to restructure a number of contracts and they would then be handicapping themselves for future seasons.
Wallace is only 25 years old and in the CBA teams will only have to pay a first-round pick to land him rather than a first and third if Pittsburgh throws a restricted tender on him. They can still match an offer, but teams will come after him.
If they franchise him, they'll have to pay roughly $9.4 million. That will thoroughly handicap any other spending the team wants to do this offseason and, as we saw, they're far from a complete team right now.
In what will be a very rare situation, we could very easily see Wallace in a new jersey.
Mario Williams, DE
The Texans also cannot afford to pay Mario Williams the amount of money he'll cost them this year as a franchise-tagged player—they also have to pay Arian Foster.
Wade Phillips' defense survived without him this year and the choice is truly a no-brainer between the RB and the DE.
Williams will head for more familiar pastures and likely sign with a 4-3 team where he can play a true defensive end position again. John Clayton believes the best fit for him is in Seattle.
Mario Manningham, WR
The Super Bowl XLVI hero has made a few contradictory remarks this week alone. Early on, he said he was about "75 percent" sure he was done in New York. However, he told WFAN 660 in New York that it's more like 50-50, according to Paul Schwartz.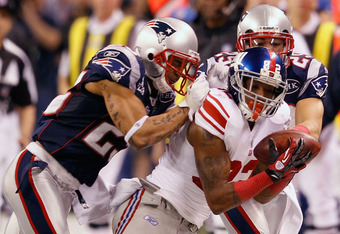 Rob Carr/Getty Images
The only way the Giants retain Super Mario is if he takes a pay cut. With the momentum of his Super Bowl performance on his side and this being potentially the biggest contract of his career, that wouldn't make much sense regardless of how much he wants to stick around.
The Giants are no stranger to severing ties with sentimental heroes either so there is no chance of them overpaying.
Peyton Manning, QB
Do we even need to say any more? Andrew Luck or Robert Griffin III (it will be Luck) is heading to Indy and there is no way Peyton is going to stick around.
Miami makes the most sense in terms of being ready to compete immediately and with a need under center. Seattle could be in the mix and Washington will certainly be willing to pay. Arizona and New York (not Eli's Giants) could get greedy and try to jump in bed on this too.
The Chiefs have also been rumored as a possibility and that is actually an intriguing option. However, it isn't likely that they'll outbid a team like Washington.